I'm definitely the girl who loves being complimented on an outfit just because my response can almost always be, "Thanks, it was [insert ridiculously cheap price here]!" But even I know that there are some items that are definitely worth their price tag, whether it's a dress, a pair of shoes, or a bag. These "investment pieces" are worth the extra splurge for the quality, as well as the use you will get out of them.
In my opinion, the key to figuring out if an item is worth investing in is if you can imagine wearing it every single day, and you can immediately think of things you already own that you can pair it with.
Over the next few weeks, I'm going to feature different investment pieces and show you how to accessorize them with more bargain-friendly items. This week, the focus is on the bandage skirt.
The Investment Piece: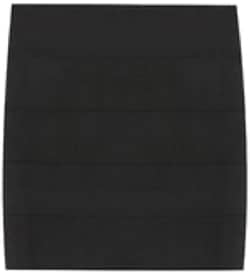 Bandage Skirt – Pleasure Doing Business from chickdowntown.com – $98
Why a bandage skirt is a great investment:
My bandage skirts are definitely some of my favorite pieces in my closet. They suck in my gut (and yes, I have one and can still pull this type of skirt off!), make me feel sexy, and when I'm getting ready for a night out, I don't dread putting one on because they're comfortable, too!
But, in my shopping pursuits, I've found that some cheaper retailers' bandage skirts (think Forever 21) don't do the same things for me that my more expensive bandage skirts do. It's all in the fabric, and cheaper ones just don't flatter in the same way. In fact, my cheaper ones sit untouched in the back of my closet, and with the money I've spent on those, I could have probably bought one more great bandage skirt that I'd wear all the time!
Outfit #1: Casual with Some Boyish Charm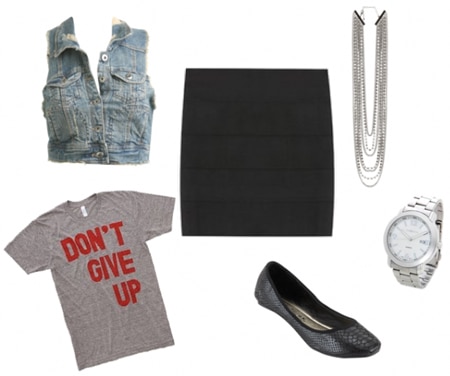 Destroyed Jean Vest – Wet Seal, Shirt – Urban Outfitters, Chain Necklace – Forever21, Watch – yesstyle.com, Flats – peacocks.co.uk
I love this outfit because it includes so many of my favorite things. To me, there's nothing more comfortable than a butter soft, oversized men's t-shirt, and this piece is the perfect way to downplay the skirt's "sexy" factor. The chains and destroyed jean vest give you a little bit of edge, while the flats and skirt both give you a feminine, sexy look. When this outfit is paired with the menswear-inspired watch, you're immediately trendy without looking too try-hard. So you get comfort, trendiness and sexiness in one outfit – how can you beat that?
Outfit #2: Working Girl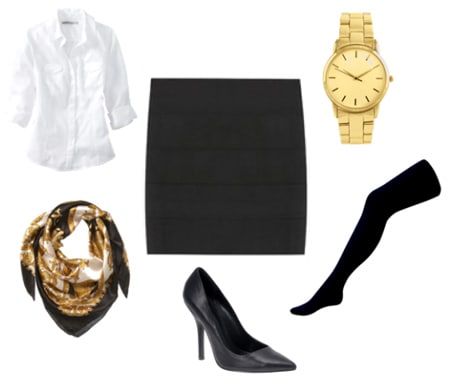 Button-up – The Gap, Scarf – Miss Selfridge, Heels – Aldo, Watch: Asos, Opaque Tights – Oasis
Upon first seeing a bandage or bodycon skirt, you may not even think of wearing it anywhere work-related, but as you can see in this outfit, a sexy skirt immediately transforms you into the workplace bombshell when paired with the right complementary (and conservative) pieces. I'd suggest tucking the shirt in for maximum effect. To me, this outfit screams trendy professional.
Outfit #3: Sexy Glamour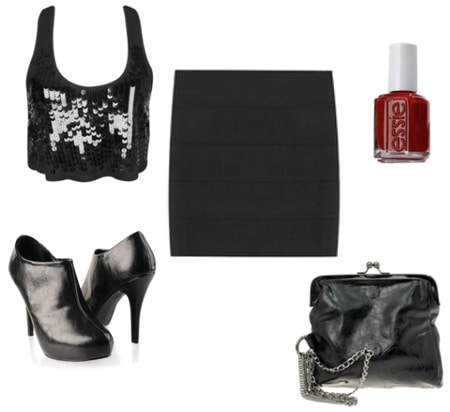 Sequin Crop Top – Forever21, Booties – Forever21, Purse – Asos, Essie Nail Polish in Mademoiselle – ulta.com
This outfit is one I've actually worn myself! The best part of this bandage skirt is that it's high waisted, so you can wear it with a crop top without exposing your midriff! The sequins add a splash of glamour to a simple skirt, making it more night-out appropriate. Although the entire outfit is black, wearing a brightly colored nail polish (such as the one pictured) adds a burst of color to a simple palette.
Outfit #4: Trendy & Celeb-Inspired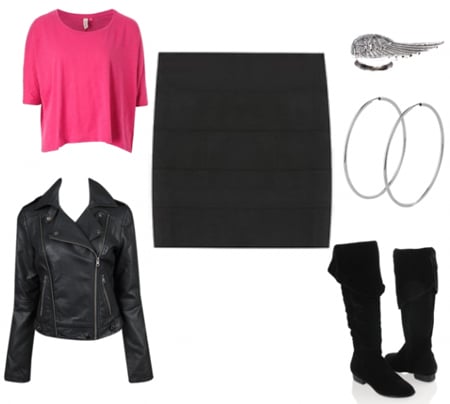 Crop Top – newlook.co.uk, Faux Leather Jacket – Forever21, Suede Boots – Forever21, Silver Hoops – newlook.co.uk, Angel Wing Ring – Asos
I like to call this my Mary-Kate Olsen-inspired outfit. She wore a very similar outfit recently, but her Pleasure Doing Business skirt was in pink and her top was black. The pink in this outfit provides a pop of color underneath the bad-girl-esque faux leather jacket, and it adds a little bit of girly-ness as well for a completely stylish look.
Outfit #5: Dinner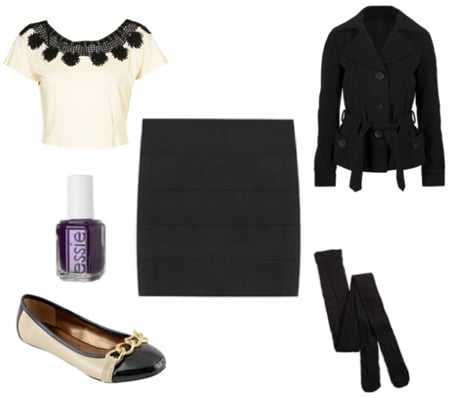 Crop Top – Topshop, Trench Coat – Tillys, Essie Nail Polish in Sexy Divide – Amazon, Ballet Flats – peacocks.co.uk, Stockings – American Eagle
This outfit would be perfect for an event where you're required to look nice but not too overdone, like a formal dinner with your boyfriend and his parents, or going to a nice restaurant. It's classy, mature and feminine, but the Sexy Divide nail polish adds a little bit of funk and color to this neutral outfit.
What do you think?
Do you own any bandage skirts? Can you imagine yourself wearing a bandage skirt with almost anything in your closet? Do you think it's worth the investment? Tell us in a comment.