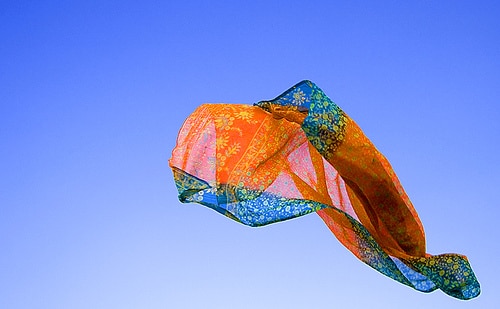 Every Tuesday, I feature a different "investment piece", or timeless item that every girl should have in her closet. Last week, I featured the bandage skirt. This week, I'm going to focus on an item that you may not have thought would be considered an investment piece at all: the scarf.
Many girls (judging by your comments) feel that investment pieces should be something like a pair of jeans or a plain t-shirt that you could potentially wear every day with something different, and those girls are definitely right! Where would we all be without that pair of jeans that goes with sweatshirts and nice tops?
But investment pieces are so much more than that – they're pieces that make or break your wardrobe, which means accessories can be investments, too. While a scarf may not immediately come to mind as a staple piece, I think you'll see that a versatile, statement-making scarf can really shake up your entire closet and give you lots of bang for your buck.
The Investment Piece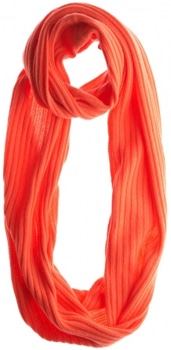 Loop Scarf – Calypso – $150
I know what you're probably thinking: loop scarves are a fad and aren't worth investing in. But the loop scarf featured above is just an example, and your choice depends on your personal style. In general, a scarf of any type is definitely a necessity for many girls who are living in chillier climates (I'm from New York so I'm slightly biased). Even if you don't live in a colder area, in recent years, scarves (not necessarily made from cashmere or another heavy material) have emerged as great accessories that can add impact to any outfit.
So, when viewing these outfits and reading through this post, keep in mind: you don't have to invest in the exact scarf I would choose! The beauty of you being you (yes, you reading this!) is that you're you! You can go out after being inspired by these outfits and pick out a scarf that suits you!
Outfit #1: Weekend Errands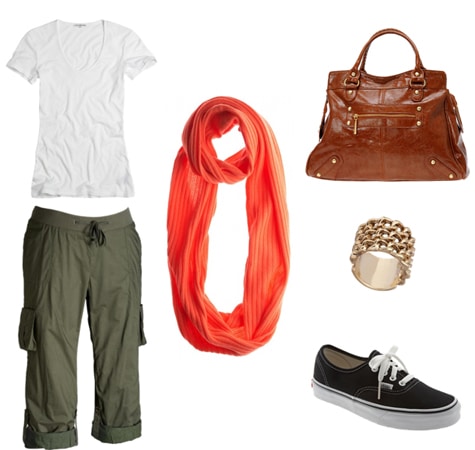 T-shirt – James Perse, Cargo Pants – Old Navy, Bag – Aldo, Sneakers – Nordstrom, Ring – Topshop
This outfit is casual, doesn't require much effort, but still looks put-together and stylish. Also, every piece in this set is comfortable, which is perfect, whether you're going to breakfast after a long night out or running errands all day. James Perse's T-shirts are the softest shirts ever created, the loose cargo pants won't confine you. Finally, of course, the cashmere in our investment scarf is definitely going to keep you warm and cozy while adding a burst of color to your ensemble.
Outfit #2: Date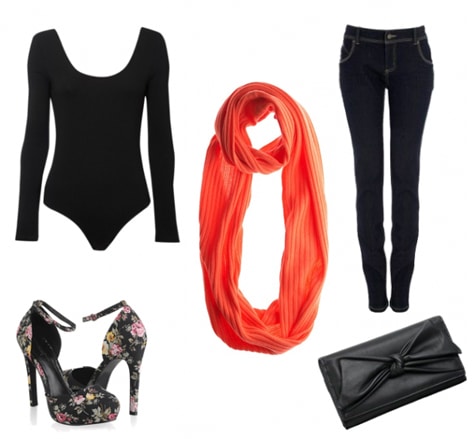 Body Suit – Oasis, Jeans – Debenhams, Pumps – Forever21, Clutch – Debenhams
Okay, I have a confession: I'm addicted to body suits. Ask any of my friends – I swear by them. They are so easy! No worries about tucking your shirt into your pants, and you look instantly sexy and slim. It's also part of that 80's throwback trend that's so hot right now. This outfit is very casual yet date-appropriate. Both the floral shoes and bow clutch give a soft, feminine touch while the body suit keeps you feeling sexy without being revealing. And, of course, the scarf adds a dose of color and warmth!
Quick Tip: If you're self-conscious about your middle area, you can still wear a body suit! Just opt for a high-waisted jean instead of low riders for a cute vintage look!
Outfit #3: Trendy for Work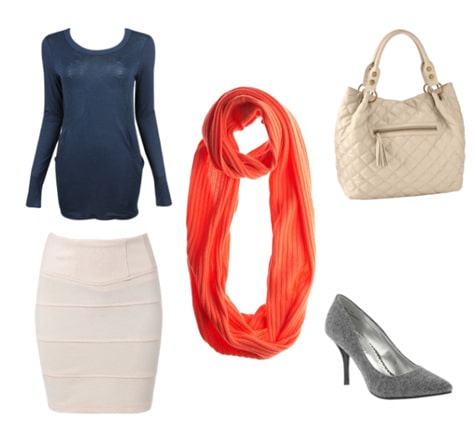 Long Sleeved Top – Forever21, Bandage Skirt – Jane Norman, Bag – Nordstrom, Shoes – Piperlime
I love white in winter, so when I saw this skirt, I had to use it and pair it with a creamy off-white bag. This outfit is perfect for the trendy working girl. I especially love the palette of this outfit for the sheer reason that none of the main pieces are colored too excitingly; there's navy, white and gray. But once you add the scarf, you're immediately bright and colorful. And I don't know about you, but when I'm colorful and looking great, I'm a happy girl.
Outfit #4: Edgy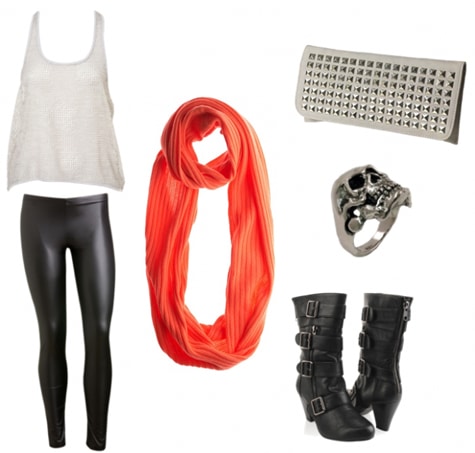 Top – Topshop, Faux Leather Legging – Wet Seal, Clutch – Vero Moda, Ring – Music Bands, Boots – Forever21
When I started creating outfits for this scarf, I had no problem doing the other outfits you see here. However, I wasn't sure how I'd do a slightly more night-appropriate outfit. But then I thought of my faux leather leggings, which I always pair with a basic white top and then accessorize like crazy. Well, now even I've inspired myself! Next time, I'm going to be accessorizing with a brightly colored scarf!
Outfit #5: Simple and On-trend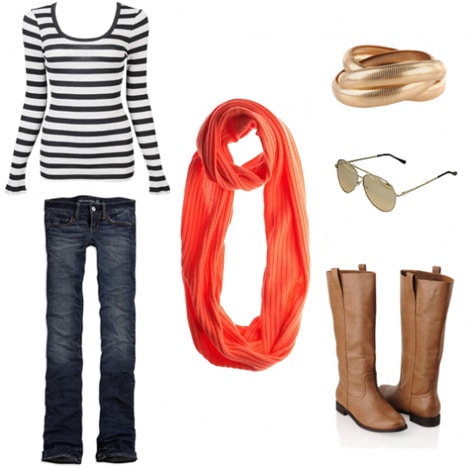 Top – Forever21, Jeans – American Eagle, Interlocked Bangles – Forever21, Aviators – Forever21, Boots – Forever21
One trend that I've noticed popping up everywhere lately is stripes. I was in Forever 21 today and they actually dedicated an entire rack to all of their striped clothing! This outfit is casual and put-together, perfect for having lunch with your boyfriend or just on a day you want to look cute and fabulous for class. I love everything about this outfit!
What do you think?
Do you think a nice scarf is worth investing in? Do you live in a cold area where you'd need a warm, cozy scarf, or in a warmer area where you could just use a scarf as a trendy accessory? Let us know with a comment!