This post may contain affiliate links, which means we may receive a commission if you purchase through our links. Please
read our full disclosure here
.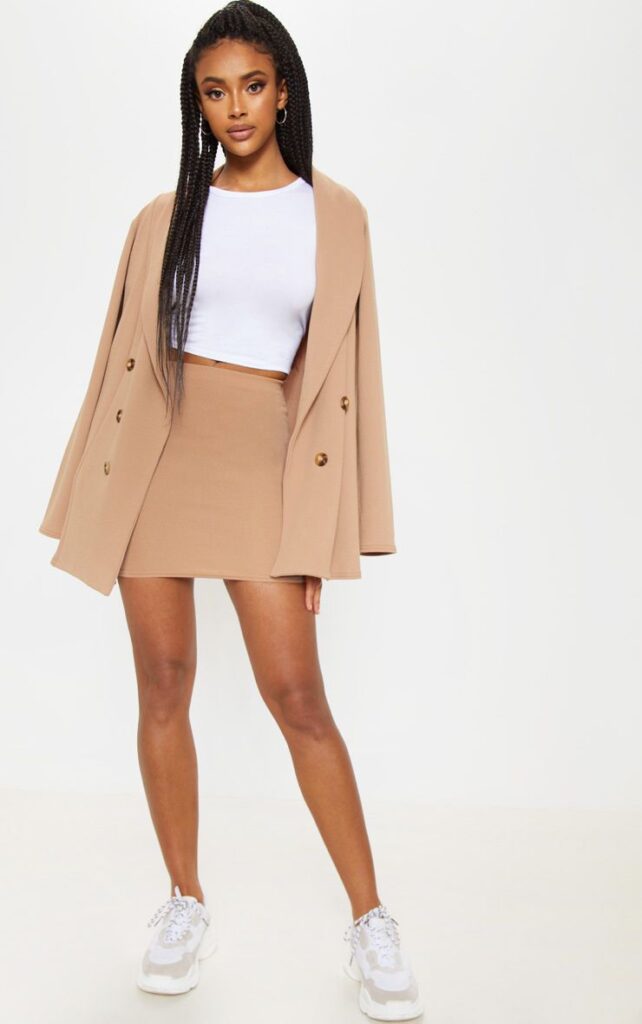 As somebody who loves trying out the latest trends, I have a TON of old clothes and accessories in my closet that have since gone out of style. Because of that, it's great to bring back old trends in new, stylish, and updated ways. Plus, I love reliving the glory years!
Outerwear and accessories can be a challenge to re-wear. But just because you don't want to wear things like you did in 2015, doesn't mean you shouldn't try them out again! Drag out some of those old accessories for a second chance… many of them are coming back around this season.
Here are my 3 favorite spring summer 2020 trends you already have in your closet and how to style these older pieces the 2020 way.
Varsity Bomber Jackets
This is one spring summer 2020 trend that I've had in the back of my closet for such a long time because I didn't know what to do with it.
The varsity jacket with skinny jeans and Converse look is outdated, so let's get inspired to wear this piece in new ways:
I love the pairing of the varsity jacket with a skirt! The competing hemlines makes the silhouette of the look very interesting, while the jean gives it that retro-high school vibe.
For a preppy twist, wear the jacket with a plaid skirt. This look is also a throwback to those 2014/2015 American Apparel pleated skirts (we still love you!) but I'm loving this trend in 2020!
For a more casual varsity jacket outfit, stray away from the classic skinny jean pairing and opt for the more trend-conscious boyfriend or mom jean.
Graphic tees are always in style, and getting one that matches the tones of your jacket is a major power move – you won't want to take the jacket off!
Where to Buy?
If you don't already have one laying around, varsity jackets can be tricky to find in stores for an affordable price. My absolute favorite way to find an authentic, well made jacket is to thrift. If you're not near a thrift store, online shops like Depop are bound to have a great selection.
For another easy way to try this spring summer 2020 trend, I love this Levi's jacket from Amazon! It's insanely well made and will go with absolutely everything.
Silk Scarves – Everywhere!
These cute, boho-type scarves were popular among Insta-influencers and travel bloggers everywhere in 2016/2017. I, however, haven't stopped wearing them since then.
Silk (or faux-silk) scarves have been one of my absolute favorite accessories and are awesome for classing up any outfit.
My personal favorite way to rock these scarves is wearing them around your neck. They're awesome for jazzing up a plain t-shirt or sweater. I love this look because it takes the '90s denim-on-denim trend and pairs it with a scarf that's a gorgeous pop of color!
Wearing them in your hair is another super cute and unexpected way to rock silk scarves (I've been doing this a TON lately). They don't dominate your outfit and it's a nice, subtle way to experiment with mixing prints!
Finally, if you're a little new or shy to the silk scarf trend, tying them around your bag is a timeless, sophisticated way to show off your cute scarves. Plus, the people in your classes will think you're super cool.
Where to Buy this spring summer 2020 trend?
Most clothing retailers have a couple of silk scarves or bandanas in their accessory section, so fortunately these aren't too hard to come by.
My favorite places to buy good quality and stylish scarves are Free People and Madewell. Another great idea for trying out a lot of different prints at once is buying them in bulk from Amazon. The set above is only $15.99!
Monochromatic Outfits
Monochromatic looks are always coming in and out of style, so it's not a huge surprise that they're posed to be a big spring summer 2020 trend.
The best part about monochrome is it's one of the easiest trends to DIY at home with clothes you already own!
I LOVE this cream monochromatic look – it's a great way to wear "winter whites," and it's a cool way to show off how stylish you are even when you're wearing business clothes. Plus, all those layers look super warm and cozy.
If you're looking to experiment with color, dark jewel-tones like navy, burgundy, and emerald green are great places to start. Pair these dark staples with lighter variations on those colors and – perfect!
My friend tried a green look like this out to dinner a couple of weeks ago and it looked SO GOOD – she got a ton of compliments on her outfit! The green was a great nighttime alternative to black, and the monochromatic element made her look very sleek and stylish.
What's a better way to try out a trend than to try it with a friend? Coordinate your monochromatic looks or even wear the same color to match and look bomb with your squad. Going with a theme like pastels in this look, warm tones, or cool tones can be a fun way to get your monochromatic look together.
Where to Buy?
For this spring summer 2020 trend, you'll probably have most of the clothes needed already at home!
If not, my first recommendation would be to buy secondhand or borrow from friends, so that way you can find a wide selection of cool, funky pieces to experiment with without spending a fortune.
If you are looking to buy online, PrettyLittleThing, Old Navy or Forever 21 are great for getting trendy and colorful pieces for a low price.
What do you think of these spring summer 2020 trends?
For more spring summer 2020 trends, be sure to see our guide to denim trends in 2020.
What's an old school trend you'd like to bring back this year? Have you ever tried wearing a silk scarf? Do you have a bomber jacket you've been trying to style?
Let me know in the comments!