This article will show you how to wear overalls like a fashion girl.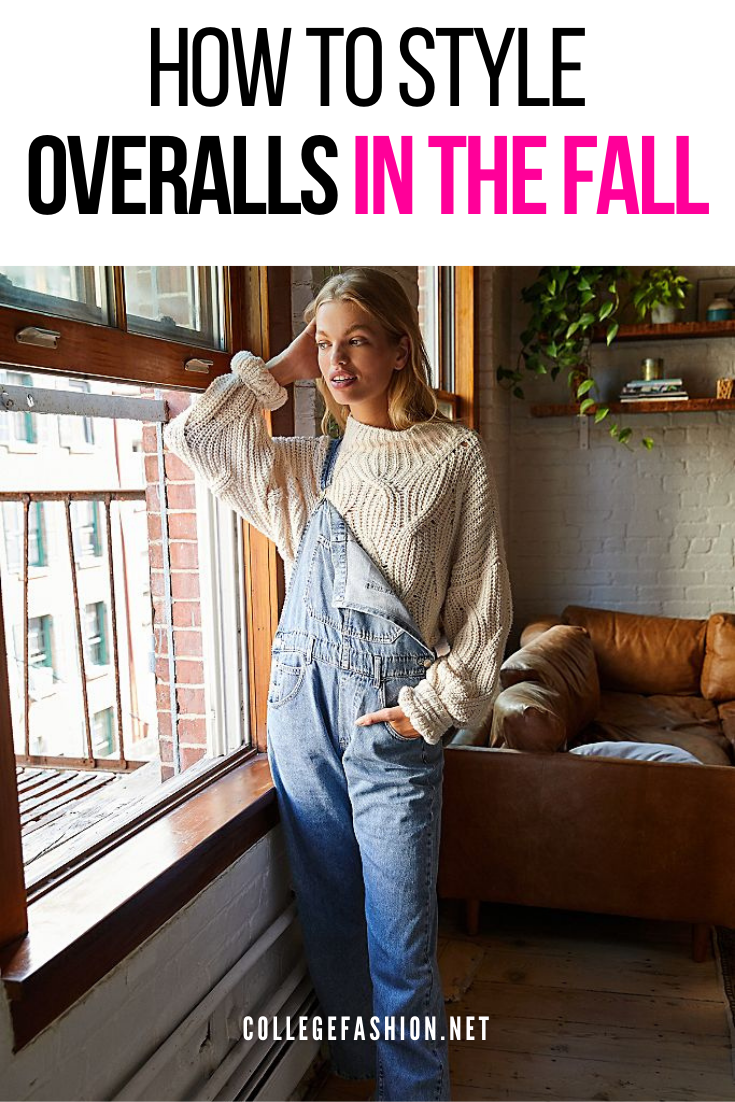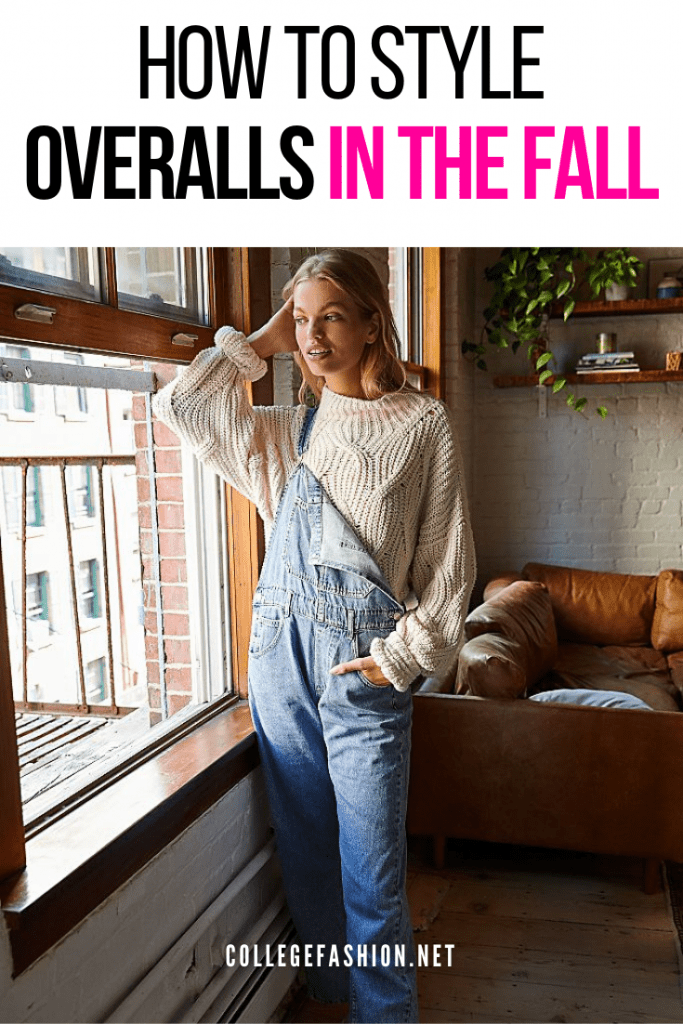 Overalls are coming back in the best way. This staple piece is one of my favorite ways to incorporate a bit of childhood whimsy into your adult wardrobe. From bright colors to muted tones and textures, overalls are a versatile piece that can be dressed up or down.
Once you're able to separate yourself from imagining the scratchy, stiff denim overalls you may have had as a kid, you'll see there are so many more different styles and varieties of overalls to incorporate into your wardrobe.
Here are my favorite ways to style a variety of different overall-based pieces and take them from summer to the cooler weather of fall and winter!
Read on to learn how to wear overalls like a fashion girl.
Fundamentals of Styling Overalls
Fortunately for all the fall lovers, overalls are a piece inherently made to layer! They pair just as well with a cute bralette in the summer as they do with a chunky sweater in the fall weather.
From tights to turtlenecks to crop tops, overalls can be a cute way to use those back-of-the-closet pieces you lack the inspiration to wear. That's why I love to layer, tie, cuff, and accessorize my overall outfits!
Over and above the layering, overalls are a piece that transcends any particular style. They can be worn with loose silhouettes and accessories for a boho look, a thick belt and boots for an edgier style, or with a crop top and sandals for a fresh-off-the-beach vibe.
A classic staple piece, a good pair of denim overalls are timeless, well made, and will last you a lifetime! They're a great investment piece for your college (and beyond) wardrobe.
Overall Outfits: Artistically Neutral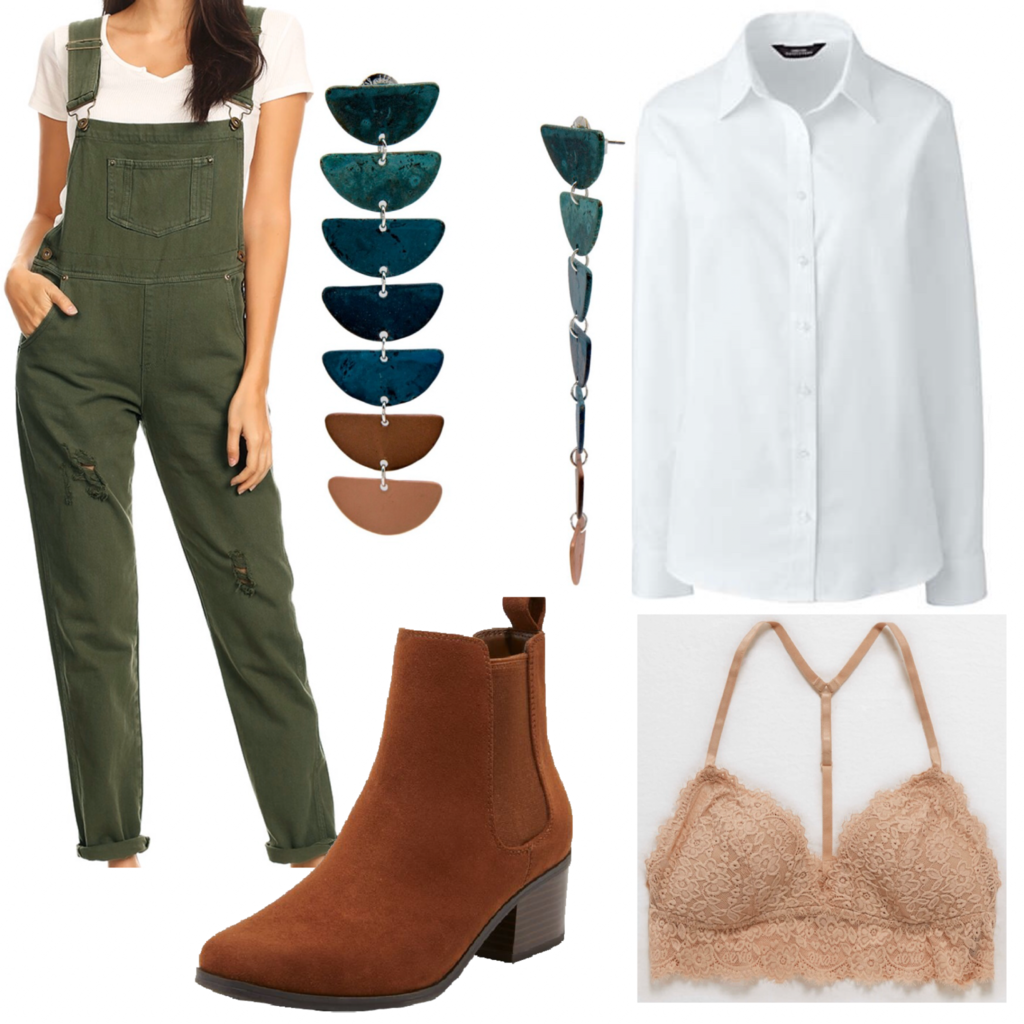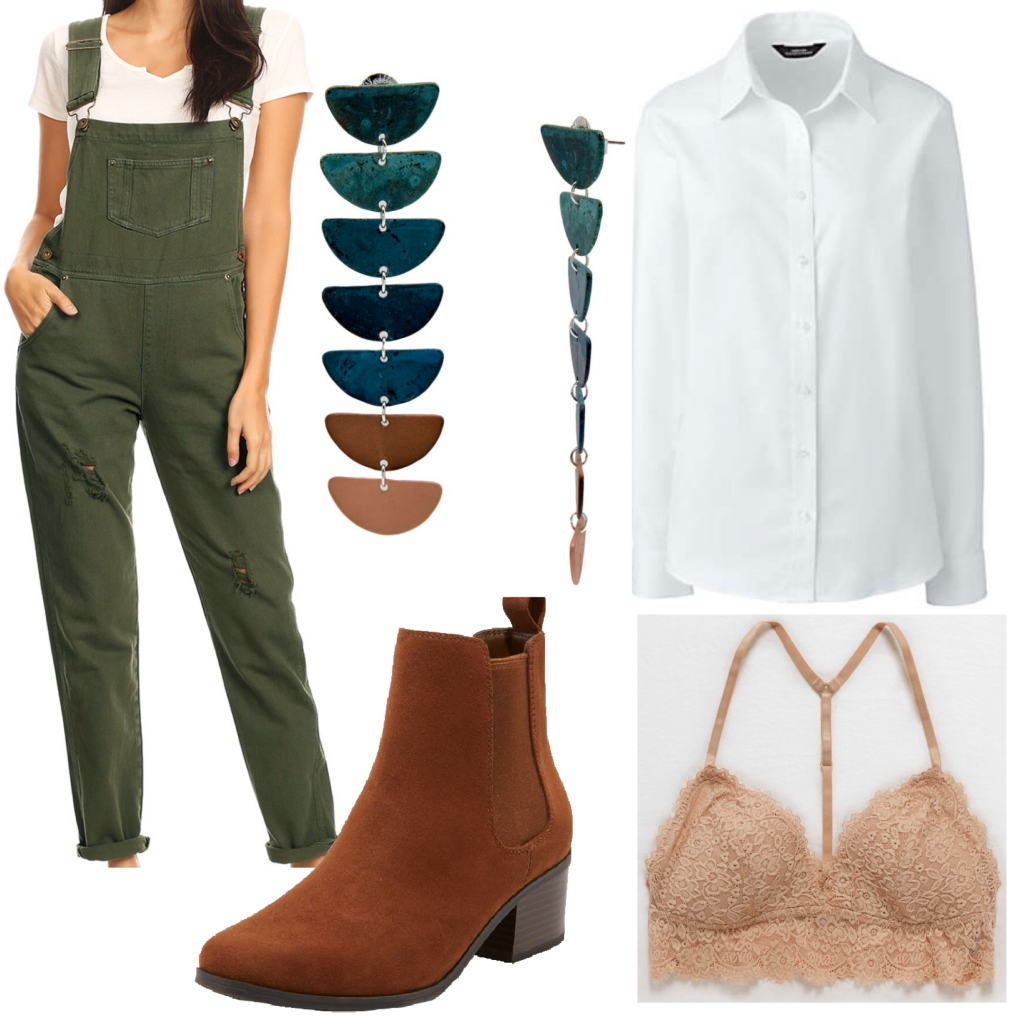 Products: Overalls, Top, Bra, Shoes, Earrings
This overalls outfit is a fun way to incorporate a neutral color palette into an eye-catching outfit with funky accessories!
Start with this pair of olive green structured overalls, and layer a white button down shirt underneath for added warmth. Unbutton the top couple of buttons for a comfortable and boho look.
To switch things up, rock this tan lace bralette underneath and knot the button-down over top for a fun way to play with layers.
For shoes, pull out a classic Chelsea boot for fall in a warm brown shade. These gorgeous geometric earrings incorporate the browns and greens in this outfit, and are perfect for pulling the look together.
Overall Outfits: Youthfully Accessorized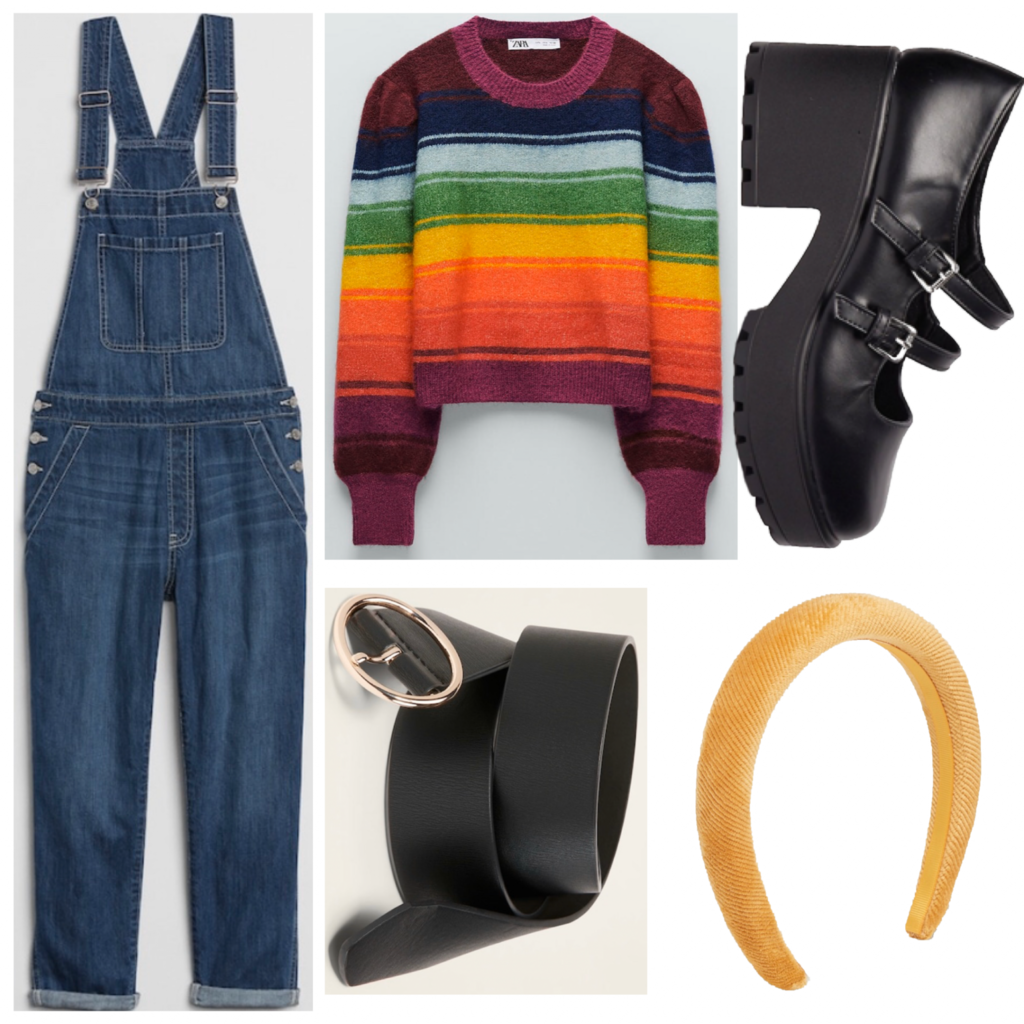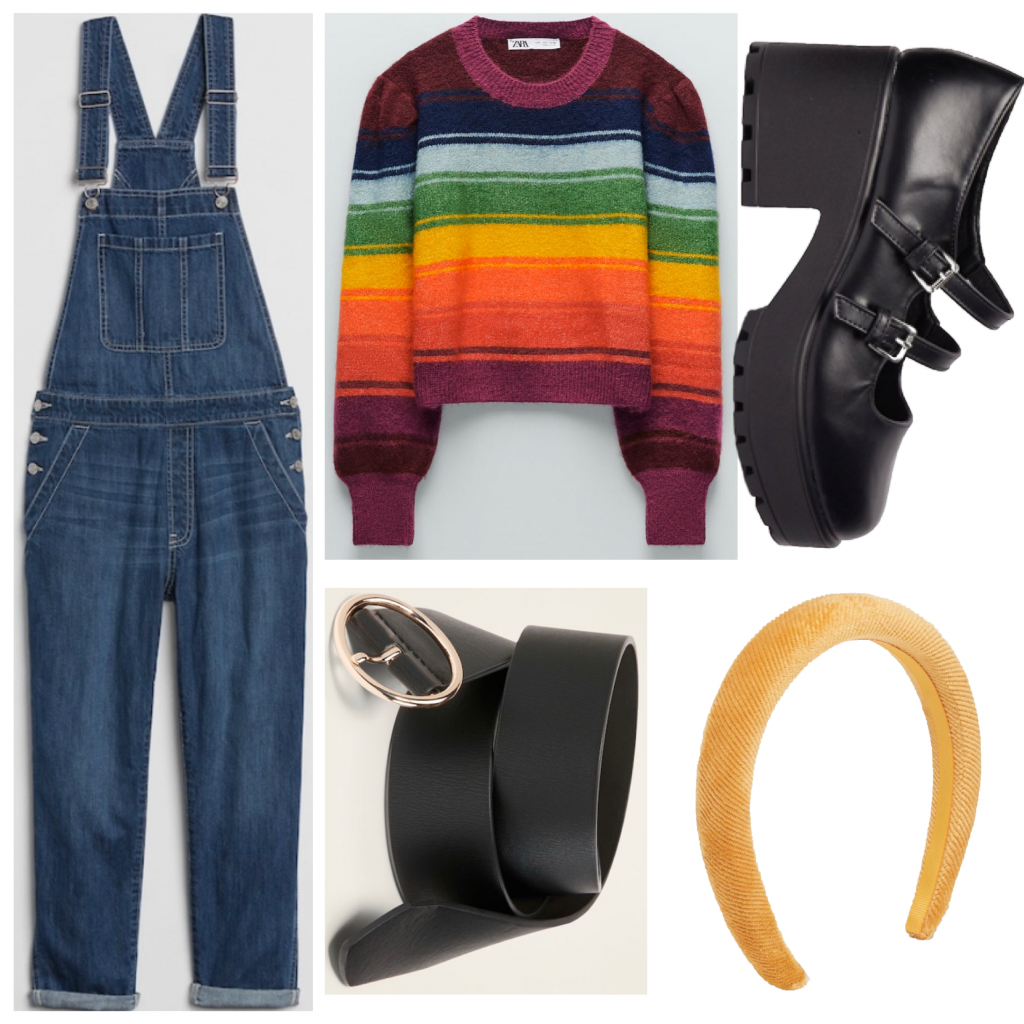 Products: Overalls, Sweater, Shoes, Belt, Headband
For a bright and colorful look that gives indie concert vibes, this outfit is perfect and incorporates a ton of cool girl accessories.
To start off this look, grab a pair of basic denim overalls. Underneath, throw on this chunky, warm, and wonderfully colorful sweater as the statement piece of the look.
Picking up the yellow in this rainbow sweater, a thick headband gives us grade school nostalgia and adds a pop of color to your upper half.
Taking this look from grade school to 2020 are some chic leather accessories. This black o-ring belt is a classic piece that can be worn with everything, and is a fun way to break up the denim here. Finally, throw on these black mary jane pumps for a unique twist to this youthful look and tie in to the black belt.
Overall Outfits: Coordinated Cool Colors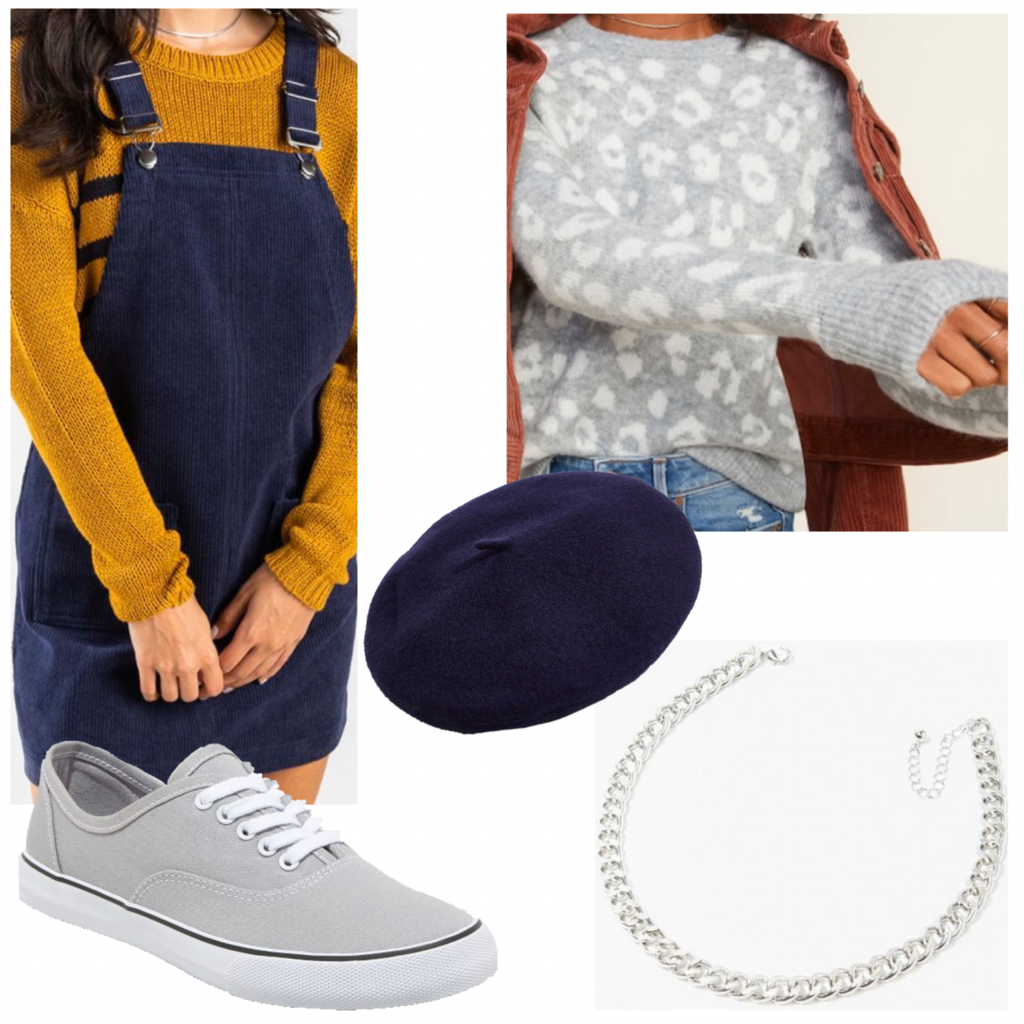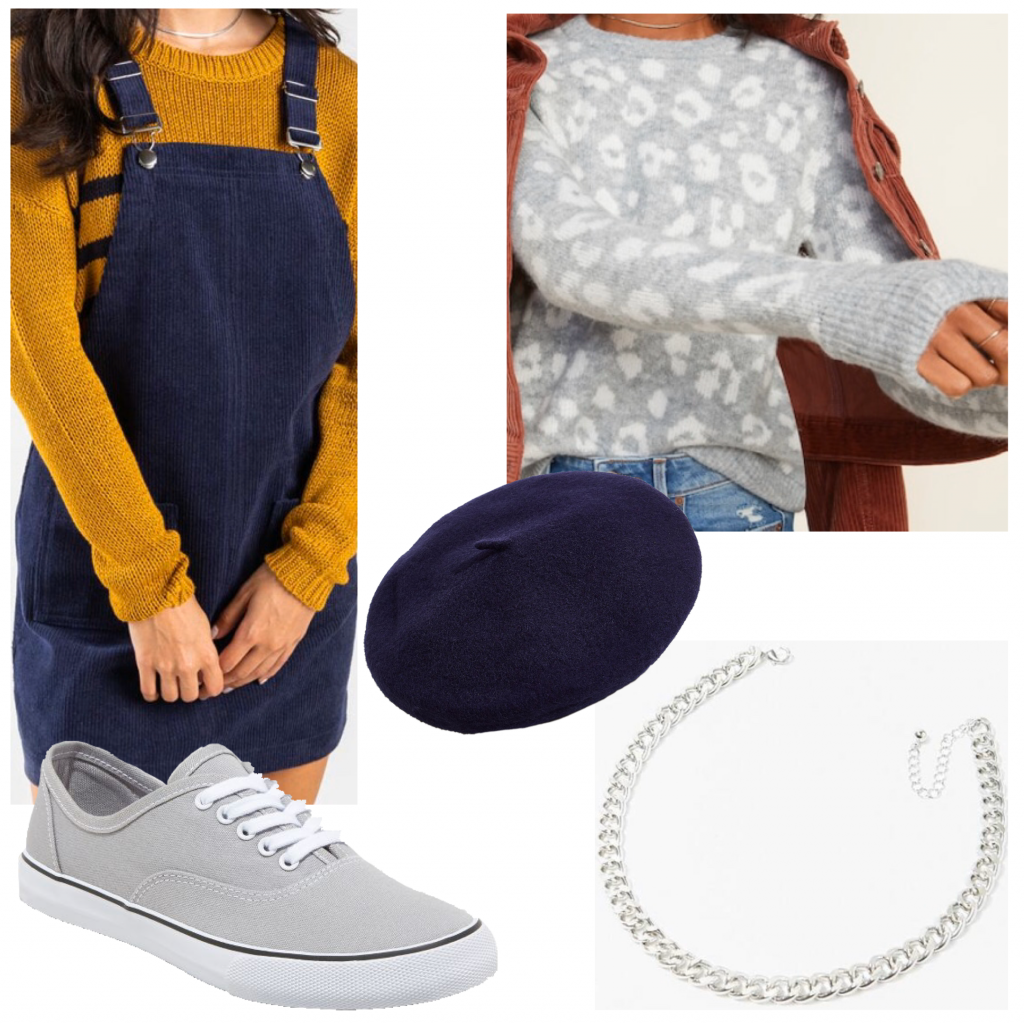 Products: Dress, Sweater, Shoes, Beret, Necklace
Try dressing up overalls for a day at the office, a chic day out, or dinner with family and friends! Materials like corduroy can make any outfit look comfortable and luxurious at the same time.
An overall dress is a unique piece that's often overlooked, but can be the start of a great outfit! This navy dress is versatile, dressy, and cozy and a great addition to any college girl's closet.
An animal print sweater in a neutral color like this cool grey adds a little extra to this outfit without taking away from the dress. To match, throw on some basic grey tennis shoes that will be sure to keep you comfortable for a day of walking.
Matching accessories are a wonderful way to tie this outfit together while letting our statement pieces stand out. A navy blue beret upgrades this look into a world of sophistication and glamour – you'll stand out on campus (in a good way of course)! This silver chain necklace is a subtle accessory but perfect for pulling the cool tones of the look together.
How to Wear Overalls: Night Out Glamour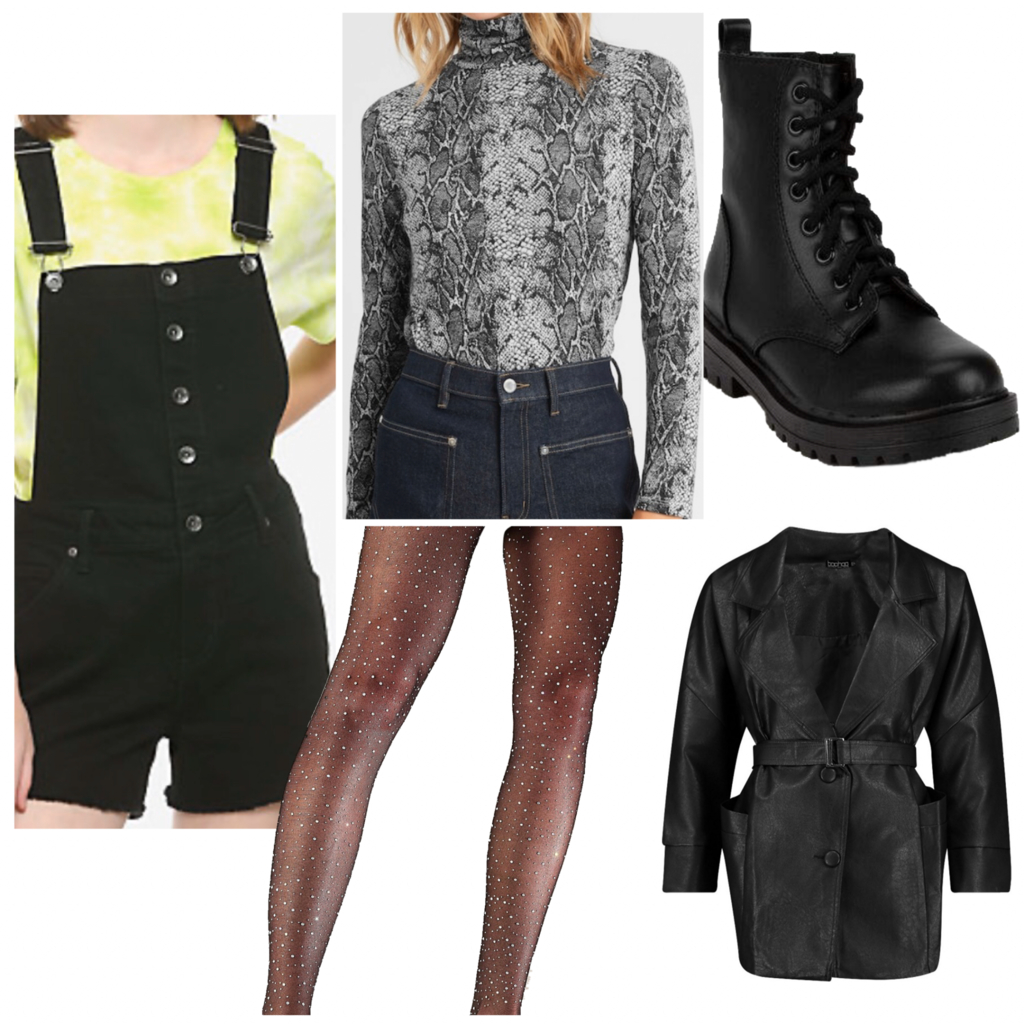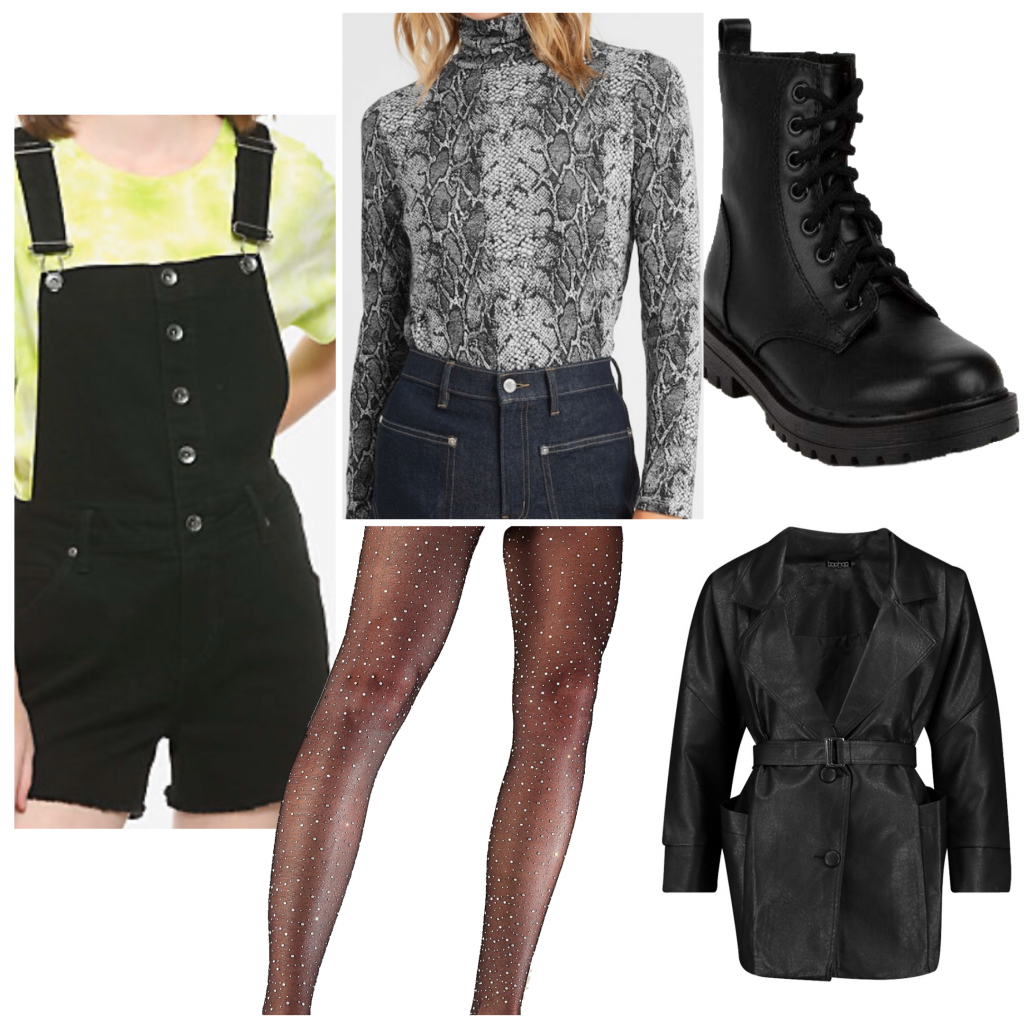 Products: Overalls, Top, Shoes, Jacket, Tights
Who said overalls can't be chic and edgy? Transform this childhood favorite piece into the perfect staple for a night out on the town.
This black denim overall shorts set is a super basic and versatile piece that can be paired with a lot, no what the season! Here, we've warmed it up a bit by adding this snake print turtleneck shirt underneath.
On the bottom, these rhinestone studded tights are the perfect accessory that will make your outfit pop while shielding you from the wind.
Throw these black combat boots over the tights for a great edgy, rocker girl vibe. Plus, they're comfortable for walking around on a night out! Over top, this black leather trench coat is super trendy this fall, and is sure to keep you warm while still maintaining the edginess of this look.
What do you think of our guide to how to wear overalls?
What do you think of our overall style tips? What top would you pair with overalls? Which look are you most excited to try?
Let me know in the comments!