This post may contain affiliate links, which means we may receive a commission if you purchase through our links. Please
read our full disclosure here
.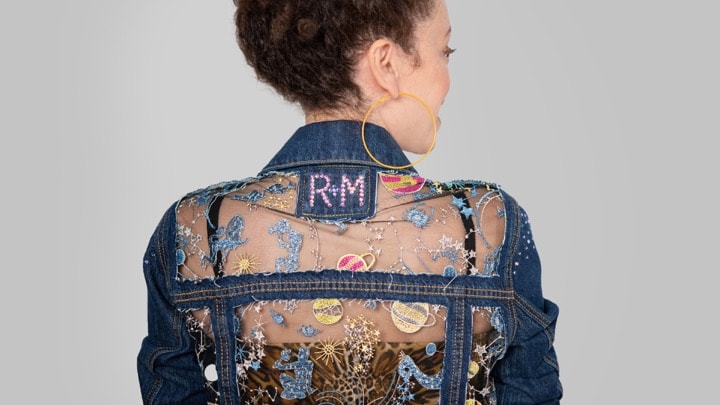 Spring is here, and of course I'm craving new clothes. But instead of going on a shopping spree, I've decided to take a different approach this season. I'm going to try and avoid buying new, and instead try upcycling clothes I already own.
After all, I'm stuck at home with a lot of free time. It's the perfect chance to give upcycling a try.
To motivate myself (and you), I've complied a bunch of methods for upcycling clothes, all organized by sewing difficulty. There are no sew, hand sewing, and more advanced sewing projects, so you will find a project no matter your ability.
I am not the best at sewing by far (my sewing machine and I have a love-hate relationship), so I will definitely be sticking to projects in the first two categories.
If you're looking for something to do while you binge watch, or you just want to refresh your wardrobe, look no further than these ideas for upcycling clothes.
No Sew Methods for Upcycling Clothes:
These is the easiest category, and the one I favor. With a few supplies you can take something old and turn it into something entirely new!
Dye your clothes
There are so many ways to dye clothing and fabric. I'm pretty sure I could list ten off the top of my head and it still wouldn't be all of them. The most popular ones nowadays are tie-dye, bleach dying, and direct dying.
Tie-dying had seen a resurgence recently (thanks to TikTok), especially because it's so affordable and easy to do. So if you have something white, or light colored I'd give it a go. You can get an affordable tie-dye kit on Amazon, just make sure you're careful when it comes to the shipping.
Another option, as mentioned above, is to do a reverse tie-dye with bleach (also called bleach dying) — just dilute some bleach and use that on a colorful item. (See a tutorial on this here!)
Add a design with paint or fabric markers
I personally believe that fabric markers are a god-send. (Just be sure to heat set them before washing your clothes. I learned that tip the hard way.) There are so many ways to use them to upcycle clothes!
Painting fabric, however, does offer a lot of versatility. You can paint on just about any fabric with regular acrylic paint, but if you use fabric paint or add textile medium to acrylic, your design will last through a lot more washes.
Cut your clothes
Do you have a pair of pants that's just too long? Cut them. How about a shirt with a scratchy collar? Cut it off.
There are so many ways to alter the style of clothes by cutting them. My favorites involve denim cutoffs and capris.
The video above is helpful for showing the number of things you can do with a shirt and a pair of fabric scissors. That said, I'd recommend looking for a few tutorials on pinterest before you take the blades to your clothes though, just to make sure you don't mess up. (I've learned that lesson the hard way, too.)
Beginner Sewing Methods for Upcycling Clothes:
Most of these projects can be done if you know how to hand sew. If not, this tutorial is really helpful for beginners.
Add patches
I love patches. I've been scouring the internet for months to try and find the perfect jacket that I can add patches to.
If you prefer to buy your patches I'd recommend checking out Etsy's patch section. They have tons of stores that specialize in patches and all of them are unique.
I like the video above, though, because it offers no sew options to make patches and attach them.
I will warn you, though, that hot glue doesn't last long on fabrics that go through a lot of wear and tear — so if you're planning on attaching your patches with an adhesive I'd use something a little bit stronger or do this on an item that you won't be washing often.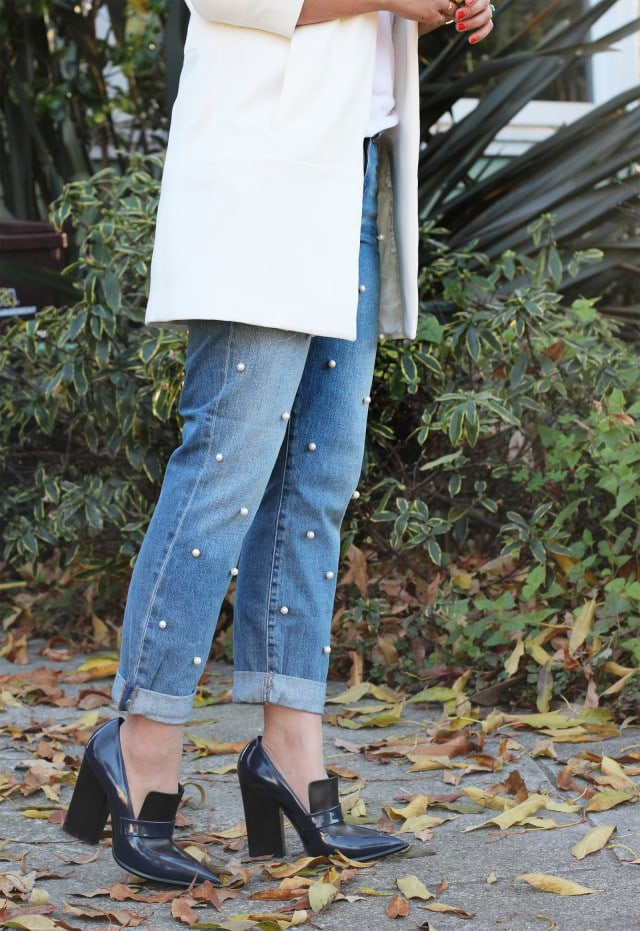 Beadwork can be really complex, however the pearl jeans project above from Honestly WTF is fairly simple.
I really like the subtle class that the pearls give to the jeans. I'm thinking if Breakfast at Tiffany's happened nowadays, Audrey Hepburn would definitely wear these.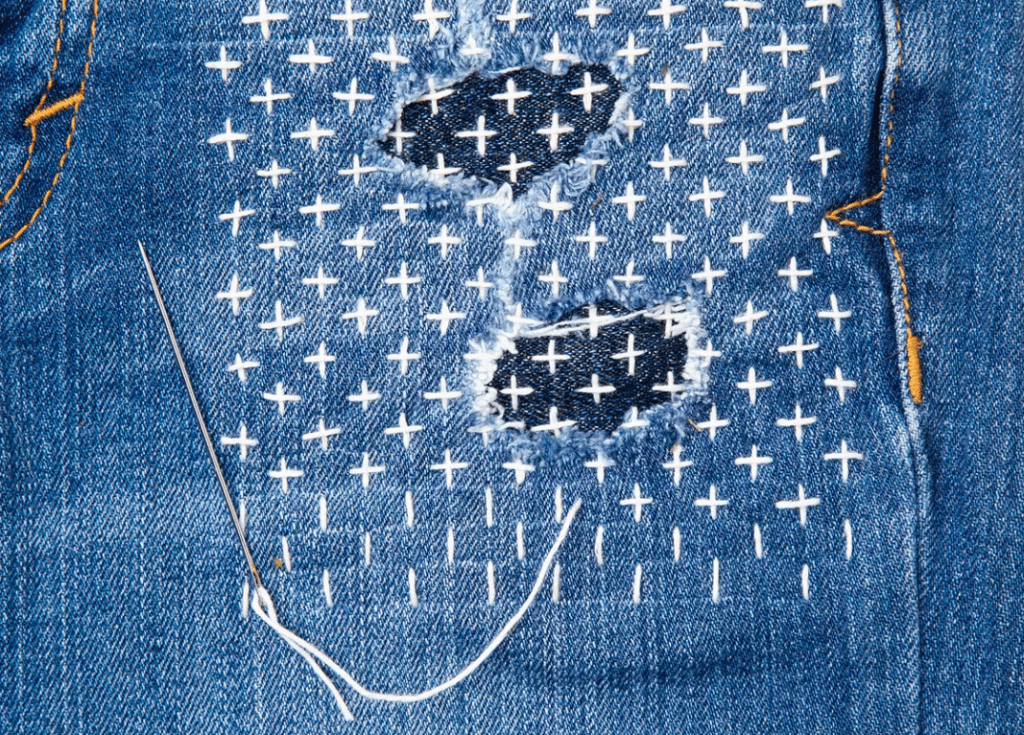 I could have saved so many articles of clothing if I had known about visible mending. Let us have a moment of silence for all of my ripped jeans.
But now that I know about sashiko, the wonderful Japanese art of visual mending, I am going to use it on just about everything.
If you want to learn how it's done, we've actually done a sashiko tutorial here on CF before. Also, DIY Network has another really helpful tutorial.
Skilled Sewing Methods for Upcycling Clothes:
Some of these techniques are a little harder than others and require a sewing machine. You can totally do them, though!
Embroider
I have been getting into embroidery lately, and it is a soothing task, albeit incredibly time-consuming.
I do wished I had watched this video or others before starting, though, because there were some things I would have done differently had I known.
Overall, if you're a patient person and like tasks you can do while watching something, I'd recommend it. Embroidery is an amazing quarantine activity!
Add some fabric
This project does intimidate me a little bit, especially because I have literally never worked with tulle, but the finished jacket is gorgeous.
If I owned this jacket I would wear it absolutely everywhere, just to show it off. Not to mention it would be so breathable in the summer.
I'm also a major sucker for anything celestial so maybe if I improve my sewing skills I can try this project. (Fingers crossed.)
Alter your clothes to fit you
I have been trying to figure out how to alter my clothes for the longest time. This tutorial has me confident that I can get a few projects done.
In general, this channel has a lot of videos dedicated to altering clothes. The video above is for curvier body types, but she also has videos for other body type alterations.
Make it into something new
I'm gonna be honest, I have an addiction to YouTube videos with the words "thrift" and "flip" in them. I can't help myself. I love seeing how people take old things from the thrift store and remake them.
I am in love with the t-shirt flip video above. I might even use it for all of the old college shirts that I have lying around. I feel like most people could pull this off if they have a sewing machine!
Also, I am so inspired by the bomber jacket upcycle in the video below. I know it's spring and not super cold in most places, but I am a firm believer that bombers can be worn year round, especially if they look as cute as this one:
What do you think about these methods for upcycling clothes?
Have you ever upcycled your clothes? Have you done any tie-dying lately? If you could have a patch that said anything what would it say?