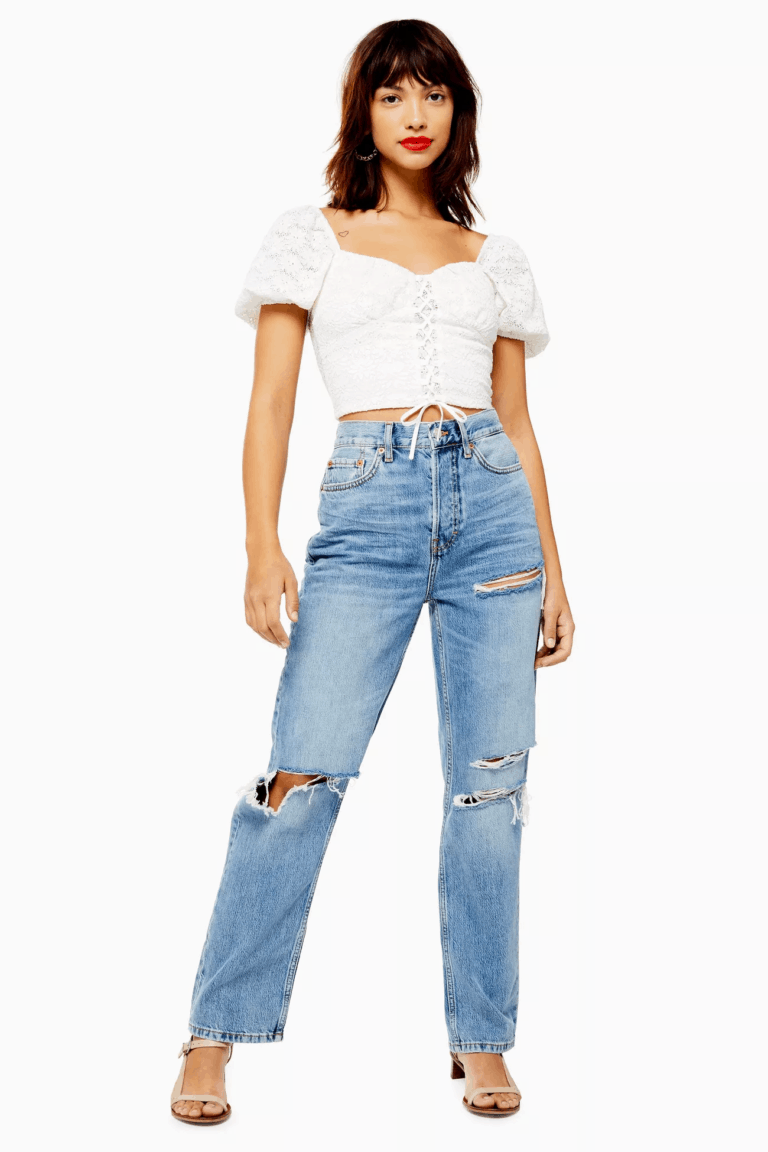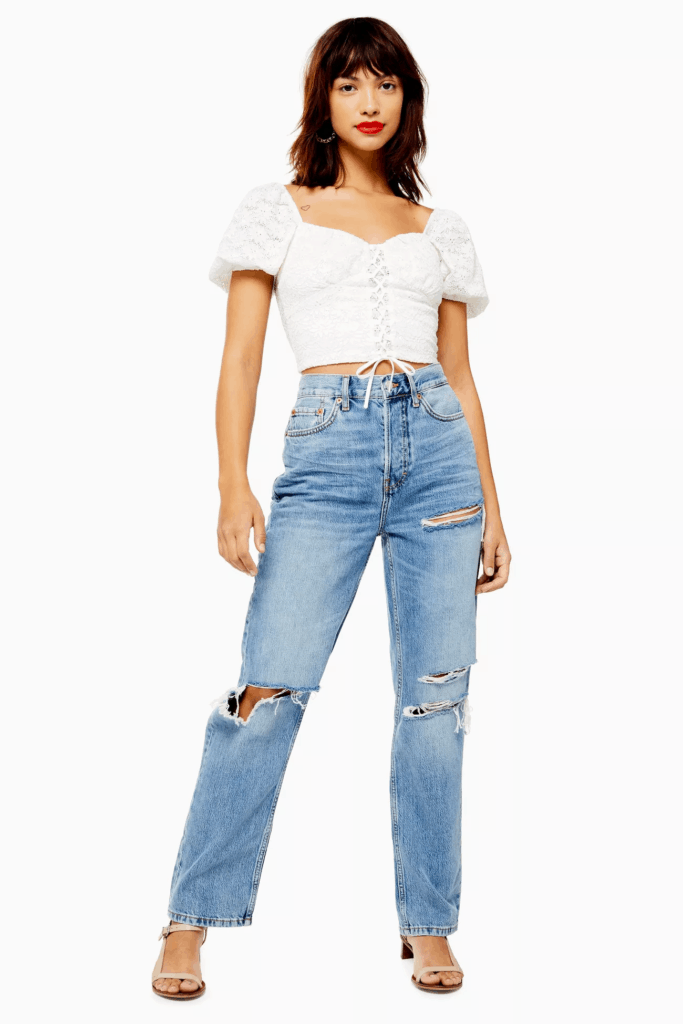 It's a new decade and the start of a new era. For so long, skinny jeans have been a fundamental part of my wardrobe. But in 2020, they may be falling out of fashion as everyone's go-to denim shape. That's because we're making room for some 2020 denim trends.
Are Skinny Jeans… Out?
While skinny jeans will never really be out of style, more and more fashionistas have been putting their skinnies on the back burner in favor of looser silhouettes. Comfortable, well-fitting jeans are key.
For example, mom jeans have been skyrocketing over the past few years, and flared jeans have also been gaining some serious fashion momentum.
So what now?
The sudden surge of comfortable bottoms has opened the doors for a variety of non-skinny 2020 denim trends. Whether you prefer your jeans slim or as wide as possible, there's a denim trend for everyone!
2020 Denim Trends: Straight-Leg Jeans
Consider these the skinny jeans for those who aren't quite ready to lay their skinny jeans to rest.
Straight-leg jeans are slim along the leg, but they don't have the tapered ankle that skinny jeans do. This loose ankle means that straight-leg jeans don't fit into booties the way that skinnies do, but they do fall perfectly over them, which looks so chic! I also love the look of frayed hems on straight-leg jeans – I think it's such a cute and edgy detail.
Straight-leg styles are just as easy to style as your beloved skinnies, too!
For a classic and trendy look, follow Hailey Baldwin's lead by tucking a button-up cardigan into your denim and pull the look together with a chic belt. Or go full fashion-girl mode by pairing your denim with a sleek pair of black boots and a slouchy, oversized blazer:
Shop the Trend:
Loose-Fit Jeans
Otherwise known as "mom jeans", "dad jeans" and even "grandpa jeans", loose-fit jeans are the sweatpants of denim. This 2020 denim trend is straight and ultra-loose, but with a tapered ankle to add some shape.
The overall shapelessness can be polarizing for some, but styling this trend comes down to playing with proportions! Since the bottoms are so loose, your top should be tighter to balance the look. For example, a tight-fitting turtleneck or sweater would look so cute and casual, especially if paired with some trendy sneakers.
For an edgier look, pair your loose-fit jeans with a fitted bodysuit or crop top. Add a belt to cinch your waist, and throw on some sleek booties to finish off the look.
I picked up my loose-fit jeans at a thrift store and decided to go the extra mile by hand-embroidering some details onto the rolled-up cuffs! If you're a fan of edgy details, I highly recommend trying it out. Plus, I feel like embroidery is really going to have a fashion moment this year.
Shop the Trend:
Kick Flare Jeans
Kick-flare denim is basically the beginner phase of flared jeans. If you're into the flared denim trend but you're not sure if you can pull it off, a pair of kick-flares is the perfect place to start.
This denim trend is skinny through the leg and flares out just a bit at the ankle, as if you had kicked the denim to add more room at the hem.
Since the flare isn't too dramatic, styling this denim trend is just as easy as styling your favorite pair of trousers. You could even channel the fashion-girl uniform mentioned above by pairing this denim trend with a turtleneck, a blazer, and a gorgeous pair of boots. Or, roll up the flared hem for an exaggerated cuff and add a pair of statement socks and your favorite sneakers. Casual, trendy, and definitely street-wear approved.
Shop the Trend:
Wide-Leg Flare Jeans
No more training wheels – these flares are for the bold. Flared denim is slim from the waist to the knee, where it starts to spread into an a-line shape. How far they spread depends on the pair — it's up to you how bold you go!
If flares are new to your wardrobe, I recommend starting slow with a black pair before moving up to blues and other colors. As for styling these bold bottoms, opt for a heeled shoe, like an ankle boot or a mule. Flares can look a little chunky with all the loose fabric, so a heel provides needed balance.
Shop the Trend:
I want to hear from you!
For more on the trends you need in your wardrobe, see our guide to spring summer 2020 fashion essentials.
Are you into any of these 2020 denim trends? Or are your form-fitting skinnies still calling out to you? Let's swap outfit ideas below!