L-R: Forever 21, H&M, Mango
Have you desperately held on to all your favorite denim skirts from middle school in the hopes that one day they'll come back in style? Well you're in luck! Denim skirts are one of the hottest trends of the year.
Funnily enough, denim skirts first came about in the '70s as a way to upcycle old jeans. (If you are a crafty DIY girl, check out this article from The Spruce. It shows you how to transform your worn out old jeans into a trendy denim skirt!)
Otherwise, just grab one of your faves from middle school and style it up. Here's how:
Denim Skirt: Class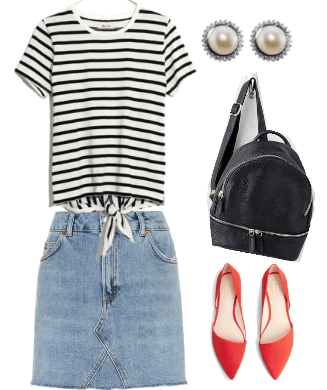 Products: Top – Madewell, Skirt – Topshop, Shoes – Mango, Bag – Lulus, Earrings – Timeless Pearl
This denim skirt from Topshop is a great choice for a day packed full of classes. Wear it with a casual yet cute striped t-shirt and some brightly colored flats for an eye-catching detail.
Plus, look at this adorable mini leather backpack from Lulus! You will never want to take it off.
Denim Skirt: Night Out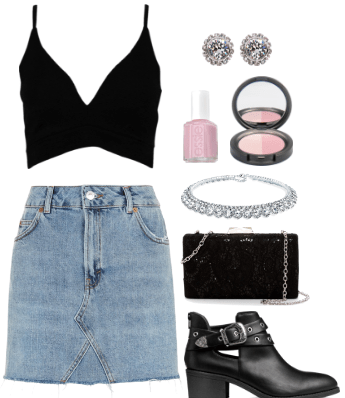 Products: Top – Boohoo, Skirt – Topshop, Booties – H&M, Bag – Nordstrom Rack, Choker – Bling Jewelry, Earrings – Amara, Nail Polish – Look Fantastic, Blush – Vestry
Denim skirts are perfect if you are looking to give off an edgy vibe on your night out.
This black crop top from Boohoo makes the outfit stylish enough for a night on the town. Pair it with some chunky black studded booties and a silver choker to complete the rockstar look.
Adding some baby pink nail polish and makeup softens the look a bit – but it won't diminish the coolness that this look radiates.
What do you think?
Would you wear a denim skirt? Do you like the above outfit sets? How would you wear one? Let me know in the comments below!