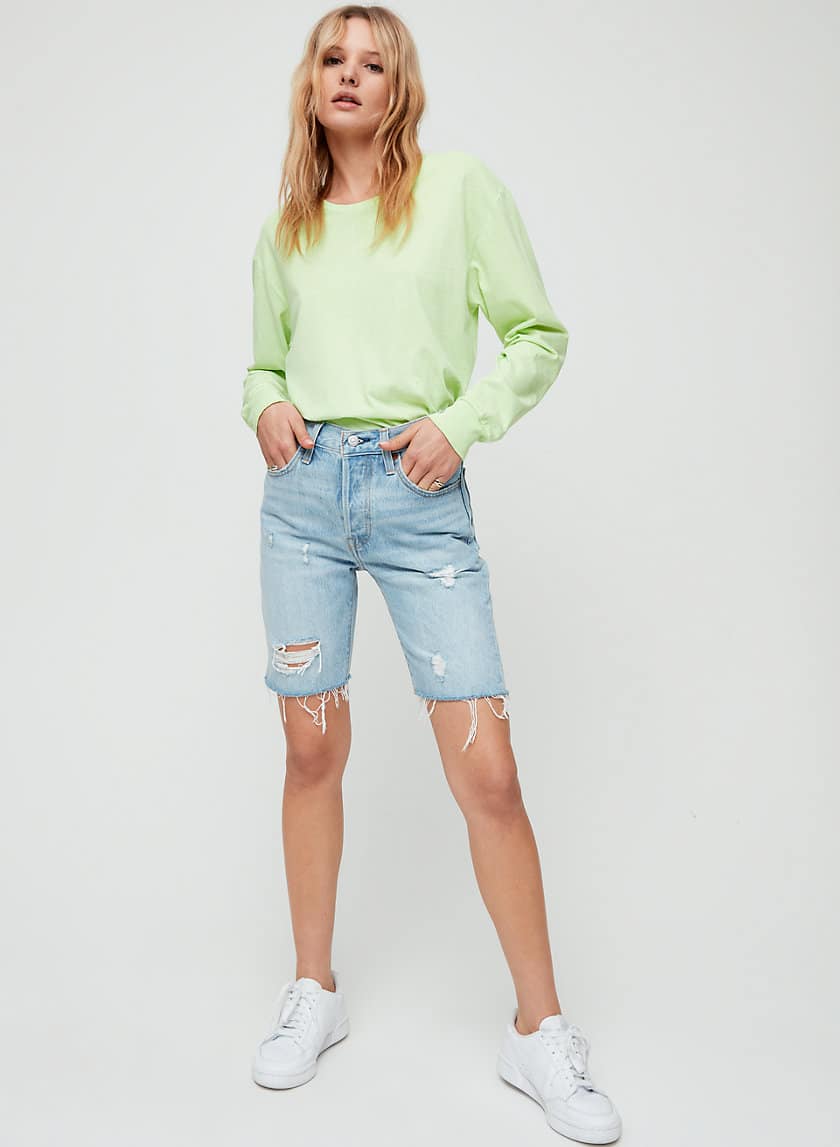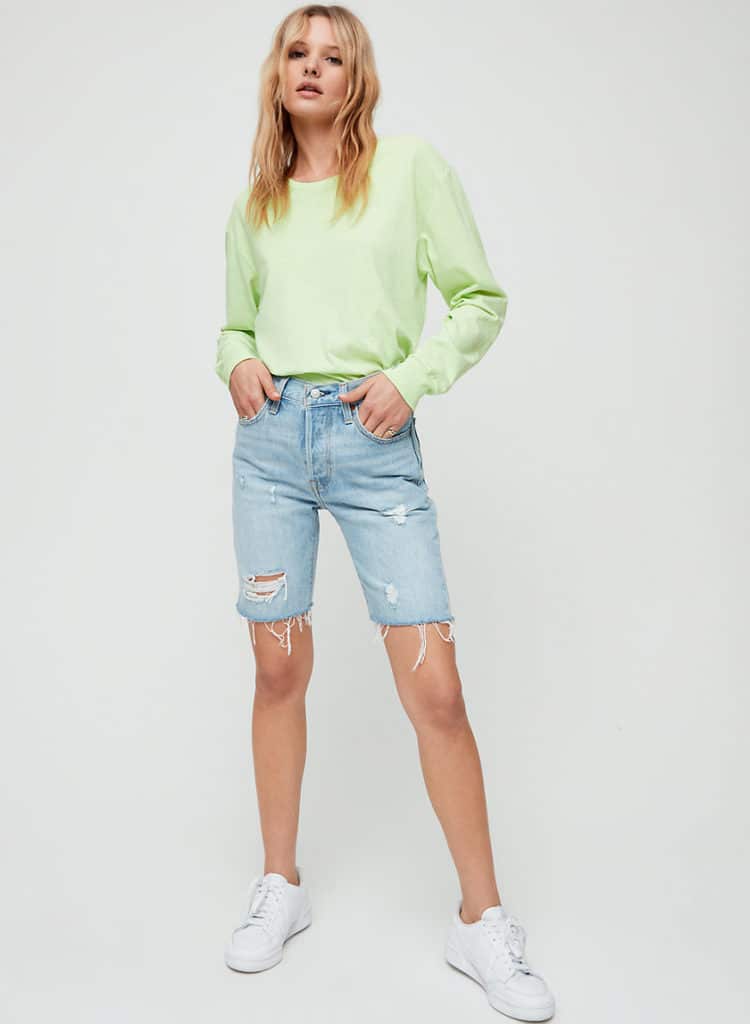 If you're like most college girls, you probably have a go-to casual summer uniform, and chances are that that uniform includes short-to-mid-length denim shorts. And, while this easy-to-wear staple will always be a summer classic, sometimes it's fun to switch things up! Enter: denim Bermuda shorts.
This shorts style, which has seen a big resurgence during recent months, is a great way to transform your summer look with minimal effort. It's also a great option for those who might not feel as comfortable in shorter shorts, whether for modesty-related reasons, or just because they prefer the way longer shorts make them look and/or feel.
And, while Bermuda shorts might remind you of the unironically "frumpy mom" aesthetic, rest assured that you can wear them in a cool, modern, and trendy manner. (See for reference: This recent photo of Hailey Bieber looking youthful and super-chic in a pair of denim Bermuda shorts.)
Note that, for all three looks featured in this article, I chose to go with shorts with distressed details. This is because these accents help give longer-length shorts a more youthful and of-the-moment feel than their plain counterparts. (That said, they could be replaced with a non-distressed pair if you'd rather go for a slightly more formal and classic vibe.)
As well, for all of the looks, I went for shorts with a slouchier, more "boyfriend"-esque fit. This style is most comfortable for all body types and is also, again, the most modern-looking. (Style tip: If you're having trouble finding a distressed, slouchy pair of denim Bermuda shorts, just buy a regular pair in a few sizes larger than what you'd normally wear. Then, use a pair of household scissors to cut about an inch off of the hem to make it look distressed. Or, if you're feeling crafty, refer to this more detailed guide on how to distress your denim.)
Having said all of that, if you want to learn more about how to wear denim Bermuda shorts in a chic and fashion-forward way for summer, just keep scrolling!
Related reading: Jean Shorts Outfits: 6 New Ways to Style This Summer Essential
Denim Bermuda Shorts Outfit #1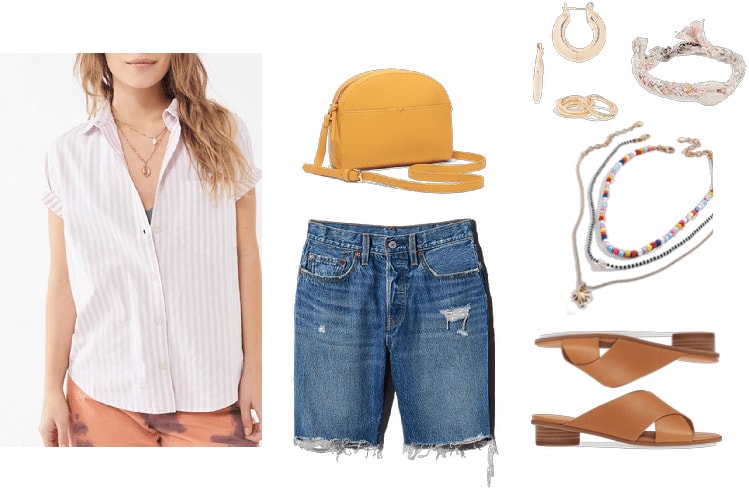 Products: Shirt – Urban Outfitters, Bag – Old Navy, Shorts – Bloomingdale's, Earrings – Shopbop, Ring Set – Shopbop, Bracelet – Shopbop, Necklace Set – BaubleBar, Sandals – Nordstrom
I structured this laid-back look around a classic pair of Levi's denim Bermuda shorts in a medium wash and a moderate amount of distressing.
A breezy, oversized striped short-sleeved shirt is the perfect complement to the shorts, while a bright yellow crossbody bag adds the perfect summer-y pop of color.
Add some eclectic jewelry pieces–including a colorful palm tree necklace set, some small, thick gold hoops, a set of wavy stacking rings, and an on-trend braided satin bracelet featuring a cowrie shell–for an easy way to add further visual interest to the ensemble.
To complete the look, slip on a pair of classy criss-cross leather slide sandals with a small, chunky heel. Voila: You've got yourself a fun, casual outfit. This look would be perfect for attending summer classes or grabbing a scoop (or two, or three!) of ice cream with your friends on hot summer weekends!
Denim Bermuda Shorts Outfit #2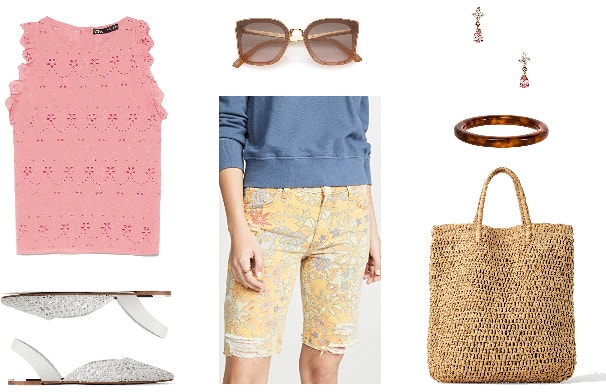 Products: Top – Zara, Flats – Zara, Sunglasses – ZeroUV, Shorts – Shopbop, Earrings – Revolve, Bangle – Revolve, Tote – Zara
As soon as I saw this whimsical, retro-inspired floral-printed pair of shorts, I knew that I just had to include them in this article!
While they might seem hard to wear at first, they're not as tricky as you'd think. The colors are on the muted side, so you can pair them with tops in brighter colors, like this pretty bubblegum pink eyelet one from Zara. (Note that this top features an open lower back and isn't lined, so you might want to layer a cami or bodysuit underneath. Personally, I'd recommend one in a shade of pale pink or white.)
Because you don't want to overwhelm the eye, keep your shoes and bag on the simple side. I love these woven pointed-toe slingback flats in white, and this pretty beige woven tote.
As for jewelry, go for just one or two classic pieces, such as these dainty drop earrings and tortoise-patterned bangle.
For the finishing touch, add classy oversized sunnies with rectangular lenses — so on-trend and flattering.
Denim Bermuda Shorts Outfit #3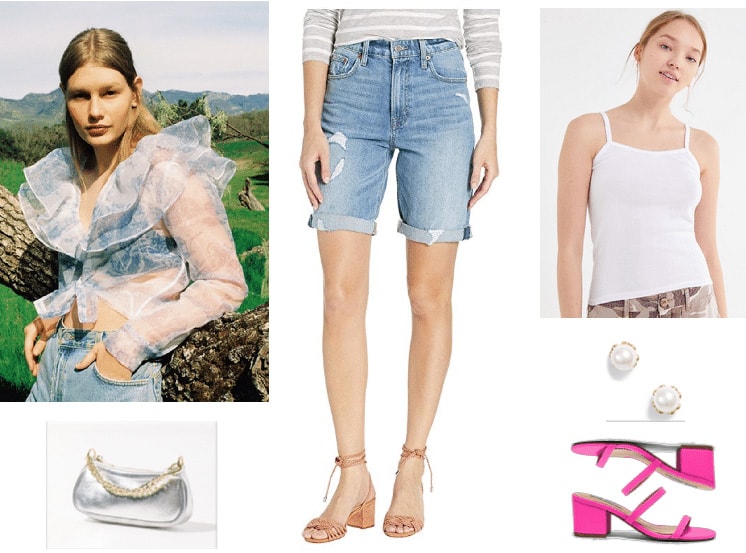 Products: Blouse – Urban Outfitters, Bag – Urban Outfitters, Shorts – Zappos (Similar here in more sizes), Earrings – Nordstrom, Camisole – Urban Outfitters, Heeled Sandals – Revolve
Although denim Bermuda shorts are a casual summer staple, it's possible to style them in a more formal way. This look could be worn for a night out as well as during the day.
With that in mind, I chose a pair of shorts with less distressing and rolled-up hems for a polished vibe.
Here, I styled them with a lovely organza ruffled blouse with a feminine, vintage-inspired toile print. This top is from the gorgeous collaboration between Laura Ashley and Urban Outfitters. Since this piece is completely sheer, I recommend wearing a camisole or bodysuit underneath. I love this white cami with girly scalloped detailing around the straps and neckline.
Since the blouse has a lot going on, I kept the rest of the look pretty minimal. Pretty pearl studs and a metallic chain-strap bag add shine without overwhelming the senses. Finally, hot pink block-heel slides are the perfect way to add a chic neon accent to the outfit.
What do you think?
What is your preferred shorts length/style? Do you plan on participating in the denim Bermuda shorts trend this summer? If so, how will you style them?
Let me know in the comments!