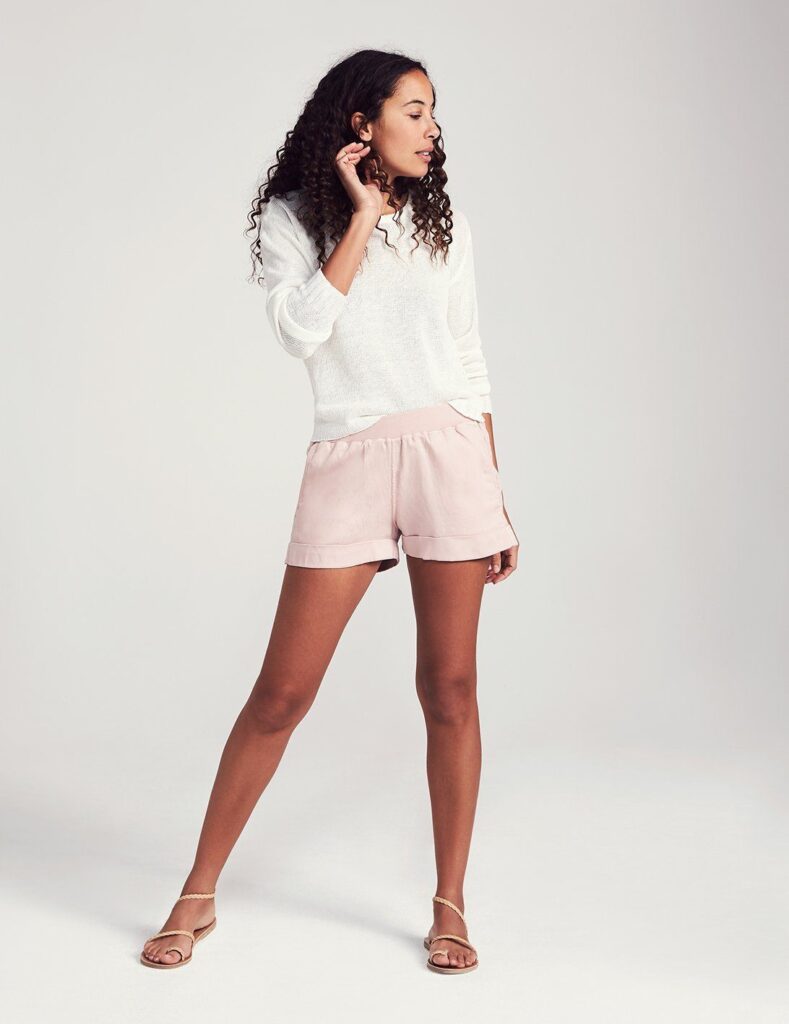 If the past few months have taught us anything fashion-wise, it's that cozy outfits are king. That vibe is continuing this summer in the form of the sweat shorts trend! So today I thought I'd share some cute sweat shorts outfits to get you started with this look.
As with any trendy item that is more to the laid-back side, sweat shorts need to be styled right to ensure that you look put-together, not like you just rolled out of bed.
Below, I've put together three stylish sweat shorts outfit ideas that are sure to make an impact this summer.
Just keep scrolling to see them!
Sweat Shorts Outfit #1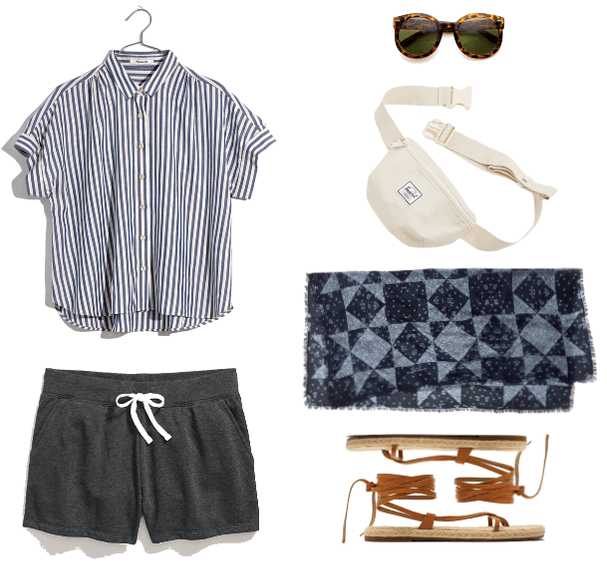 Products: Shirt – Madewell, Shorts – Old Navy, Sunglasses – Zero UV, Fanny Pack – Urban Outfitters, Scarf – Madewell, Sandals – Zara
This super-chic, menswear-inspired look adds a hint of dressiness to the sweat short trend, thanks to its juxtaposition of preppy details and mixed prints.
To get the look for yourself, begin by buttoning up a loose-fitting striped short-sleeved shirt.
Next, add neutral-colored sweat shorts, such as this classic (and affordable!) charcoal gray pair.
To add some visual interest to the outfit, put on a lightweight scarf with a boho print, as well as some classy faux-tortoise sunglasses.
A canvas fanny pack makes for an easy way to carry around your essentials on walks and grocery trips.
Finally, these tie-up sandals make for a fashionable way to complete the ensemble.
Outfit #2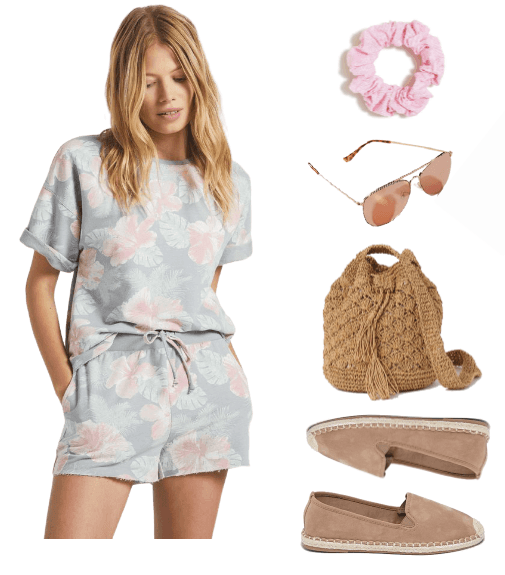 Products: T-Shirt – Z Supply, Shorts – Z Supply, Scrunchie – J.Crew Factory, Sunglasses – Anthropologie, Bag – H&M, Espadrilles – Old Navy
Though you might not be near the beach this summer, that doesn't mean you can't dress like you're there!
For a look that's sure to remind you of days spent relaxing by the water, go for a summer-y matching sweat short and t-shirt set.
Style the set with a straw bucket bag and timeless aviator sunglasess to give the ensemble an extra beachy vibe.
Then, add a scrunchie in a sweet shade of pink.
Lastly, to finish off this laid-back look, simply slip on a pair of understated faux-suede espadrilles.
Outfit #3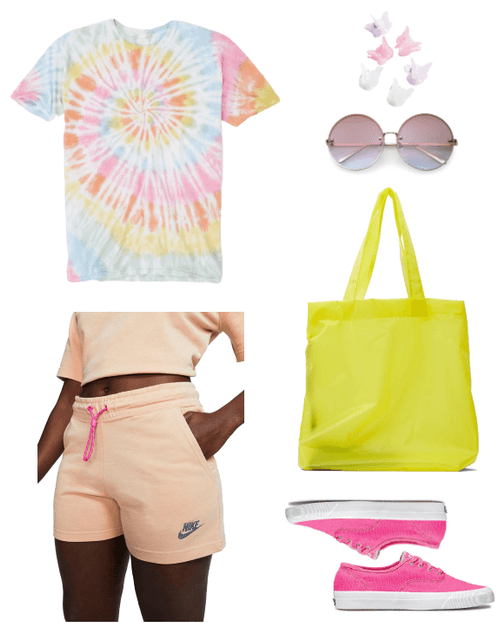 Products: T-Shirt – Urban Outfitters (Similar style here in more sizes), Shorts – Urban Outfitters, Butterfly Clip Set – Urban Outfitters, Sunglasses – Zero UV, Tote – Zara, Sneakers – Keds
For the final look, I wanted to put together something bright and cheerful. So, I decided to go with this fun, 1990s-inspired outfit.
To copy it for yourself, start off by half-tucking a trendy tie-dye t-shirt into a pair of neon peach sweat shorts. Doing this will enable you to show off their unique pull detail.
Next, put on a pair of bold ombré sunglasses, and grab an electric neon yellow tote.
For some extra '90s flair, pin small sections of your hair back using pretty butterfly clips.
Finally, pull everything together with a pair of hot pink sneakers, which are definitely in keeping with the look's carefree and colorful theme.
What do you think of these sweat shorts outfits?
Are you a fan of sweat shorts? How would you style them? Do you have a favorite place to buy cute sweat shorts?
Let me know in the comments!