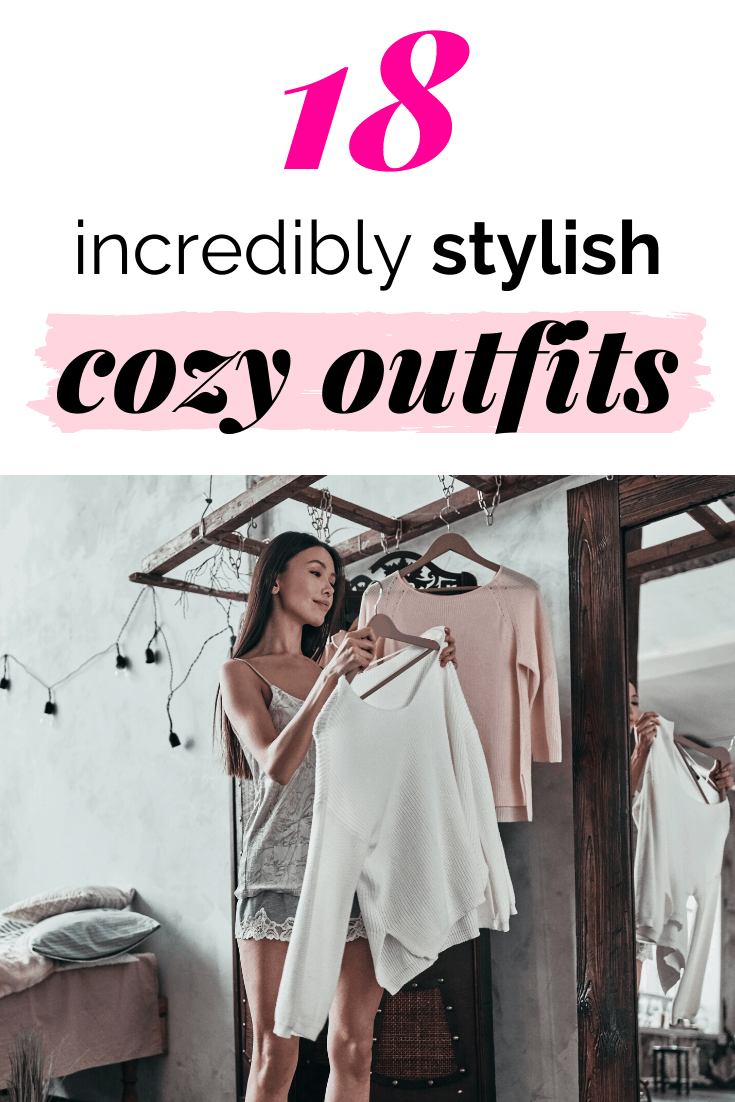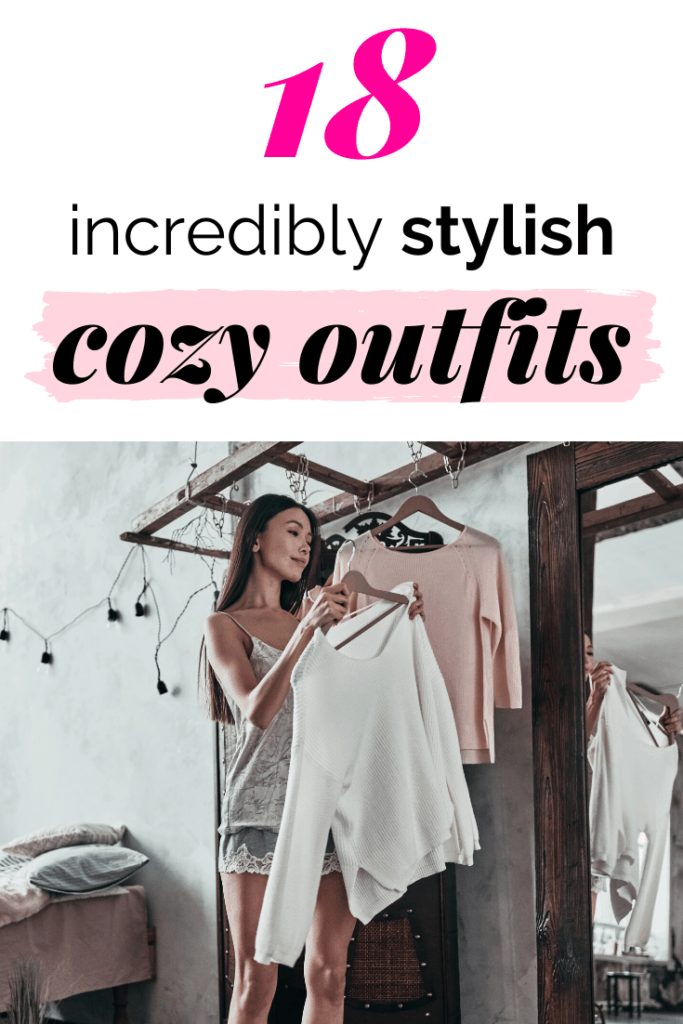 I don't know about you, but lately I've been 100% obsessed with cozy outfits. I know, some people are all about dressing up right now and that's amazing, but I'm enjoying loungewear combos that are as cute and cozy as possible.
Below, I'll show you how I create my ultimate cozy outfit piece by piece, and then I'll share 18 example outfits to get your inspiration going!
Related post: The Best Cute Outfits for Teens to Wear On Repeat This Year
My Ultimate Cozy Outfit Right Now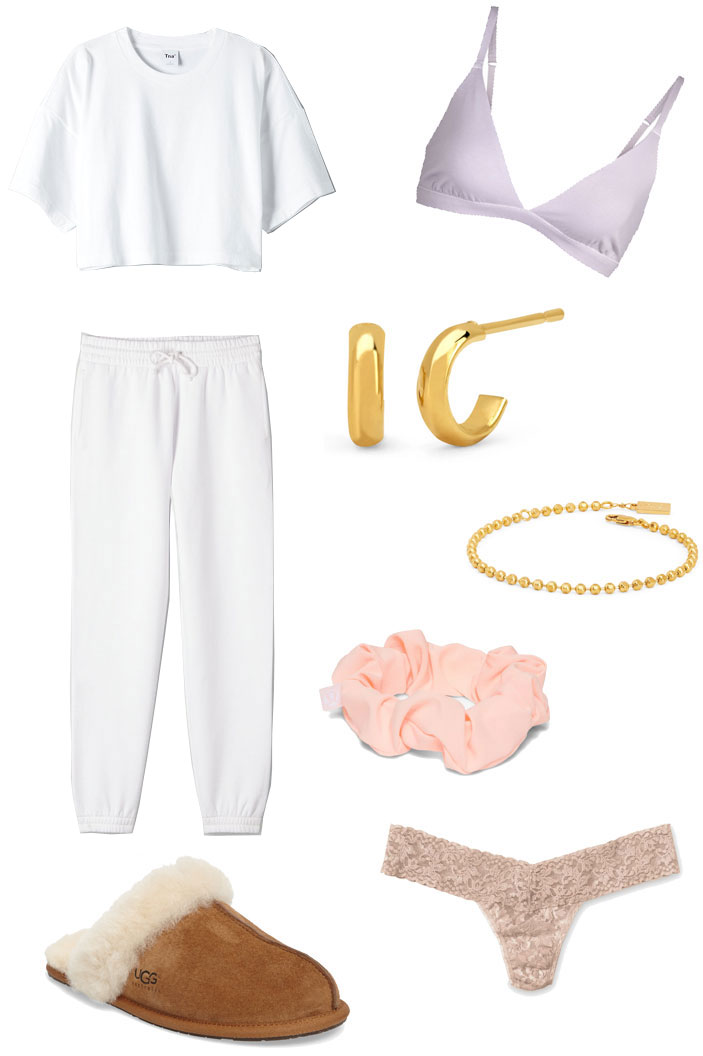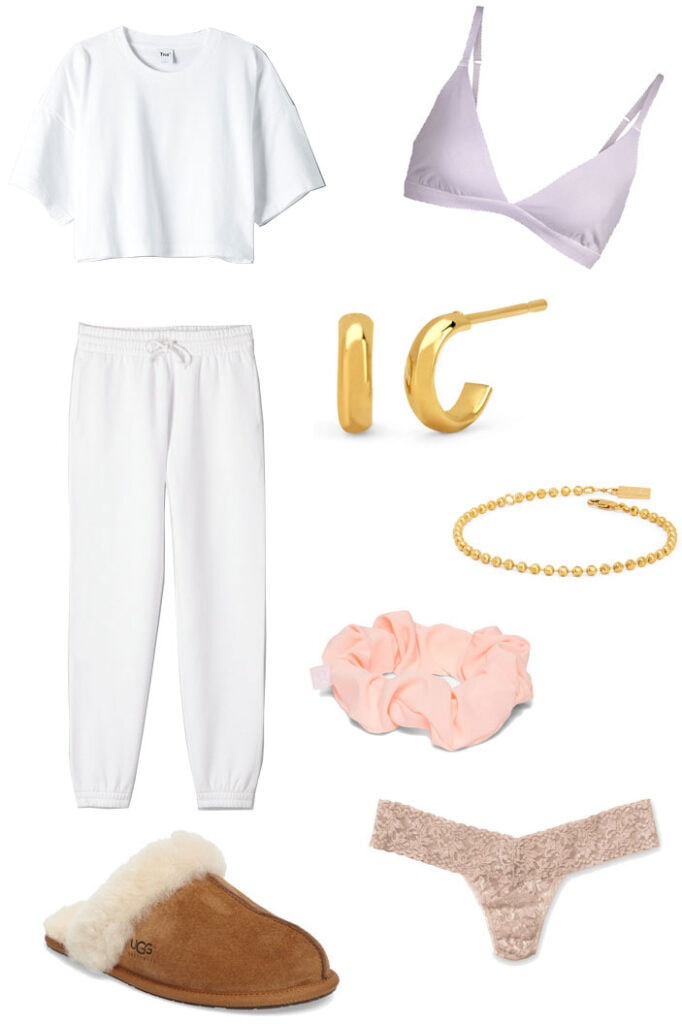 My favorite cozy outfit of the moment starts off with a cozy base. I always begin with a comfy bralette — how cute is this one from SKIMS? I also love seamless undies from Hanky Panky; they're so comfortable and never show lines!
Right now, I've been super into matching sets, but you don't have to buy them together — it's fun to mix and match. Aritzia has some great pieces I've been loving, from sweats to boxy cropped tees.
For accessories, I keep it super simple with some huggie hoop earrings, a minimal bracelet, and a scrunchie for my hair.
Finally, you need cozy slippers for a day at home. These classic UGG ones are my absolute favorites and I will re-buy them until the end of time!
More Cozy Outfit Ideas
Now it's time to get your inspiration going! Below, I've rounded up 17 cute and cozy outfit ideas you can copy for your next day at home (tomorrow).
Bike Shorts + Oversized Hoodie + Mini Bag
I love this combo! It feels dressy thanks to the accessories but it's so incredibly easy to put together. If you don't yet have a pair of bike shorts, invest ASAP! (I love these ones from Aritzia!)
Matching Sweats + Oversized Cardi + Sneakers
The cardigan is back in a major way this season! I've been seeing huge chunky cardigans paired with sweats on all of my favorite influencers and I couldn't love this cozy outfit style more. So easy to throw on and snuggle up.
Leggings + Hoodie + Denim Jacket + Baseball Hat
This is such a chic take on cozy clothing.
I love Crystalin Marie in general (definitely check out her blog if you haven't yet), but this is one of my favorite looks of hers. It's ideal for the chilly days we're still experiencing up north.
Bike Shorts + Oversized Plaid Shirt
A grunge-inspired take on the bike shorts look. If you have a guy in your life, steal one of his shirts for an extra comfy feel. I love the look of the high socks and dad sneakers, too!
Related reading: 10 Comfortable College Outfits Inspired by Your Day
Matching Sweats + Teddy Coat + Hat
Here's another great cozy outfit for those chilly spring days. Pair your go-to sweats with a trendy teddy coat for the snuggliest possible look.
Activewear Leggings + Cropped Sweatshirt
I love the edgy look of these leather-look activewear leggings. They look amazing paired with any cropped sweatshirt you have on hand (or you can DIY one from an old hoodie). Add huge sunglasses if you're going outdoors.
Also Read: Jess Day Outfits: How to Dress Like Jess from New Girl
Neon Bike Shorts + Graphic Long-sleeve
The neon bike shorts trend is going to be huge this summer, and you can mark my words — you'll be seeing neon pink ones like these everywhere. I love them with a graphic long-sleeve tee and mini backpack as seen here.
Oversized Tee as a Dress
A classic and so underrated. Buy a boyfriend tee as big as you can (wear a cozy bralette underneath) and rock it as a dress with a couple of gold necklaces and a crossbody mini bag. You could not have an easier cozy outfit if you tried.
Mismatched Sweats + Fanny Pack + Dad Sneakers
I know we've been seeing so many matching sets, but your sweats don't have to match perfectly. This outfit is proof that mismatched sweats can be incredibly cute. Rock a fanny pack crossbody for a fashion girl feel.
Matching Cami Crop Top + Sweats
If you do want to match, go bold with a color like this pretty, peachy pink. A cute little bralette style crop top like this looks great with high waisted, baggy sweats for balance.
Neutral Bike Shorts + Baggy Tee
Neutral, tonal loungewear is a huge trend right now and a beige matching set like this is perfect for warm summer days. Wear with your favorite athleisure staples like a baseball cap and dad sneakers.
Black Leggings + Sleeveless Tied-Up Tee
Sleeveless tees like this can sometimes appear overly baggy and sloppy looking — but they look amazing tied at the waist, as seen here. Just wear with your favorite black leggings and you have such an easy cozy outfit.
Leggings + Oversized Sweater
Ah, the classic leggings and oversized sweater combo. This one is everyone's favorite for a reason — it's probably the comfiest outfit on the entire planet. A timeless classic in the world of cozy fashion.
Bike Shorts + Tee + Huge Denim Jacket
Another grungy take on biker shorts. This time, we're just adding a big oversized tee and a huge denim jacket to balance out the tight bottoms.
The Ubiquitous Tie Dye Set
If you read our post on TikTok fashion, you already know that these are everywhere right now. Rumor has it that they're an easy DIY, too!
Sweatpants + Bodysuit
This is a go-to combo for me. I'm a huge fan of button-front bodysuits in particular for a casual vibe. Pair with sweats — either matching or non — and you can't go wrong.
Mismatched Sweats + White Sneakers + Crossbody
I love this simple look that centers around neutrals. It feels fancy thanks to the cute crossbody bag and necklace, but honestly this is one of those cozy outfits that takes two seconds to throw together. Love it.
What do you wear on cozy days at home?
For even more outfit ideas, be sure to see our guides to easy lazy day outfit ideas, work from home outfits, and pajama trends we're loving.
How do you stay cozy? What are your favorite pieces to keep you comfortable and cute when you're lounging or working from home? Tell me in the comments section down below!