Imagine you've woken up in a rush because you have a study group meeting or have a presentation in your first class. You need outfit inspiration, and that can be frustrating already as you go through your closet.
But what if you're heading to campus to do something besides lectures? What if you have to attend a lab, run to an internship later in the day, or need to participate in a club meeting? College life can keep you busy, and let's be real — your outfit is probably an afterthought.
To help you out, I have created 10 outfit ideas for what to wear based on your day.
Below are some casual and comfortable outfits so you can focus on what you have to get done while also looking super stylish. So keep on reading for 10 comfortable outfit ideas inspired by your day.
RELATED READING: Cute College Outfits: 10 Looks to Get You Back-to-School Ready
1. 8 AM Lecture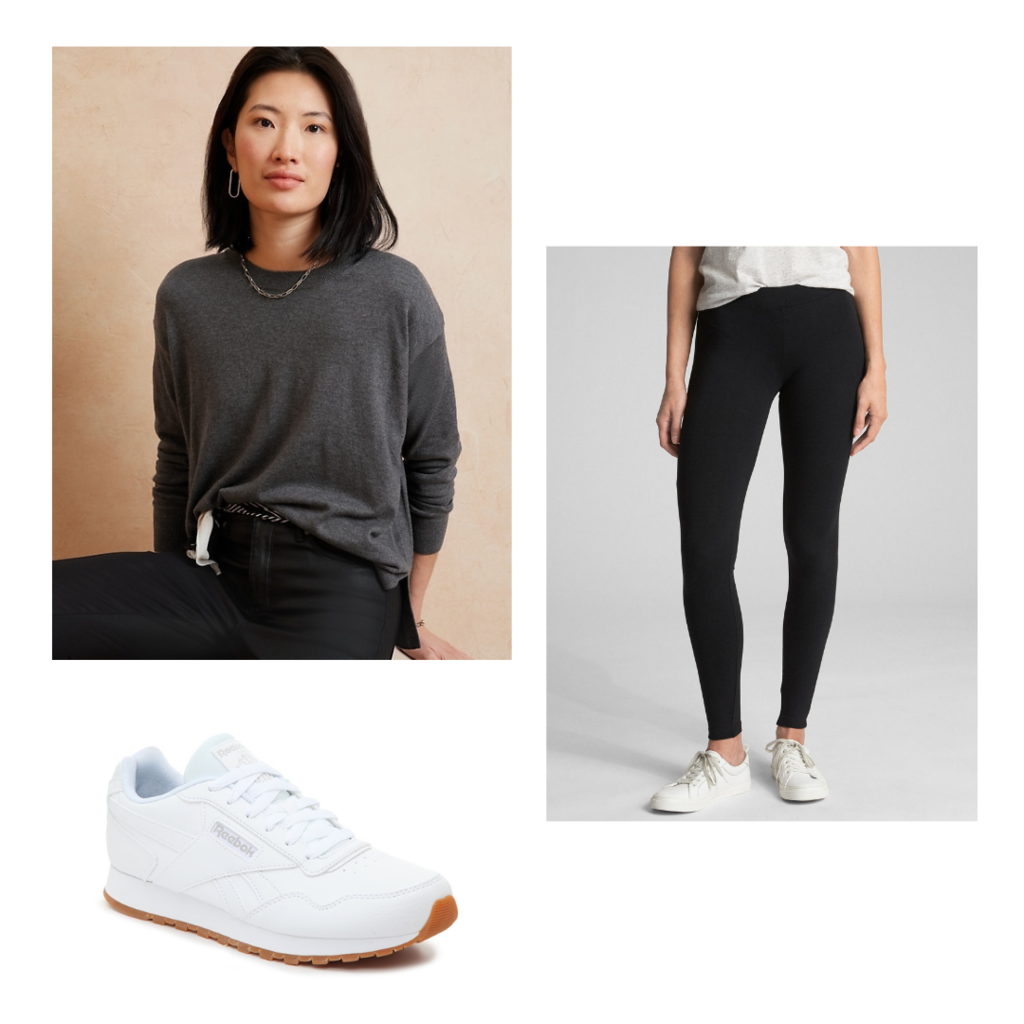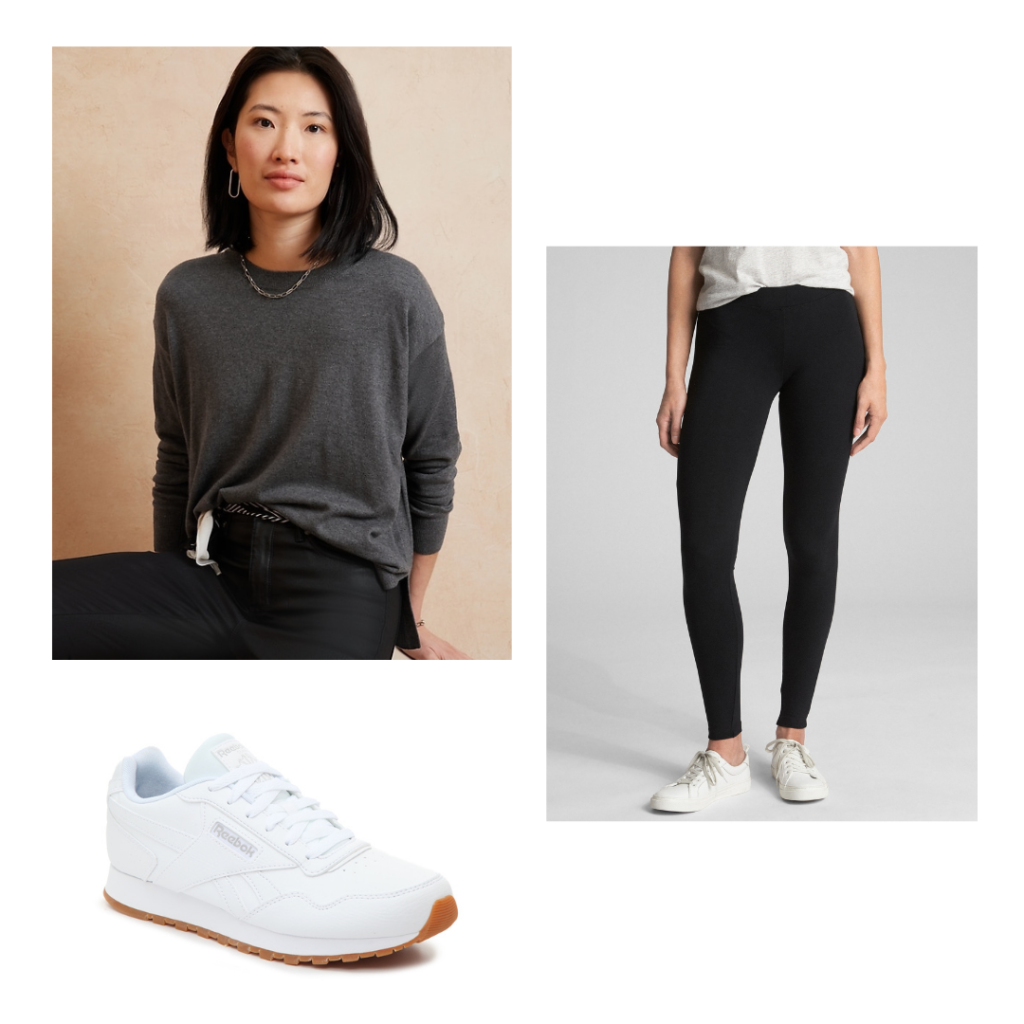 Products: Sweater – Banana Republic, Leggings – Gap, Shoes – DSW
During my first year of college, I had to take 8 am classes. I was fresh out of high school and used to getting up early, so thought I could handle it, but I learned the same thing every freshman does at this point… it was more difficult than I thought it would be to get up early.
Pro tip: Sometimes you can't avoid early classes, but as you progress in your college career, you can typically minimize them on your schedule. And if you're a freshman, I highly recommend avoiding them if possible.
If you do have an 8 am lecture, however, dressing up can help you feel a little better so early in the morning. Even if you throw on something casual like this look, you'll feel much more productive than you would in the clothes you slept in.
To get this comfortable outfit, throw on a sweater to keep you warm in chilly classrooms. Wear a pair of black leggings or substitute them for black jeans. Finish the look with white sneakers since you'll want to be comfortable walking to classes.
Related reading: Casual College Outfits: 10 Laid-Back Looks Perfect for Campus
2. Chemistry Lab
Sometimes, you'll have to take required courses in college that may not relate to your major, or you'll take labs for your major. And the dress code matters in a lab setting.
For example, if you have a chemistry lab where you have to wear a lab coat and goggles, you will probably want to wear a casual outfit underneath. Wear a patterned sweater like this patchwork one for a simple statement, but make sure your clothing is something that won't get caught on anything while you are in the lab.
Wear some medium wash jeans and some sneakers (closed-toe shoes are a must for lab) that tie in with the tan in the sweater.
Finally, keep your hair out the way if it is long enough to pull back. Good luck in class!
Related post: What to Wear to Lab in College
3. Library/Study Group
With finals coming up, you'll need to study. And sometimes studying in your dorm alone can be productive, but oftentimes it's better to be near people in an academic setting, like the library.
You'll want a cute and comfortable library outfit for long hours of sitting with your nose in a textbook or staring at your laptop. Wear this brown dolman utility button-down top and slip on a pair of black straight-leg jeans with some chunky black loafers. Grab a black tote bag to carry your books or laptop, and you should be ready to study.
Good luck if you have exams!
4. Internship/Student Assistant Job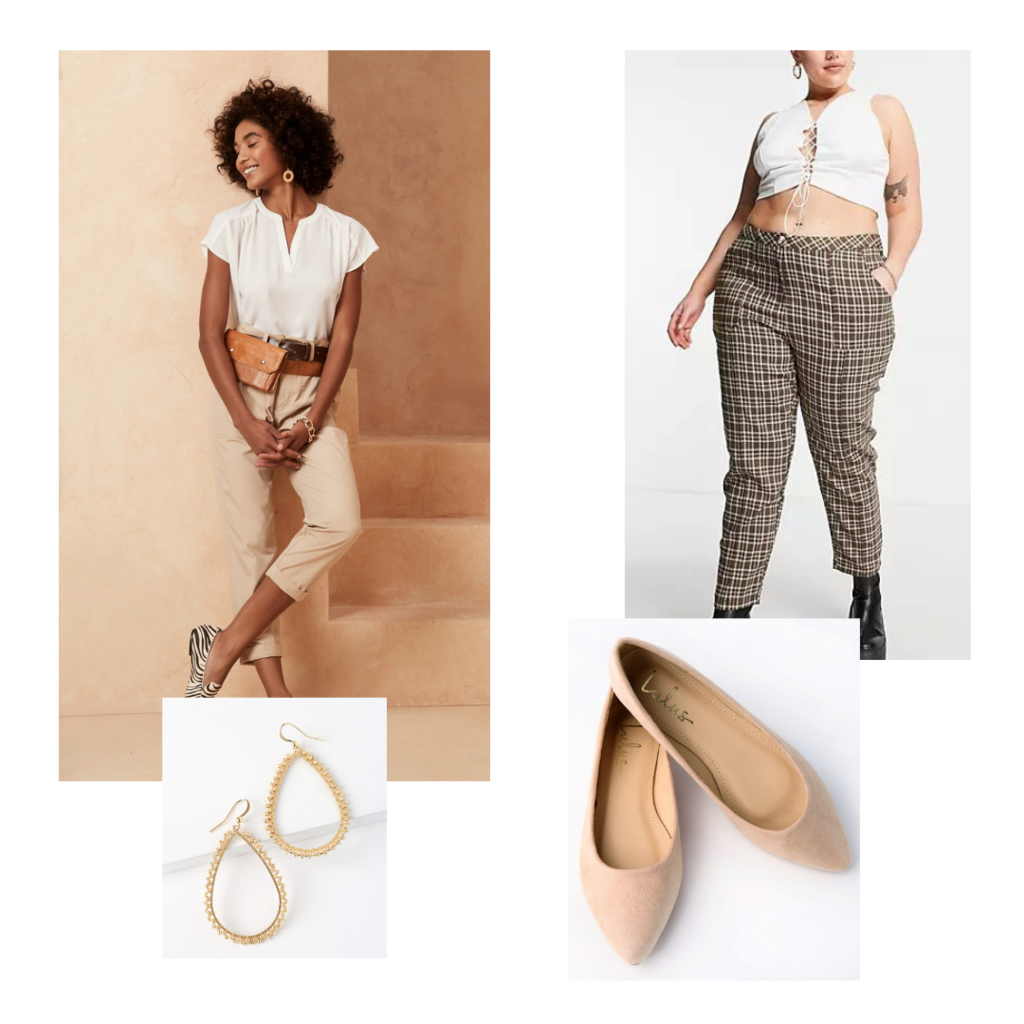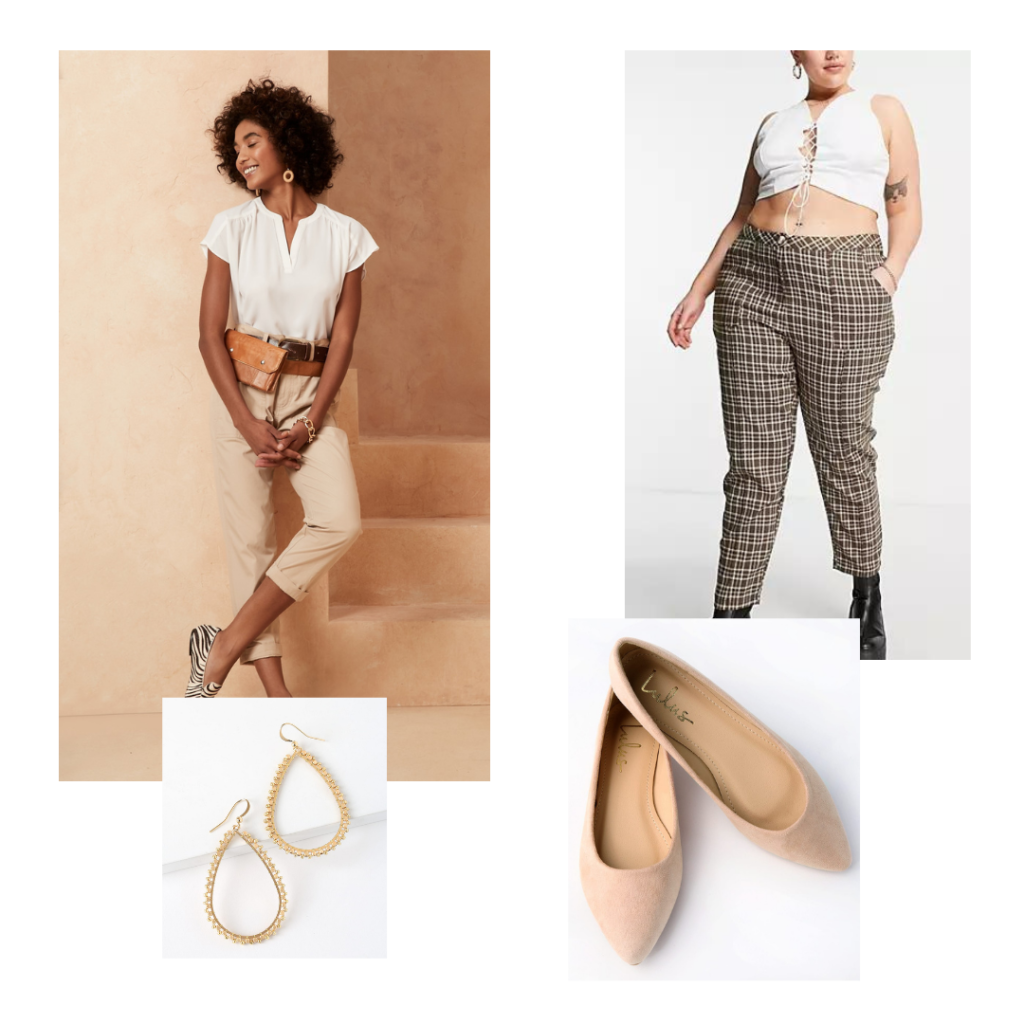 Products: Top – Banana Republic, Pants – ASOS, Shoes – Lulu's, Earrings – Lulu's
During the school year, you might start taking internships to build up your resume. Or you might be helping as a Teaching Assistant for a professor. Though each dress code is different for an internship or as a student assistant, you always want to look professional.
So here is an outfit to look at for some inspo. First, put on a white dolman top and try on some plaid pants for a statement piece. Finish with nude flats and gold teardrop earrings.
5. Exams
Now that you've studied, you have to take exams—and the fewer things you have to worry about, the better, including your outfit. Still, it's nice to wear something cute but comfortable as you ace your finals, especially if you have things to do after you take your test.
Try a pink crop t-shirt and throw a white button-up blouse over top. The black joggers and white sneakers make the look more casual. Just grab your bag and head out the door.
Related reading: Jogger Pants Outfits: How to Style Jogger Pants for Any Occasion
6. Night Class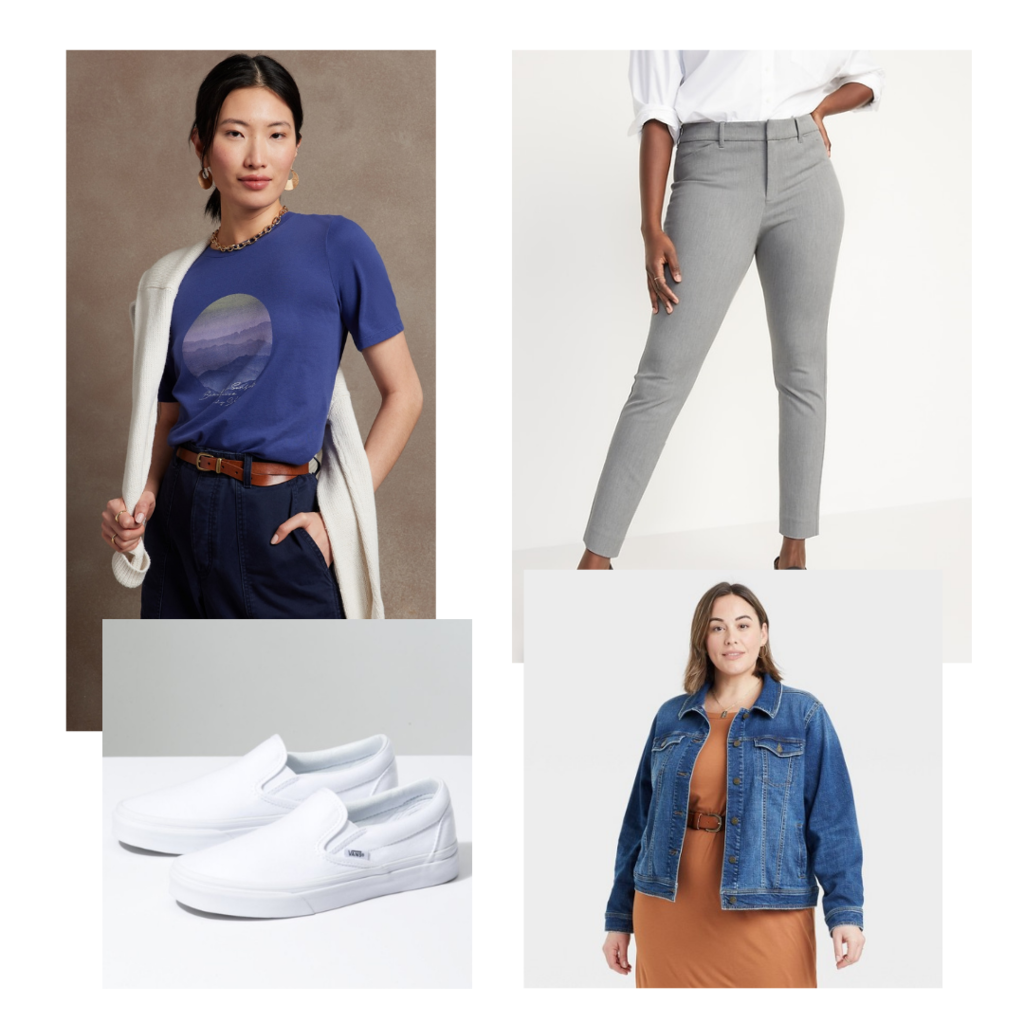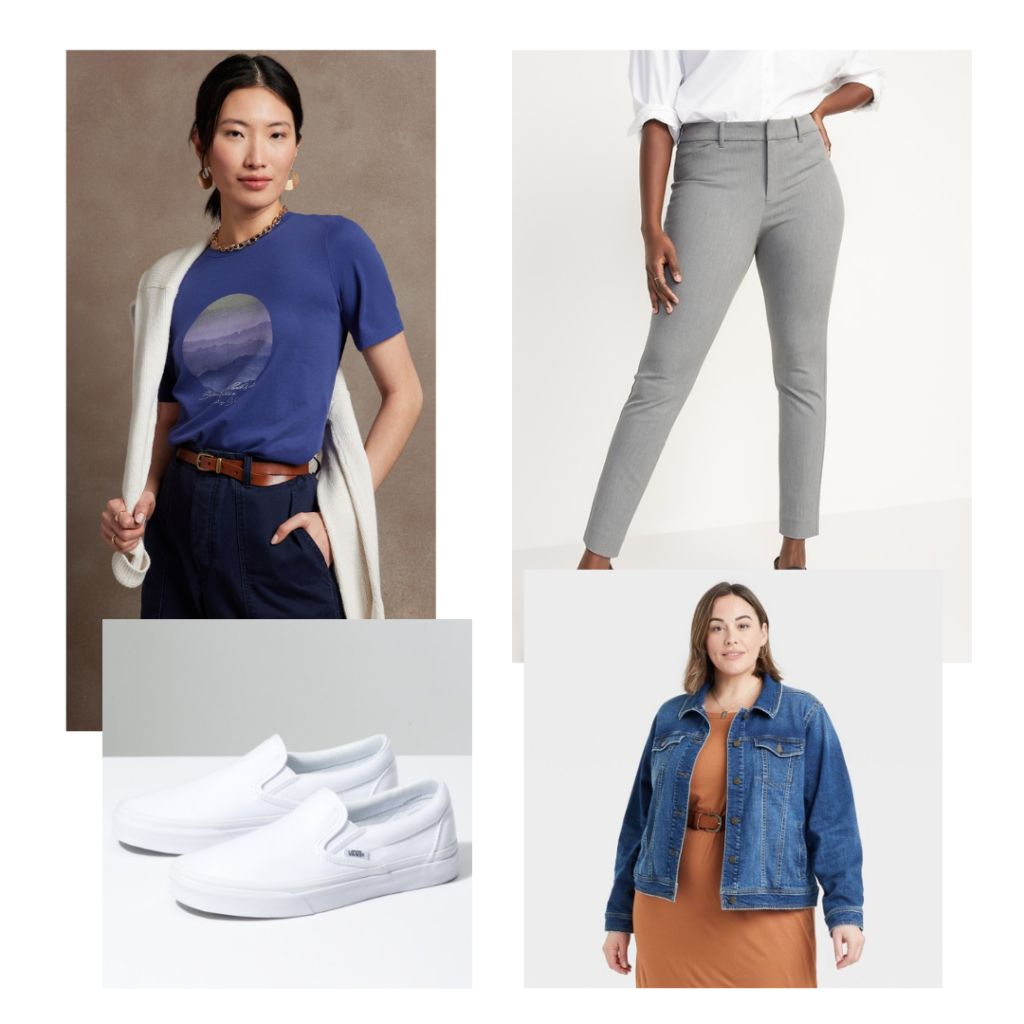 Products: Top – Banana Republic, Jeans- Old Navy, Jacket – Target, Shoes – Vans
Have you ever taken night classes in college before? I've had night classes, and I've noticed they're becoming more popular on most campuses, especially as you near senior year and head into graduate school.
You don't have to dress too differently for a night class vs. one in the daytime — the main thing is taking the weather into account and adding an extra layer.
First, try this navy graphic tee and grey pants. Next, put on a denim jacket for that extra warmth. Finally, wear some white Vans sneakers to finish this casual look.
7. Club Meeting
When attending club meetings in college, oftentimes you end up wearing what you wore to class earlier that day. That's why you need an outfit idea that works for both classes and club meetings — you want to look put-together but not overdressed.
For this comfortable outfit, I started with this blue long-sleeve polo top. Pair with medium-wash jeans (either wide leg, left, or skinny, right, depending on what you prefer) and black boots. So, now gather around for your club meeting.
8. Dance Class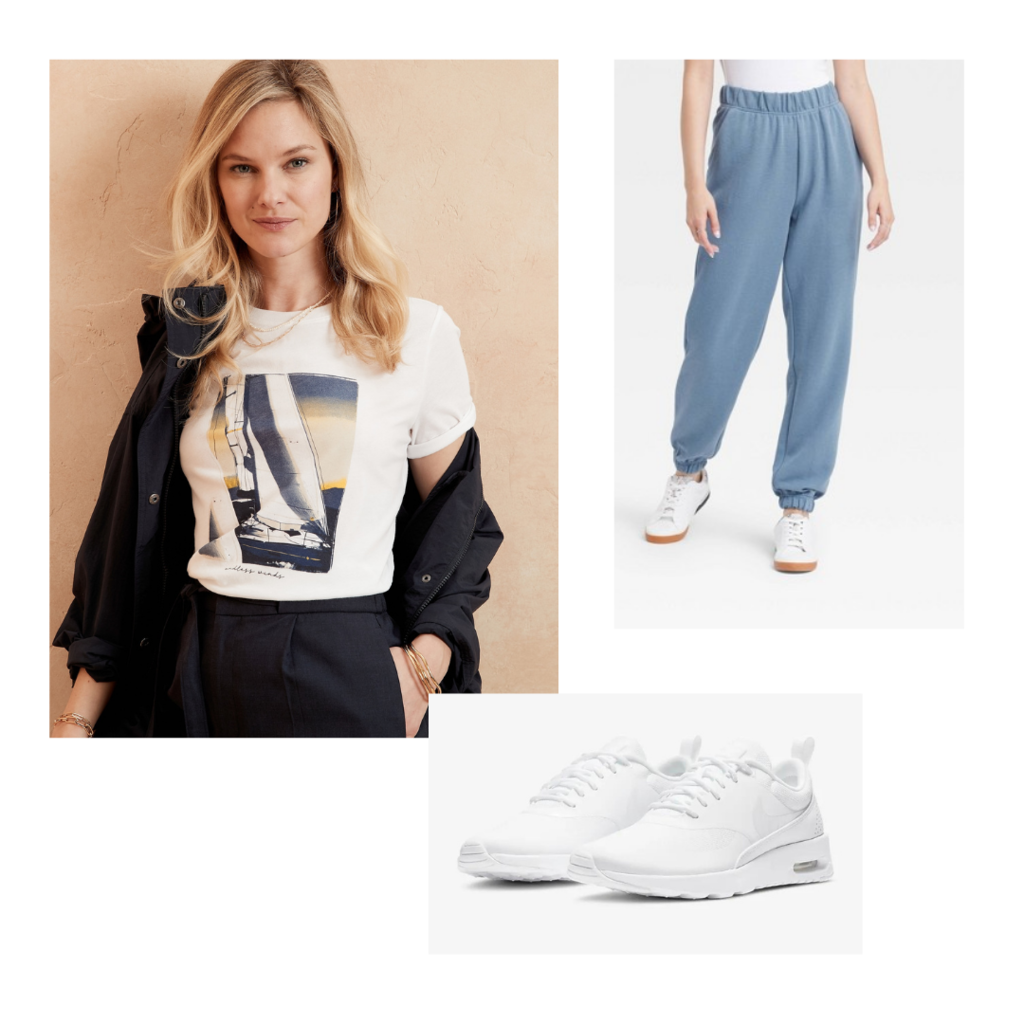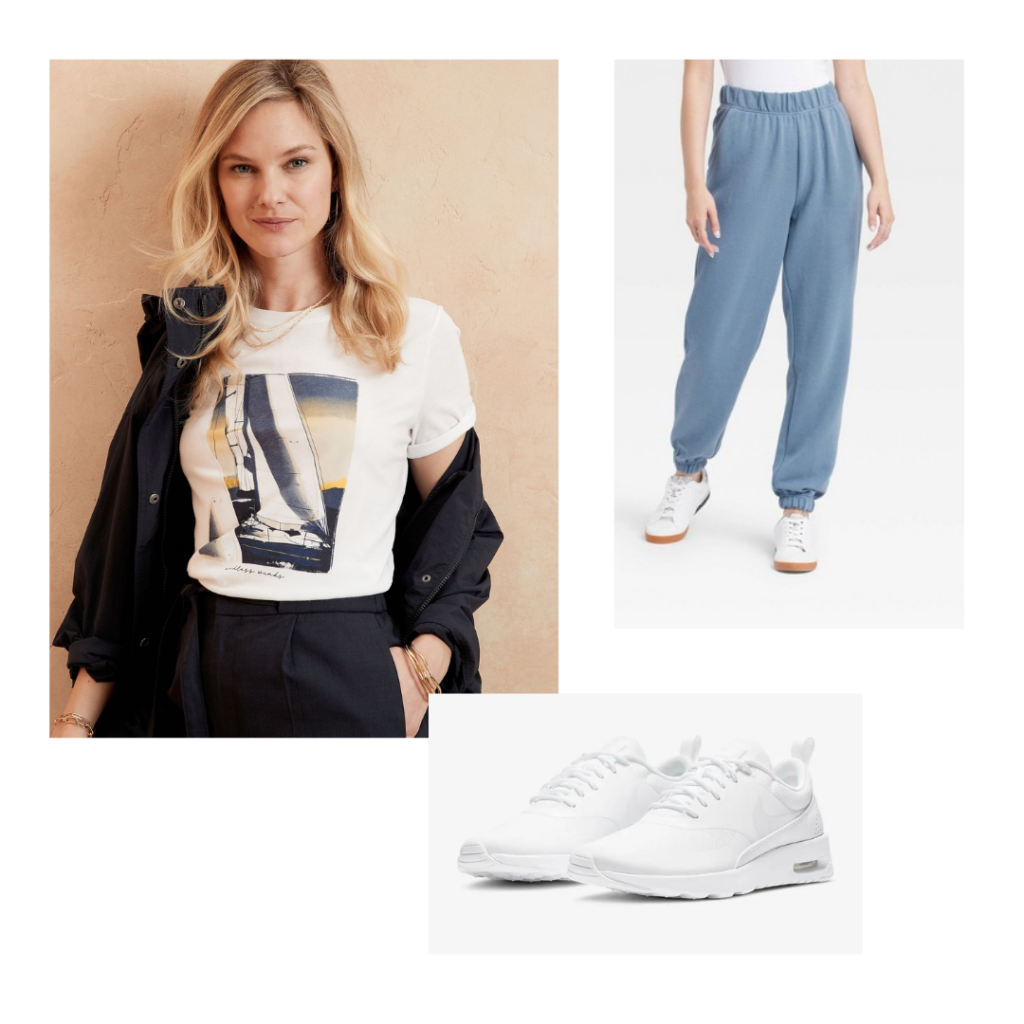 Products: Top – Banana Republic, Joggers – Target, Shoes – Nike
Dance class is a popular choice for exercise on my campus, alongside more typical offerings like yoga and pilates. So this outfit is inspired by those high-energy dance classes. (If you've never taken one, I highly recommend it!)
For exercise or dancing, you don't want to be fiddling with your outfit or having it get caught during any movements you do, so this outfit leans more on the athleisure side of the style spectrum.
To start, grab a white graphic tee like this one. Then, wear a pair of blue joggers to give some color to the outfit. Throw on some sneakers, tie back your hair if it's longer, and break a sweat!
9. Presentation for a Class
You can't get through college without doing a presentation in at least one of your classes. And in the days before Zoom, you would have to get up in front of the class for your presentation.
If you have in-person classes again and have to do a presentation, you'll want to dress up a little more than you usually would for class. First, try a pink blouse like this one. Next, put on cream denim jeans and black mules. Now, give a dazzling presentation. I'm sure you'll pass!
10. Commuting to College
After my second year of college, I transferred schools, so I became a commuter student. I would have to be on campus for classes, club meetings, advisor meetings – whatever it was. And if it got canceled, I had to take a bus and train back home.
So being a commuter student has its pros and cons, but you have to consider what you're going to wear. Commuter days are long days, so you must choose a comfortable outfit.
For this look, throw on this brown top. If it is chilly, add this cream denim jacket. Next, try some black jeans and white Converse sneakers. There you have it, a neutral but casual look that's perfect for a long day on campus.
What Do You Think of These Comfortable Outfit Ideas for College?
What do you think about the debate about dressing up for classes? How would your typical college day go? Which outfit is your fave?
Let me know your thoughts in the comments!