This post may contain affiliate links, which means we may receive a commission if you purchase through our links. Please
read our full disclosure here
.
Working from home, whether it be for classes or your job, has its ups and downs. One main benefit is that you can wear whatever you please.
However this privilege can be many people's productivity kryptonite. It's proven that dressing for success actually works and this doesn't stop being true when you work remotely. So the simple act of getting dressed — in a cute work from home outfit — is a key element in a productive day.
Personally, I've taken online classes for school since I was in the 5th grade in 2011. Now, I juggle both school and work remotely from my laptop.
Throughout this journey, I've gained time management skills and become an independent learner. But I've also learned the importance of getting dressed.
Benefits of Getting Dressed When You Work or Take Classes at Home
At first, wearing pajamas to work or school has a certain appeal. But over time, when your productivity and motivation is lacking, it quickly wears off.
To avoid missing deadlines and having responsibilities pile up, I recommend making getting dressed in "day clothes" a top priority.
Why do this? Waking up, washing your face, and putting on something that makes you feel good triggers productivity in your brain. It signals something within that alerts your mind that it's time to work.
This is similar to how cute pajamas and lazy day outfits promote relaxation. (This is why I also recommend at least 1 day a week of all day pajamas!)
Even if you slip on a clean pair of comfy pants and a your go-to t-shirt as a WFH outfit, it offers more motivation than just wearing what you slept in.
Need some more ideas? Here are a few of our favorite work from home outfits to wear for productive days at home.
Work from Home Outfit #1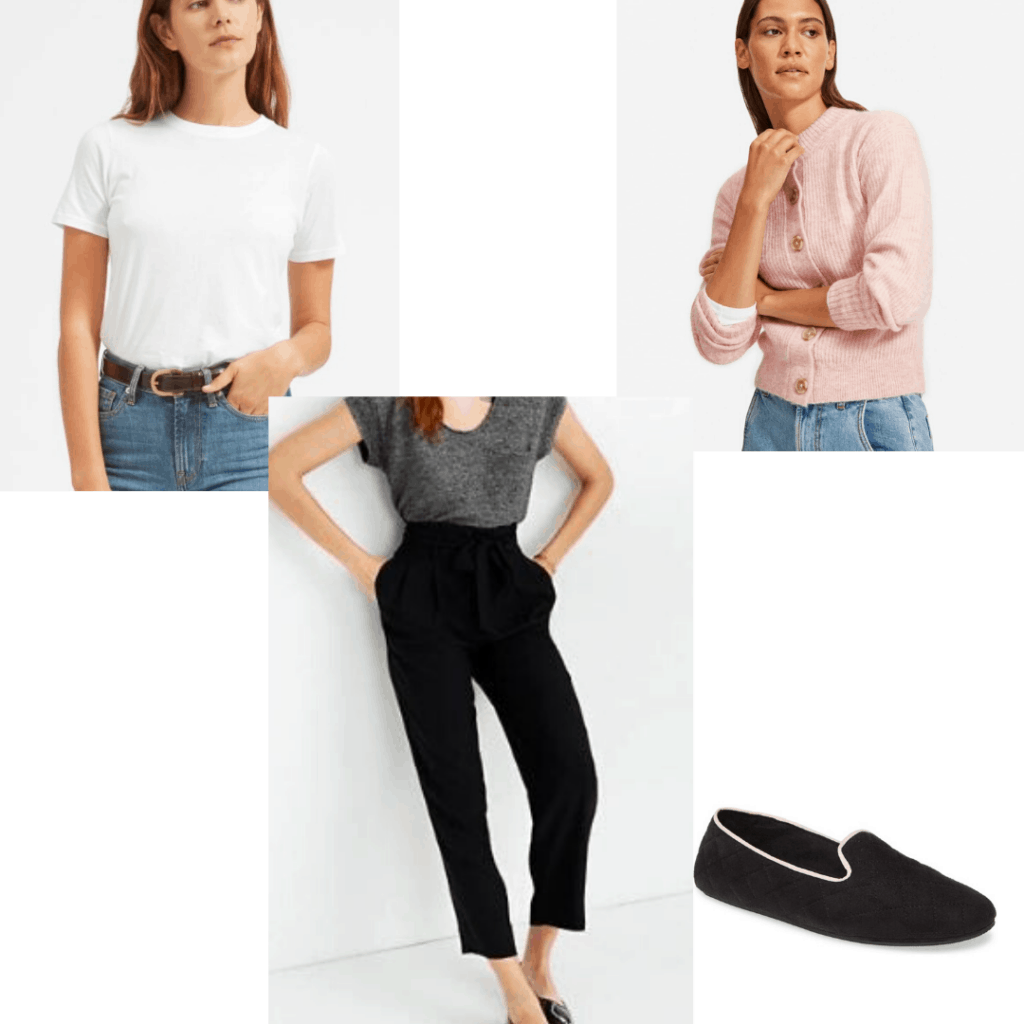 Products: Shirt – Everlane, Pants – Madewell, Cardigan – Everlane, Slippers – Nordstrom
Comfort meets style with this casual work from home outfit.
To be honest, getting all dolled up to work at home can be a bother sometimes. That's why a basic tee and paper bag pants come in handy. Paired together they look professional and help motivate you to be productive. But they offer a lovely amount of comfort.
Style this look with a cozy cardigan and slippers to feel the real benefits of working from home. Cardigans offer maximum comfort and warmth while still being considered "day clothes". And slippers are simply a must-have!
Work from Home Outfit #2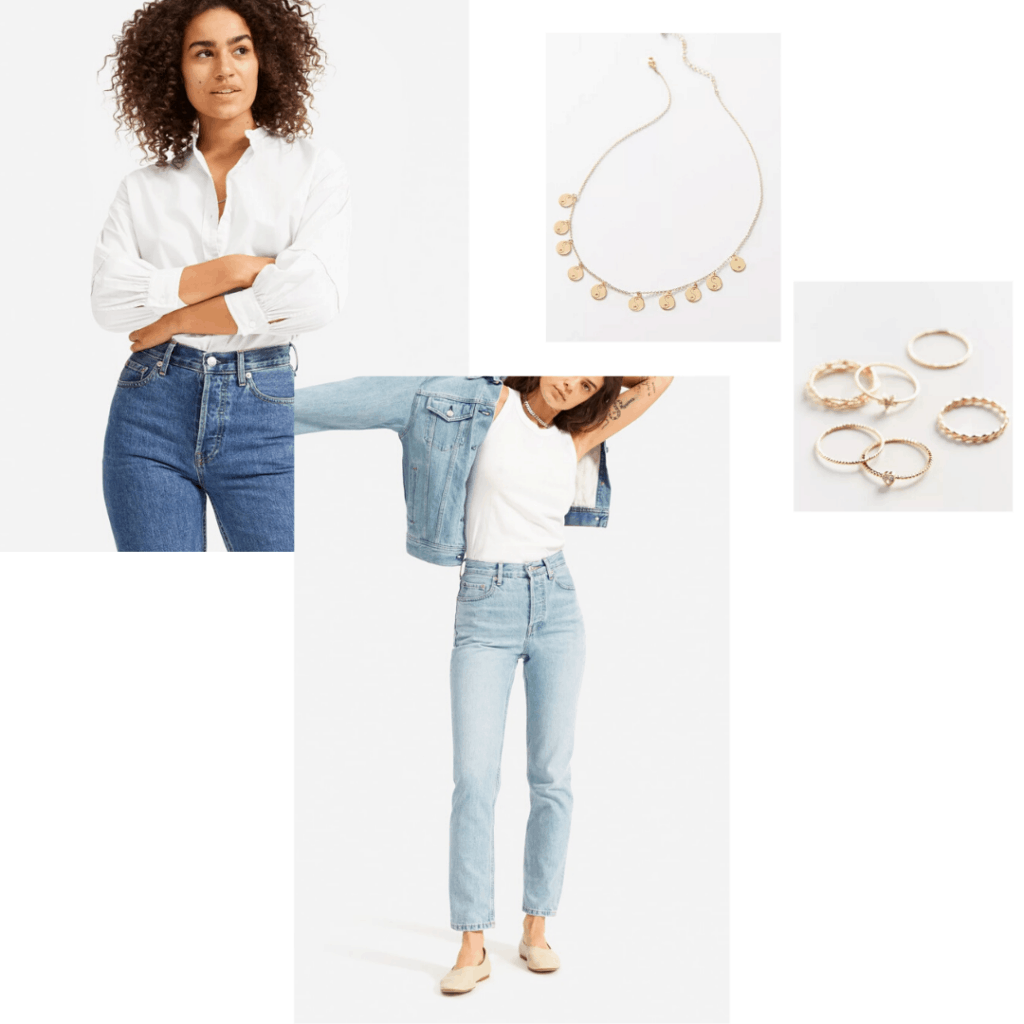 Products: Shirt – Everlane, Jeans – Everlane, Necklace – Urban Outfitters, Rings – Urban Outfitters
A comfortable pair of jeans will be a staple of your work from home outfits. The right pair of jeans will make you look as though you're going out but will have you feeling comfortable enough to curl up with a book.
This pair from Everlane has a straight leg fit, offering a comfort level that skinny jeans just can't match. Plus, they can be styled with anything in your wardrobe.
A few personal favorite pairings include a striped tee or a cozy sweater. However, you can never go wrong with a white button down.
This is such an easy outfit to look a little more put together and is comfortable for working at home. A few pieces of dainty jewelry and you're ready for the day.
Work from Home Outfit #3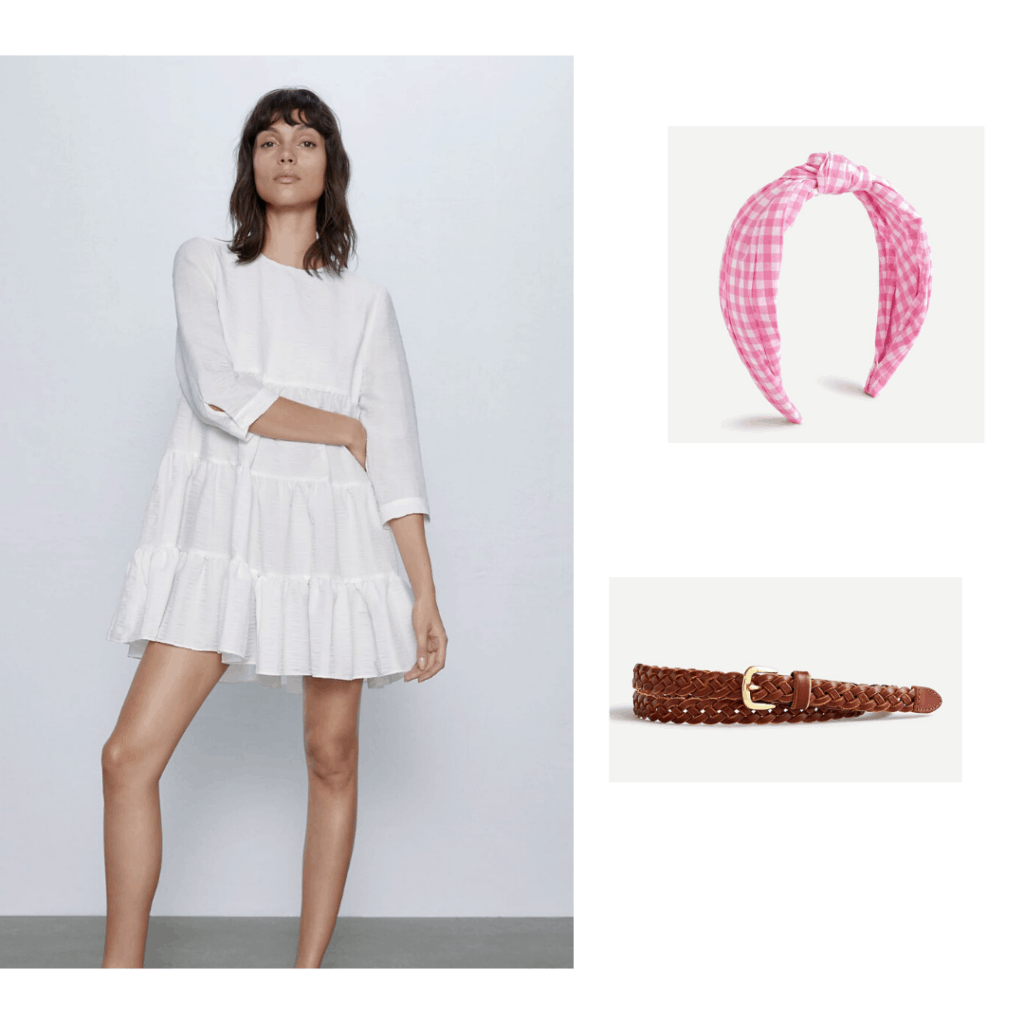 Products: Dress – Zara, Belt – J.Crew, Headband – J.Crew
If I'm being completely honest, I think a dress is by far the best thing you can wear when working from home. Better than joggers, sweaters, slippers, even pajamas.
Yes, hear me out. A dress with a loose silhouette seems dressy but the comfort level is through the roof. No pants, nothing constricting, just a free flowing silhouette.
This dress from Zara is perfect to create a work from home outfit around. Easy, breezy, and flowy, wear it and you'll crush your to-do list and look adorable while doing so.
Style this look with a fun headband and add shape to the dress with a belt. This pulls the look together even more without giving too much effort or taking away comfort.
What do you wear when you work from home?
You can now work from home in comfort without sacrificing productivity by staying in your pajamas all day. A few easy work from home outfits that feel good and look chic are all you need.
Which of these looks are you going to stay motivated in? What are you wearing when you're taking online classes or working from home? Tell us in the comments!