This post will teach you everything you need to know about makeup for zoom, with a list of our favorite makeup products for video calls.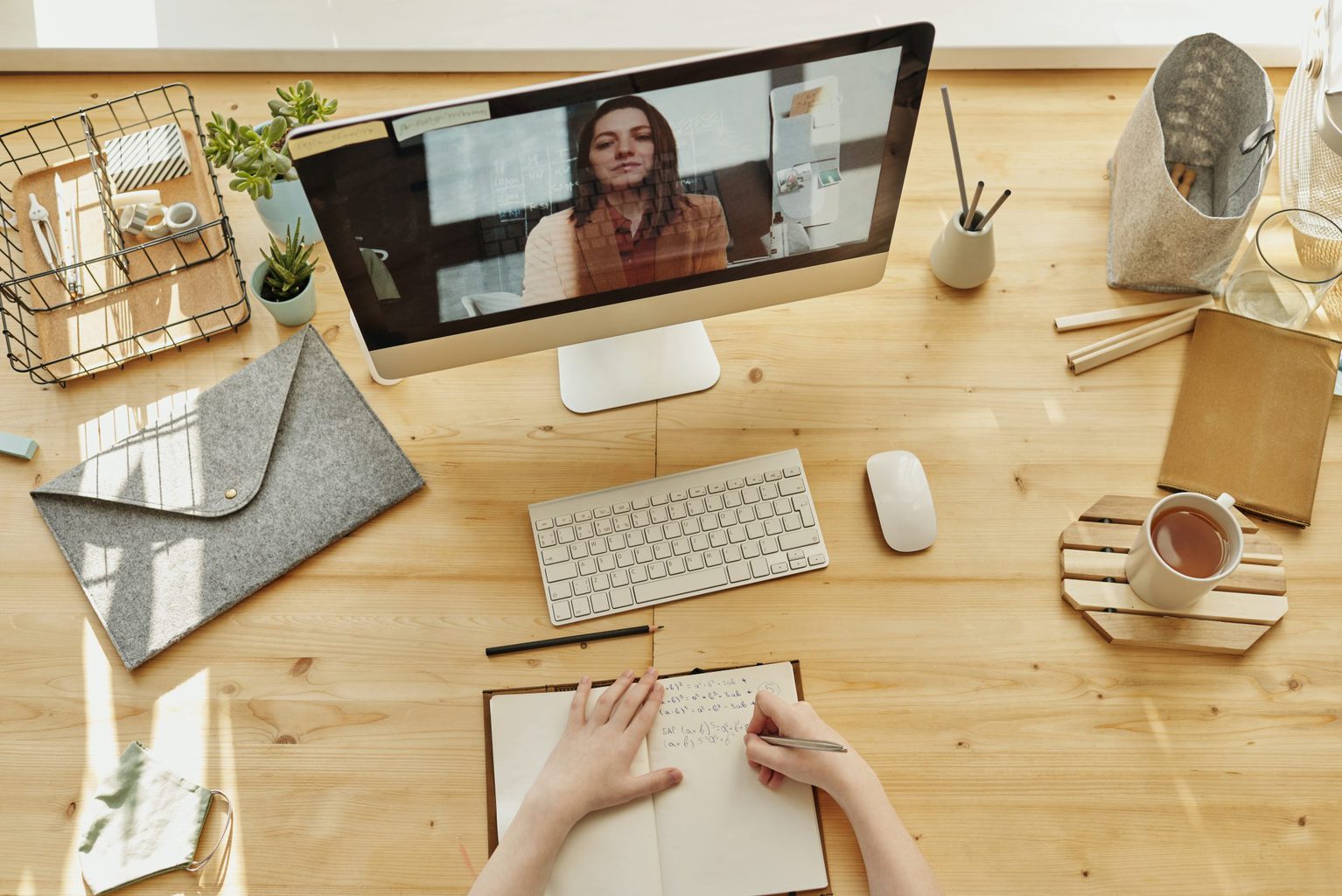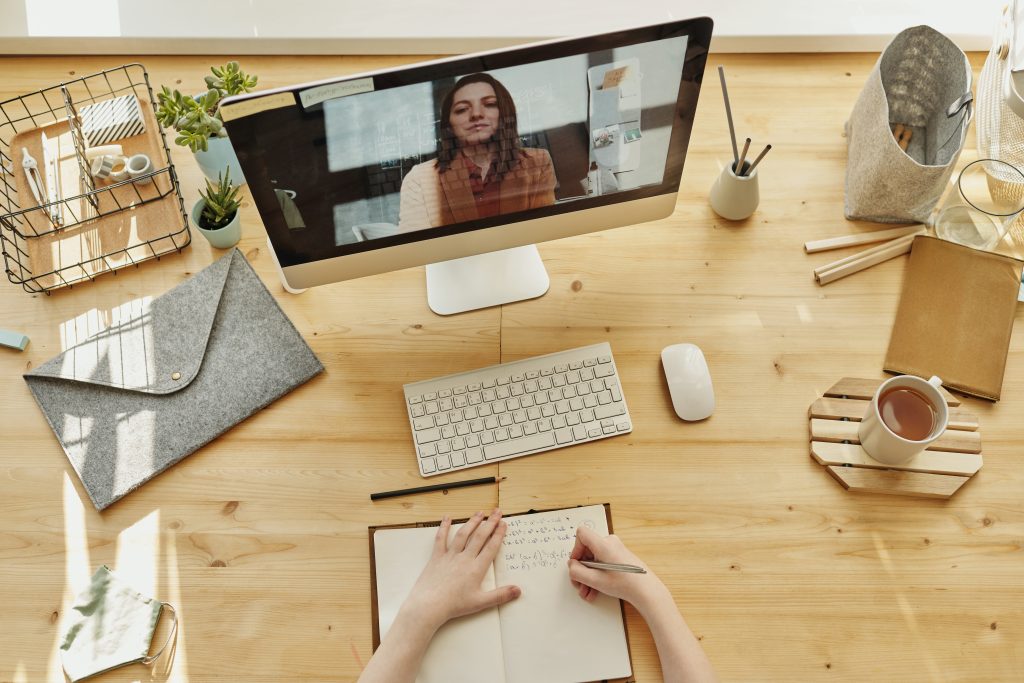 If there was one thing that changed the most for students during 2020, it was the way that we experience college life. Classes are online, clubs and society events are online, and video interviews have increased in number. Whether you're using Zoom or Microsoft Teams (which I am an expert on at this point), video calls are a way of life these days.
Some of you may be lucky enough to be able to attend classes with your cameras off, while for others, it's mandatory or it's an interview situation and whoever's on the other side of the screen needs to see your face. In the latter case, you might be wondering how to do your makeup for zoom.
First, it's important to note that webcams tend to wash you out and flatten your features, so makeup for zoom is all about wearing a bit more makeup than you're used to, in order to add definition to your face. This doesn't mean anything extreme, though — just a little more product goes a long way, and we'll show you the best ones below.
If you want to look a little more alert and awake on screen, these makeup products and tips can help.
Related reading: The Best Makeup For People Who Hate Makeup
1. Primer
Primer helps your make up stay on for longer which helps if you have six hours straight of online classes. It also helps to smooth out your skin before makeup application, helping you look extra flawless on Zoom.
Fenty's primer is excellent as it smooths out your skin and absorbs shine while being extremely lightweight.
Want some more options? We have a guide to primers so you can see which is the best one for you.
2. Foundation
A good long-wearing foundation is the basis for good makeup application and will help your skin look flawless all day, even through a webcam. A few dabs in your skin shade applied with a brush, sponge, or even your clean fingers should do the trick.
Revlon Colorstay foundation is a solid option that's been around forever, and it truly lasts on skin all day — perfect for hours and hours of zoom meetings.
For other options, see our guide to foundations, including liquid, cream and powder.
3. BB Cream
I have to admit that I've never used a BB cream before but after hearing about its moisturizing benefits, I'm sold. It's more natural looking, is easier to put on if you've just literally rolled out of bed, and it does not get messy like foundation so you can apply it with your fingers. It's a great foundation alternative if you want an easier application with some coverage.
Here's a roundup of some of the BB Creams we like here at CF.
For our darker skinned beauties out there, this article includes a selection of BB creams for darker complexions.
4. Blush
Blush gives your face that pop of color and brightness that tends to get lost over video connection. Don't go crazy with it if you have an online interview, though — just a little dab to make yourself look more alive. You don't want to distract from your wonderful qualities with extremely bright blush.
Check here to find out what we think are the best blushes ever.
5. Concealer
Concealer can be used on its own to even out skin or paired with foundation to add some extra coverage. It's definitely important to conceal for video calls as blemishes and under-eye shadows can stand out in poor lighting.
If it's one of those days that you don't want to do anything major but just want to cover up, well, most things (acne, spots, pimples, etc.), then concealer is the way to go. Just spot conceal over your primer and you're good to go.
Tarte Shape Tape is a perpetual favorite here at CF for its creamy consistency and ability to cover just about everything. Want some other options? Here are some of our favorite concealers, and here are the best concealers you can buy at Sephora.
6. Bronzer


Products: Left – Sunkissed Bronzing, Right – Fenty
With the January Blues and the dark damp weather in full swing, some of you may be missing that sun-kissed tan. That's where bronzer comes in. A light dusting over your cheeks looks unbelievably great on camera.
You can find more suggestions on bronzers so you can look as bright as the sun (that feels nonexistent at the moment where I am).
7. Lip color, gloss, or balm — your choice


Products L-R: Lip Color (Dusty Mauve) – Sephora, Lip Gloss (Fenty Glow) – Sephora, Lip Balm (Zinnia) – Burt's Bees, Lip Balm (Clear) – Burt's Bees
Liquid lipstick is definitely a staple of makeup for zoom because it stays on all day and doesn't smudge. It also brings out the shape of your lips and helps to define them — always a good idea for a video call.
That said, you don't have to wear lipstick if you don't want to. Personally, for casual class days, I prefer lip gloss or lip balm because they're easier to swipe on quickly before a class and are softer and more subtle. They give your lips a hint of shine so they don't disappear but aren't too harsh.
I also like balm and gloss because they're not as messy as lipstick so they're perfect if you don't have a mirror on hand.
8. Mascara


Products L-R: Mascara – Sephora, Mascara – Sephora
Admit it. How many of you have woken up less than thirty minutes from when your online class was supposed to start? Don't worry, it happens, and for times when you feel like you're still half asleep, a few swishes of mascara can give you eyes the impression of alertness. Plus, it brings out your eyes which is important for zoom calls.
Black is the staple color but I recommend lighter options such as brown if you have lighter colored lashes.
For more mascara recommendations for every lash type, check our post on our picks for the best mascaras of all time.
9. Eyeliner
This step is not essential but can really help to define your eyes if your room lighting isn't the best or you have light or thin eyelashes.
The best thing about eyeliner, for me at least, is all the things you can do with it. A straight line, Egyptian style, winged cat eye, you name it and on the days that you want a simple look for class, it can stand on its own and also comes in various colors.
It can be a little tricky to get down at first but keep trying. We have a winged eyeliner tutorial and a basic eye liner 101 tutorial to help get you started.
Related reading: The 5 Best Gel Eyeliners on the Market, from Drugstore to High-End
10. Eye Shadow
Like mascara, eye shadow can make your eyes stand out and make you look awake and ready to learn as well as bring a whole makeup look together.
I love playing around with the colors whenever I use a palette but check out our eyeshadow guide to see what suits you best.
Single colors are good to get because of course they are usually cheaper and you don't waste money on colors you absolutely don't want. When in doubt, just go for a simple taupe (like MAC Omega above) or medium brown on your lid and crease for definition. Alternatively, you can even smudge some around the bottom of your lid to act as a more subtle eyeliner.
11. Setting Spray or Powder
To keep your makeup set and lasting for however long your classes or interview may be, use a spritz of setting spray and/or a dusting of setting powder. It's basically a top coat for your face.
Here are our picks for best setting sprays and best setting powders.
How do you do your makeup for zoom?
The best thing about having so many tools and products at your disposal is that you can mix and match any product on any day. You could put on BB cream and winged eyeliner on Monday then go full out with glossy lips, pink blush, and lengthening mascara on Tuesday; the possibilities and combinations are endless.
What are your video call makeup routines look like if you have any? Do you prefer a subtle look on camera or something more extravagant? Comment below what your go-to video call make-up product is.