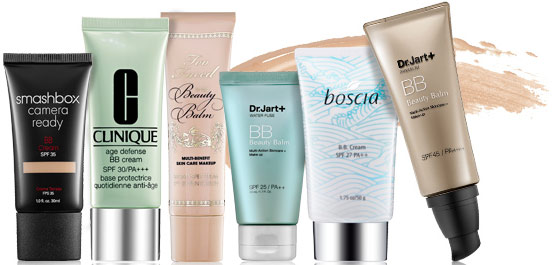 As any CF girl knows, staying on top of the latest beauty trends is a job in itself. Among the many hot new trends, one product type in particular has been lighting up my radar like crazy lately: BB creams are taking over the US!
Never heard of these before? Below, I will break down this hot product trend, explaining what BB creams are, their beauty benefits, and my picks for the best ones out there on the market!
Related reading: The Best Korean BB Creams for Every Skin Type
What Are BB Creams?
BB stands for "blemish balm" or "beauty balm," depending on who you talk to. These creams, originally used by German dermatologists to promote skin healing after laser treatments, were catapulted into popularity when Korean actresses raved about how great they made their skin look. The phenomenon then spread all across Asia. Now, U.S. beauty companies are jumping on the BB train, too!
BB creams are the ultimate multi-taskers; they conceal, protect, soothe, hydrate and brighten, all at once. The American BB creams are more sheer than their Asian counterparts, and provide a more healthy "glow from within" look, rather than the polished, porcelain doll look that the Asian brands tend to go for.
Depending on the brand, most BB creams can be worn alone, as a primer, or just as a concealer – it's all up to you and depends on how much coverage you want.
BB Creams vs. Tinted Moisturizers
BB creams are similar to the tinted moisturizers we all love, with three main differences:
BB creams generally have higher SPFs than tinted moisturizers.
BBs are usually more pigmented than their moisturizer counterparts, and therefore provide more coverage.
It's been said that BB creams are more like skin treatments than straight moisturizers – they often include extra ingredients to smooth skin or deliver antioxidants, and some can even fight acne and lighten acne scars.
The Benefits of BB Creams
For a girl on the run, these are absolutely perfect! You can skip moisturizing, priming, and concealing because one BB cream will do it all for you. As well, many BB creams include SPF as well as antioxidants and Vitamin C, which will help keep your skin looking gorgeous.
I think BB creams are great for girls that want to have a nice complexion but don't feel like piling on the foundation or who want just a nice, healthy glow. If you live in a hot or humid climate, they might the perfect thing to wear in the summertime.
Which Brands Are the Best?
Many American beauty companies like Garnier, Smashbox, L'Oreal, Clinque and Boscia have been rolling out the BB creams by the truckload! Here are some of the top sellers out on of shelves right now, in no particular order.
This is just to give you a taste of the BB creams that are currently available on the market! Remember, every BB cream has different benefits, so look at reviews and test before buying to find the one that will work for you.
What do you think?
Have you tried a BB cream? Do you have a favorite brand? Are you excited to try them? Let me know in the comments!