This post may contain affiliate links, which means we may receive a commission if you purchase through our links. Please
read our full disclosure here
.
While one of the few silver linings of this new stay at home living is being able to wear your comfiest clothes for 3 days straight, sometimes we have to dress up. As the weeks go by, we're adapting more life events than ever to an online environment. And this means we need specific online outfits.
When you're home, it's hard to get dressed up for an event that you will be attending from the comfort of your own bedroom. The trick, I've found, is to keep your comfort on the bottom and dress it up at the top. (Think comfy jeans, sweats, leggings or shorts on the bottom.)
When it comes to getting dressed up for online events, it's important to add color. First of all, wearing colorful clothes will boost your mood and that of those talking to you, and in these isolating times I think we could all do with a mood booster. Additionally, colors read very well on screen, therefore will help you stand out.
But for those of you with color phobia, do not worry, I have an option for you for every occasion.
Here are a few online outfits ideas, styling tricks, and my favorite picks to get you through your next online events. Note that all of these focus on tops — the most important part of an online outfit!
Classes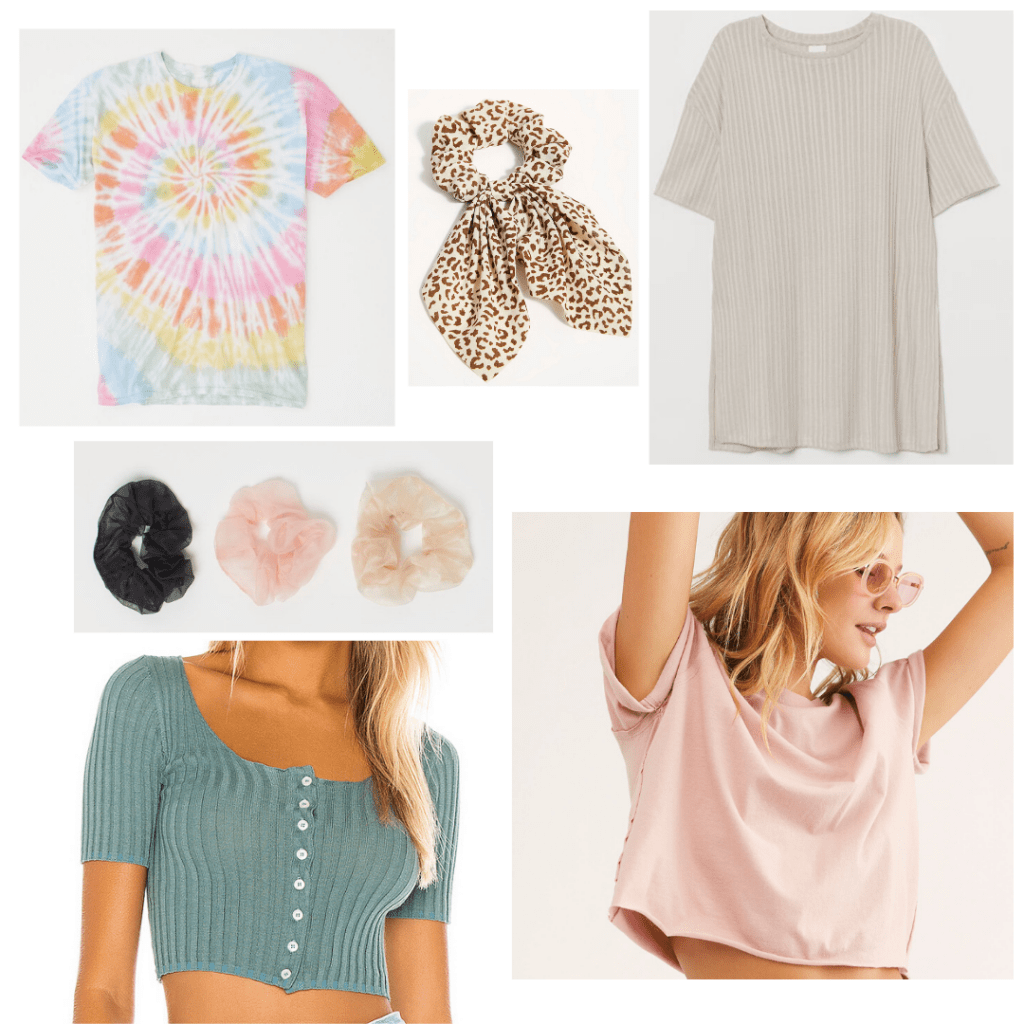 Products: Tie-dye t-shirt – Urban Outfitters, Print scrunchie – Free People, Beige top – H&M, Three scrunchies – H&M, Turquoise crop top – Revolve, Pink t-shirt – Free People
The last thing I want in my online class is for my teacher to call on me to answer a question that we both know I probably didn't hear (focusing in an online class can be tough — does anyone else struggle?) so I don't want all eyes on me in an ultra-bright color. But at the same time I do want to look cute.
The solution: muted colors. Muted colors give you a bit of vibrancy but keep don't draw too much attention.
Of course, have a comfy oversized beige shirt for those days where honestly your professor should just be honored you showed up.
Lastly, always have a scrunchie with you, not only are they cute, when you are looking at a computer to take notes you're probably going to need something to keep your hair out of the way.
Interview or Internship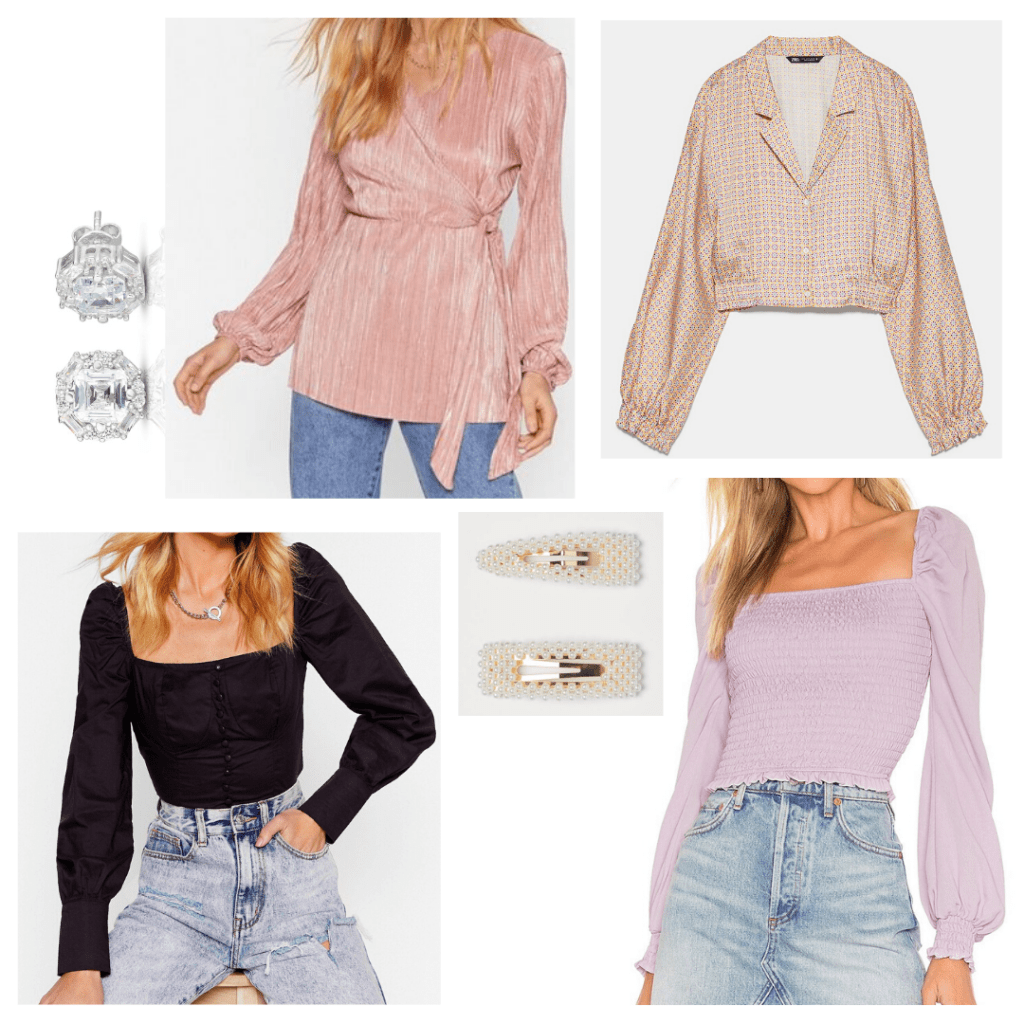 Products: Stud earrings – Nordstrom Rack, Pink blouse – Nasty Gal, Print shirt – Zara, Black crop top – Nasty Gal, Pearl hair clips – H&M, Lavender top – Revolve
Personally, I don't think you need to show up to an interview in a white button down and a black blazer. If that's what you feel comfortable in, or if it's a very formal industry, then by all means, but there is nothing wrong with making bolder fashion choices in most interviews.
There are so many fancy blouses in different colors that are just as professional as a button down. If you are set on a button down, go for a different color or a cool pattern. Keep jewelry simple with some professional looking studs and some hair clips to show your face.
Struggling to get an internship or job interview right now? Don't stress, a great way to get a foot in is to have informational interviews with people you admire. With this extra time, many more professionals are willing to take the time to speak to college students.
Graduation Events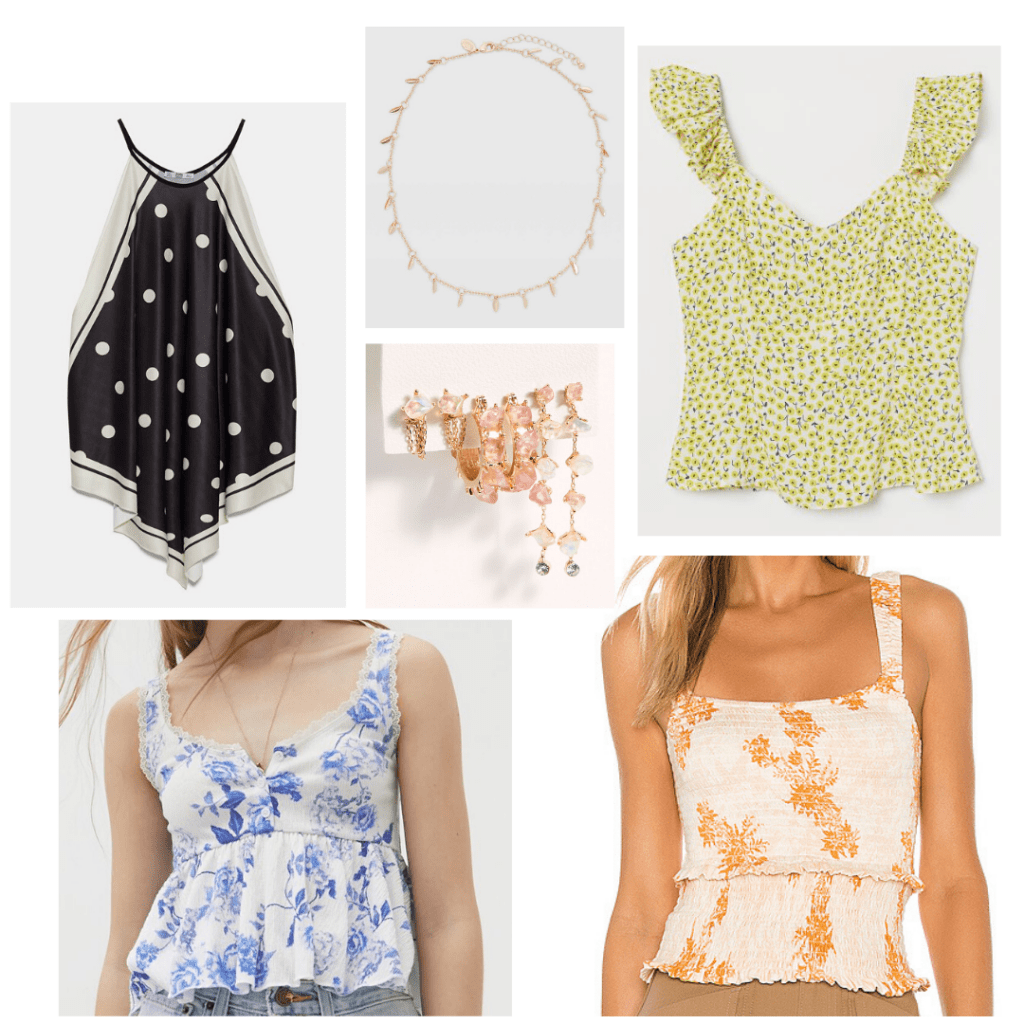 Products: Halter top – Zara, Necklace – Club Monaco, Yellow top – H&M, Earrings – Free People, Blue top – Urban Outfitters, Orange top – Revolve
With graduating ceremonies going online, I've found myself obliged to attend many more of these the I intended because I guess I have no excuse to not be there. Whether you're attending a friend's graduation or graduating yourself, these tops are the perfect mix of sophisticated but casual.
This is a celebratory day, so florals and prints can really bring joy to your online outfit. Throw on some cute jewelry to commemorate as best as we can some of the most important milestones in our loved ones lives.
Date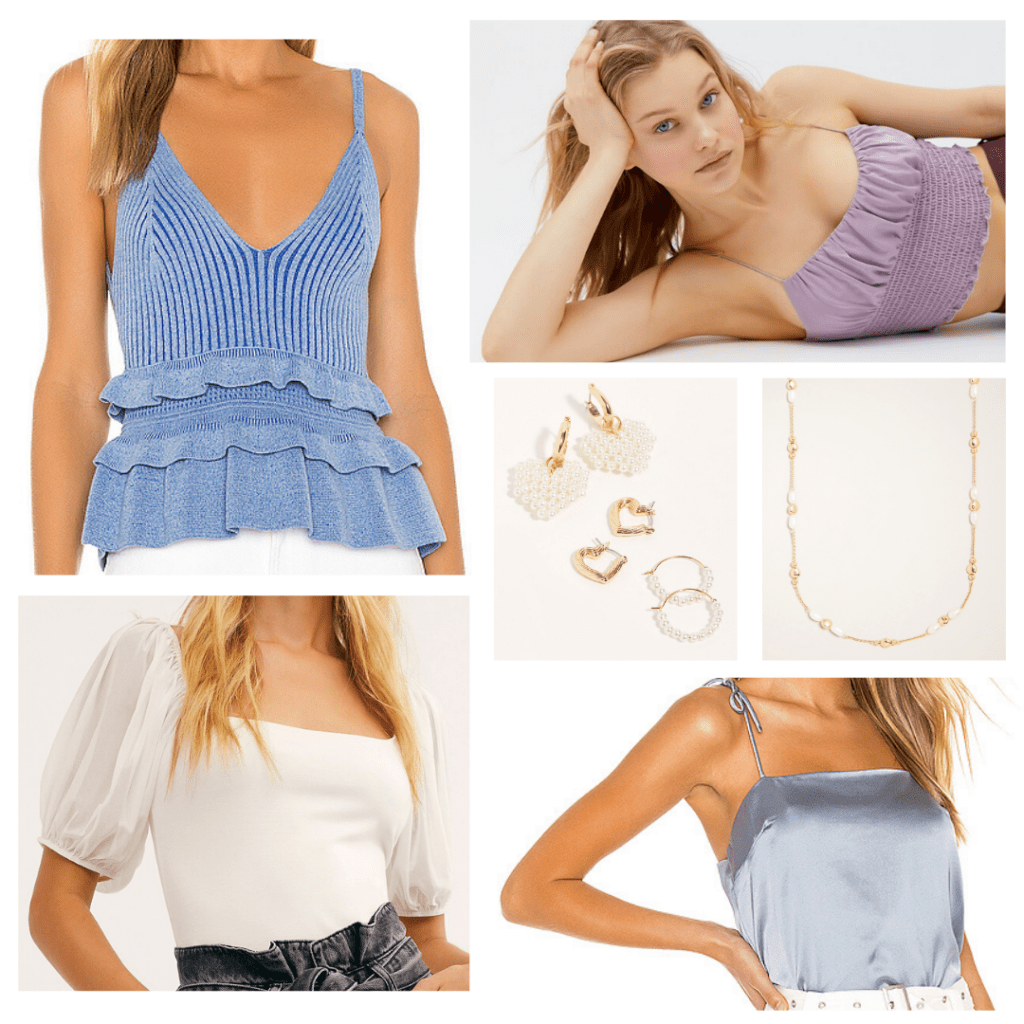 Products: Blue crochet top – Revolve, Lavender top – Urban Outfitters, Earrings – Free People, Necklace – Ann Taylor, White top – Free People, Blue cami top – Revolve
Is it just me or are suddenly all your friends who never cared to go on a date pre quarantine, going on online dates? Something about being able to just hit a button and get out of a Facetime date that makes it a lot more appealing. But either way it goes, I guess you need to dress up.
The bustier top, the princess sleeves, the ruffles, the bow, are all cute details on the shirts that make for a flirty outfit. Find tops with special details you love for your next date night.
For jewelry, you can never go wrong with fun pearl pieces, I mean long are the days of them being strictly reserved for older women.
Party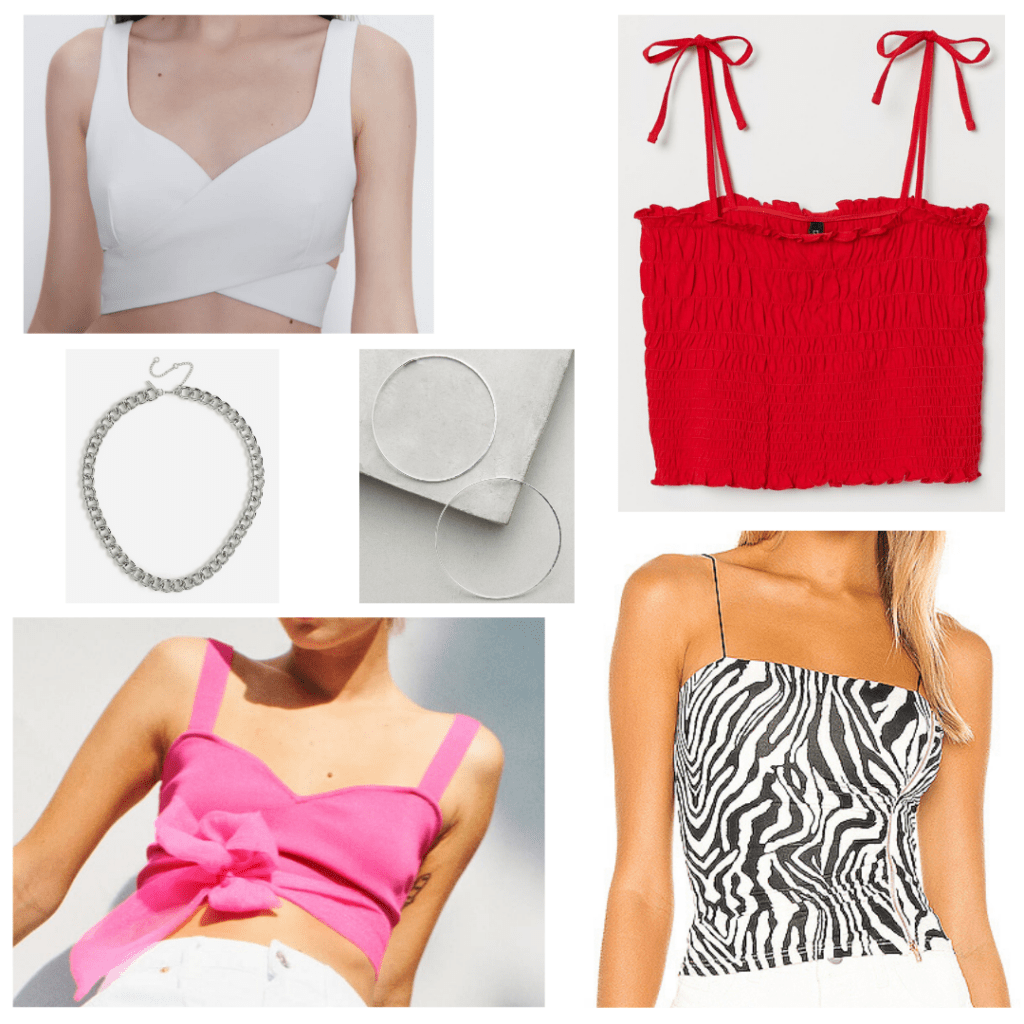 Products: White crop top – Zara, Red crop top – H&M, Necklace – Topshop, Earrings – Anthropologie, Pink crop top – Zara, Zebra print top – Revolve
Perhaps the most lamented aspect of university closures by students, parties were also some of the first events to be held online, so perhaps you already have this down to a T. But here are some cool ideas to impress your friends next time you're having an online party.
If you left all your crop tops at college not imagining this would last this long, here are some great options for you. They worked for college parties and they work for online party outfits too.
Go for bright bold colors, like red and pink to really stand out at your party. Not into color? What about a striking animal print like this zebra print top?
Pair your look with the jewelry trend of 2020, chunky necklaces. Plus, a good old pair of hoop earrings never goes out of style.
Reach out to your friends and set up a Zoom party and make sure everyone dresses up because in times like these it's important to stay in touch and have some fun.
What online outfits do you wear to your different online events?
Did we forget any online events or parties? What is your favorite piece? Let us know!