This post may contain affiliate links, which means we may receive a commission if you purchase through our links. Please
read our full disclosure here
.
Today I'm going to share everything you need to know on how to dress for virtual sorority recruitment.
When I first went through recruitment two years ago, I was as lost as Cady during her first day of school in the US. Like her, I wasn't raised in the US knowing how the whole rush process works, but two years later I'm the Head of Clothing at my sorority, where I set the guidelines and create the moodboards for each day of recruitment. 
While the entire aspect of clothes during rush can seem very Regina George in Mean Girls, you should look at what you wear as yet another way to show your personality, while still avoiding a fiasco like Cady at Halloween.
Having to style over 150 girls, you could say I know the dress code for each day of recruitment pretty well, so here are my tips so you feel confident going into each round.
While each school has a different version of recruitment, the main thing to understand is that as the days go on, the dress code becomes more elegant.
And while dressing for recruitment is already hard, we are in uncharted territory doing it online. So here is some outfit inspiration for each day of virtual recruitment and some cute styling tips to keep in mind when dressing for Zoom. 
Day 1: Unity
The first day is the most casual day, but don't go pulling out your hoodies yet. In the world of sorority recruitment, casual is Kylie Jenner at home cooking in Gucci with a full face of makeup on. 
All jokes aside, choose a cute top you would wear for lunch with friends or for the first day of class. Light colors look best on camera, especially green and blue. 
Show off your personality with some statement jewelry, like this heart earring and necklace set.
When getting ready for a computer camera, you actually want to overdo your makeup, so pile on the bronzer for the fake summer glow you didn't get from quarantine.
Day 2: Sisterhood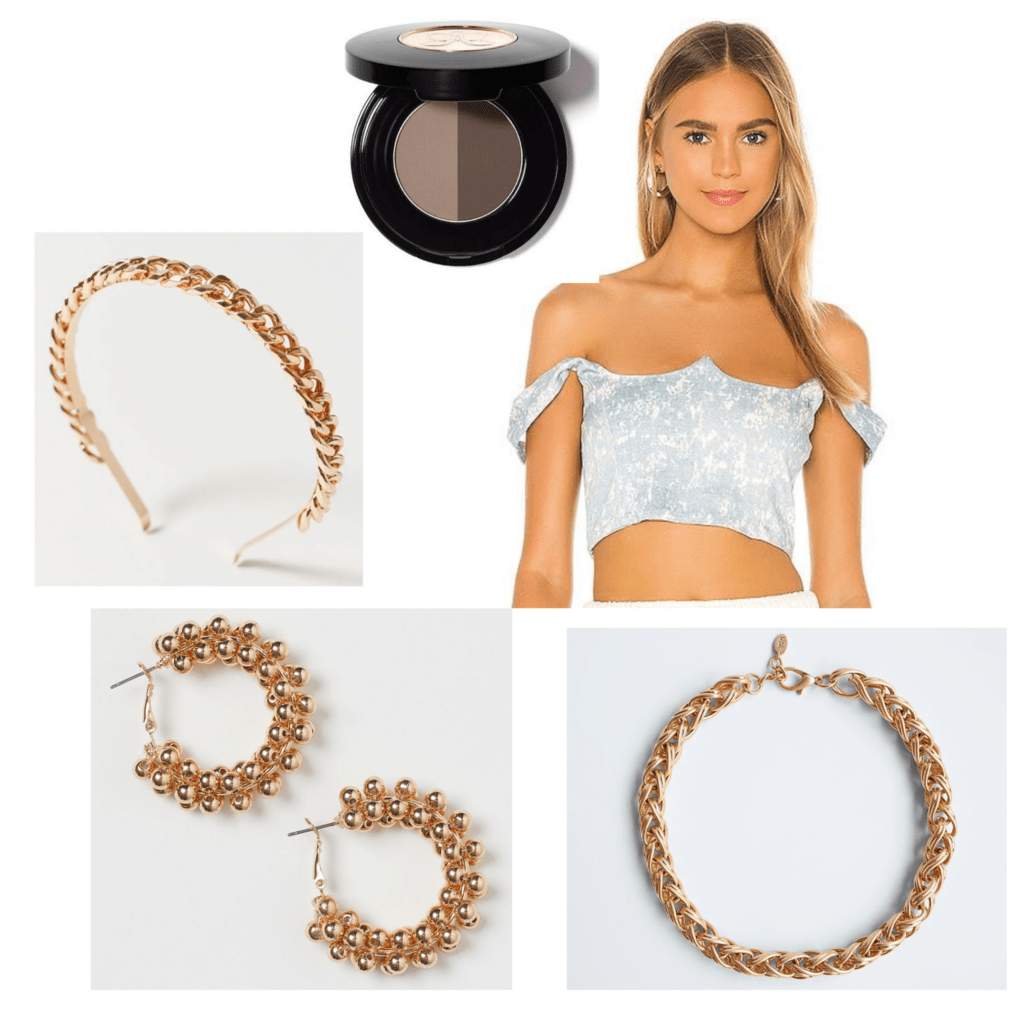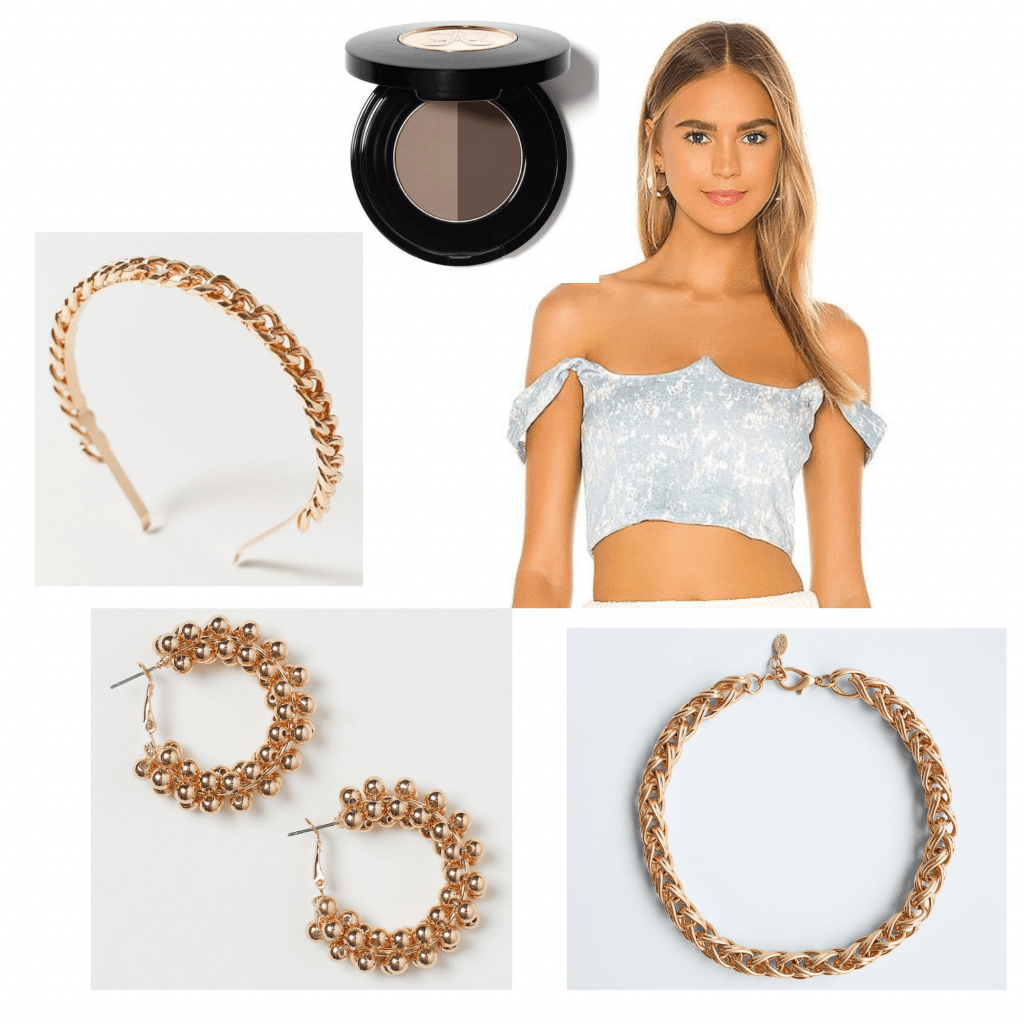 Products: Brow Powder, Top, Headband, Earrings, Necklace
The second day of virtual sorority recruitment is a little more dressed up, so for Zoom purposes, opt for an interesting neckline like with this top.
Pull the straps up or down depending on the angle of your camera — the goal is to avoid looking naked. Not only does this blue color look good on camera, but the tie dye inspired print is a perfect simple pattern for Zoom.
Pair with a super on trend chain necklace and corresponding jewelry for perfect statement pieces.
While I too prefer the eyebrow gel look, you'll look like you shaved your eyebrows off through the camera, so opt for brow powder for a stronger look.
Day 3: Philanthropy
At this point we are definitely on the elegant side of fashion, and puffed sleeves are the face of elegance and very on trend. In general, avoid shiny fabrics for virtual sorority recruitment because they won't read well, so take advantage of the pastel trend — I love this adorable lavender shade.
It is no news that I'm a fan of pearls, but the trend is really here to stay. Pearl hair clips are a great way to keep hair out of your face so the other person can really see you.
Once you have your hair out of the way, show off your matte lipstick a shade darker than you would usually wear in person.
Day 4: Preference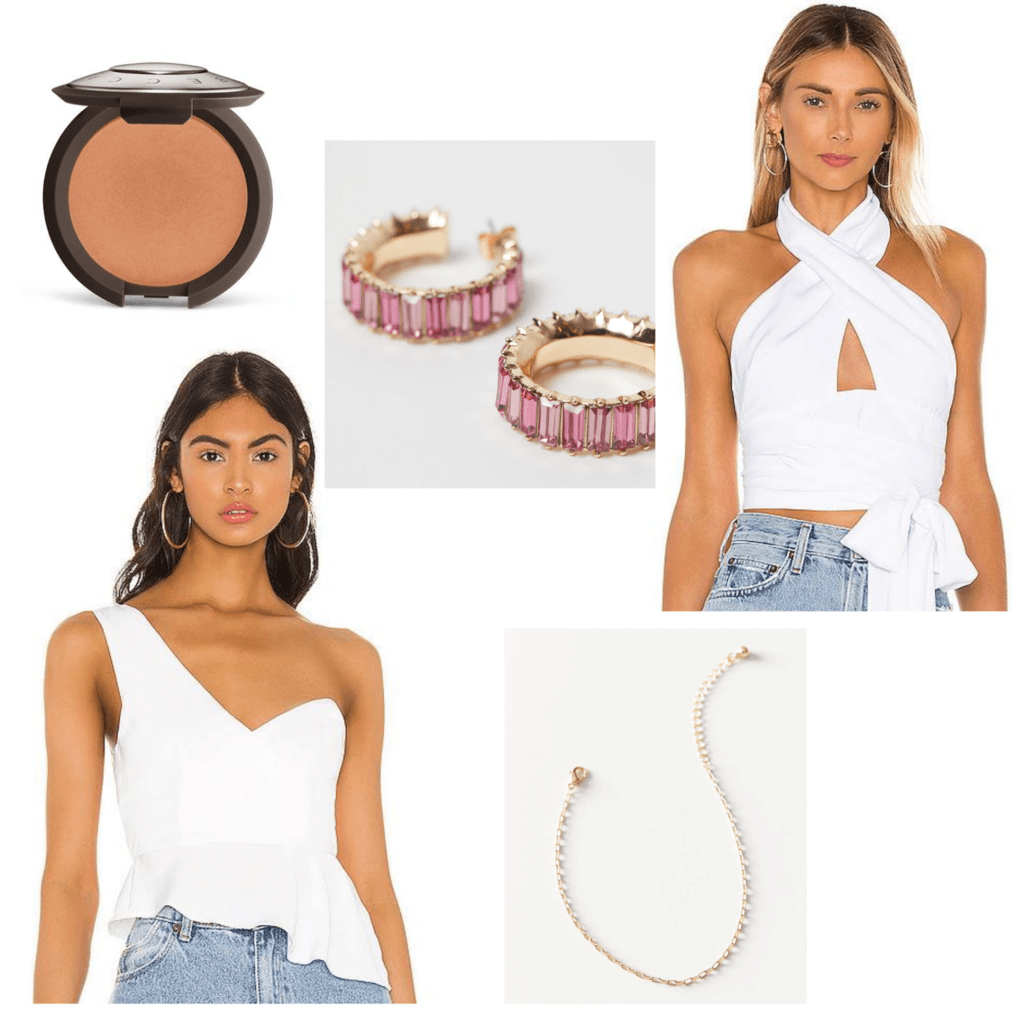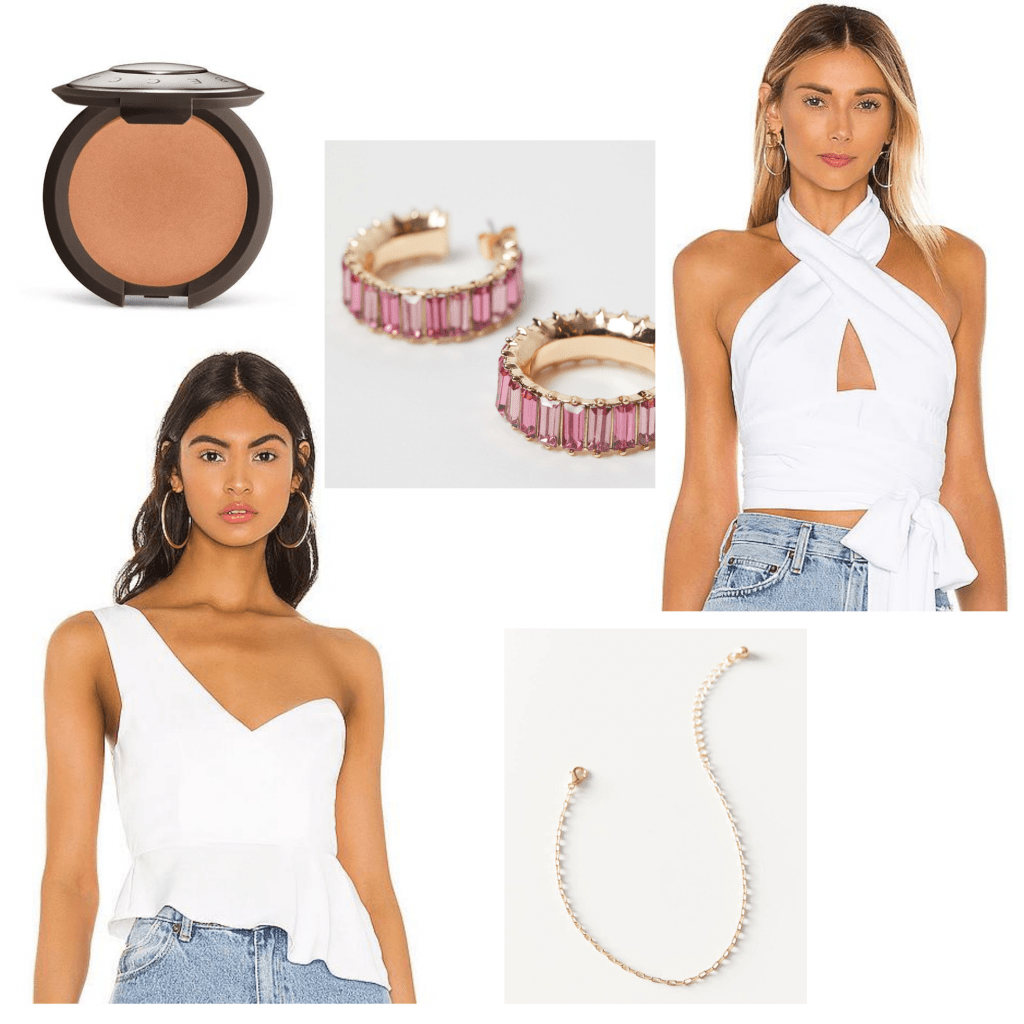 Products: Blush, Earrings, Halter Top, Asymmetric Top, Bracelet
At this point in the virtual sorority recruitment process, you should be full Mia Thermopolis Princess of Genovia. While it may seem weird to dress up to stay in your room, just remember it's only from the top up (but please do wear pants of some sort). 
White is the ultimate elegant color of summer and it looks amazing on screen. Choose an exciting neckline, like this '90s halter top with a twist or try out the new asymmetrical top trend like this one sided bustier top.
Again, avoid wearing spaghetti tops or tube tops this day, or any day of recruitment — you don't need anyone asking themselves if you're wearing any clothes instead of paying attention to what you have to say.
Finish off your look with a statement gemstone earring and some blush to bring out the color pink color.
The makeup tips apply to every day of recruitment, and so do the clothing tips for Zoom. Don't forget to place your computer in front of a source of light, preferably natural and remember to check what's behind you.
Lastly, have fun meeting amazing women at your college, some of the best advice I ever received about college was during these four days.
Will you be going through virtual sorority recruitment?
What are you most excited about? What are you going to wear? Let us know!