If there's a 2020 fashion winner, it would definitely be tie dye. What a year the tie dye trend has had. And it's only May. So today I'm sharing some tie dye shirt outfits, because this is absolutely a bandwagon worth jumping on.
A little recap on the tie dye look: Even before stay-at-home policies took over the world, the psychedelic print was everywhere, seen on stars like Avani and Addison on TikTok, as well as supermodels like Gigi Hadid.
Initially, I didn't think I would ever wear tie dye because it gave me too many flashbacks to when I was 13. But I challenged myself to buy a tie dye shirt and style it for several different occasions. And I'm so glad I did.
What I found was that while you can definitely go for its original hipster look, the print is extremely versatile. Whether you're toning it down for casual Friday or making a statement at brunch, tie dye always looks cute, no matter your style.
With all this free time, and endless tutorials, a tie dye shirt is just a fun DIY project away. If you haven't yet done the DIY project of the year, I'm sure these tie dye shirt outfit ideas will get you to hop on the trend.
Day out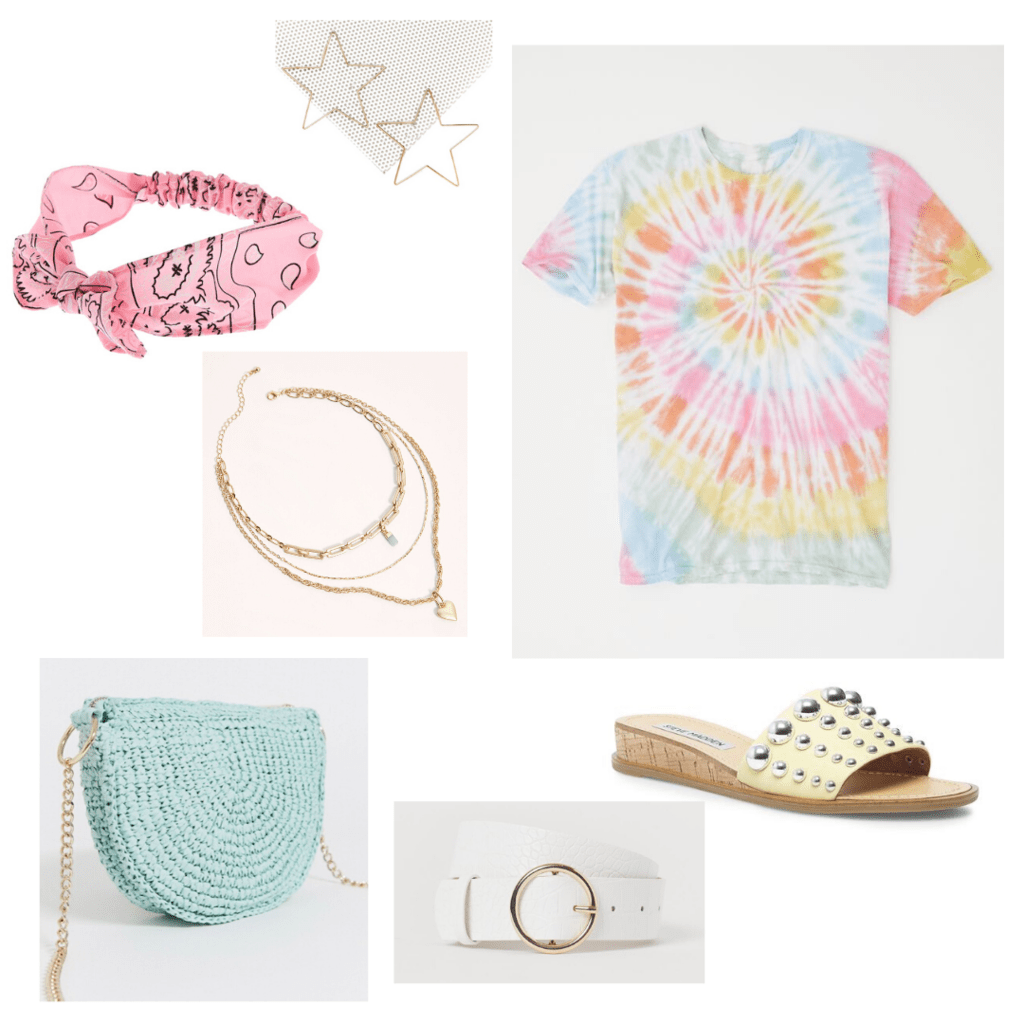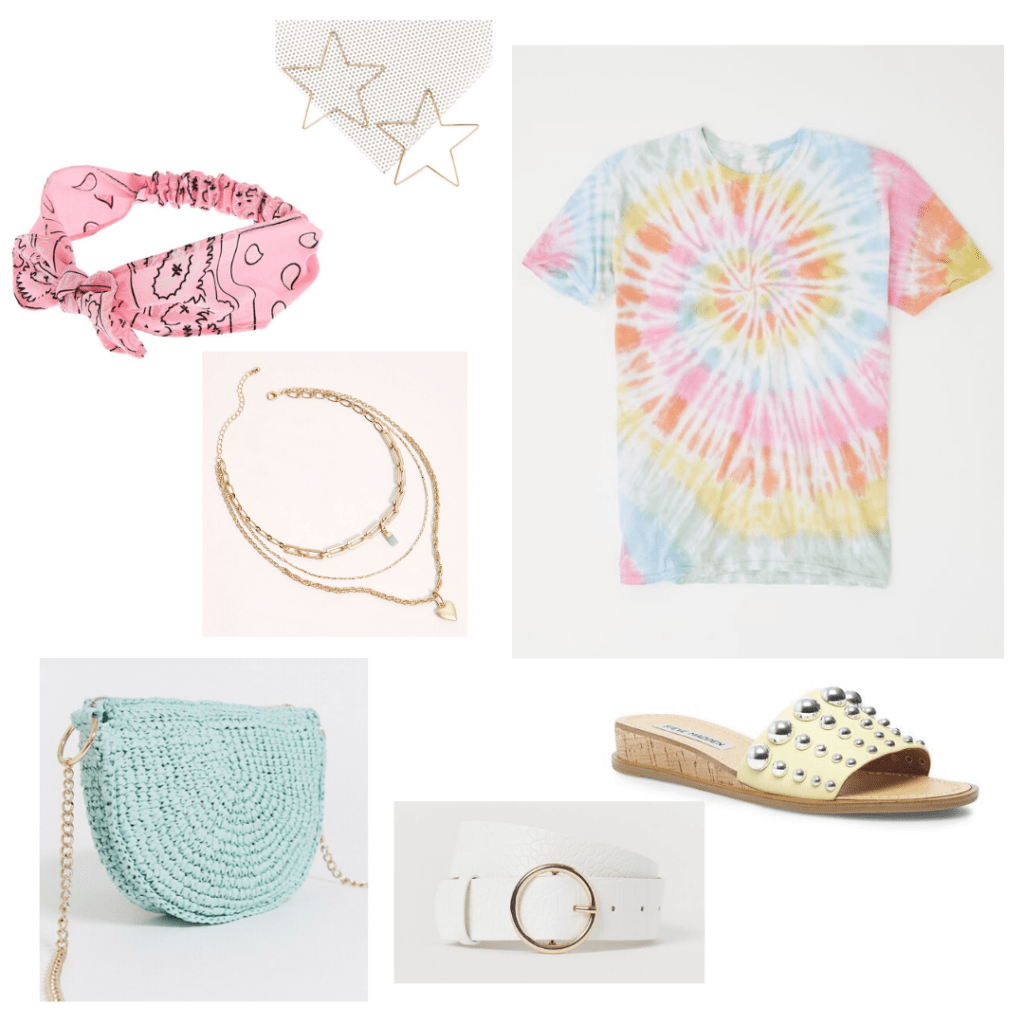 Products: Earrings – Nasty Gal, Shirt – Urban Outfitters, Bandana – Claire's, Necklaces – Free People, Bag – & Other Stories, Belt – H&M, Shoes – Steve Madden
Once stay at home orders are lifted wherever you live, I'm sure you will be anxious to go see your friends. Well this is why this outfit is perfect, because with this oversized shirt you don't even need to waste time putting pants on.
Pair the shirt with some fun jewelry, like these star hoop earrings. Pull your hair back with a bandana (that works as a face covering, too) because let's be honest, none of us are washing our hair very often. Slip on a pair of cute slip-on sandals and add a pastel bag to match. Before you leave, grab a cute belt so you look put together.
Work outfit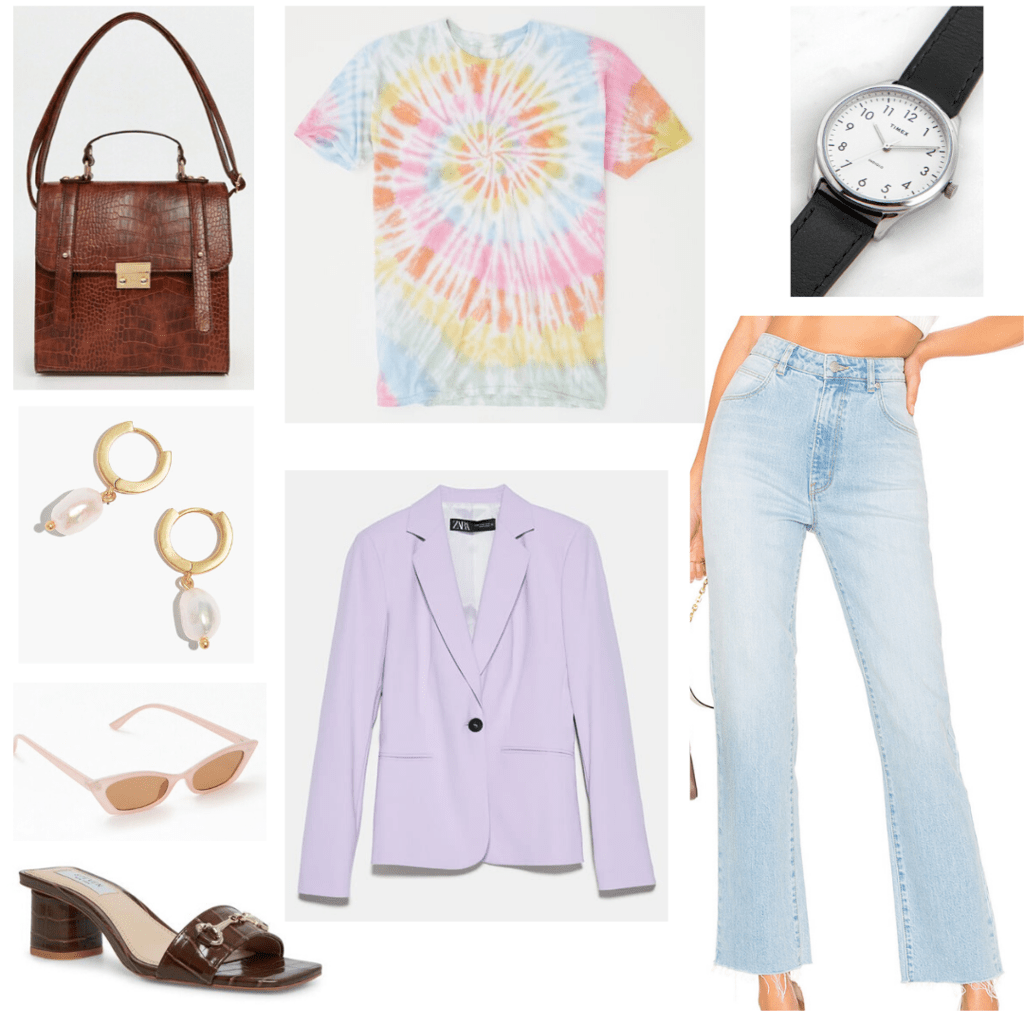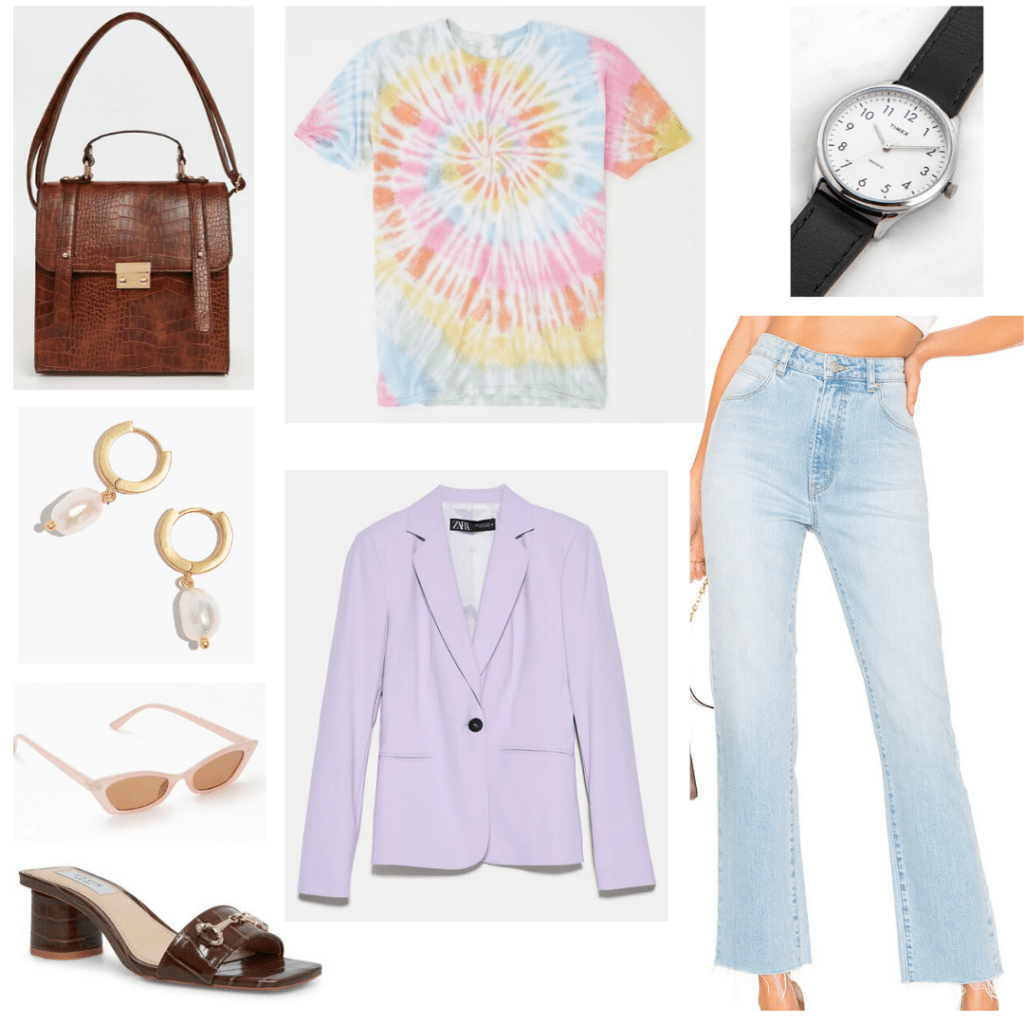 Products: Bag – Asos, Shirt – Urban Outfitters, Watch – Urban Outfitters, Earrings – Madewell, Blazer – Zara, Jeans – Revolve, Sunglasses – Pacsun, Heels – Steve Madden
Yes, you can wear tie dye to work. (Caveat: We are talking casual workplaces here.)
First, tuck your tie dye shirt into a pair of on trend straight light denim jeans. Top it off with a cute pastel blazer to make your outfit look polished yet keeping the playful side of your look.
Every businesswoman needs a professional bag and mature watch to rule the corporate world. Pair them with these '90s slides for a touch of vintage glamour that effortlessly elevates your outfit. Finish your look with some supermodel sunglasses.
Night out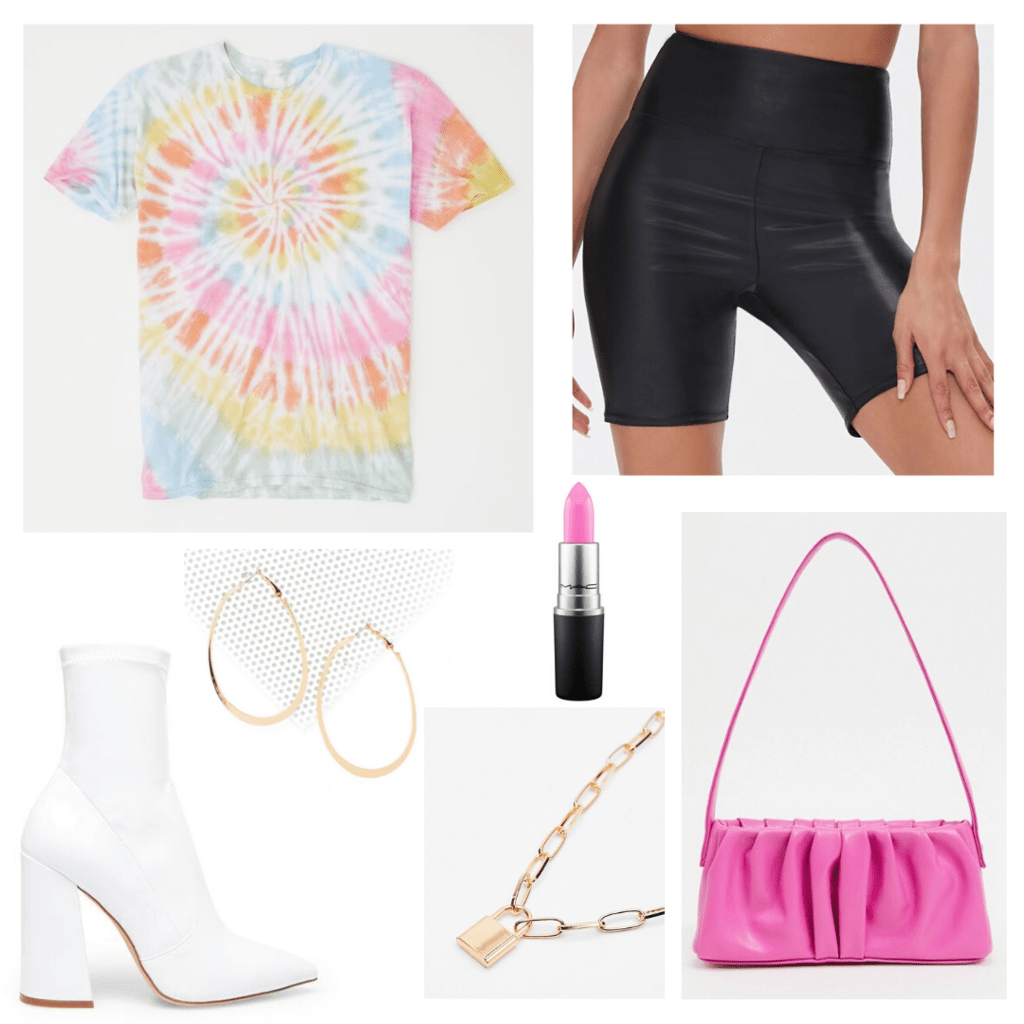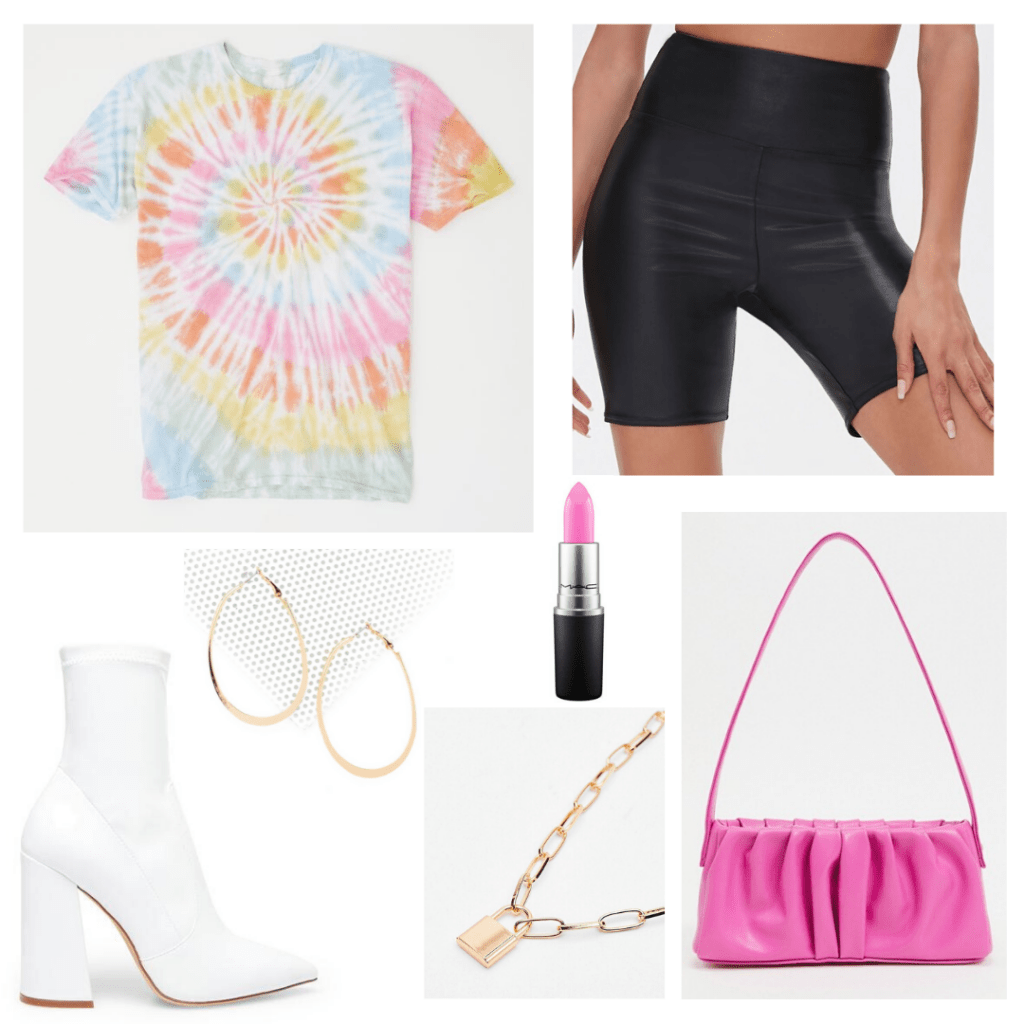 Products: Shirt – Urban Outfitters, Shorts – Forever 21, Boots – Steve Madden, Earrings – Nasty Gal, Lipstick – MAC, Necklace – Nasty Gal, Bag – Asos
Tie dye isn't the most "night out" pattern around (it tends to lean more casual), but pairing it with a series of leather pieces and some standout jewelry will get you party-ready in no time.
Pair your tie dye shirt with some on trend leather biker shorts to give it a cool feel. Next, add white mid-calf boots for a femme fatale look.
Don't forget to grab this summer's hottest bag trend, a 90's shoulder bag — pink neon is the perfect standout color to match with your lipstick. Finish it off with some statement jewelry, like this chain lock necklace.
Casual/Stay-at-home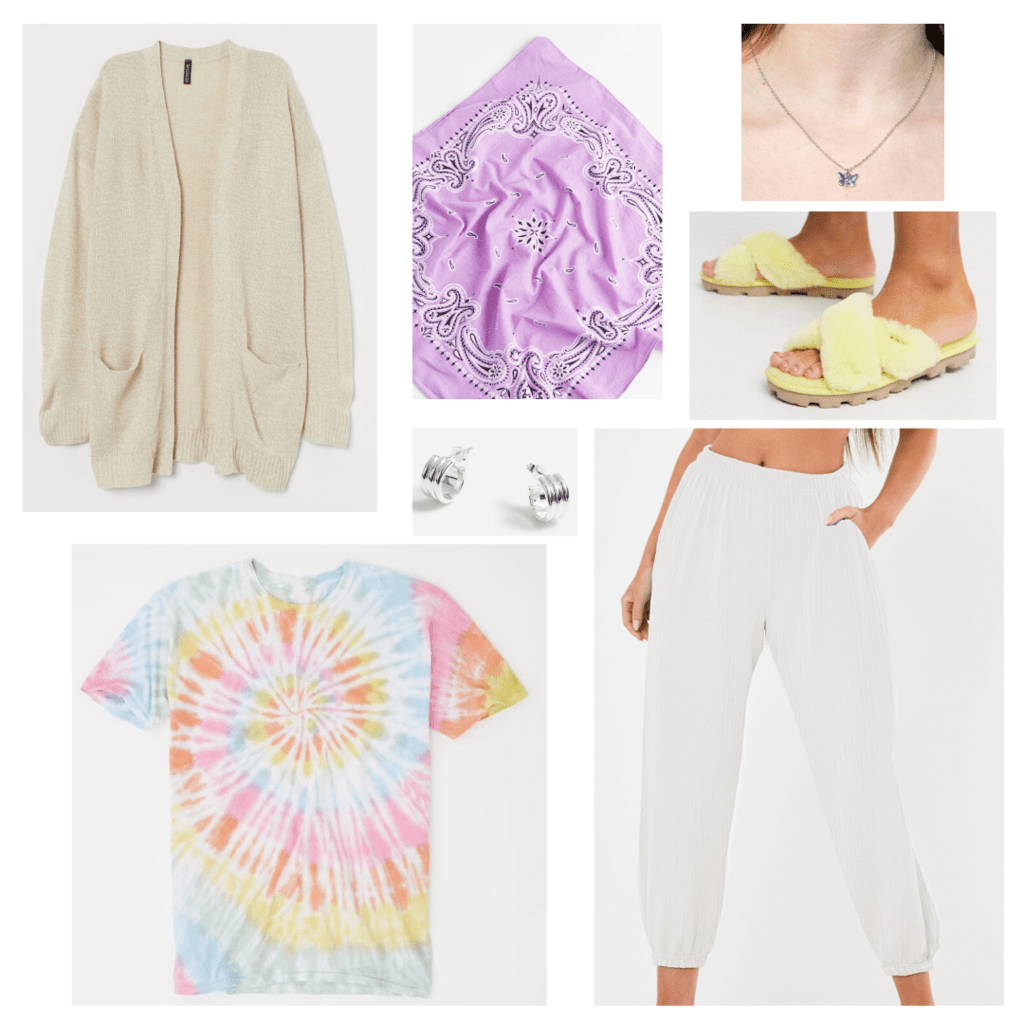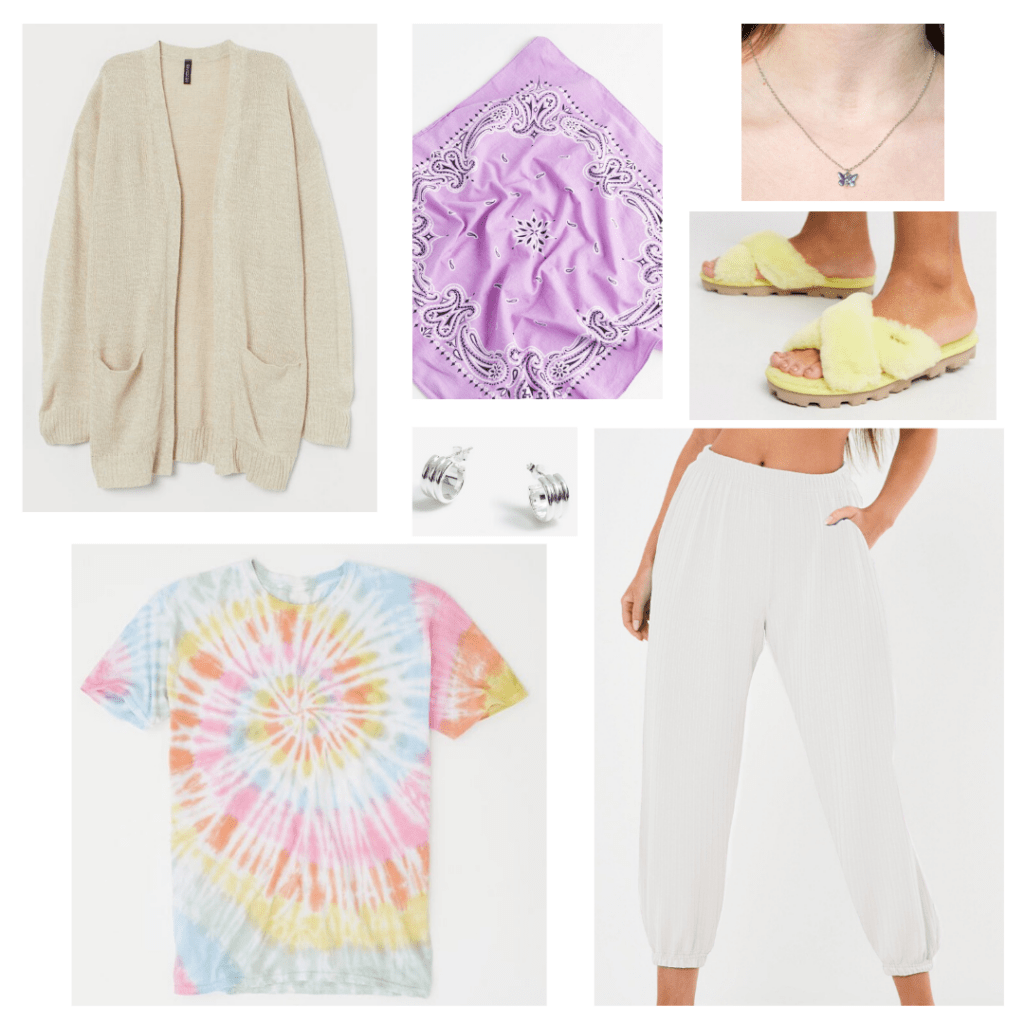 Products: Cardigan – H&M, Bandana – Urban Outfitters, Necklace – Brandy Melville, Slipper – Ugg, Earrings – Topshop, Shirt – Urban Outfitters, Sweatpants – Missguided
Most of us are still at home so before you get a chance to wear any of the outfits above, you can still look cute rocking tie dye at home.
Pair your shirt with your favorite sweatpants and comfiest cardigan to feel cozy. And these Ugg slippers are just the cutest and comfiest ever, perfect for staying home in style.
Accessorize with a comfy bandana on your head and some jewelry so you're TikTok-ready for when a viral video idea hits.
Look at this time at home as an opportunity to learn a new skill, reinvent your wardrobe, and just have fun. Soon enough you'll be going out with your friends and wandering what you should wear when you really had months to figure it out.
What are your favorite tie dye shirt outfits?
Which of the looks above is your favorite tie dye outfit? What's your favorite tie dye clothing piece? Let us know.