This post will show you how to dress like Avani Gregg and achieve Avani Gregg's style on a budget.
Meet 2020's TikToker of the Year, Avani Gregg.
Although with her 32.2 million TikTok followers, you probably already know this social media superstar with a Shorty Award already under her belt!
Avani initially shot to social media fame with her #ClownCheck videos on TikTok, which showed off her impressive makeup skills. She has proven she has much more to offer than just special-effects makeup, though. Avani now has a memoir in the works, her own show on Facebook Messenger called Here For It, and just recently dropped a makeup collaboration with Morphe.
On top of all that, Avani is also known for her super cool personal style. Her sense of style is Gen-Z all the way, with a love of Y2K fashion and edgy e-girl vibes.
Her fearless fashion choices set her apart from a crowd and give her TikTok videos a signature feel.
Read on to see how you can dress like Avani, with clothing, shoes, and accessories on a budget to help you achieve her look.
Avani Gregg's Jeans
You won't catch Avani in skinny jeans – as a true Gen-Z she prefers wide-leg denim styles that have 2000s vibes, including low-rise jeans.
She often opts for denim with eye-catching details like chain link cutouts (in her Instagram photo above), or cargo pockets.
Get Avani's Style: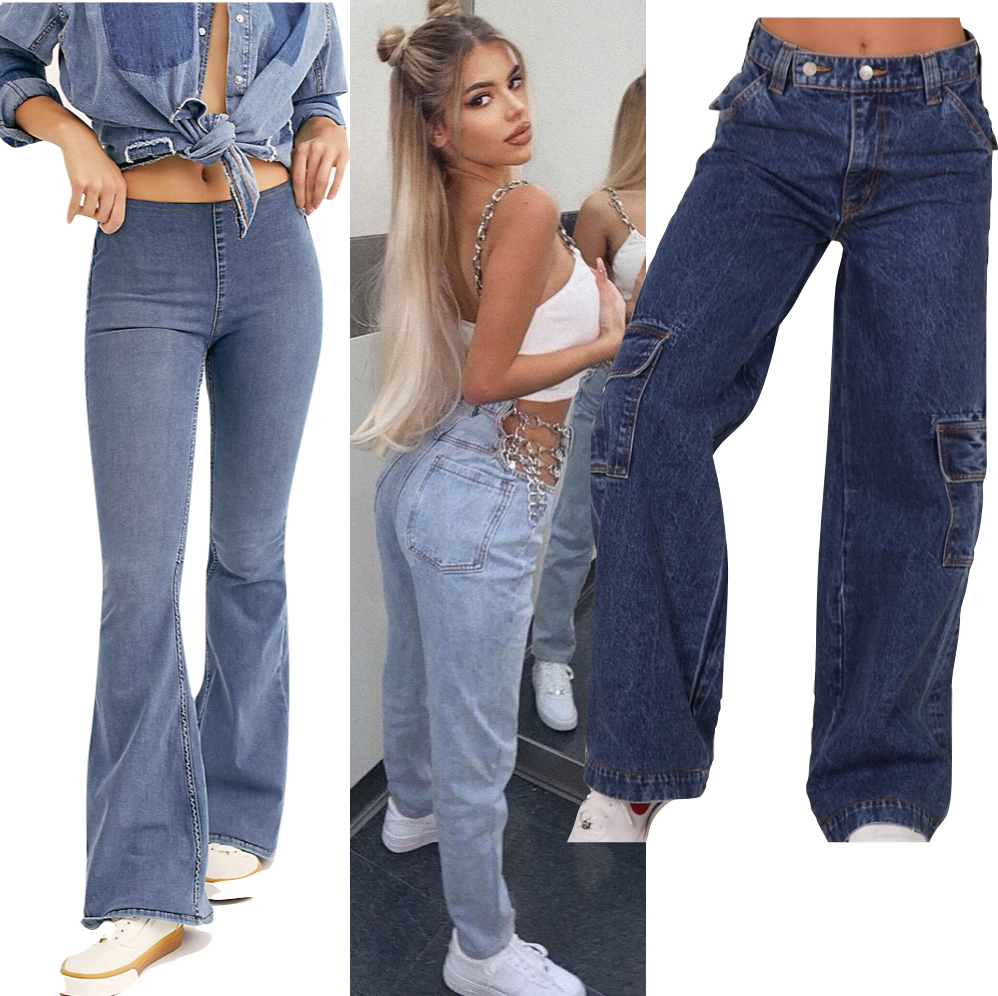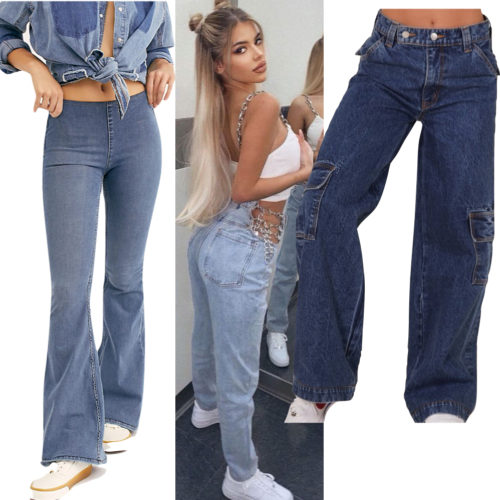 Jeans L- R: Flared Jeans, Chain Link Jeans, Cargo Jeans
Achieving Avani's style means opting for jeans that are straight or wide-legged with Y2K details like low rises and cargo pockets.
Avani also likes to wear body-hugging flared jeans (also with a low rise) for a 2000s look that she makes fresh.
Avani Gregg's Crop Tops
Avani loves to play with proportions when it comes to her personal style. This means that if her jeans or pants are going to have an oversized fit, she will often pair them with a tighter-fitting crop top to balance them out.
She is a big fan of baby tees with graphic prints, bustier-style tops, and even cropped sleeveless polo tops (like the one she's wearing above).
Get Avani's Style: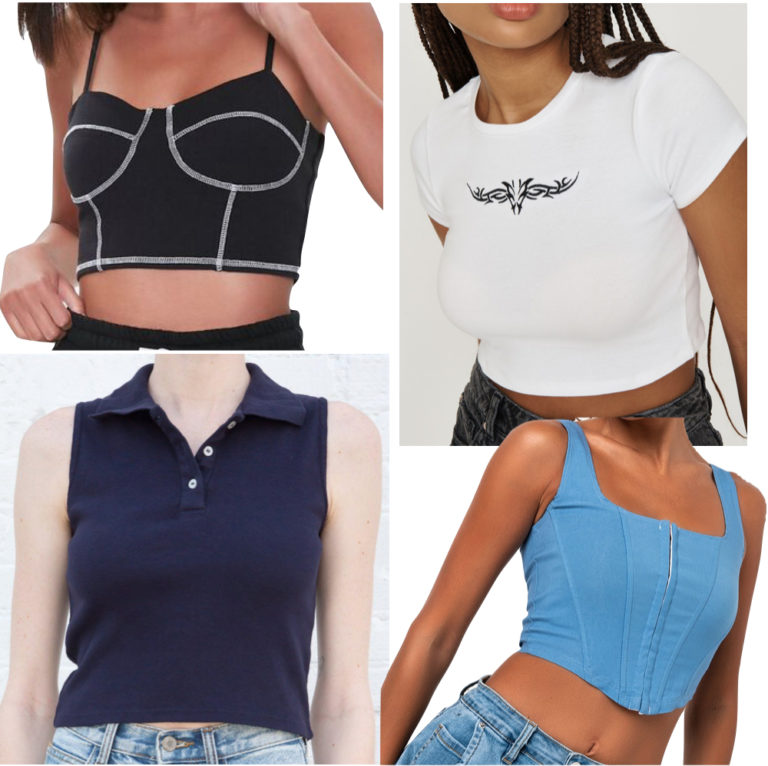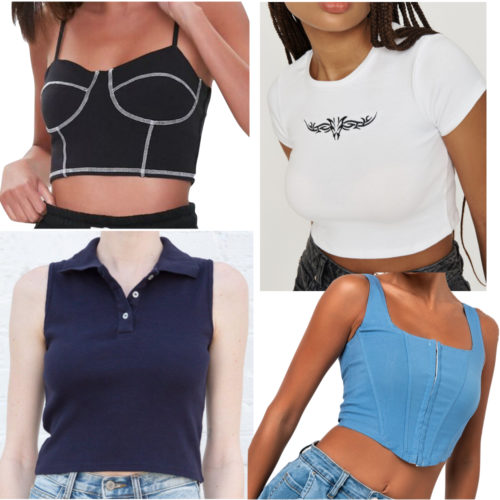 Products: Black Tank Top, White T-Shirt, Navy Polo Top, Blue Bustier Top
You can achieve Avani's style by wearing crop tops with your wide-leg denim for a proportional look.
Whether you're rocking more casual tops like graphic print baby tees or sleeveless polo tops, or dressier bustier and corset-style tops, as long as they are cropped, they are a must-have!
Avani Gregg's Sweatpants
Similar to her denim, Avani likes oversized, baggy fits when it comes to sweatpants. She also is a fan of bold graphic prints on her sweats, which is a favorite look of most TikTokers.
It's all about cool-meets-comfort with this style which is perfect for days spent lounging around (or learning a new viral dance).
Get Avani's Style: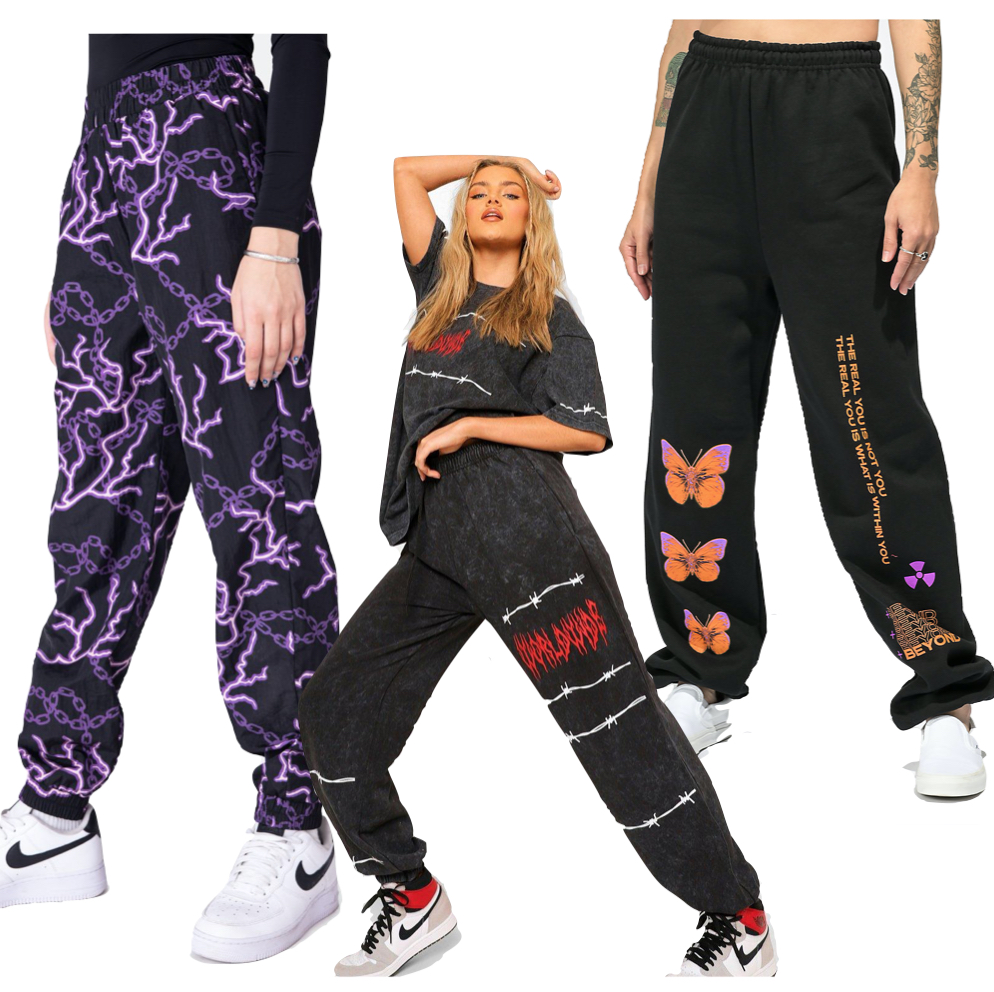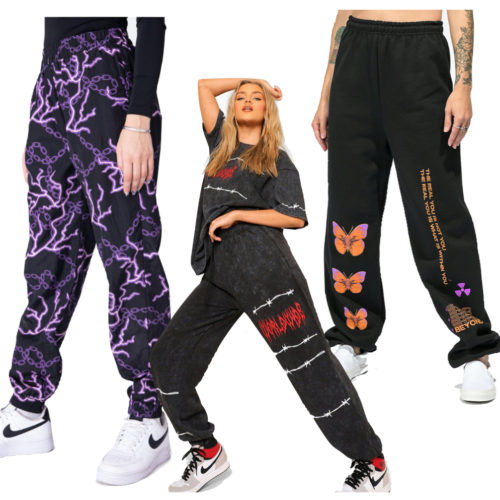 Sweatpants L-R: Purple Printed Sweatpants, Worldwide Sweatpants, Butterfly Sweatpants
If you want to get that Avani Gregg style for yourself, don't be afraid of bold graphic prints, and the baggier the better!
These graphic print sweatpants all have a streetwear-esque vibe that is going to make you look super cool while also staying ultra comfy.
Avani Gregg's T-Shirts
In addition to her sweatpants, Avani loves oversized graphic print t-shirts.
She uses these as an opportunity to show off her taste in music, often sporting band tees for Tyler, The Creator and Frank Ocean.
Get Avani's Style: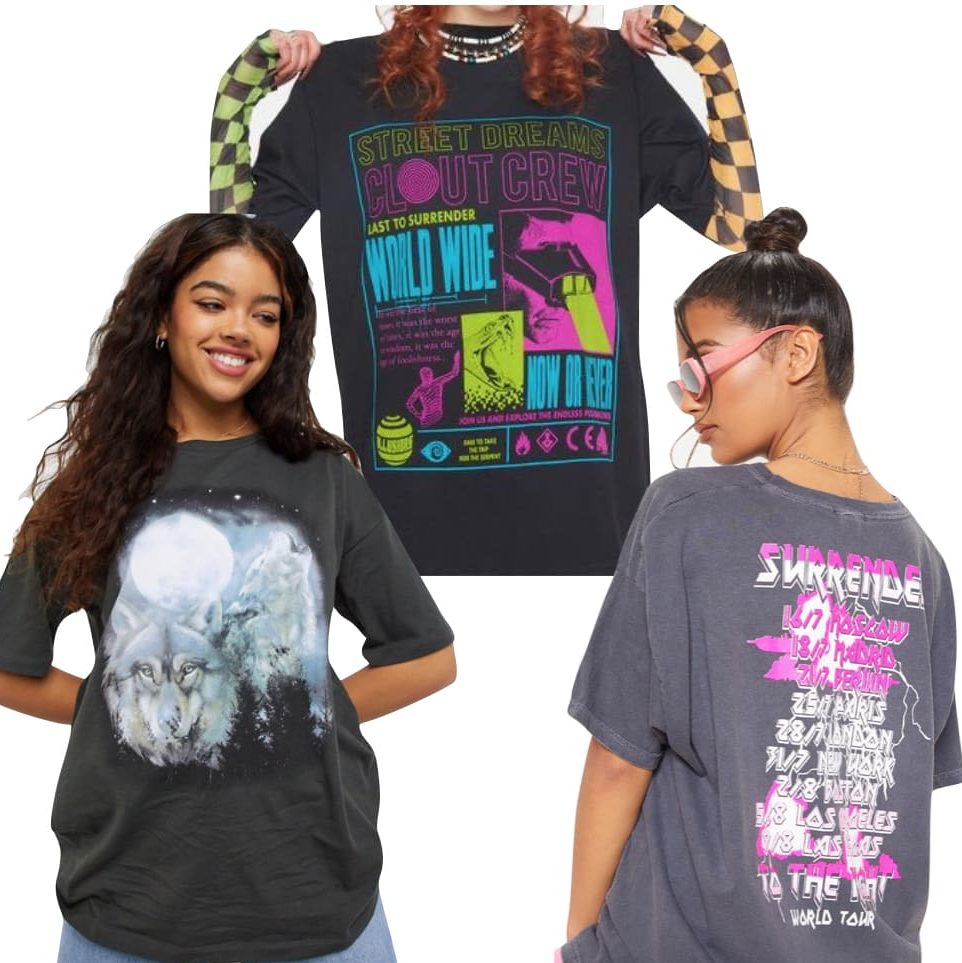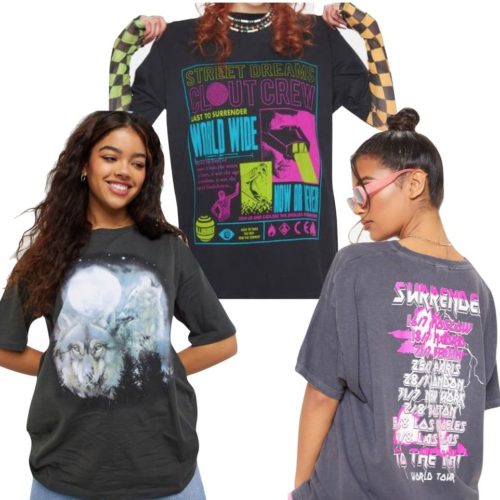 Products L-R: Wolf Print T-Shirt, Clout Crew T-Shirt, Back Graphic T-Shirt
As with her sweatpants, Avani gravitates towards oversized fits for her graphic print t-shirts. Feel free to pick t-shirts that show off your own musical interests, or rock any bold streetwear graphic.
You can also go for the classic "wolf in the moonlight" vibe like Avani has (above) for a fun look.
Avani Gregg's Knitwear
If you haven't figured out by now, almost everything Avani wears is bold, and that is what makes her style so cool!
And sweaters are no exception for Avani. She often wears oversized, colorful, printed knitwear that she will even match to her sneakers, making for totally unique outfits.
Get Avani's Style: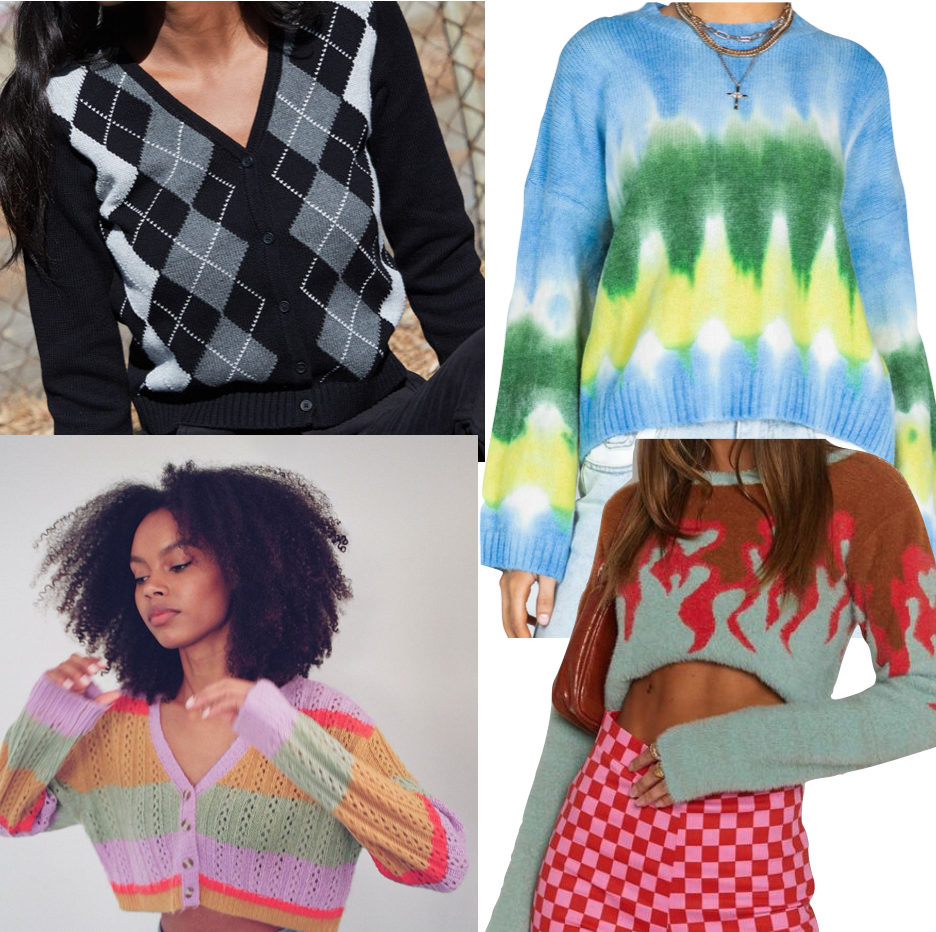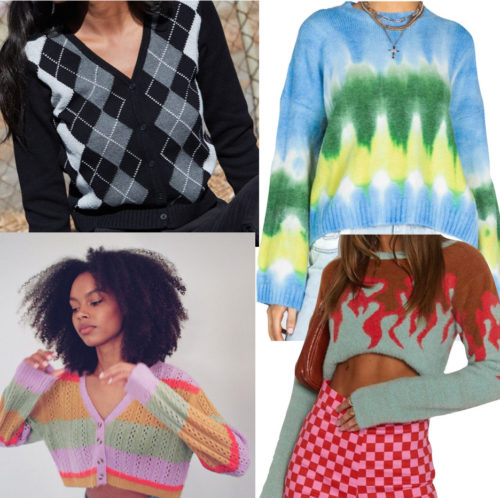 Products: Argyle Cardigan, Tie Dye Sweater, Striped Cardigan, Flame Print Sweater
Not only are they a part of Avani Gregg's style, but colorful, printed knits are a huge trend this spring.
Think stripes, tie-dye, or even flame prints when choosing a sweater this spring. Avani also is a fan of classic argyle print.
Avani Gregg's Accessories
Avani loves to accessorize her looks with layered silver jewelry and vintage-inspired pieces. Whether it is a trucker hat or a furry handbag, she opts for eye-catching items that are going to add flair to her outfits in a fun way.
Get Avani's Style: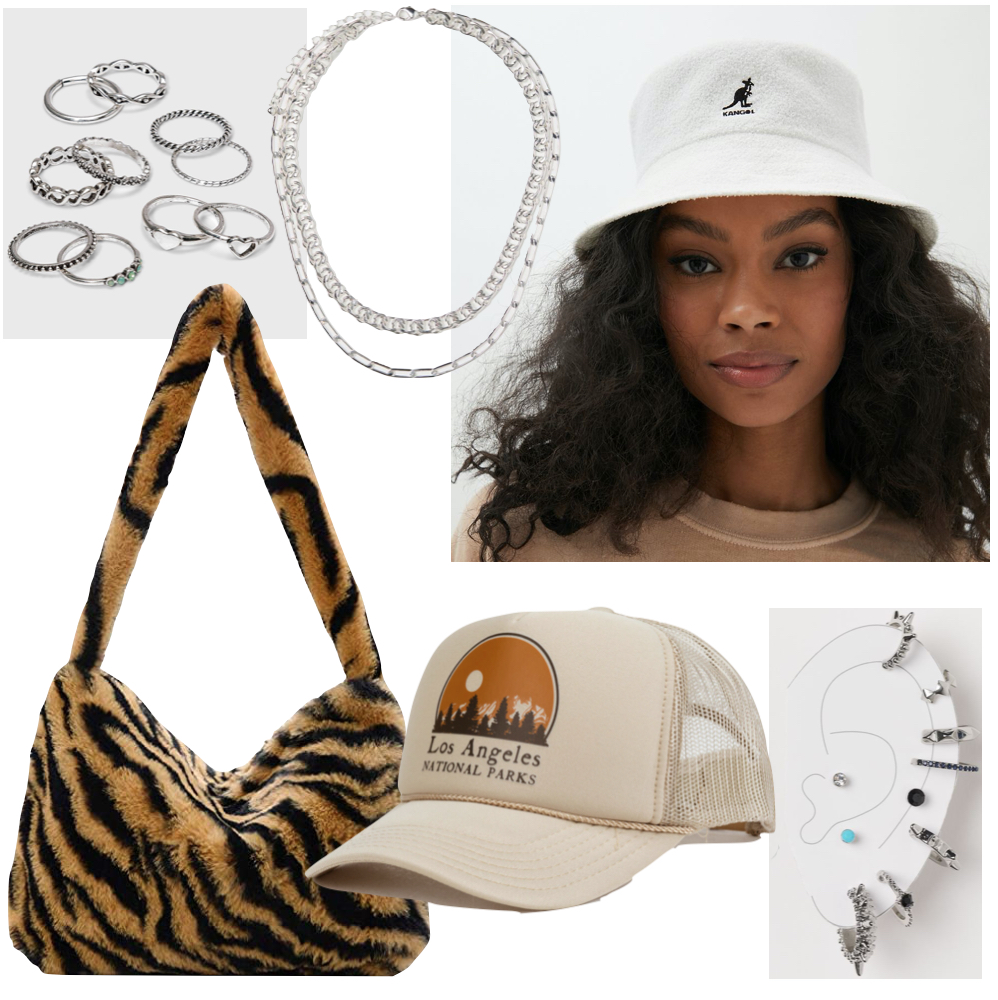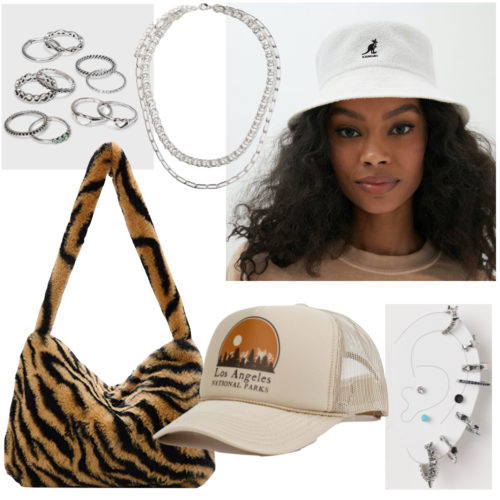 Products: Rings Pack, Necklace, Bucket Hat, Faux Fur Bag, Trucker Hat, Earrings Pack
Faux fur bags are having a major moment right now, and Avani has carried numerous animal print versions of this vintage-inspired trend.
For Avani's jewelry, layer on silver rings and chain link necklaces for an edgy look. Don't forget silver earrings as well; try this pack of earrings and ear cuffs to add to the edginess.
Bring your outfits together with a trendy bucket hat or logo trucker hat for the head-to-toe Avani vibe.
Avani Gregg's Shoes
Based on her shoe closet (above), it's safe to say Avani has a thing for sneakers.
Her impressive collection is filled with all sorts of sneakers, including high-tops, low-tops, and platform styles.
In addition to sneakers, Avani loves to rock platform combat boots, along with vintage-inspired knee-high boots.
Get Avani's Style: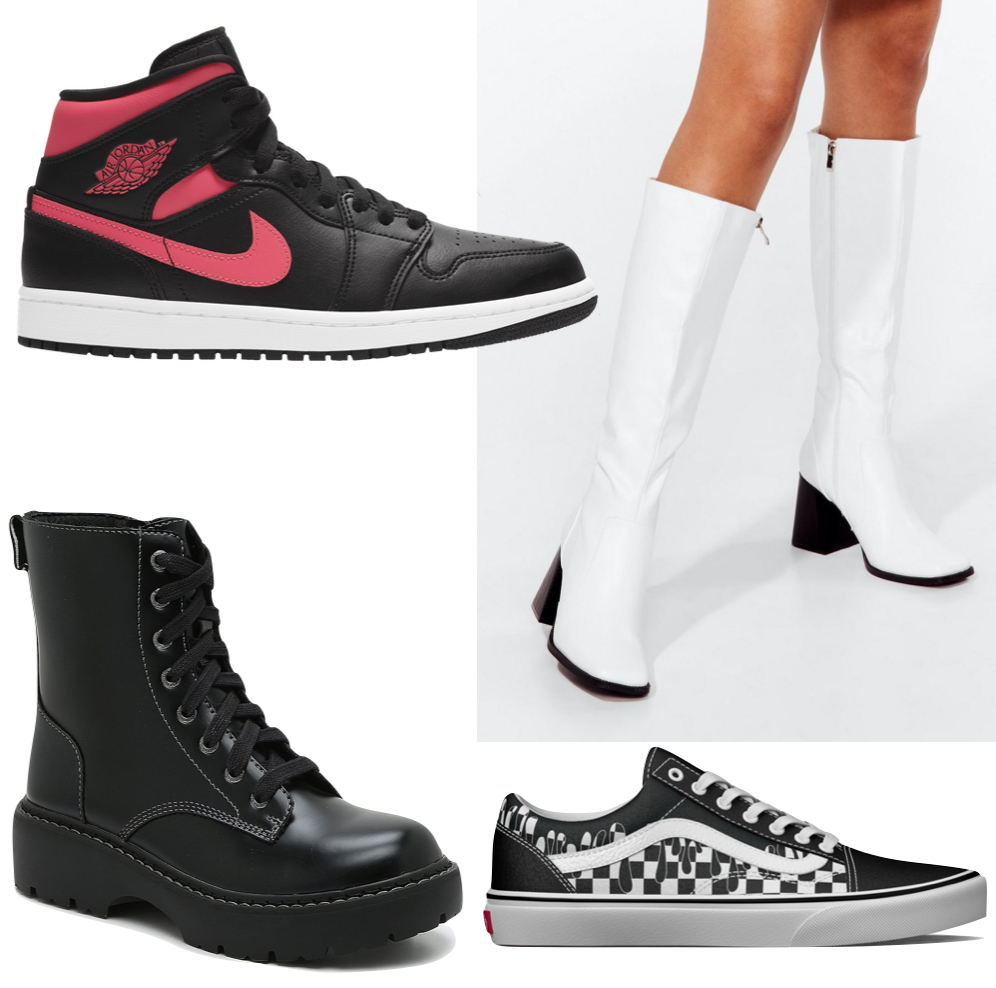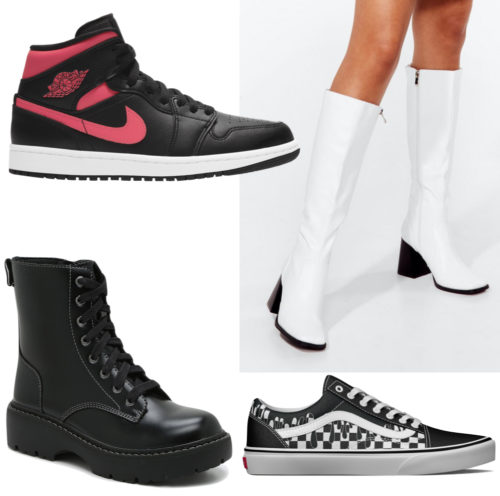 Products: Nike Jordan Sneakers, Lace-Up Boots, White Knee-High Boots, Checkered Low-Top Sneakers
If there's one type of shoe you need for achieving Avani's style, it would be a sneaker. And while she wears a huge variety of sneakers, you'll want to go for styles with a streetwear vibe. Get her look with a pair of Nike Air Jordan sneakers or a pair of Vans skate shoes (these have a cool paint drip design over the classic checkers).
These white knee-high boots have a retro look super similar to a pair Avani wore a few months ago, and don't forget about a pair of lace-up combat boots – the bigger the platform heel, the better!
What do you think of my guide to Avani Gregg's style?
Which styles would you be most likely to wear? Which other celebrities would you like to see featured? Leave a comment and let us know!