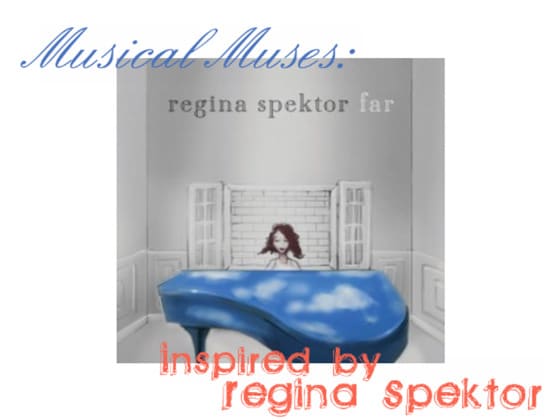 Ever since Regina Spektor burst onto the music scene in 2004, the young Russian from a musical family has been an inspiration to women everywhere. With her quirky lyrics and bright piano pop, Regina owns her style and is never afraid to be herself.
Her unique musical style carries over to her unique fashion sense: she loves florals, cute jackets, and unbasic black items. Check out the outfits below to see how you can get inspired by Regina!
Outfit 1: "Fidelity"
This outfit is inspired by Regina's love of black. She makes this basic shade anything but boring, however, by picking pieces with unique details, cuts, or shine. Keep the look fun by adding some colorful accessories, like printed mary-janes and floral hair clips (a Regina fave). And, of course, do not forget the final touch- a great shade of red lipstick! This genius lipstick by DuWop changes colors to adjust to the red shade that's perfect for you!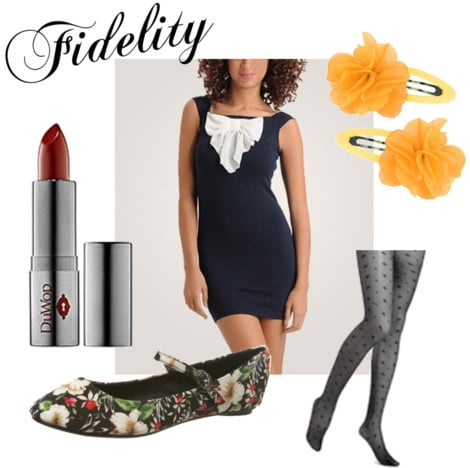 Product Information: Lipstick- Sephora, Flats- Miss Selfridge, Dress- Forever 21, Tights- Hue, Hair clips- Forever 21.
Outfit 2: "On the Radio"
One thing Regina knows is that a great jacket can make an outfit. A faux leather one in black or brown can add just enough edge to an otherwise-sweet ensemble. Regina often pairs her jackets with full skirts, which are cute as well as comfy. Try this look yourself by pairing the adorable pink ruffled skirt and chic jewelry below with a faux leather jacket to add some toughness.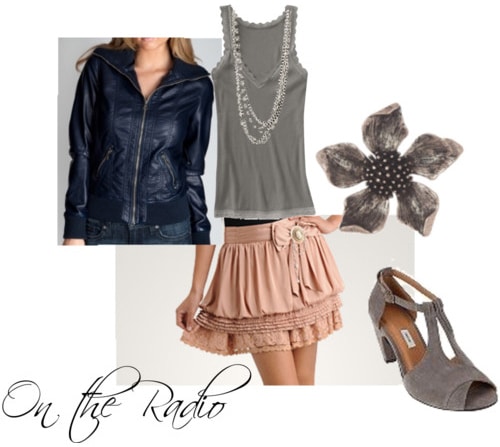 Product Information: Jacket- Charlotte Russe, Tank- Old Navy, Necklace- Forever 21, Skirt- Forever 21 (this sold out in one day, but here is a similar look), Ring- Modcloth, Heels- Urban Outfitters.
Outfit 3: "Us"
Florals are a hot trend this season, and Regina Spektor knows how to flawlessly pull them off without looking matronly. The easiest way to incorporate a floral print into your wardrobe is to invest in a dress with a cute print, then pair it with neutrals. Add a sparkly hair clip and metallic shoes like Regina above for extra cuteness. A little cross-body vintage bag is stylish and perfect for carrying necessities without lugging your backpack across campus!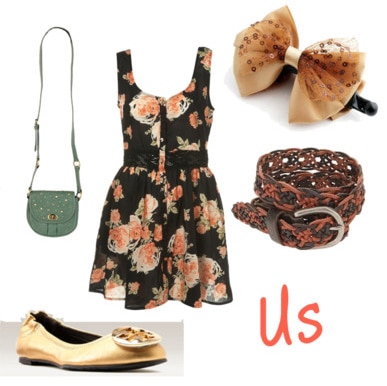 Product Information: Bag- Forever 21, Flats- Nordstrom, Dress- Topshop, Hair clip- Yes Style, Belt- Urban Outfitters.
Can't Get Enough of Regina Spektor?
Download these songs!
"Dance Anthem of the 80's"– This quirky, catchy song showcases all of Regina's best talents amidst an upbeat rhythm.
"Us"– This song was used for the opening credits in (500) Days of Summer. The lovely piano melody really is "contagious".
"Better"– This uplifting tune is perfect for a spring day outside in the sun.
Watch this video!
"Fidelity"– In this classic, Regina sings about the ups and downs of dating and the joy that can be found when you break out of the black and white mold.
If you want even more, check out Regina's MySpace for tour dates, news, and more. I was lucky enough to see her live when she came to my school in the fall, and she was amazing!
Also, if you want to add just a touch of Regina's style to your wardrobe, look no further than the Regina-inspired products below!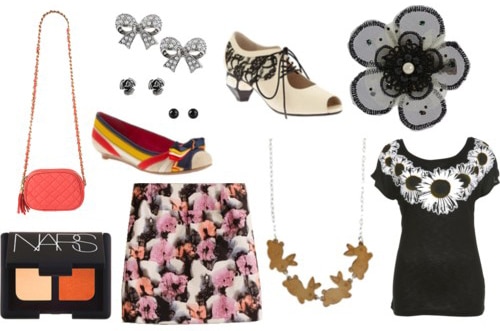 Product Information: Purse- Forever 21, Eyeshadow- Beauty.com, Earring set- Forever 21, Flats- Modcloth, Skirt- J. Crew, Heels- Modcloth, Necklace- Modcloth, Hair clip- Zappos, Shirt- Topshop.
What do you think?
Are you a fan of Regina Spektor's music or style? Are there any other music artists you look to for fashion inspiration? Is there anyone you would like to see featured in a future post? Let us know with a comment!