This post will show you how to style Nike Air Jordan 1 sneakers, with 15 outfit ideas.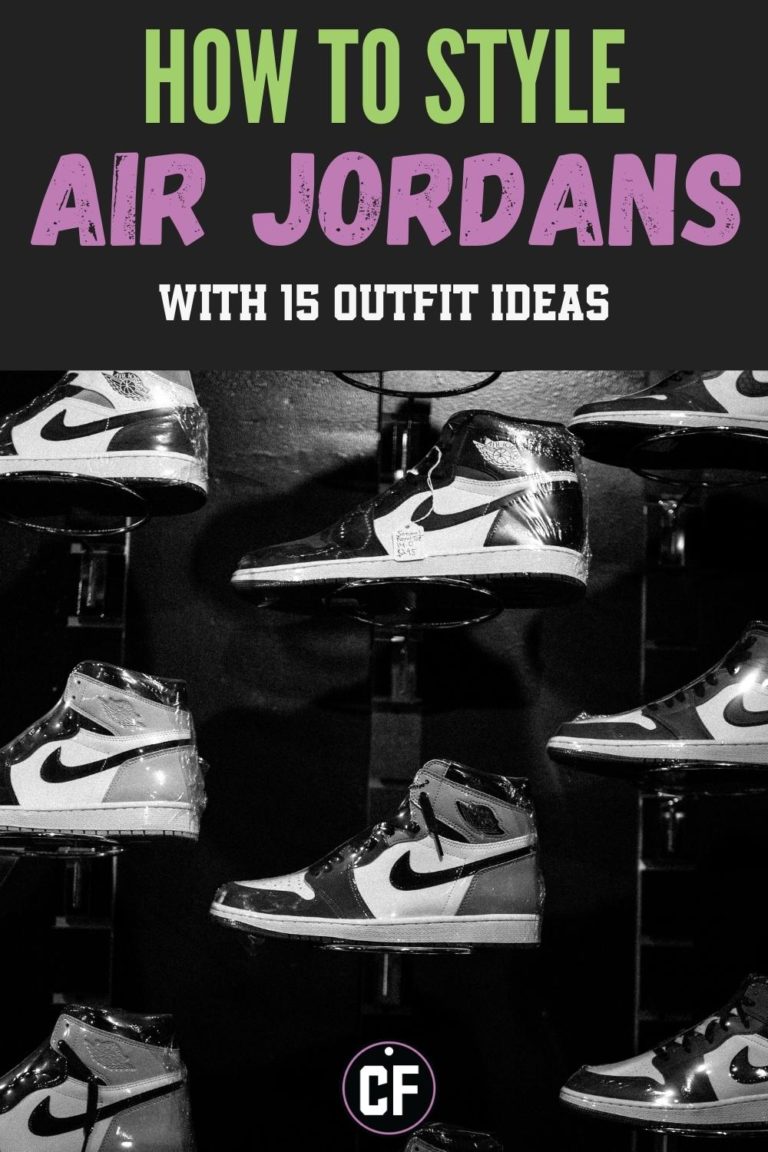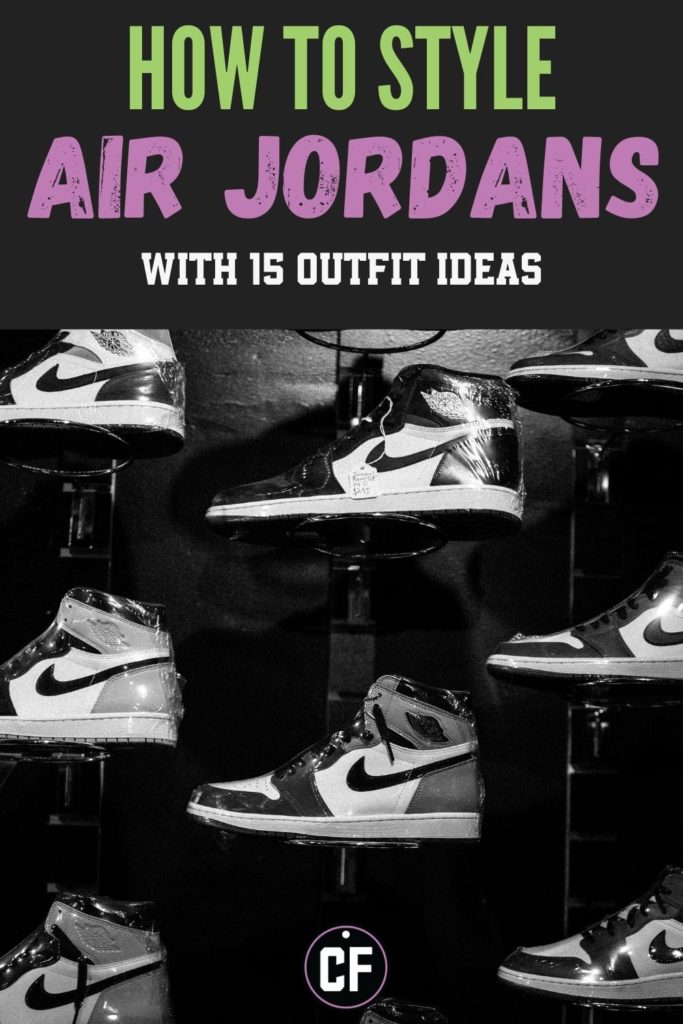 Nike Air Jordan 1 sneakers may seem like one of the hottest sneakers this year, but they have been popular since their debut in 1985. Michael Jordan's iconic sneaker was intended to be a basketball shoe but went on to dominate the streetwear scene with countless iterations over the years.
With exclusive colorways, designer collaborations (like Dior and Off-White), and hyped-up drops, these sneakers are often in high demand. And though Air Jordans were originally designed for men, the shoe has become just as popular with young women (myself included!).
This classic high-top sneaker can make even the simplest outfit look cool, and with so many colorways to choose from, there's an Air Jordan to suit everyone's aesthetic.
If you've been considering getting a pair yourself, or are looking for new ways to style your Nike Air Jordan 1 sneakers, read on for 15 Jordan 1 outfit ideas to give you inspiration for every season.
Related reading: What to Wear with Yeezys: How to Style Every Pair
1. Shorts with Air Jordan 1 Sneakers
With summertime just around the corner, jean shorts and Jordan 1s are a no-brainer! Take a page from Outer Banks star Madison Bailey who wore denim shorts with a crop top and Nike Air Jordans. Madison matched her navy crop top to her navy and pink Jordans for a coordinated look.
This simple yet statement-making outfit is perfect for summer days spent hanging out with friends or running errands.
2. Ripped Jeans with Air Jordan 1 Sneakers
You can't go wrong wearing ripped jeans with your Air Jordans. There are so many ways you can style this combo, but for a cute, laid-back look, opt for an oversized sweatshirt, baseball hat, and ripped jeans with a straight leg or wide leg.
You can either go for a neutral color scheme or a bright, colorful one like @shestyledwhat's, who played on her sneaker's pink and green color combination.
3. Biker Shorts with Jordan 1's
Biker shorts look amazing with just about any kind of sneaker, but Jordan 1s give them a street style vibe that will make you want to wear them outside of the gym.
Whether you wear your biker shorts with a sweatshirt or a bra top like @delaneychilds did, you're going to look stylish while feeling comfy. I also love the way high socks look with Jordans and a baseball hat in a matching color.
4. A Blazer with Jordan 1's
Business on the top, casual on the bottom! This outfit strikes the ultimate balance between dressy and casual.
An oversized blazer, chic sunglasses, and delicate jewelry totally dress up a pair of straight-leg jeans and Nike Air Jordan 1 sneakers.
A crop top like @anunanna's top adds to the outfit's trend appeal, but you could also wear a full-length t-shirt or shirt, too. This outfit is perfect for a coffee date or happy hour with friends.
5. Sweats with Jordan 1's
Make your sweats look instantly put together with your Jordan 1's. Even the most basic sweatshirt and joggers can be transformed into a street style-worthy look when worn with Jordan 1 sneakers.
Lori Harvey opted for this laid-back outfit combination while traveling, along with hoop earrings and a Prada shoulder bag. Her sneakers and accessories added just the right amount of flair to her simple gray hoodie and sweatpants for a cool yet comfy look.
Get extra style points by slicking your hair back into a sleek bun like Lori did for the ultimate "clean girl" aesthetic.
6. A Colorful Shirt with Jordan 1's
Bright, colorful button-down shirts are a big trend for the summer, so why not pick a shirt that matches your Nike Air Jordans? This will create a cohesive, trendy look that you can wear with loose-fitting jeans like @freyakillin, or with coordinating shorts that match the shirt.
I especially adore how these shirts look when left unbuttoned and worn over a crop top or tank top. Their lightweight material (often linen or cotton) is also ideal for warmer weather.
7. Cargo Pants with Jordan 1's
Jordyn Woods paired her Travis Scott x Air Jordan 1 retro high sneakers with some lightweight cargo pants, a cropped denim jacket, and a tank top.
Her laid-back look proves that just because the sneakers are sporty, doesn't mean your outfit has to be, too.
8. Biker Jacket with Jordan 1's
Everyone needs a faux leather biker jacket in their closet, and wearing one with your Air Jordans will give them some serious edge.
To keep this outfit elevated, opt for a pair of trouser pants like @lilymontasser wore with a cropped tank top, moto jacket, and layered necklaces. The tailored design of the trousers gives the outfit a polished look, but their wide-leg fit keeps them relaxed and on-trend.
9. Faux Leather Pants with Jordan 1's
Want to give your faux leather pants a more laid-back look? Wear them with Air Jordans instead of heels or boots.
You can wear this outfit day or night – the sneakers make the faux leather pants feel more casual for daytime wear, but this ensemble is just as fab for a night out on the town. Plus, these sneakers are way more comfortable to wear than heels!
Style the look with an oversized blazer and a crop top; @paulinakurka's cropped turtleneck is a great option for the fall or winter.
10. A Crop Top with Jordan 1's
There's nothing you can't wear with a crop top, but there's no denying that crop tops look especially amazing with wide-leg jeans and Nike Air Jordan 1 sneakers.
Try @iamsaiira's all-neutral look, with beige high-waisted wide-leg jeans and a beige cropped knit co-ord top, plus Jordans. All the proportions work well together to create a flattering, trendy look.
11. A Puffer Vest with Jordan 1's
Puffer vests have become a staple in the fall and winter, but rather than wear them with boots, try pairing them with Jordans instead.
For @hangwithanna's look, wear a puffer vest over a long sleeve top with some light-colored denim (blue jeans work, too) and Air Jordans. I love the way she matched her olive green top to the olive green on her sneakers.
You'll want to recreate this outfit in the fall, since it is perfect for a long day on campus.
12. A Suit with Jordan 1's
You might think that Jordan 1's are super casual and can only be worn with laid-back looks, but think again! Give your kicks an elevated feel by wearing them with a chic suit.
This is one of my favorite Jordan 1 outfit ideas of all. Sneakers are an unexpected choice that makes a tailored blazer and trousers look fresh (and youthful). You'll be the coolest (and comfiest) one in the office with this look.
13. White Jeans & A Crop Top with Jordan 1's
Nothing says summer like white jeans and a colorful crop top. Get in on this year's crochet trend with a crochet or knitted crop top with a bright color scheme that matches your Air Jordan sneakers.
Opting for crisp white denim, especially with a wide-leg or loose fit, keeps the outfit feeling fresh. Don't forget Y2K-inspired accessories like @stefneyv's rimless sunglasses and a mini handbag.
14. A Long Coat with Jordan 1's
I love the way a long, structured coat can add an elevated feel to any outfit, even a super casual one.
Even though @jennylinnnn is wearing baggy denim and an oversized graphic print top with her Nike sneakers, her long gray coat brings the outfit together and makes it look polished. Be sure to add in trendy accessories like cool sunglasses and a matching handbag to complete the ensemble.
15. A Graphic-Print T-Shirt with Jordan 1's
Graphic print t-shirts and Air Jordan 1's go hand-in-hand. Whether you opt for a short sleeve or long sleeve like @acquired.style did, a cool graphic design adds to the streetwear vibe of your look.
With dark wash denim and a black graphic print top, a bright beanie hat and colorful Jordans will stand out and give the outfit a stylish pop of color.
What do you think of our Jordan 1 outfit ideas?
Would you wear these looks? Which outfit is your favorite? Leave a comment and let us know!