This post may contain affiliate links, which means we may receive a commission if you purchase through our links. Please
read our full disclosure here
.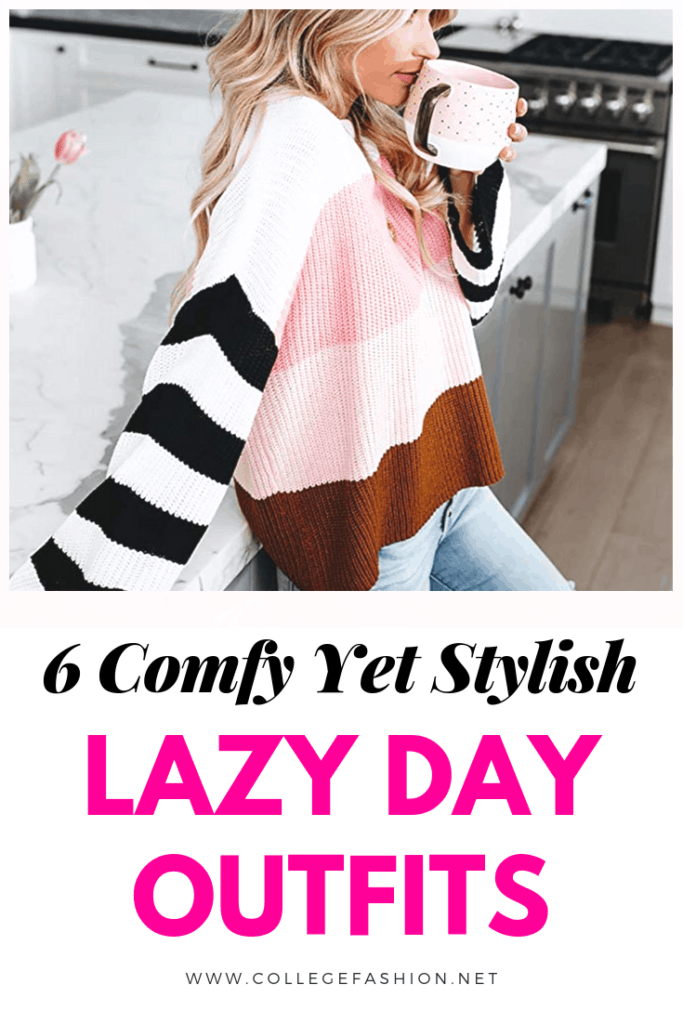 You're studying for midterms. You're juggling a full course schedule and one more extracurricular than you reasonably should have taken on. And, of course, it's starting to get cold outside and therefore just a tad bit harder to get out of bed in the morning. Because of this, having a few insanely comfortable outfits under your belt is more important than ever!
Of course, none of us enjoy leaving the house looking like slobs. Personally, I cringe every time I see someone trekking across campus in pajamas and Uggs. Lucky for us, there are several outfits out there that are just as comfortable as pajamas, but look about a thousand times more put-together in public.
CF is here to break them down for you, with tips and tricks for looking cozy yet chic, as well as a few easy-to-recreate outfit ideas.
Let's get to it!
Tips and Tricks for Creating the Best Lazy Day Outfits
Jeggings. These are your trick! They look just like a pair of jeans, but are soft and stretchy. Throw them on with a v-neck, an oversized cardigan, and ankle boots.
Embrace your glasses. Not only do they save you time putting in your contacts, but if you have thick-rimmed glasses, they'll frame and define your eyes enough that you don't even need to bother with eye makeup! Finish with an easy swipe of bright lip gloss.
Look for stylish sweatpants. Stores like Forever 21 and Boohoo usually have cute joggers. If you ever stumble across these, be sure to snatch them up! You can wear them with ballet flats or high-heeled ankle booties and no one will have any idea how cozy you actually are.
Oversized graphic tees will be your best friend on lazy days. You can wear them with leggings and sneakers, and you'll look absolutely adorable.
Thick socks. Not matter where you are, a cozy and warm pair of socks will make you feel like you're cuddled up on your couch at home.
Top knots. A messy bun on the top of your head not only masks greasy hair, but looks super stylish, too. It's a great trick to pull when you're too busy or lazy to do your hair! Baseball caps are also a great way to hide greasy roots.
Accessorize. Cover up a ratty shirt and leggings with scarves, boot socks, headwraps, statement necklaces, and more.
Outfit Ideas
1. Jeggings + Knit Sweater + Scarf
This outfit is a no-brainer that can be whipped out for a day-long study session at a coffee shop or the library.
A knit sweater – especially one with a cool print like this leopard one – looks effortlessly stylish and pairs perfectly with those go-to jeggings. Finish with a scarf, cute stud earrings, and cozy faux fur-lined loafers.
2. Faux Leather Leggings + Tee + Jacket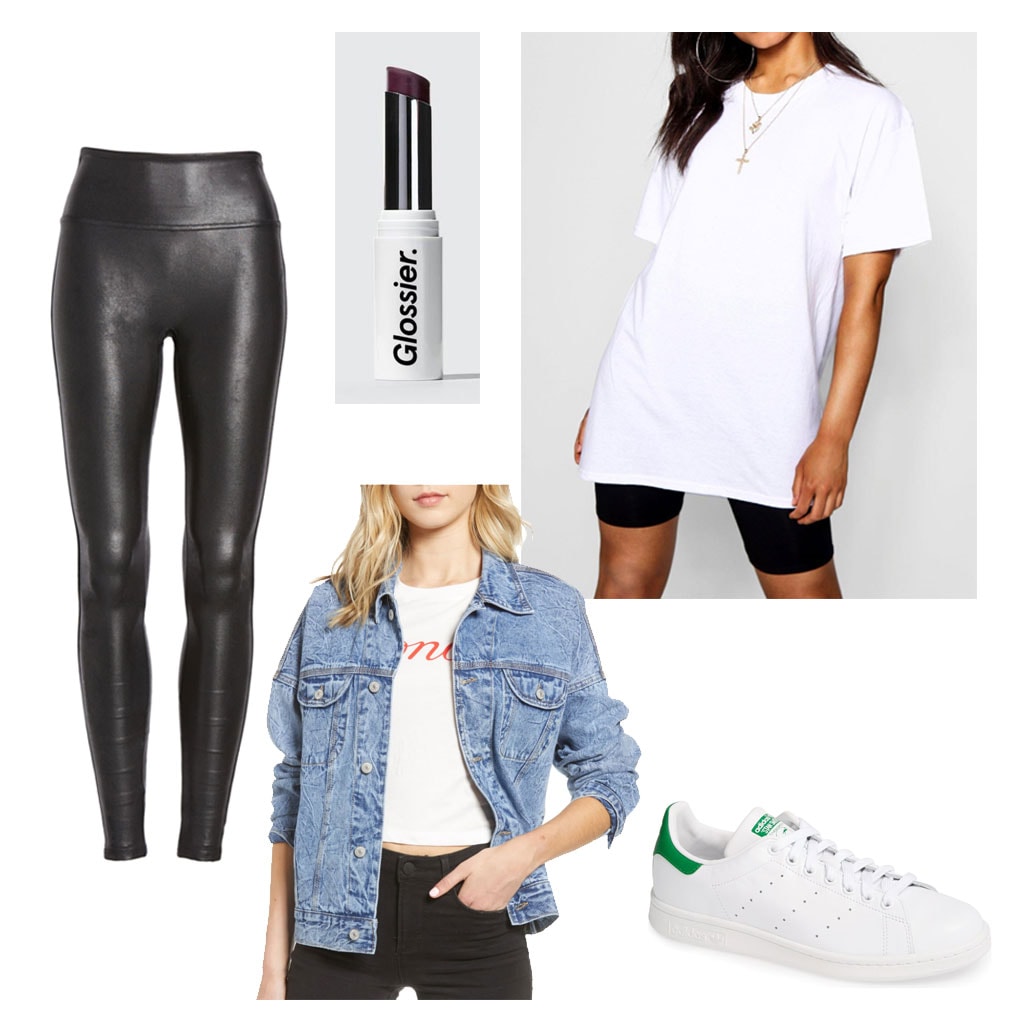 Products: Leggings – Nordstrom, Tee – Boohoo, Lipstick – Glossier, Denim Jacket – Nordstrom, Sneakers – Nordstrom
You might not think of "comfort" when you think of faux leather leggings, but I bet you just don't own the right pair.
If you haven't tried these Spanx faux leather leggings yet, drop what you're doing and get a pair NOW. Yes, they're a splurge, but they're also unlike any other legging on the planet — they literally feel like yoga leggings while looking like leather! Don't believe me? Read the reviews — there are 2,000+ five star reviews and counting.
Pair these game-changers with your favorite t-shirt and a jacket, then finish with a bright swipe of lip color. I personally love Glossier Generation G because it goes on matte and has the perfect amount of color for a casual day. (See our list of the best Glossier products for more on this wonder lipstick!)
3. Joggers + Long Sleeved Shirt + Winter Vest
Vests are another lazy day outfit staple. They're a sneaky way to look presentable but stay uber cozy. You'll be amazed at how warm it will keep you, even in frigid conditions.
This vest look is both comfy and stylish. It plays with icy blue tones to match the Winter chill. This Old Navy vest comes in various colors and can be paired with dresses or a long-sleeve tee. For a lazy-day look, though, we've styled it with some comfortable jogger leggings. Complete the outfit with a striped shirt, stud earrings, and easy sneakers.
4. Oversized Sweater + Athleisure Accessories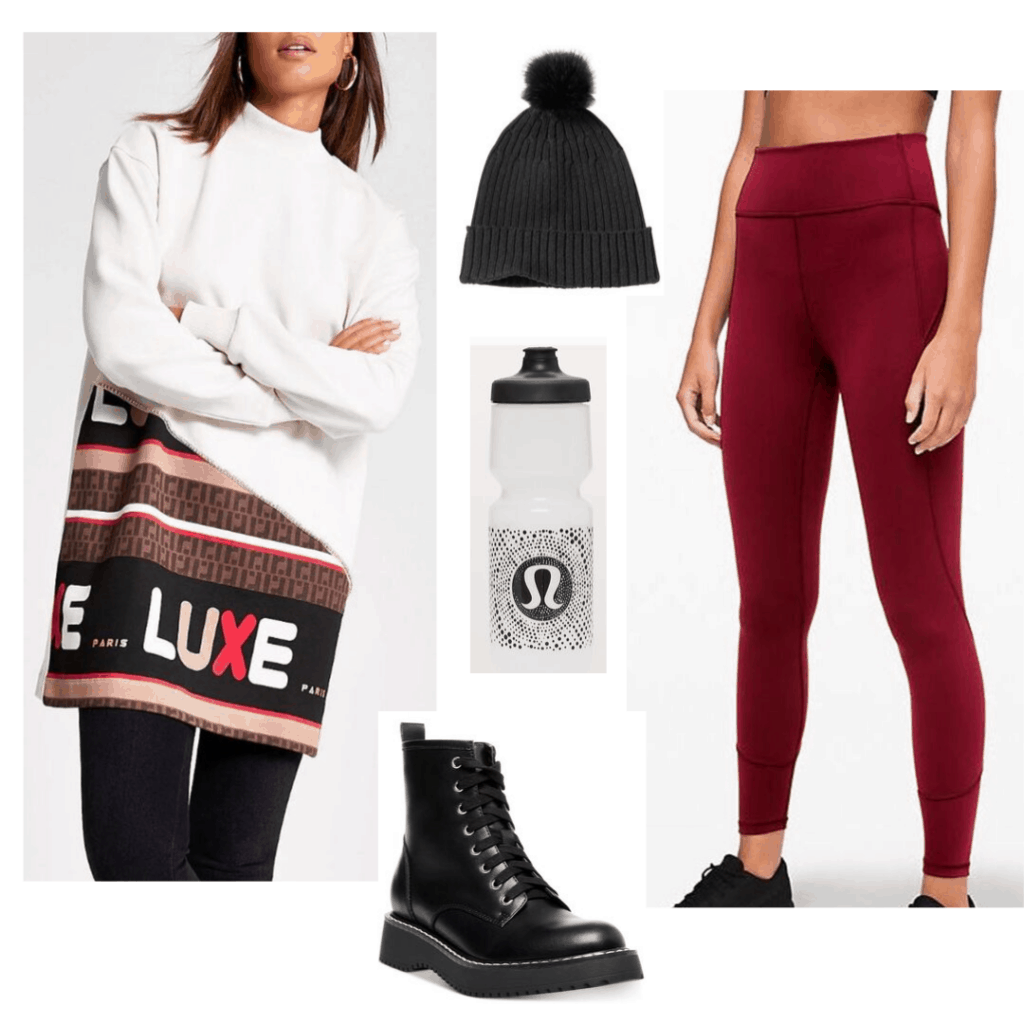 Products: Sweater – River Island, Leggings – Lululemon, Boots – Macy's, Hat – Banana Republic, Water Bottle – Lululemon
Another great way to compensate for a lazy day outfit is to add several stylish accessories.
This oversized sweater will look awesome with leggings tucked into a pair of on-trend biker boots. Add a cozy beanie and a water bottle to complete the ensemble and remember to stay hydrated, ladies!
5. Slouchy Pants + Tank Top + Cropped Jacket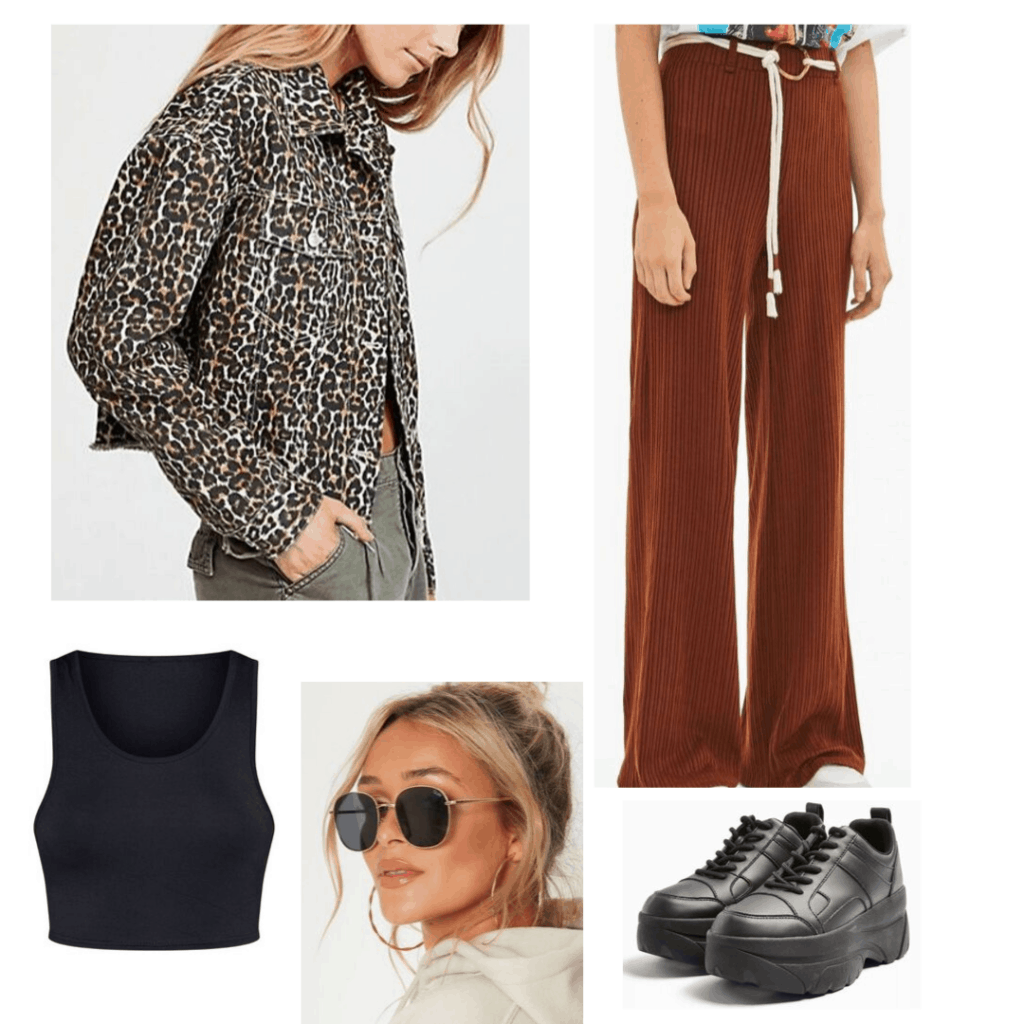 Products: Tank Top – Pretty Little Thing, Jacket – Free People, Pants – Bershka, Sunglasses – Quay Australia at PLT, Trainers – Topshop
Slouchy pants are soft, breathable, and feel almost like pajama pants! They're a fantastic piece to have on hand when you feel lazy but want to look chic.
This lazy day outfit is extremely easy to recreate. These rust pants are comfy and trendy to boot, and they're a dream paired with some chunky sneakers. Tie up the outfit with a tank top, a cropped jacket, and a some sunglasses for a celeb look we're loving.
6. Chic Activewear
Products: Sports Bra – Athleta, Shoes – Nike, Watch – Fitbit, Leggings – Macy's, Fingerless Gloves – ASOS
I know that many would disagree with me, but I personally see no shame in wearing chic activewear while running errands. Other people will assume that you're on your way to or from the gym – and who knows, your ensemble might motivate you to make time to work out!
Workout leggings are comfortable and provide a lot of coverage. Pair them with a sports bra and a Fitbit, then throw a hoodie over top if you want more coverage. Pack some fingerless gloves for your actual workout.
What do you think of our lazy day outfits?
What are your go-to outfits when you're feeling on the lazy side? Would you wear any of these outfit formulas? What tricks do you employ when you want to stay cozy but look chic? Leave a comment and tell us what you think!
Editor's note: This post was originally published in 2013; it was completely updated and revamped in 2019 with new photos, outfit sets, and information.