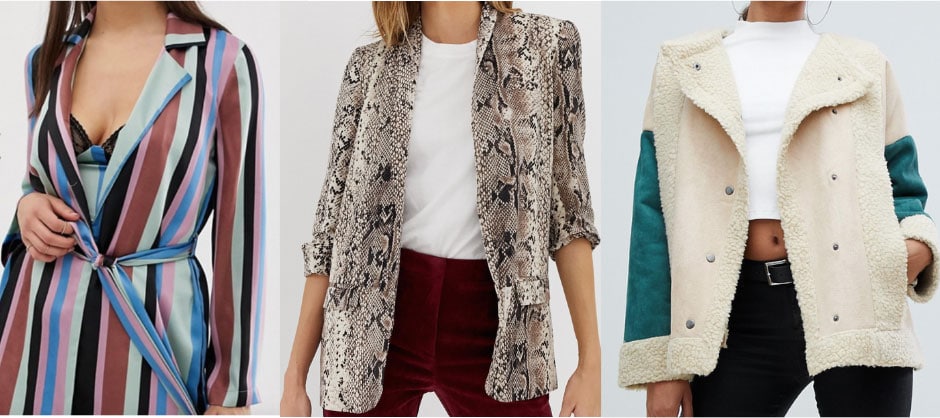 It's an all too familiar feeling to wake up 10 minutes later than planned on a Monday morning and have no idea what to wear.
When this happens, it's all too easy to reuse last week's exact outfit or wear a mismatched t-shirt, jeans, and sneaker combo. Ugh.
It's hard to keep up appearances and be lazy at the same time, but there are definitely ways to look cute no matter how lazy the day. Below are just a few of them.
Related reading: 5 Cheap Items to Keep On Hand for Easy Outfit Hacks
Option 1: Hair
Any outfit looks dressed up with the right hairdo. For instance, shorts and a t-shirt suddenly become 'beach chic' when paired with beautiful beach waves!
My personal quick-morning favorites all have to do with braids. These pig-tailed braids are an easy 2-minute hair fix to look super put together in the morning!
Other options are to braid all of your hair into one big braid and then circle that into a bun on the back of your head, or to do one big side braid (great way to cover a nasty zit on one side of your face too).
My personal favorite is to hide a couple of thinner braids throughout your hair!
For more ideas, here are the best hairstyles for lazy days and our go-to hairstyles for college.
Option 2: Earrings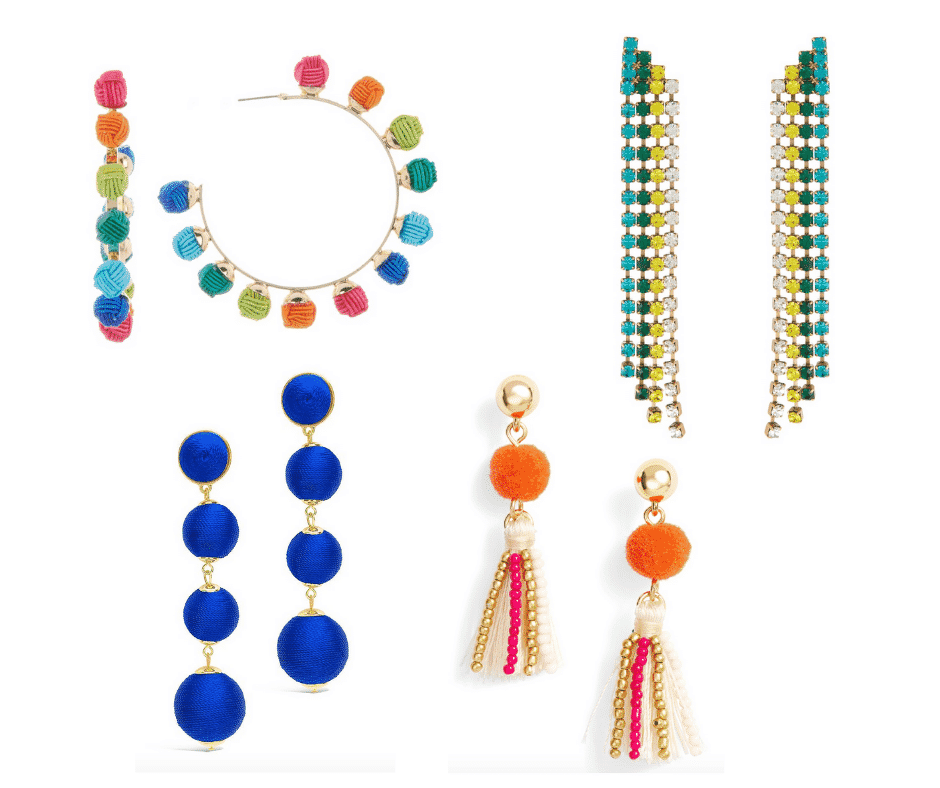 Products: Multi-colored Earrings – Suzanna Dai, Turquoise and Yellow Crystal Earrings – Loren Hope, Blue Earrings – Sterling Forever, Orange and Pink Earrings – Rebecca Minkoff
On those days when you don't even have time to bother with a cool hairstyle like the ones above, earrings are your BFF. Just gather your hair into a ponytail or bun, then throw on a pair of bright, eye-catching earrings!
The examples above would definitely catch eyes a mile away and all the attention would be on those lovely lobes. (No one will question your sweatpants if you have statement earrings on, promise!)
Option 3: A Statement Jacket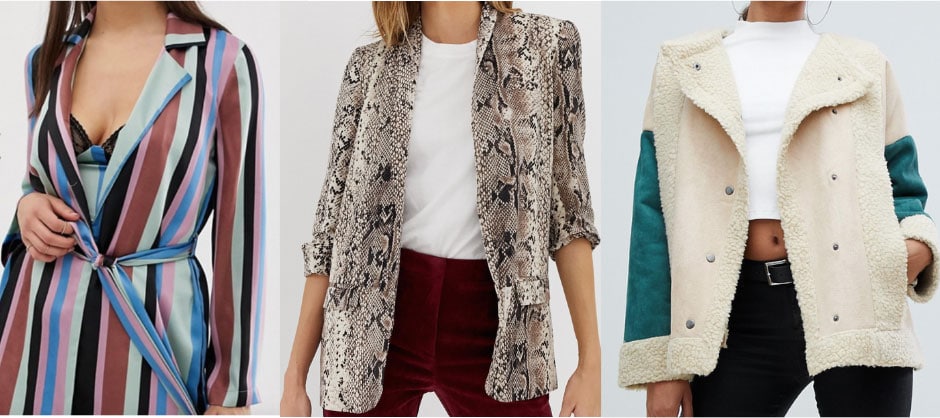 Products: Striped Jacket – ASOS, Snake-print Jacket – Stradivarius, Shearling Jacket – Prettylittlething
What easier way to cover up the laziness than to literally cover it up?
Every girl needs a statement jacket that can go with/over any outfit. It's the best investment you can make.
Whether your jacket has a bold print or a bold color, there's not a chance of anyone noticing what's under funky stripes or you-need-sunglasses-to-look-directly-at-it block neon. My easiest lazy-day hack is a fun jacket, and it works every time!
Option 4: A Bold Necklace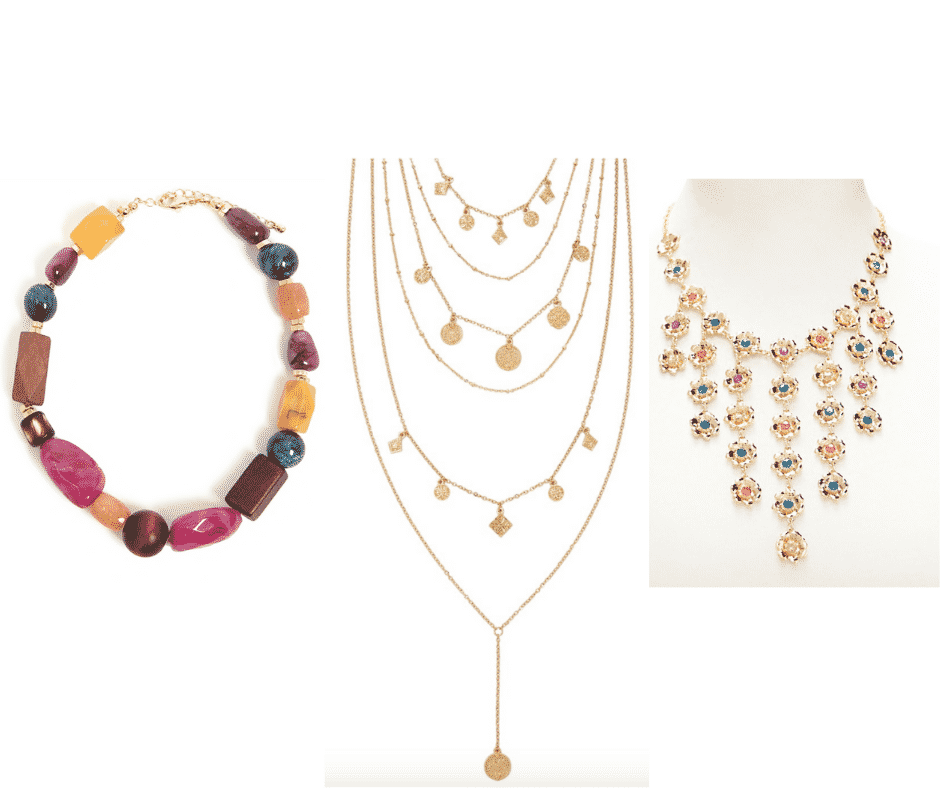 Products: Beaded Necklace – Forever 21, Stacked Necklace – Forever 21, Floral Rhinestones Necklace – Forever 21
Bold necklaces are the best way to spice up an outfit that looks 'too plain' or is a re-used one you wore a couple of days before. I love to wear a completely plain t-shirt with a bold necklace on top!
These are also a great option to boost your confidence on a morning when you might not be feeling your best. Throw one of these necklaces on and compliments are sure to come your way!
Option 5: Bright Lips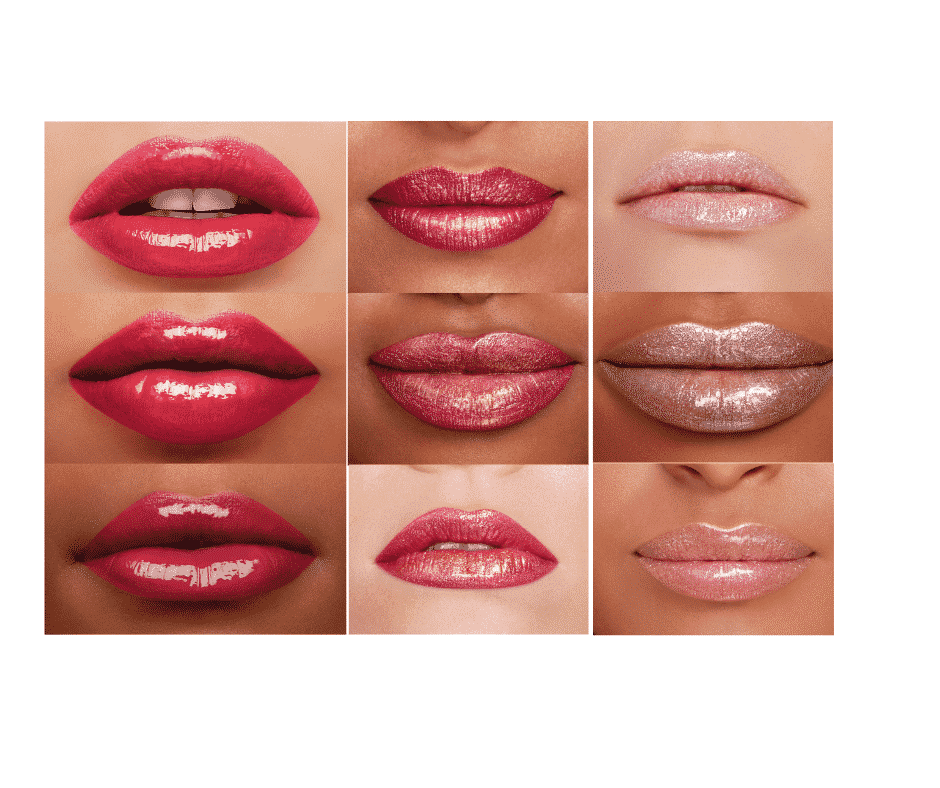 Products: Left – Lancome, Middle – Too Faced, Right – Too Faced
Lastly, if your clothes aren't doing it for you, why not just draw attention to your face instead?
A bold lip is a statement on its own, and is super easy to achieve! A light dab of a bright gloss can make all the difference and change the entire attitude of an outfit.
The colors above work on every skin tone. I've also linked products that are easy to use in a hurry, as opposed to a matte liquid lipstick which takes a little more precision, and therefore a couple of extra minutes!
How do you upgrade your outfits in a flash?
Though the tips above will help when you need that 2-minute outfit upgrade, remember that you don't have to look 100% on point every single day. What's more important is to feel great on the inside!
That doesn't always have to come in the form of a perfect head-to-toe ensemble, it could just be taking an extra 10 minutes in the morning to make yourself eggs, or read a chapter of a new book.
But, if you find yourself feeling a low in the morning, bright colors and taking extra care in your appearance can certainly improve your day!
College is definitely a rollercoaster, and our moods and stress levels can take a one-hundred-and-eighty-degree turn overnight. So self-care should definitely be a major focus — and part of that is feeling amazing! As Audrey Hepburn once said,
"happy girls are the prettiest."

What about you?
Have you ever had one of those days where you needed a last minute outfit spruce? Do you have a different favorite lazy day hack? I'd love to hear about it- make sure to leave a comment below!