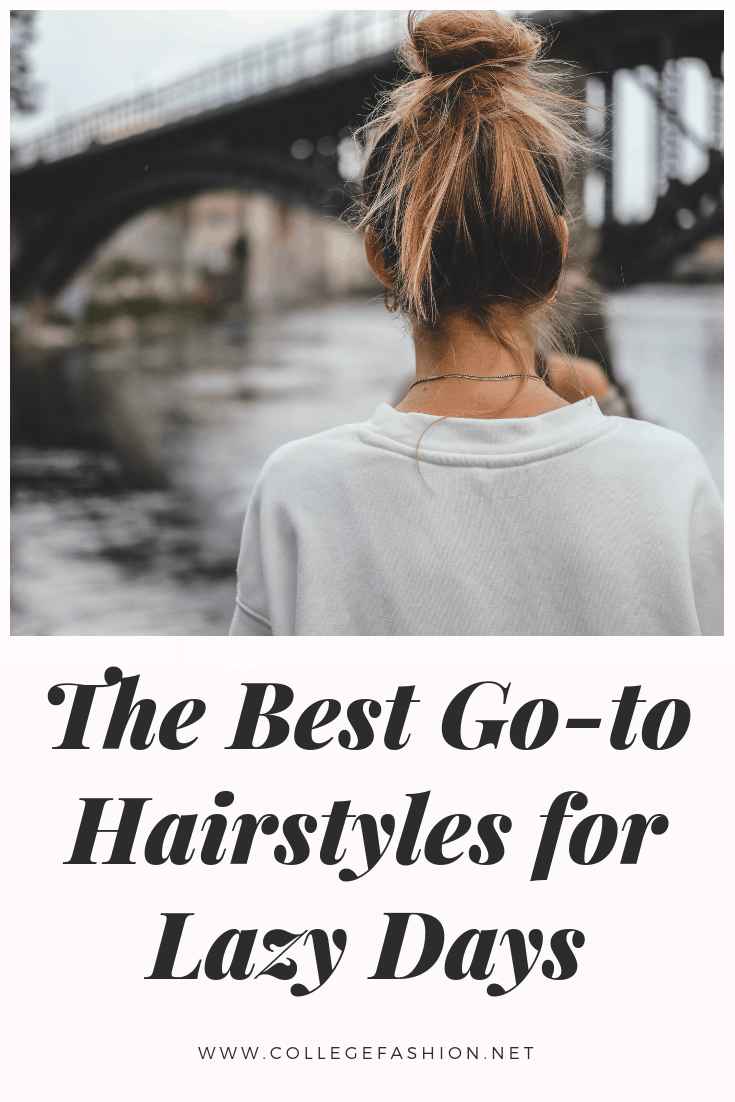 As we get closer to fall and winter, all we really want to do is cozy up on a lazy day and not really worry about our hair. That being said, with school getting busier and busier, it might be nice to have a few lazy day/low-maintenance hairstyles in your beauty arsenal.
We've already shared lazy day outfit ideas, so now let's talk about what to do with your hair.
With these four lazy day hairstyles, you'll be looking fresh and cute, no matter the time crunch or lack of wanting to put in more than minimal effort into your daily hair look.
1. Headbands
6 Ways to Rock Headbands This Summer!!
One of the simplest things you can do for a lazy day hairstyle is gear towards a cute headband. Headbands are trendy, fun, and come in tons of different styles and designs to match your outfits and personality.
I personally love headbands. They add a fun and unexpected pop to any outfit and can be worn with hair up or down, depending on your mood.
2. Messy Bun
This is a classic lazy day hairstyle. Would it even be a lazy hairstyle post if I didn't include the messy bun? Messy buns are a timeless lazy day look. They're cute and stylish and can be worn on top of your head as a topknot or as a loosely formed low bun.
For a more modern look, try using a scrunchie if you're opting for a casual low bun look. Simply twist your hair back and use the scrunchie to secure it. If you only use the scrunchie as a placeholder rather than tying it into loops, it will give the ultimate messy look.
Also Read: How to Do Space Buns Hairstyle: Tips, Tricks, & Tutorials
3. High Ponytail
https://www.instagram.com/p/BnKNdOgnwwr
Nothing can be more simple than a high pony. The best part about high ponytails is that they keep your hair out of your face all day, so you don't even have to think twice about what to do with your hair.
If you want to make this lazy hairstyle one step less lazy, try leaving out a strand of hair to twist around the base of the ponytail and hide the hair tie. If the rest of your outfit is not so lazy, this might be a nice way to make them look a little chicer.
4. Side Braid
Side braids are always a fun lazy day hairstyle. While they may look intricate, standard side braids are as easy as 1, 2, 3. Literally!
Simply part your hair slightly to the side, then divide your hair into three sections, all pulled to one side. Take hair from either outer section (I usually start with the left) and pull it over the middle section so that it is now in the middle. Then, take the final section and do the same. Repeat until a lovely side braid forms.
For a "lazy look", make your side braid a little messy by tugging at the sides of the braids and letting a few pieces of hair loose to frame your face.
5. Topknot hairstyle
A cute top knot hairstyle is a great way to style your hair when you're lazy or in a hurry. It's an easy hairstyle that anyone can do, and it looks great!
Topknot hairstyles are perfect for busy mornings, or when you just don't have time to style your hair. They're also great for second-day hair when your hair is starting to look a little greasy.
Topknot hairstyles are versatile and can be worn with any outfit. You can dress them up or down, depending on the occasion. Topknots are also great for summertime because they keep your hair off your face and they look amazing with beachy waves.
If you're looking for a lazy, easy hairstyle, the topknot is a perfect choice!
6. Wet-look bun
Wet-look hairstyles are perfect for lazy girls who want an easy, yet stylish look. To achieve this look, simply apply some product to your hair to create a wet look. Then, gather your hair into a high ponytail or bun and secure it with an elastic band. Watch the tutorial above to get the exact steps to create this "model bun".
Bonus points if you slick your hair back with Olaplex or another "clean girl" hair treatment.
7. Easy Braided Pigtails Hairstyle
Are you looking for a lazy, easy hairstyle that still looks super on-trend and current? If so, then you need to try these braided pigtails
With everything 2000s coming back around, these braided pigtails look is super Y2K and so easy that anyone can do it! The key is to section your hair perfectly — take the extra time to make your section nice and straight; it makes all the difference.
If you're lazy like me, then you'll love this easy hairstyle. It looks like it took a while but you can pull it off in less than 5 minutes!
8. Scarf Cover-up
If you're looking for lazy, easy hairstyles that involve accessories, then look no further than scarf cover-up hairstyles. These styles are perfect for when you just can't be bothered doing your hair, or when you're running late and need to get out the door quickly, but you want something really cute and intentional.
These hairstyles are amazing on natural or relaxed hair, and they offer some extra protection for your hair while also looking amazing. It's the best of both worlds! Once you get good at tying your headscarf, you can do it in seconds.
So next time you're looking for an easy, lazy hairstyle, don't forget about these scarf cover-up hairstyles. They're perfect for any occasion, and they'll help you get out the door in no time flat.
Also Read: 8 Ways to Style a Bandana
9. Khaleesi Inspired Hairstyles
Who else misses Game of Thrones? Get inspired by Danaerys's flawless hair and try one of these Khaleesi braid styles next time you need to run out the door. These are perfect for lazy girls who want to rock a stylish look without spending hours on their hair.
You definitely need to know how to braid to pull these off, but once you get them down, you'll be able to execute them fast. As a bonus, they look great with tousled, imperfect waves.
All of these styles are easy to do and only take a few minutes to complete. So if you're looking for lazy easy hairstyles, Khaleesi Braid hairstyles are a perfect choice.
10. Easy Blowout Hairstyle
If you're looking for a lazy, easy hairstyle that still looks great, try a cheater blowout. This style is perfect for lazy girls who don't have a lot of time to style their hair in the morning, plus blowout hair is super trendy this year.
Want to know how this is done? Just use your straightener to fake a salon-level blowout. (Watch the tutorial above to see how it's done!)
This style looks great with both long and short hair.
Which of these hairstyles is your favorite?
With these lazy hairstyles, you can free up more time to watch Netflix in bed or eat ramen with your roommates. The best lazy day look is one you feel great in that you can call your go-to.
If you liked this article about lazy easy hairstyles, consider checking out these other articles below —