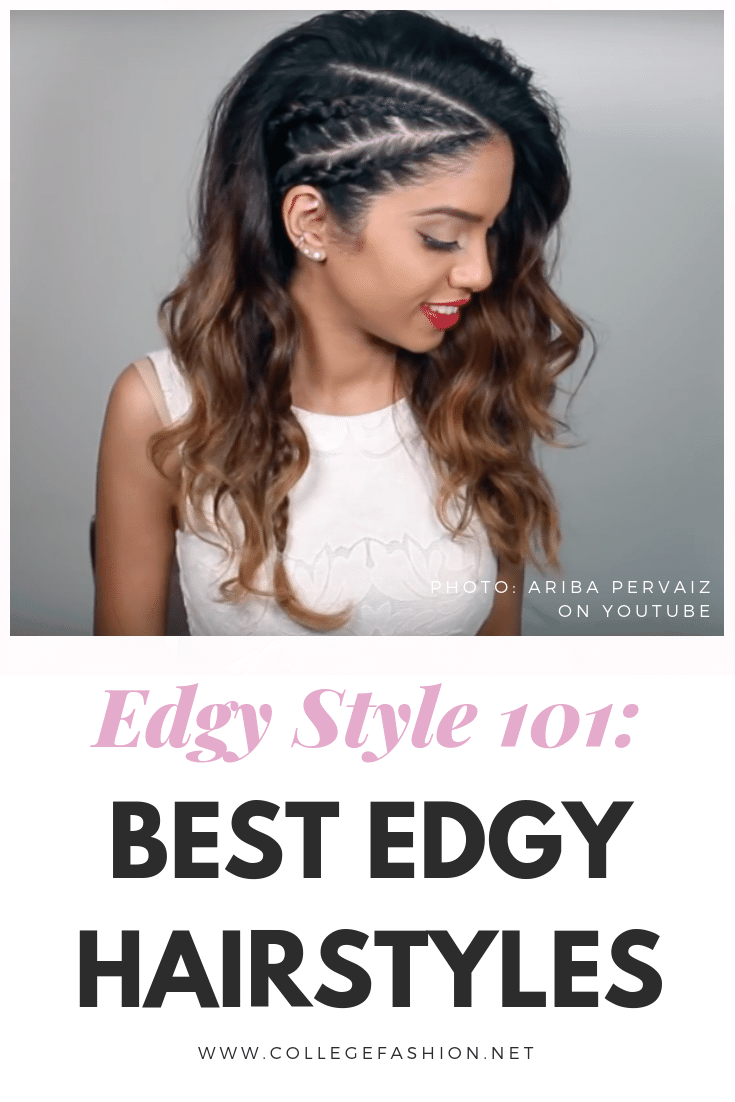 Everyone knows that creating the perfect outfit doesn't just stop once you have the clothing and accessories picked out. Hair can seem like the absolute last step when putting together an outfit but it can say so much about who you are and what your personality is like.
These days the go-to style for most girls is a "barely tried" beach wave that looks effortless and cool. However, if you're looking to switch it up and want to show off your rocker chic personality then these three hairstyles for edgy girls will be perfect for you.
(Missed the other posts in our edgy style series? Check out our guides to edgy outfits, edgy shoes, and edgy accessories.)
Faux Undercut:
How To: Faux Undercut (Viking Braids) - HAIR TUTORIAL | ARIBA PERVAIZ
This style is much simpler than it looks. Simply part your hair into a deep side part. Dutch braid the hair in the smaller part into two separate braids. From there, tuck the braids under your hair and pin to the back of your head.  Bring your hair in front of this and to the side so that the pins can not be seen. To make the style your own, you can experiment with different types and numbers of braids.
Mohawk Braided Bun:
Mohawk Braid Top Knot | Half Up Hairstyle | Missy Sue
This look is both feminine and edgy but it's so easy to do. Simply section hair so that there is enough at the top of your head for a braid. This can best be done by creating two deep parts on the side of your head, with the middle section of hair being the area you will use to braid. Begin to dutch braid this section. Stop braiding once you begin to reach the part where your head begins to curve. Tie the hair into a loose bun and pin down. The rest of your hair can be curled or left straight; either way it's perfect!
To make the style more unique, try switching up the number of braids like seen in the photo below!
Space Buns:
QUICK + EASY SPACE BUNS TUTORIAL | BrittanyNichole
This look is by far the easiest of them all and is perfect if you're in a rush or aren't great with braiding. Simply part hair down the middle. Bring one side of hair into a loose bun at the top of your head, leaving some hair in front down. Repeat for the second side. Pin the buns down so that they don't fall throughout the day. other than that, this 'do is done!
Other options for this look include braiding hair in the back to add a bit of a twist on this super easy look or leaving your hair half down for a more relaxed and cute alternative.
https://www.instagram.com/p/BsoMJH-AOFW
Edgy Hair Colors and Cuts:
If you're looking for an extra edgy look, try messing around with different colors and cuts. Below are some of my favorite inspirations!
https://www.instagram.com/p/Bsk1Jc1Do6U
These hairstyles are far from the only option for the girl who is trying to go for that edgy style. Although it is not necessary for your hair to match the outfit it can be a helpful tool in completing your edgy look.
What's your favorite edgy hairstyle? Do you have any go-to looks? Let us know below!