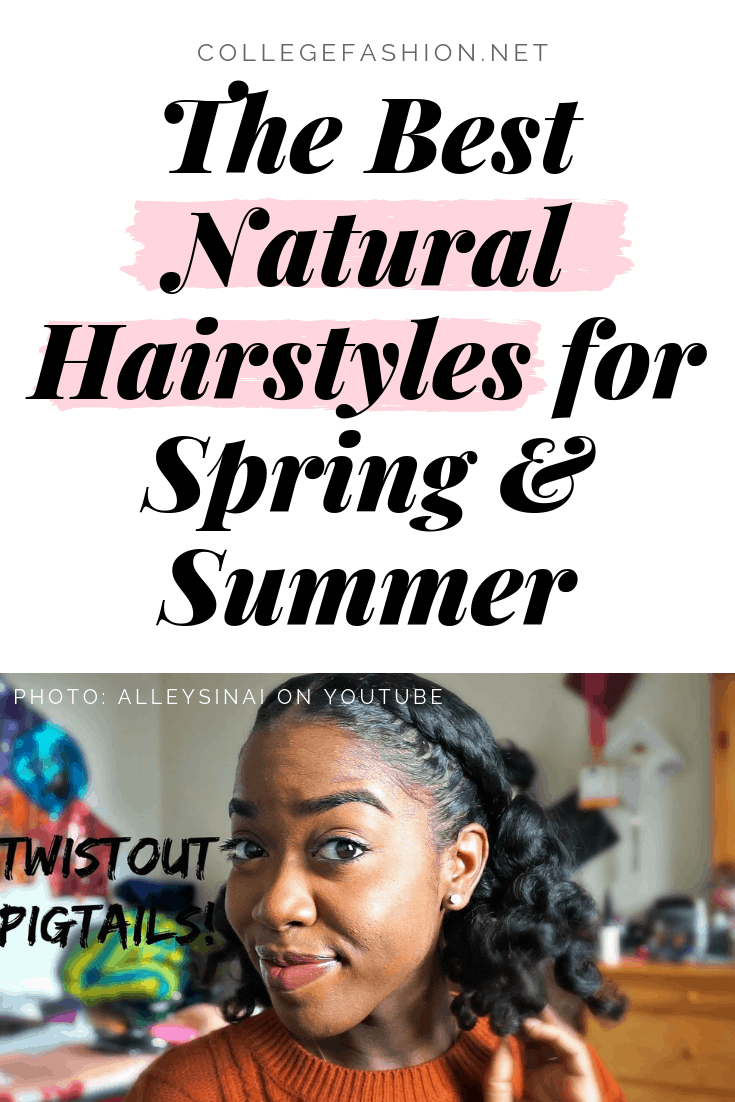 As the weather heats up, the quest for cute curly updos for natural hair begins.
Many people don't know that unprotected sun exposure doesn't just burn your skin, it can dry out your hair, too. Too much sun can lead to weakened strands and breakage in all textures of hair.
So, what can you do?
Do you have to hide away all summer under a hat? No, although you could if you want to! (Hats protect your scalp from sun damage, too.)
Are you limited to just protective styles? Negative.
Spring and summer natural hair is about balance! Look for styles and products that will not only keep you cool but also keep your strands moisturized and healthy all season long. And read the rest of this post for ideas.
Here are my favorite natural hairstyles for spring and summer:
Style 1: Twist Out Pig Tails
This tutorial is adorable and easy to follow. You can get several different styles out of this technique, whether you prefer to leave those cute twists in all day, pull them out for full pigtails, or transition them into braids or mini-buns!
The benefit of an overnight twist is that you can add tons of leave-in conditioner and let it soak in. If you choose to wear this look as buns or twists, you could also leave in a hair mask or deep conditioner during the day and avoid getting products all over your clothes. For repairing, I like to go with something that has argan oil in.
Not into twists? Try this loose pigtails look with baby hairs by curly hair queen Jasmine Brown. It's trendy, keeps your hair out of your face, and is especially perfect for those rocking extra long strands.
Style 2: Braid Crown
The braid grown is the holy grail of protective styles. It's an easy way to load in moisturizing products and let your hair do all the work for you in absorbing them for a few days.
This is also one of the best natural hairstyles for summer because you can use the sun to your advantage! Apply a leave-in or deep conditioner to your hair and then sit out in the sun — it will act as a natural heat source to open up those strands and get moisturizing. No sitting under a dryer anymore! Extra tip: look for products with natural UV protecting elements.
But while protective styles are great for promoting hair growth, moisturizing, and keeping your hair out of your face, too much tension for too long can cause breakage; so, be sure you're switching your look up enough and keep moisturizing!
Style 3: Single French Braid
Every curly girl has rocked the double Dutch or French braids before, but this single braid, pulled-back look is so chic and easy to do. Especially during the hotter months, it's perfect for both a formal or casual event.
Since you'd already be working closely to the scalp when putting this look together, try massaging in hair growth oil or strengthening oil as you go. You could definitely leave it in for a few days by wrapping it in a satin scarf overnight. And if scarves aren't for you, try a satin pillowcase.
Style 4: Bandanas
The easiest way to protect your hair during the summer is by wearing a hat or scarf to completely block out damaging rays. But these can get hot and boring and just doesn't work for girls like me who can't pull off a hat (and I've tried).
The alternative? Bandanas! These are cute and retro and will protect your hair enough to spend a day out in the sun. There are so many different way to wear one, and for added style, you can coordinate them with your outfits. Bandanas are also convenient for those almost-wash-day looks when you're struggling to pull something together.
What are your go-to natural hairstyles for summer & spring?
Do you have any style tips for those of us looking for new dos? A wash-and-go routine we need to know about? Let us know in the comments!
And for more curly hairstyles, check out our other post on natural hairdos!