Welcome to the third post in our series on "Game of Thrones" fashion. If you haven't read them already, be sure to check out our previous articles on fashion inspired by House Stark and House Lannister.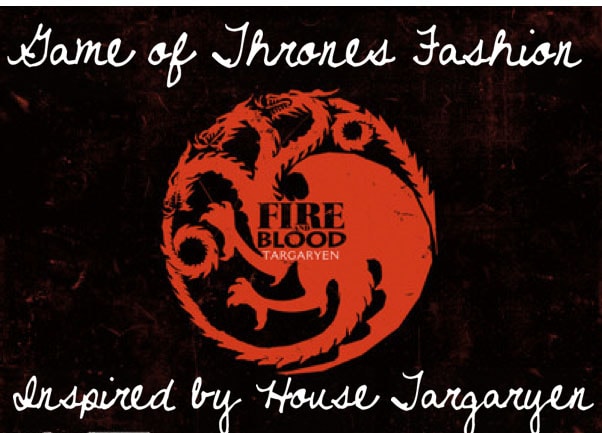 Photo: HBO official promo wallpapers
Before the events of the TV series, House Targaryen fell hard. Targaryens ruled the Seven Kingdoms for nearly 300 years until Robert's Rebellion put House Baratheon on the throne. Now, the few Targaryen family members who survived the slaughter are scattered across the realm.
If you're feeling a little sorry for the Targaryens, you might want to rethink that. If their sigil, a blood-red, three-headed dragon, didn't tip you off, this is one family you don't want to mess with. Notoriously unstable with a knack for cruelty, the Targaryens nearly destroyed Westeros under their rule, and their reign was extremely unpopular by the time of the rebellion. Their motto, "fire and blood," refers to their destructive nature, supernatural control over dragons, and immunity to flame. Terrified yet?
Luckily, fan-favorite Daenerys Targaryen (played by the lovely Emilia Clarke) possesses none of her family's insanity, and has proved to be a strong and capable ruler over the past two seasons. Her gorgeous outfits are super-inspiring, and move beyond the nature of her house.
The Mad King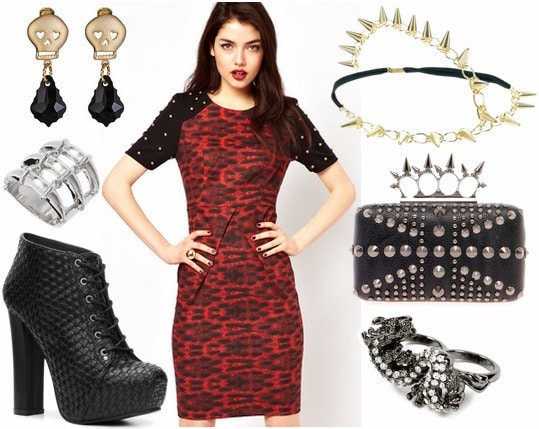 Dress, Headband, Boots, Bag, Dragon Ring, Skeleton Ring, Earrings
Looking crazy is the last thing you'll need to worry about in this fierce look. Targaryens tend to marry brother to sister (to keep the bloodline pure, of course), which has caused some, uh, trouble – to say the least. Because of their genetic issues, Targaryen rulers tend to be either great, ferociously strong leaders, or absolute nutcases. The insanity that plagued King Aerys II and his notoriously bloody rule earned him the nickname "The Mad King." Even though he was totally off his rocker, we bet he probably looked downright fabulous on the Iron Throne.
To channel the ferocity of the Mad King, rock a red-and-black patterned dress with spiked sleeves for some killer edge. Next, add chunky black ankle booties and a matching clutch (complete with tons of spikes and studs) to create an extra-wicked vibe. Since you have access to all the wealth in the kingdom, don't be afraid to go wild with jewelry. Try an embellished dragon ring to honor the family name, then add some spooky, skeletal accessories. Complete the look with a crown worthy of the Iron Throne – a studded gold headband should do the trick.
Not a Queen, a Khaleesi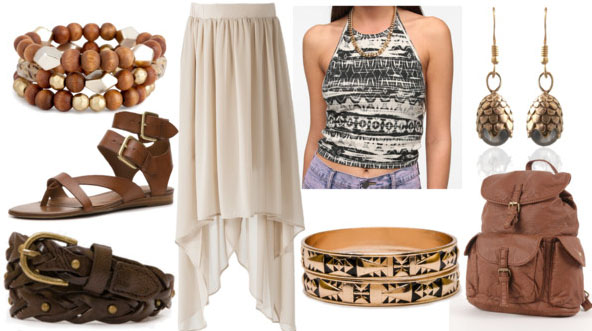 Top, Skirt, Belt, Bag, Sandals, Gold Bangles, Beaded Bracelet, Earrings
Though you probably won't be eating a beating heart anytime soon, you can still dress like a true khaleesi. When she's with the Dothraki, Daenerys shuns her queenly gowns in favor of cropped tops, breezy skirts and even pants in order to fit in among her khalasar.
To get her rugged (but still royal) look, try pairing a black-and-white print halter top with a flowy, cream-colored maxi skirt. Then belt it at the waist with a woven leather belt for a more utilitarian feel. Even though Daenerys is roughing it out in the wild, she's still royalty, so make sure you're accessorizing with plenty of jewelry, like printed golden bangles and beaded multi-layer bracelets. Next, add a rough faux leather backpack for a more outdoorsy feel. Complete the look with a pair of dragon egg-shaped drop earrings, symbolizing Daenerys' first gift as a khaleesi and her future as the mother of dragons.
I Do Not Have a Gentle Heart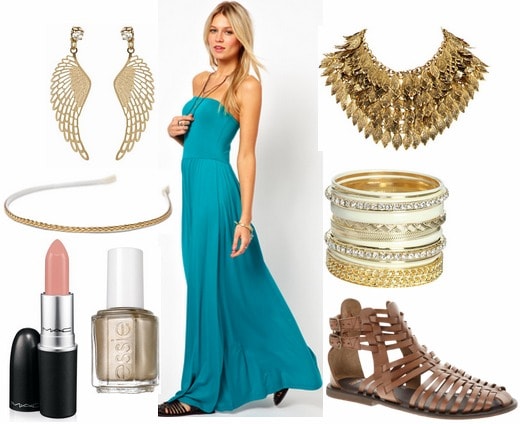 Dress, Necklace, Sandals, Bangles, Earrings, Headband, Lipstick, Nail Polish
Daenerys totally abandons the typical Targaryen aesthetic once she's established herself as a true ruler, sporting long but functional dresses and plenty of jewels. Try a sleek teal maxi dress to get her queenly look. Pair it with gladiator sandals, a multi-layered statement necklace, and a stack of glimmering bangles to capture Dany's desert influences. Next, add wing-shaped earrings in honor of Daenerys' dragons, and keep your hair back with a braided gold headband. Complete the look with shimmering gold nails and a nude lip.
Your thoughts?
Do you think House Targaryen should reclaim the iron throne? What do you think of the outfits? Be sure to let me know what you think in the comments!