Welcome to the second post in our series on "Game of Thrones" fashion. If you haven't read it already, be sure to check out our previous article on fashion inspired by House Stark.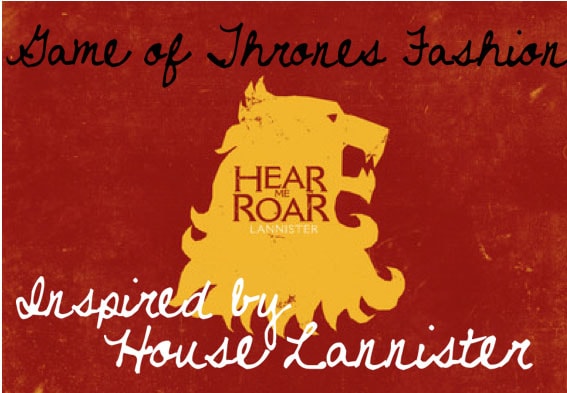 Photo: HBO official promo wallpapers
When you play the game of thrones, you win or you die, and no one knows that better than House Lannister, the most influential family in all of Westeros. House Lannister is incredibly wealthy, and use their money to control almost everything in the country (even if House Baratheon is technically the current ruling family).
The Lannister family sigil is the lion, and their motto, "hear me roar," perfectly encapsulates their proud, yet oftentimes snobby personalities. Known for their golden hair, intelligence, and ruthless scheming, the Lannisters are a family you don't want to cross. (You especially don't want to get on Joffrey's bad side.) Though they may seem like the bad guys, Lannisters are extremely loyal – to each other, that is.
Their enormous wealth and fondness for all that glitters makes the Lannisters among the show's best-dressed characters. House Lannister boasts some incredible outfits, from Cersei's sumptuous royal gowns to Jaime's perfectly-tailored Kingsguard getup.
Hear Me Roar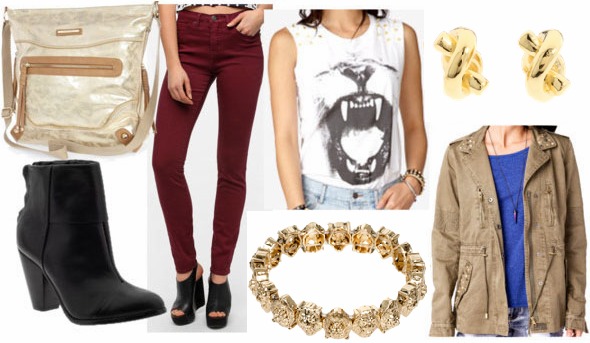 Tee, Jeans, Jacket, Boots, Bag, Bracelet, Earrings
Put an edgy twist on Lannister House symbolism by pairing a spiked graphic tee (featuring a roaring lion, of course) with a pair of oxblood skinny jeans. Since Lannisters are excellent soldiers, add a military-style jacket for a more rugged feel. Next, grab a pair of killer black ankle booties and a gold messenger bag to amp up the edge factor, then complete the look with a few meaningful accessories. A lion bracelet honors the family crest, while gold, knot-shaped earrings symbolize the family's loyalty to each other.
Power is Power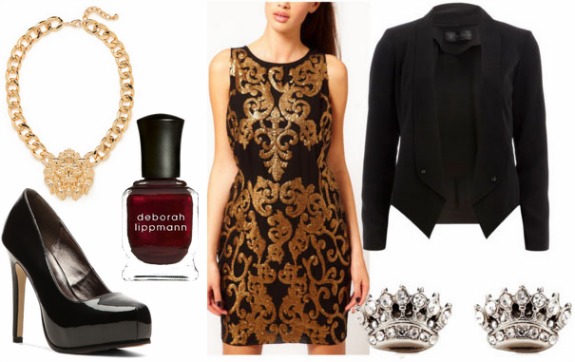 Dress, Blazer, Pumps, Necklace, Earrings, Nail Polish
Modernize the power of House Lannister by pairing a bold baroque print dress (wouldn't Cersei be obsessed with the gold detailing?) with a stark black blazer and sensible-yet-sexy black pumps. (If only we could still carry out our business in floor-length gowns and chain mail, right?) Prove you were born to rule with a pair of crystal-embellished, crown-shaped earrings, and add a bold lion pendant to show your loyalty to the family name. Dark red nail polish adds the finishing touch to this powerfully stylish look.
I Should Wear the Armor and You the Gown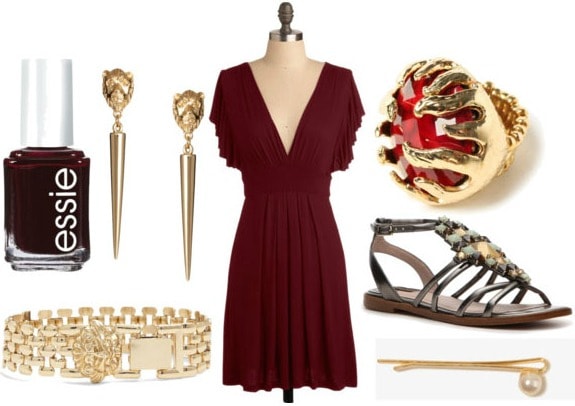 Dress, Sandals, Bracelet, Earrings, Ring, Hair Pin, Nail Polish
Channel Queen Cersei's inner strength by rocking a dress in House Lannister's signature deep red hue. An empire waist, a plunging neckline, and flowing sleeves make this super-flattering dress look fit for a queen. This look is all about excess, so be sure to add lots of bling – try spiky drop earrings with lion's heads and a matching gold bracelet for an extra-royal look. Continue that extravagant vibe by accessorizing with a ruby red cocktail ring. If you'll be sporting Cersei's signature long braids, you'll need plenty of hair pins, so go all out with gold and pearl-embellished hair accessories. Complete this fierce look with an oxblood manicure.
Your thoughts?
Which outfit do you think embodies House Lannister the most? Share your predictions for season three of "Game of Thrones" (who else will be watching tonight?) and tell me your thoughts on the outfits in the comments – I'd love to hear what you think!