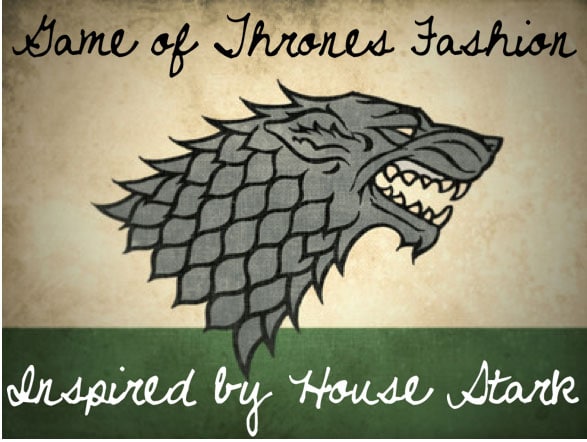 Photo: HBO official promo wallpapers
If you haven't started watching "Game of Thrones" yet, you're really missing out. Based on George R.R. Martin's epic fantasy series "A Song of Ice and Fire," the HBO series adds drama, intrigue and a heavy dose of war and politics into the fantastical world of Westeros, where several families (known as the Great Houses) fight for honor and control of the realm. It's kind of like "The West Wing" meets "Lord of the Rings" meets "The Tudors." Oh, and the costuming is outstanding.
To celebrate the series' Season 3 premiere (this Sunday, March 31st, on HBO), this new CF series will focus on fashion inspired by the houses of Westeros.
First up is House Stark. House Stark rules over the northern part of the region, in Winterfell, and is one of the land's most ancient houses. They are the last Great House that continues to worship the Old Gods of the forest, and Starks value honor above all else. Their sigil is the direwolf, and their motto, "winter is coming," is one of the few house mottos that isn't a boast about how great they are. (We're looking at you, House Lannister.) You can typically tell a Stark by their stubbornness, their dark hair, and their penchant for wearings lots and lots of fur.
Winter Is Coming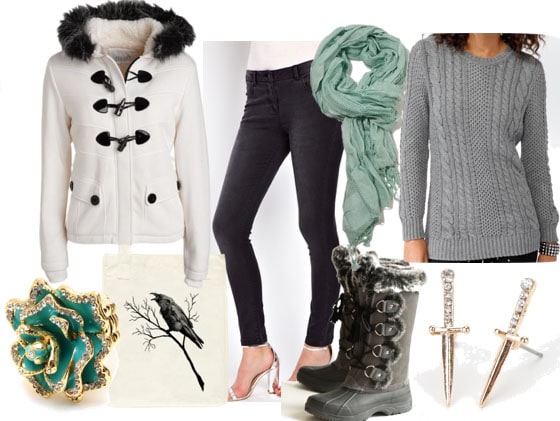 Coat, Sweater, Jeans, Scarf, Boots, Tote, Ring, Earrings
Even during the Long Summer, it's really, really cold in Winterfell – so layering is key. Bundle up in Stark-appropriate colors, like whites, grays, and muted blues and greens. Try a (faux) fur-collared coat and rugged snow boots for extra authenticity.
Despite their commitment to honor, the Starks are still warriors at heart, so subtly show off your inner ferocity with a pair of dagger-shaped earrings. (I think these look a bit like a blinged-out version of Arya's sword, Needle.) Accessorize with some of the symbols associated with the house, like a cocktail ring with Lyanna Stark's mysterious blue rose and a tote with a crow to honor Bran's cryptic visions.
The Lone Wolf Dies but the Pack Survives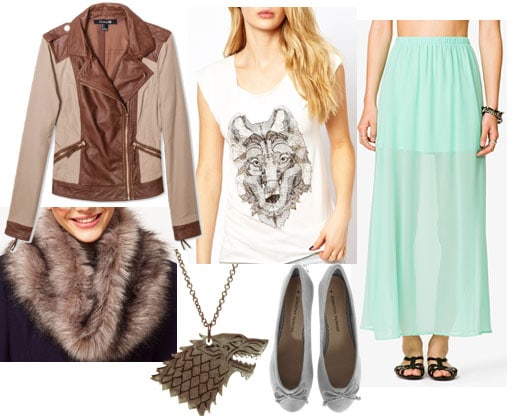 Tee, Skirt, Jacket, Flats, Snood, Necklace
The Stark Family sigil is the direwolf, an extraordinarily large, strong, intelligent (and thankfully, extinct) species of wolf. Each of the six Stark children is accompanied by a direwolf, symbolizing the family's pack-like strength, especially when they work together.
Bring out your own inner beast by sporting a wolf graphic tee. Pair it with a semi-sheer mint maxi skirt and a brown (faux) leather jacket for a modern twist on the Starks' typical layered, rugged look. Add a (again, faux) fur snood and a direwolf necklace for extra Stark street cred to complete the look.
The North Remembers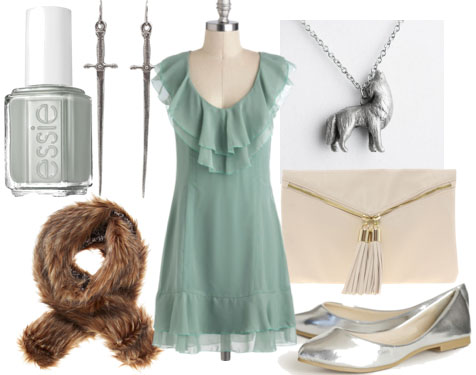 Dress, Clutch, Flats, Stole, Necklace, Earrings, Nail Polish
Incorporate the Stark aesthetic into a more formal look with a flowy, layered, mint-green dress. (I can totally see Sansa wearing this.) Modern elements like an ivory fringed clutch, silver ballet flats, and greige nail polish update the look, giving it an elegant edge. But this is the Stark clan we're dealing with, so add a wolf charm necklace and dangling sword-shaped earrings to prove you're a true member of the house. No Stark look is finished without a touch of fur, of course, so add a brown faux fur stole to complete the look.
Your thoughts?
Which great house of Westeros do you belong to? Are you beyond excited for the season three premiere of "Game of Thrones?" Be sure to leave me a comment and let me know what you think of the outfits – I love hearing your thoughts!