This trendy spring outfits 2021 guide will show you six cute looks to rock this season.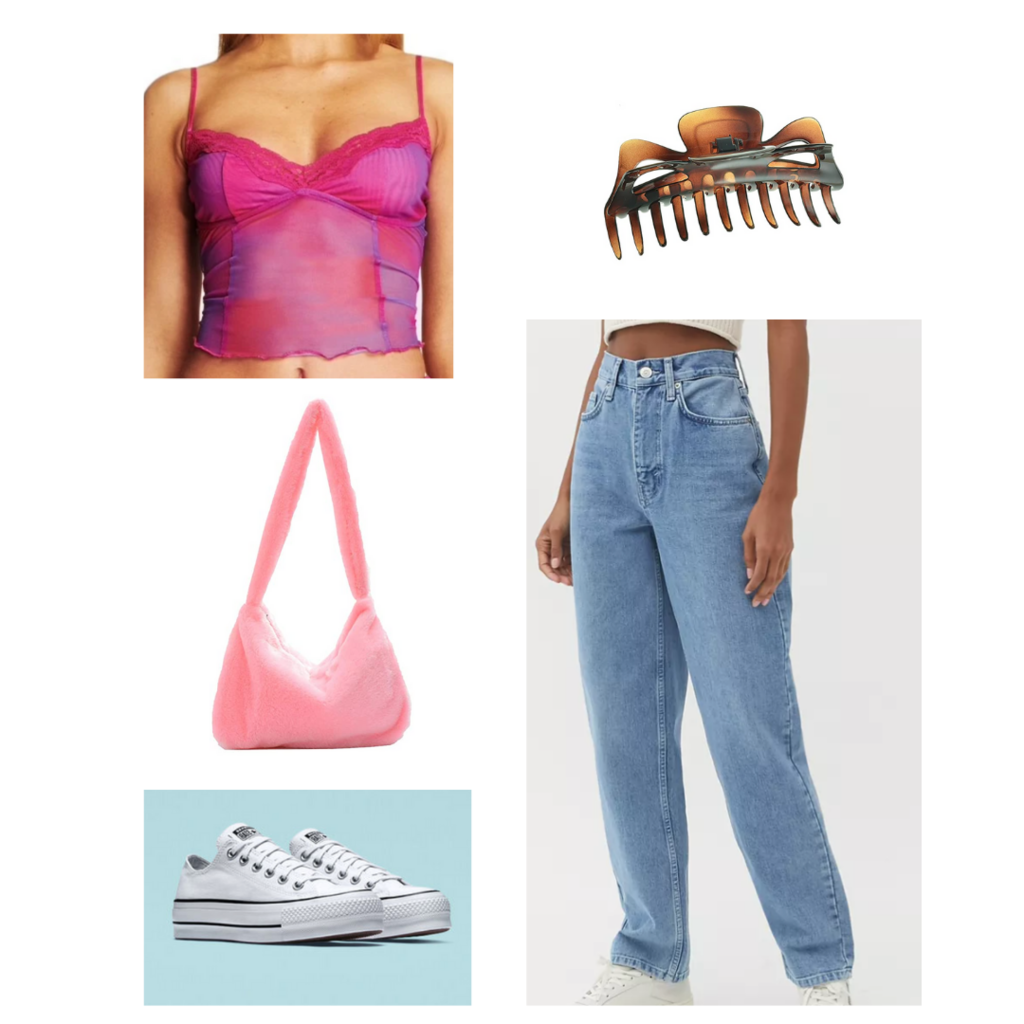 If you are obsessed with fashion, you may have noticed that there are tons of new trends this season. 2020 was a bit of a wash when it came to fashion trends, so stores everywhere are making up for it this year with tons of new and trendy items to wear.
Spring is always a fun time to switch up your wardrobe because temperatures are rising and you can finally put away those big and bulky clothes you wore all winter.
If you need some outfit inspo for this spring, this post will show you 6 super cute spring outfits for 2021 that will have you looking fashionable all season long.
Related reading: The 8 Cutest Summer Outfits for 2021
1. Trendy Spring Outfit #1
The marble design on clothing is a very new trend in fashion that you may have started seeing on Instagram. Your favorite influencers have all started wearing all kinds of clothing with this design, from tops to bottoms, and even dresses. So I thought I'd kick off our spring outfits 2021 guide with an outfit featuring a marble print crop top.
This cute outfit will help you keep up with all trends because it not only has a marble crop top but also incorporates these cute white flared pants (flared pants are also very in right now).
If you want to spice up the look, you can pair the outfit with some heels like these trendy wedges. The toe-thong design for wedges is another recent trend in fashion.
Lastly, for some accessories, you can add a cute bear claw hair clip to your hair and a brown baguette bag to match.
2. Trendy Spring Outfit #2
If you are looking for a cute and trendy dress to wear this spring, you should go for a halter neck dress like this one.
These kinds of dresses are very popular right now and they look so cute, especially if they feature a fun design like this dress which comes in brown. You may be surprised by the inclusion of brown for spring, but brown is actually a trending color in fashion at the moment, so you will definitely look 2021-appropriate in this dress.
For shoes, I love these cute black strappy heels. Also, to complete the look, I would recommend adding some fun accessories like these chunky rings, which come in a set, and these triple hoop earrings.
If you need something to carry your belongings in, a black baguette bag will do the trick for just about any outfit, especially this one.
3. Trendy Spring Outfit #3
You may have noticed that y2k-inspired outfits are coming back into style. For those of us obsessed with 90s/2000s clothing, this trendy spring outfit is perfect!
If you want to start wearing some trendy y2k-inspired outfits, you should invest in a cami crop top like this pretty pink one and some 90s jeans like these! This is a simple outfit formula that you could wear every day of the week.
You can pair the outfit with some white converse (Converse are back in style again), but if you want to step it up even more, you should consider taking part in the new platform Converse trend!
For your accessories, all you'll need is a super cute faux fur bag, which you could even get in pink to match with the outfit, and a bear claw clip to add a fun hair look to the outfit.
4. Trendy Spring Outfit #4
If you have been following the recent fashion trends, you have probably already switched out your skinny jeans for 90s jeans (skinny jeans are definitely going out of style). But, you may not have seen this new trend yet, which is having a fun design on your 90s jeans.
Looking for jeans with a cool design on them? You can't get trendier than these tie dye jeans with a split bottom hem. Not only do these jeans look fashionable, but also they are really easy to style with just about anything.
If you want to keep up with some more trends with this outfit, wear a white racerback crop top and pair the outfit with some Nike Air Force 1s.
For accessories, just add a silver chain choker necklace and silver chain bracelet, and you will be good to go!
5. Trendy Spring Outfit #5
Another very popular trend in spring fashion is bandana-shaped tops. Some people choose to tie an actual bandana into a top, but to make your life so much easier, you can now just buy tops in this style.
This black and white bandana-shaped top will look super cute if you pair it with this adorable white tennis skirt (these are also trending in a big way for 2021).
What I love most about this bandana-shaped top is that it features a silver ring as part of the top's design, which makes it even more trendy.
For shoes, pair the look with these cute white dad sneakers and white ankle socks to match. And, if you want to do something with your hair, I suggest adding in a trendy hair accessory like this headband in black.
6. Trendy Spring Outfit #6
If you are looking for a super easy, but also trendy outfit to wear this spring, you should go for a matching set.
This matching plaid set comes with a cropped halter top and matching flared pants with mesh print. What I love about this outfit is that the top also comes with a design that features a necktie and ties on the side which is very trendy right now.
Once you have this matching set, you won't need to do much else to finish the look! All you will need is some white strappy heels like these and a layered gold necklace to spice up the look even more.
Also, for a purse, you could use a baguette bag like this one in beige to match with the outfit.
What do you think of our spring outfits 2021 guide?
What outfit do you think is the most trendy? Which outfit will you be wearing this spring?