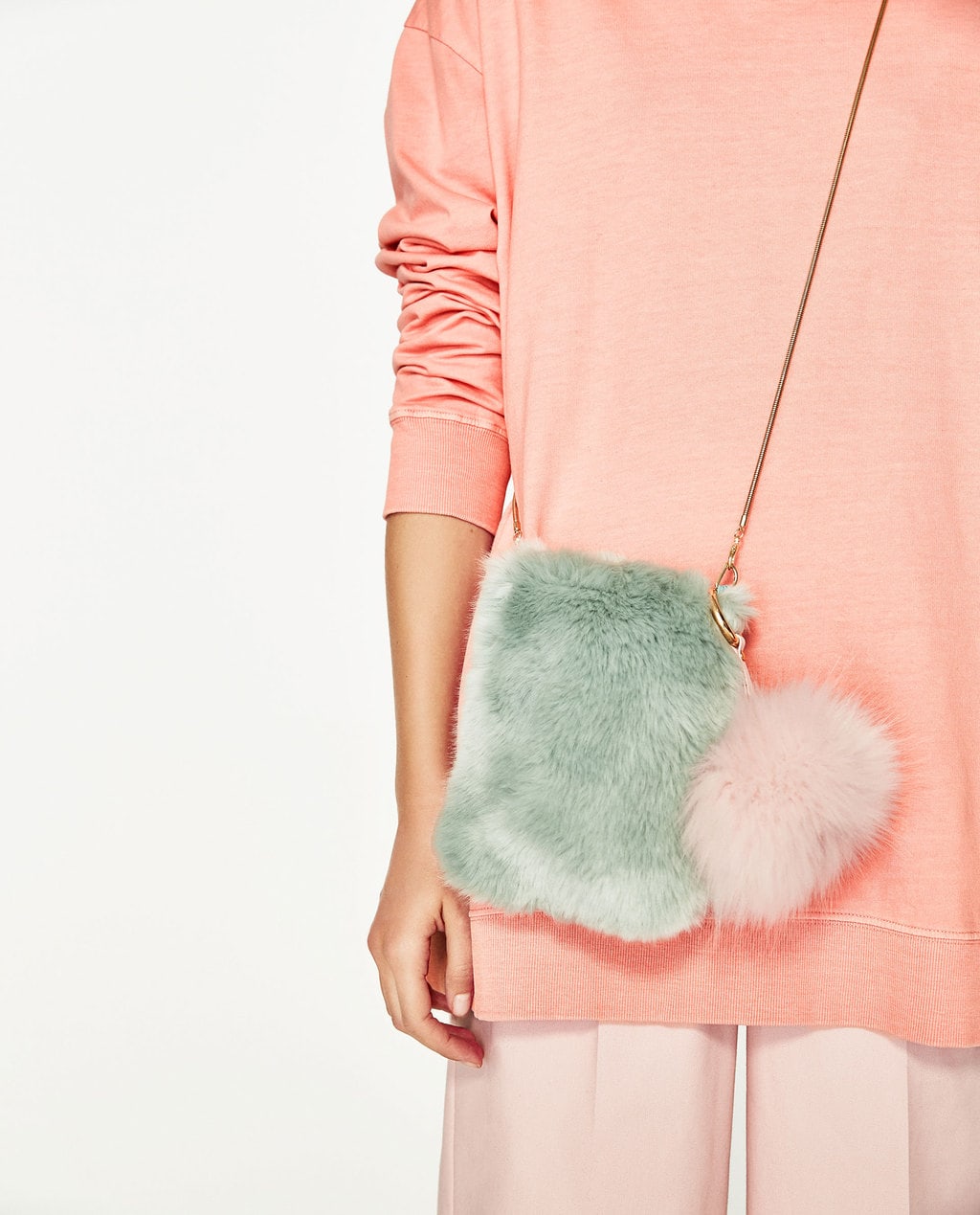 Even though most of the country decided it was time for a good old-fashioned blizzard last week (even Florida- we got down to 50 degrees and everyone lost their minds), it is, in fact, Spring.
Nothing makes me happier than Spring palettes (florals and pastels are always part of my style!), and lately I've been having fun dressing in what I've been calling a "duo-chromatic" color scheme.
Instead of the more well-known monochromatic look, "duo-chromatism" refers to the idea of creating an entire outfit (including accessories, if you can!) using only two colors. Of course, you can use different shades of these colors, but the general scheme has to be limited to two segments of the color wheel. Pretty fun challenge, right?
So here are a few of my absolute favorite Spring fashion color combinations to get you into the perfect kind of floaty, carefree, sweet mood for Spring!
Spring Fashion Color Combinations
1. Purple + Seafoam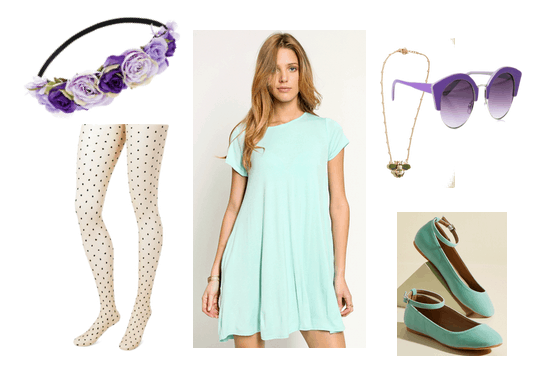 Products:
My first favorite combination is purple and seafoam green. (Really, my favorite color combination is lilac and seafoam – my whole room, is covered in it – but it's easier and more interesting to use different shades of purple.) This is such a nice, classic spring color combination, but the use of some darker shades of purple prevents the look from appearing to Easter Egg-y. 
Use a simple seafoam dress as a base, then pair some neutral-colored tights (I love these polka dot ones but you could go more subtle) with some sweet flats in a darker shade of that soft green color. For the nice contrast of purple, accessorize with a pretty rose crown in various hues and/or a pair of deep purple sunglasses. Finally, add a gold bumblebee necklace for that extra touch of Spring.
2. Gray + Yellow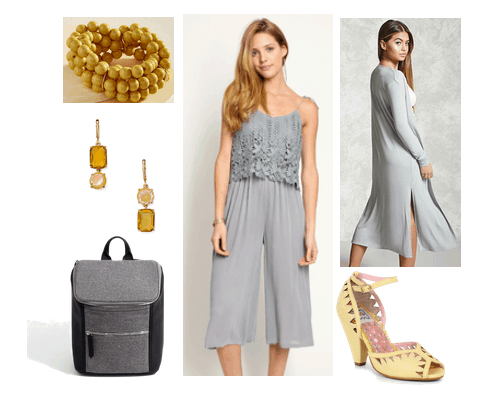 Products:
Another one of my favorite color combos is gray and yellow. My favorite shades are soft dove gray and pastel yellow, but this look features these colors in several different hues in order to best exemplify the "duo-chromatic" look. 
Start with a pale gray jumper featuring a gorgeous crocheted top, then keep your arms covered from the spring chill with a heather gray long cardigan. The silhouette of the cardigan will look so cute with the jumpsuit since both pieces are around the same length.
For the bright pop of yellow, accessorize with some cute golden gemstone earrings, a mustard beaded bracelet, and pale yellow peep-toe heels. Complete the ensemble with a chic grey backpack.
3. Pale Pink + Blue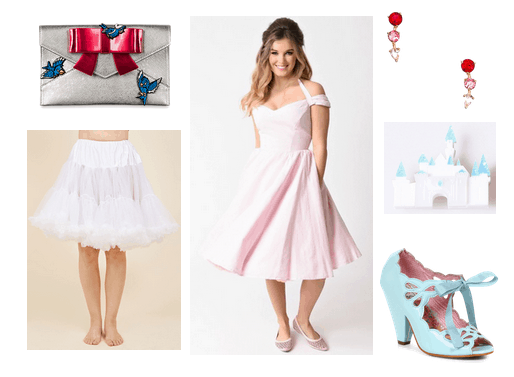 Products:
Now, I know this look may not be everyone's cup of tea, but I'm going to have to buy everything in this set because I combined my two favorite colors with my favorite style aesthetic, and now I'm obsessed. (Help!)
Pink and blue are always such lovely, classic pairing, and the pastel versions of these colors are just the cutest! The combo always makes me think of Cinderella or Aurora, so this outfit takes its inspiration from the "modern princess," '50s-inspired clothing trends perpetuated by sites like ModCloth, Unique Vintage, and Pinup Girl Clothing. 
Try out this style with a pale pink vintage-inspired dress layered – if you dare – over a short white petticoat for just the right amount of volume. For some pale blue representation in your outfit, slip on some stunning pale blue bowed peep-toed heels, then pin on a castle brooch for a Disney reference. Match the bows on your shoes with the bow on this adorable Cinderella-inspired clutch purse, then wear some beautiful pink gemstone earrings for the final touch. 
More Color Combos To Try
4. Pink + Purple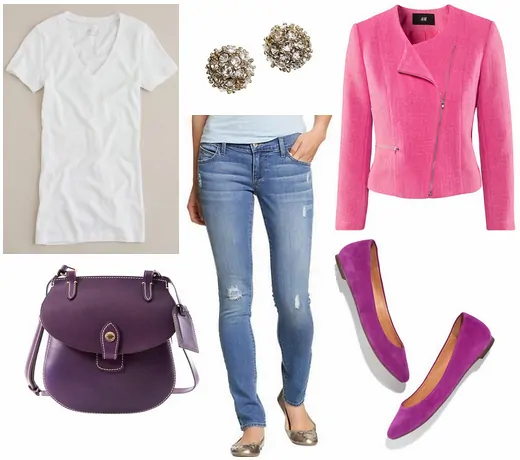 Products:
Spring may seem light-years away, but that doesn't mean you can't incorporate some bright, springy colors into your wardrobe right now. Purple and pink aren't often paired together in women's fashion. However, these two pretty shades can be combined to create some chic looks that are sure to rid you of those winter blues.
5. Fuchsia + Teal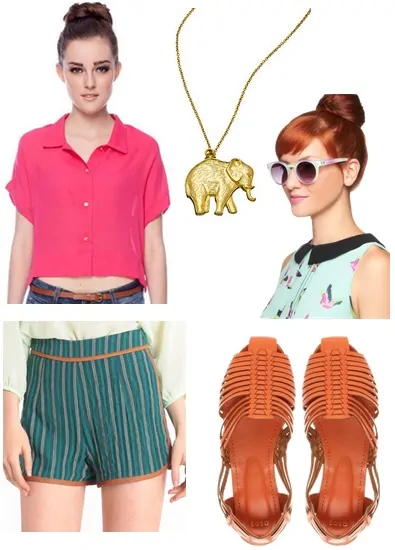 Products:

If you ever find yourself stuck in a style rut, playing with fun new color combinations is a great way to liven up your wardrobe. In this series, we feature unique and unexpected color combinations, then give you stylish outfit ideas so you can try out these color combos yourself.
6. Red + Green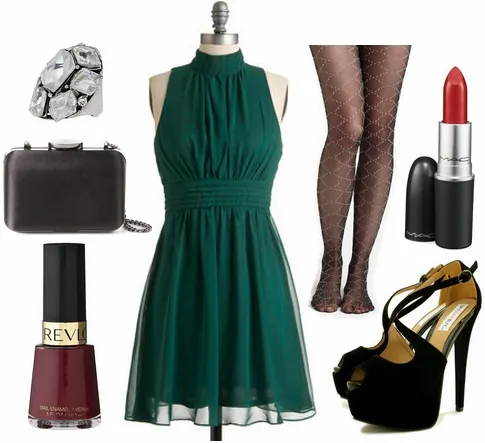 Products:

Green and red are opposites on the color wheel, so they will create a high-contrast look. This can be good or bad, depending on what you're going for. If you want a bold, attention-getting outfit, green and red is a great choices.
This combination seems to get a bad rep in the fashion world (Ever heard of the phrase "red and green should never be seen?"), but we're here to show you that these two colors can in fact look chic when worn together.
7. Purple + Yellow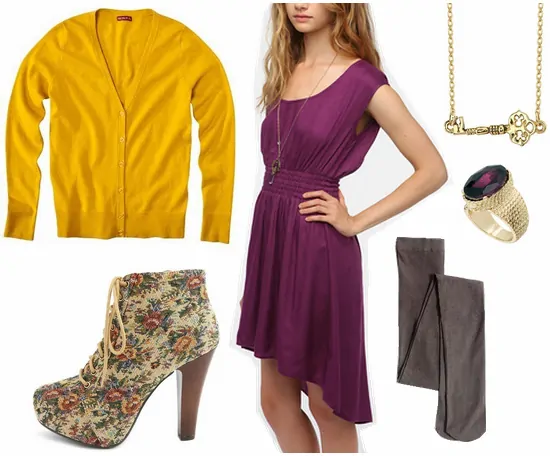 Products:

Want to stand out in a sea of neutrals this season? Don't be afraid to rock bold colors during the colder months of the year! For example, in this color combo post, we'll be pairing sunny yellow with luxe purple to create some colorful and stylish looks.
These two hues are complementary (i.e. across from each other on the color wheel), so they were pretty much made to be worn together.
8. Orange + Blue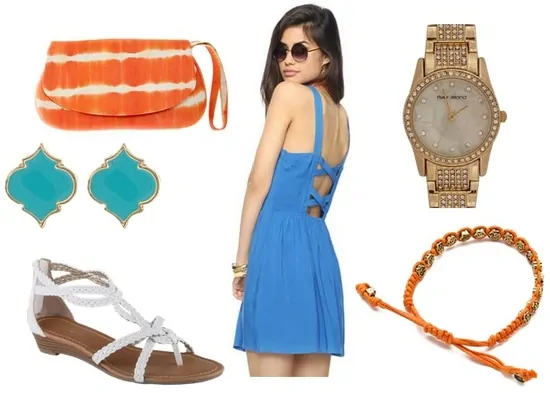 Products:

This duo is both bold and complementary, making it perfect for anyone looking to make a statement with their style.
To incorporate this color combo into your wardrobe, start with small touches like an orange bag or white shoes. For a bolder look, try pairing a blue blazer with orange pants or a skirt. You could also opt for a blue dress with a pop of orange jewelry.
9. Peach + Gray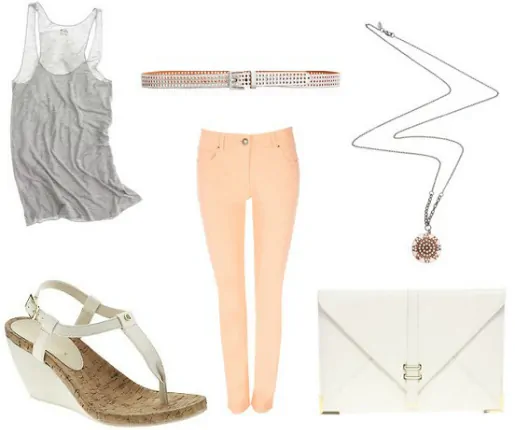 Products:

We're going to be combining two colors that seem like total opposites — peach and gray. The pastel-hued peach gives off a soft and feminine vibe and, when combined with the neutral yet sturdy gray, creates outfits that are both super chic and perfectly balanced.
10. Purple + Olive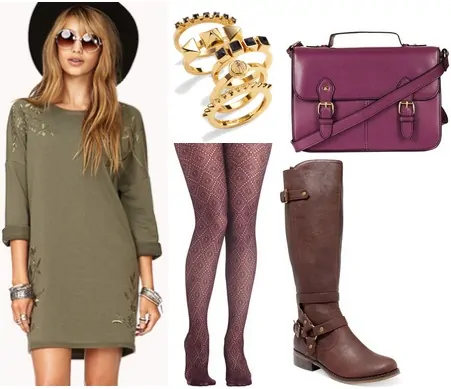 Products:

From jackets to jeans, olive seems to be everywhere this season, and one of our favorite colors to pair it with is purple. A rich, jewel-toned purple really glams up the otherwise utilitarian olive to create autumnal outfits that are equal parts practical and stylish.
11. Red + Mint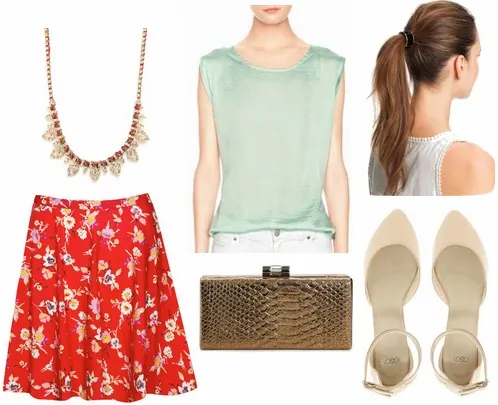 Products:

Mint seems to be everywhere at the moment, but we're definitely not complaining — we love this fresh and modern springtime hue! When it comes to what to wear with this trendy color, a surefire way to make a statement is by pairing a soft mint with a fiery shade of red.
A pop of red really amps up the style factor of this pastel hue, and, in turn, mint green helps tone down a bold and in-your-face color.
12. Red + Pink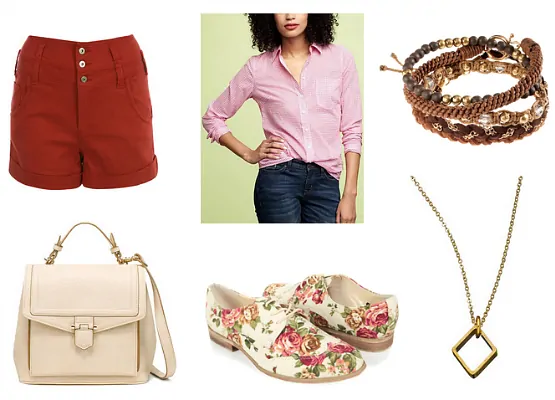 Products:

Red and pink are oftentimes considered "clashing colors," but since they're actually analogous colors (next to each other on the color wheel), these two shades can be paired together to create some surprisingly chic looks.
13. Black + Brown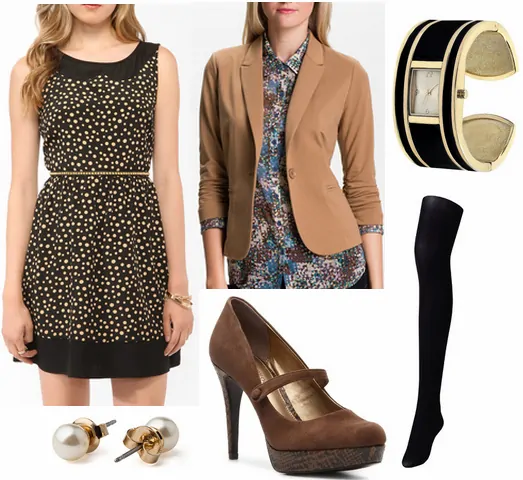 Product:

We're going to do something a little different by combining two classic neutrals that are oftentimes considered fashion faux pas when paired together. However, we're here to tell you to forget all about those preconceived fashion "rules": wearing black and brown together is not only chic and fashion-forward, but it's a super-simple way to spice up an all-neutral outfit.
14. Orchid + Navy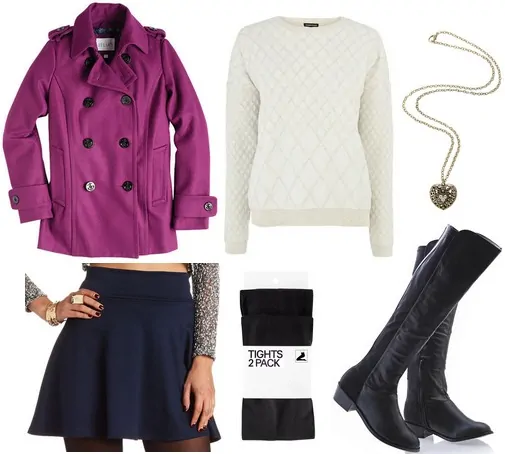 Products:

If you keep up with color trends, you'll know that Pantone recently named Radiant Orchid 2014's Color of the Year. Described as "an enchanting harmony of fuchsia, purple and pink undertones," we think Radiant Orchid looks especially chic when paired with sophisticated navy.
The neutral hue balances out the warm undertones found in this shade of purple, and in turn, the orchid really pops against the navy.
15. Olive + Coral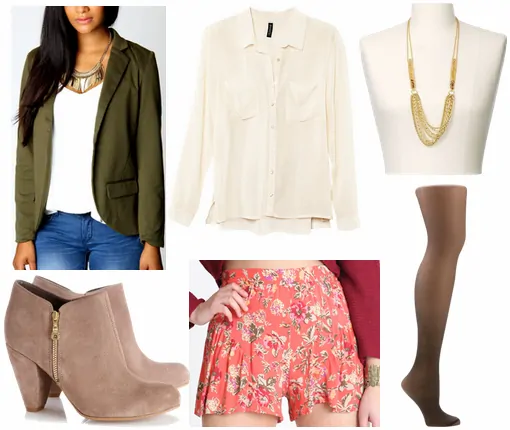 Products:

Green and pink are two of the season's hottest colors, and for this post, we decided to combine them to create a unique color combination that's perfect for fall. Olive green is popular right now thanks in part to the military-inspired trend, and it looks spectacular when paired with a soft coral pink. Coral really helps to make an otherwise drab olive pop for a modern, fashion-forward look.
6 Tips for Creating the Cutest Outfits for Spring
What do you think? 
Choose colors that complement each other: Look for colors that go well together and complement each other. Pastel shades like blush pink, mint green, and baby blue, as well as bright hues like coral, can create a beautiful color palette for Spring.
Mix and match different shades: Don't be afraid to mix and match different shades of the same color. For example, a light blue shirt with dark blue pants can create a stylish monochromatic look.
Add a pop of color: Consider adding a pop of color to your outfit to make it more interesting. A brightly colored scarf or bag can be the perfect addition to a neutral outfit.
Balance your outfit: Make sure to balance your outfit by pairing bold pieces with more subdued colors. For example, a bright yellow dress can be toned down with a beige jacket or shoes.
Use accessories to tie your outfit together: Accessories like jewelry, hats, and shoes can be used to tie your outfit together and create a cohesive look. Try adding a statement necklace or a pair of colorful earrings to complete your outfit.
Whatever you do, stop saying to yourself: "Well, black is supposed to be slimming. I cannot be caught dead in orange. Too many colors will make me look like a cartoon character!"
Try refreshing your wardrobe with a little color, and a little confidence – you can do it! In reality, you can wear any color you want – it's all about finding your most flattering shades and being willing to experiment.
By following these tips, you can create beautiful and on-trend outfit color combinations for Spring.
Which color combination is your favorite? Will you be trying out any of these looks? Let me know in the comments!
Are you on the hunt for some creative color combos for your wardrobe? Let us provide you with a few of our most beloved outfit ideas for this springtime season – they might just bring a little inspiration to your wardrobe!