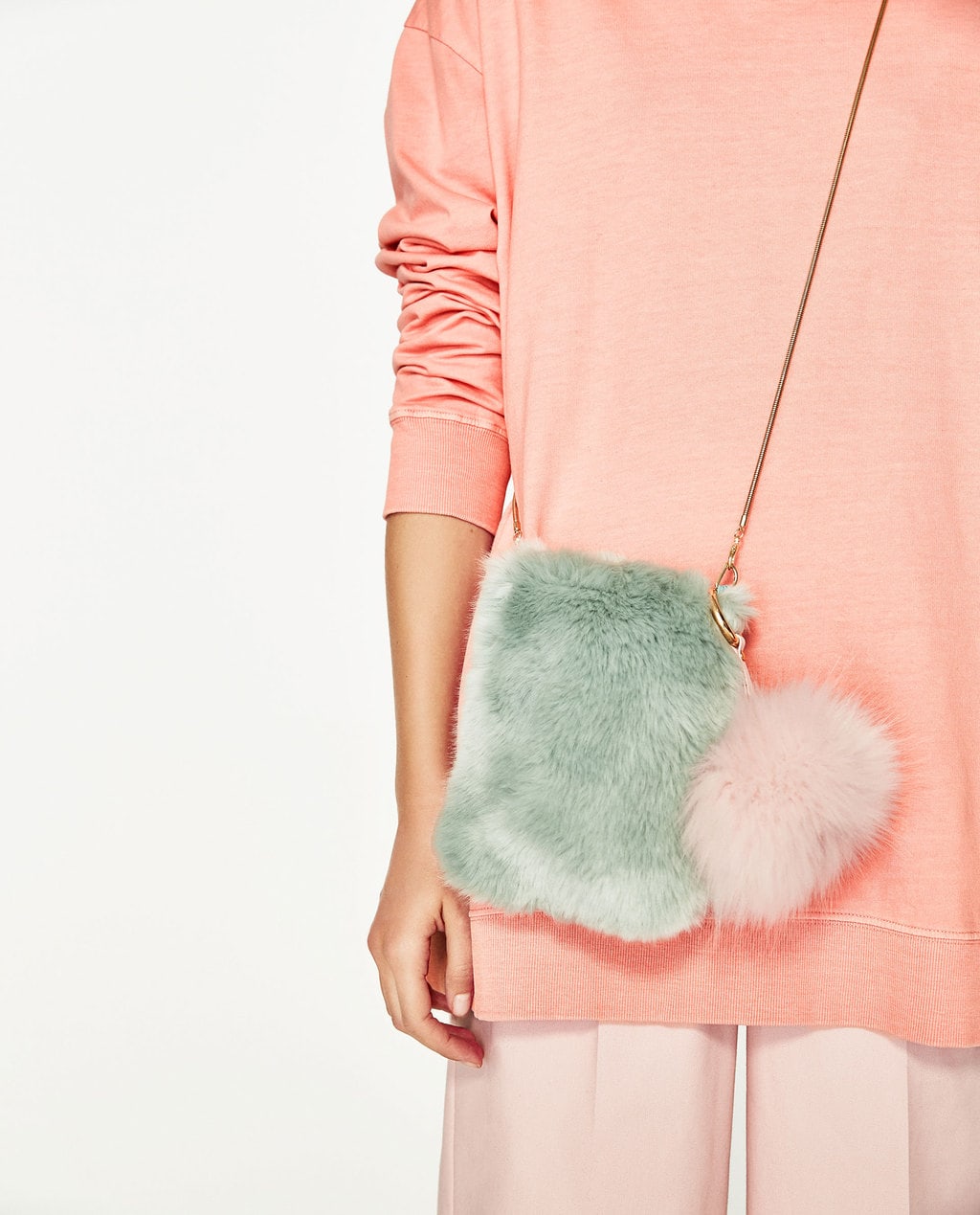 Even though most of the country decided it was time for a good old-fashioned blizzard last week (even Florida- we got down to 50 degrees and everyone lost their minds), it is, in fact, Spring.
Nothing makes me happier than Spring palettes (florals and pastels are always part of my style!), and lately I've been having fun dressing in what I've been calling a "duo-chromatic" color scheme.
Instead of the more well-known monochromatic look, "duo-chromatism" refers to the idea of creating an entire outfit (including accessories, if you can!) using only two colors. Of course, you can use different shades of these colors, but the general scheme has to be limited to two segments of the color wheel. Pretty fun challenge, right?
So here are a few of my absolute favorite Spring fashion color combinations to get you into the perfect kind of floaty, carefree, sweet mood for Spring!
Purple + Seafoam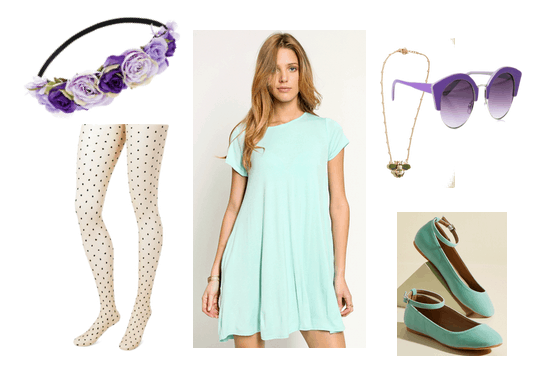 Products: Flower Crown – Forever 21, Tights – Target, Dress – Ruche, Necklace- ModCloth, Sunglasses – Unique Vintage, Shoes – ModCloth
My first favorite combination is purple and seafoam green. (Really my favorite color combination is lilac and seafoam, – my whole room is covered in it – but it's easier and more interesting to use different shades of purple.) This is such a nice, classic spring color combination, but the use of some darker shades of purple prevents the look from appearing to Easter Egg-y.
Use a simple seafoam dress as a base, then pair some neutral colored tights (I love these polka dot ones but you could go more subtle) with some sweet flats in a darker shade of that soft green color. For the nice contrast of purple, accessorize with a pretty rose crown in various hues and/or a pair of deep purple sunglasses. Finally, add a gold bumblebee necklace for that extra touch of Spring.
Gray + Yellow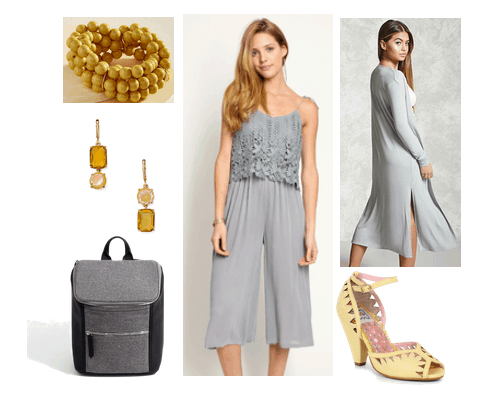 Products: Bracelet – ModCloth, Earrings – Kate Spade, Backpack – Danielle Nicole, Jumper – Ruche, Cardigan – Forever 21, Shoes – Unique Vintage
Another one of my favorite color combos is gray and yellow. My favorite shades are a soft dove gray and pastel yellow, but this look features these colors in several different hues in order to best exemplify the "duo-chromatic" look.
Start with a pale gray jumper featuring a gorgeous crocheted top, then keep your arms covered from the spring chill with a heather gray long cardigan. The silhouette of the cardigan will look so cute with the jumpsuit since both pieces are around the same length.
For the bright pop of yellow, accessorize with some cute golden gemstone earrings, a mustard beaded bracelet, and pale yellow peep-toe heels. Complete the ensemble with a chic grey backpack.
Pale Pink + Blue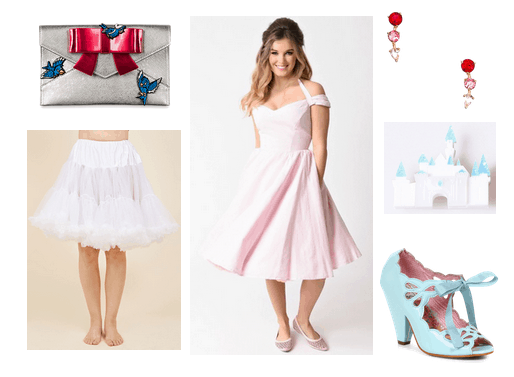 Products: Clutch – Disney Store, Petticoat – ModCloth, Dress – Unique Vintage, Earrings – Kate Spade, Brooch – Unique Vintage, Heels – Unique Vintage
Now, I know this look may not be everyone's cup of tea, but I'm going to have to buy everything in this set because I combined my two favorite colors with my favorite style aesthetic and now I'm obsessed. (Help!)
Pink and blue is always such a lovely, classic pairing, and the pastel versions of these colors are just the cutest! The combo always makes me think of Cinderella or Aurora, so this outfit takes its inspiration from the "modern princess," '50s-inspired clothing trends perpetuated by sites like ModCloth, Unique Vintage, and Pinup Girl Clothing.
Try out this style with a pale pink vintage-inspired dress layered – if you dare – over a white short petticoat for just the right amount of volume. For some pale blue representation in your outfit, slip on some stunning pale blue bowed peep-toed heels, then pin on a castle brooch for a Disney reference. Match the bows on your shoes with the bow on this adorable Cinderella-inspired clutch purse, then wear some beautiful pink gemstone earrings for the final touch.
What do you think?
Which color combination is your favorite? Will you be trying out any of these looks? Let me know in the comments!