I've never been able to get behind maxi dresses. Maybe it's just me, or maybe this is a common opinion, but I've always thought maxi dresses look so dramatic and billowy that they would only really work for a school dance or someone's wedding.
And then I saw Caroline Constas' latest collection. It's brimming with Spring Break fashion inspiration, but it's the dresses that are jaw-droppingly gorgeous. And I suddenly want to wear maxi dresses every day.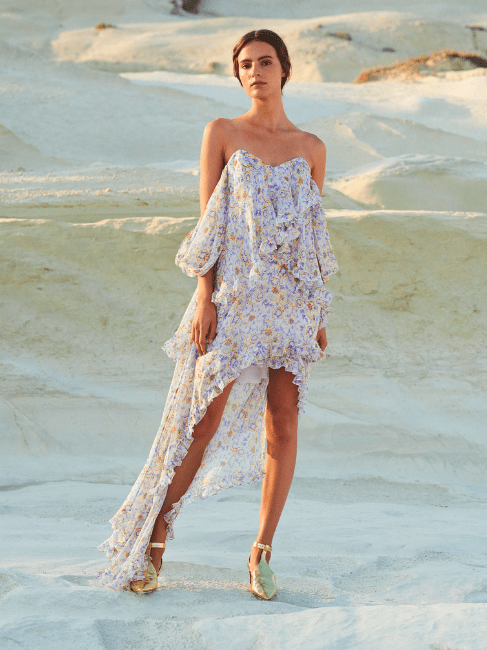 Caroline Constas is an NYC-based fashion brand with wanderlust-inducing pieces. "Inherently wearable and ideal for travel, each piece speaks to the jet set lifestyle that Constas conveys."
The brand counts Demi Lovato, Chrissy Teigen, Rosie Huntington-Whiteley, Rita Ora, and Olivia Culpo as just some of its celeb fans.
You already know that this brand convinced me to love maxi dresses. But they don't only do maxi dresses well – all their dresses sample a variety of prints and the most beautiful silhouettes to give you something to wander along the shoreline in.
Caroline Constas shows us how to dress up without looking like you're playing dress-up. That's something we can all be inspired by.
Want to get Caroline Constas to look at a budget? We're going to check out some of the brand's best looks to channel during spring break (and everyday life). Let's get started!
Look #1: The Strapless Maxi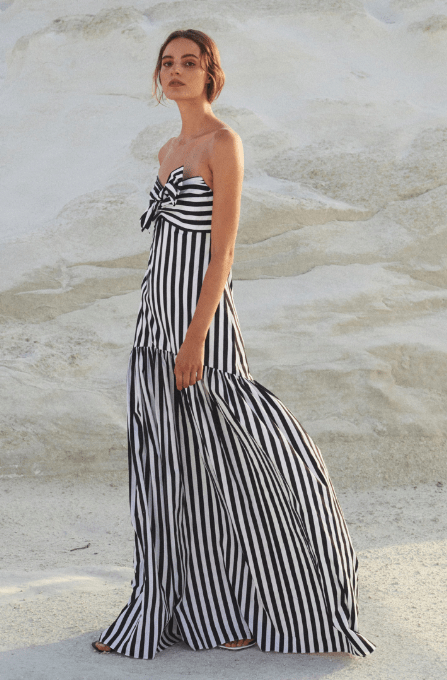 A strapless maxi can all too easily look like a bridesmaid's dress. However, the designer added bold stripes to this bandeau maxi. With a print, the dress becomes unmistakably beach-ready.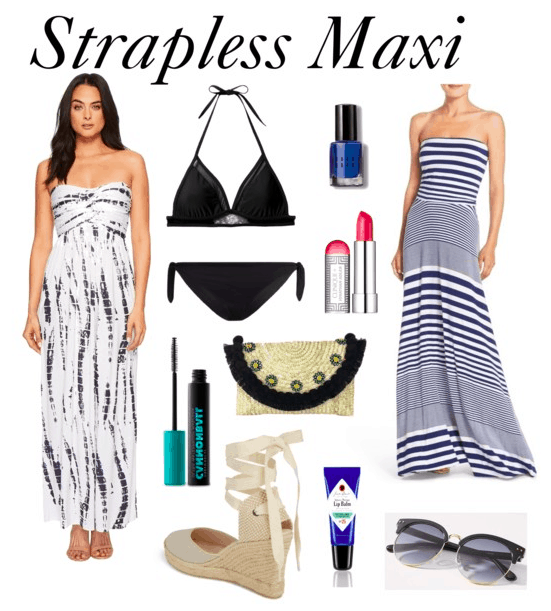 Products:
Start with a strapless maxi dress. I chose striped ones, but any print works. The dress is perfect on its own or as a cover-up for a cute bikini. The espadrille wedges and straw clutch scream "poolside," as do the sunglasses.
Finish the look with unfussy makeup, like this waterproof mascara, lip gloss, and lip treatment with SPF to protect your lips from a long day in the sun.
Look #2: The Floral Maxi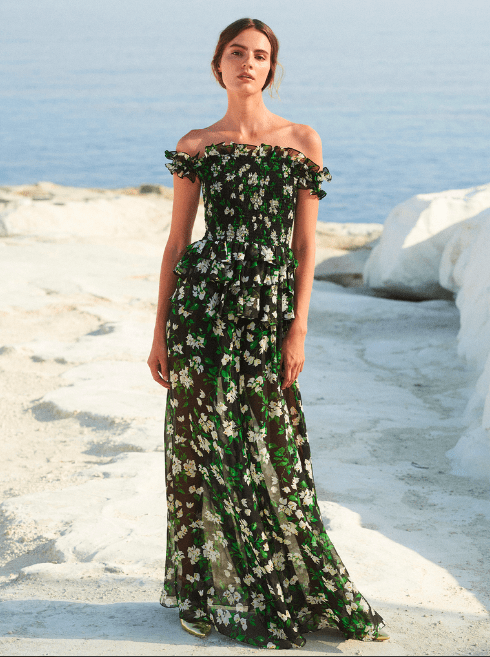 This dress is gorgeous, no doubt, but how could you pull something like this off in real life? With the right accessories, this dress goes from runway to romantic dinner date, or even to your spring break getaway!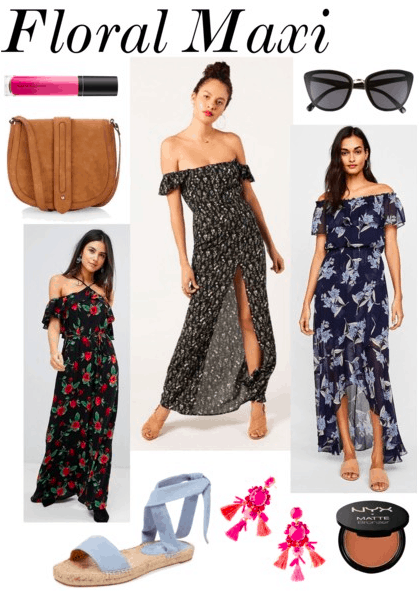 Products:
The off-shoulder silhouette is so romantic, especially in a floral print. To keep it from looking too dressed-up, stick with flat sandals instead of heels, and add a suede bag and sunglasses.
These tassel earrings are fun instead of formal, and bronzer and this hot pink gloss give you that perfect sun-kissed look!
Look #3: The Midi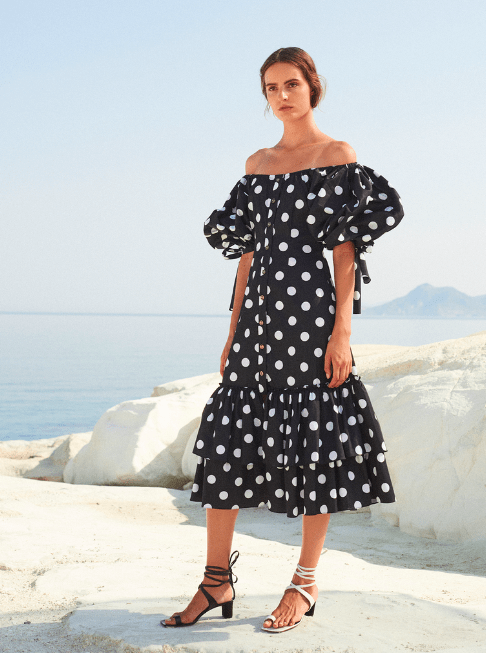 Yes, I realize this isn't a maxi dress, but midi dresses can be equally tricky to pull off. How do you know which length to get? What size heels to wear? How do you even accessorize this??
I think the dress in the picture is dramatic enough (look at those sleeves!) that it doesn't need too many accessories. But we're going to take a more laid-back approach so that you can wear a midi dress even after your beach vacation.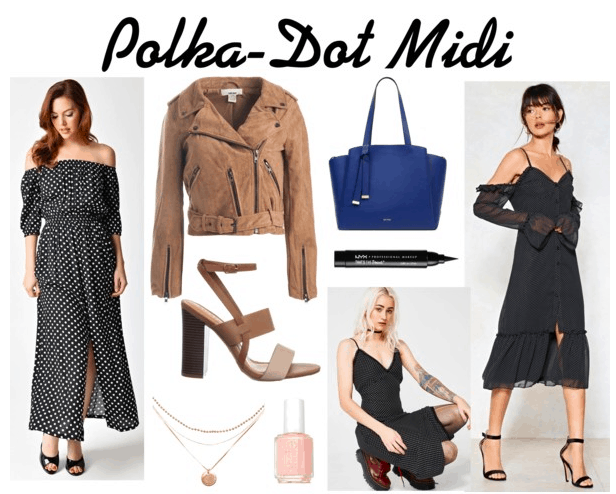 Products:
I stuck with the polka dot print because it's just as carefree and fun as a trip to the beach. (Also, polka dot anything is one of our favorite timeless spring fashion must-haves.)
To wear this midi dress after spring break, I added a suede jacket to toughen it up and keep it wearable once you leave the beach. A blue tote is versatile and pops nicely against the black and white polka dots.
Tan heels and a necklace are versatile accessories that go with any look, so add them here! Pink polish and a cat eye complete the look.
What Do You Think?
Are you SO ready for spring break? Are these dresses giving you wanderlust? What do you think about maxi dresses? Let us know in the comments!
If you love these fabulous spring break looks, why not take a peek at our top outfit picks below? They're sure to have you looking your best for your upcoming adventures! —