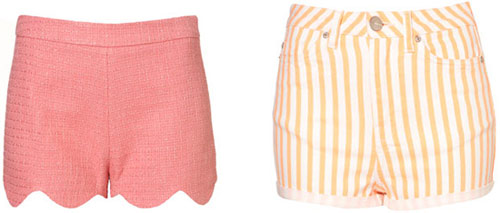 Do you struggle with transforming your outfits from day to night? Don't worry, CF is here to help turn that daily annoyance into a fun challenge. This column focuses on one piece per week, and aims to help you take your look from study sessions in the library to dancing the night away.
We've experienced something of a shorts revolution in the past few years, and boy did we need it. We're no longer confined to plain old denim, whether it was nautical chic or the ever classy Britney-esque cut off, or different variations of boring old Bermuda shorts. Now it's totally a "do" to have shorts of every style in every color of the rainbow. For spring, I'm a particular fan of pastels. (Aren't we all?)
This week, I'll be showing you how to rock a pair of pastel shorts for both day and night. I chose a gorgeous pale peach "short shorts" pair, but pick whatever color and style you rock best!
Pastel Shorts: Class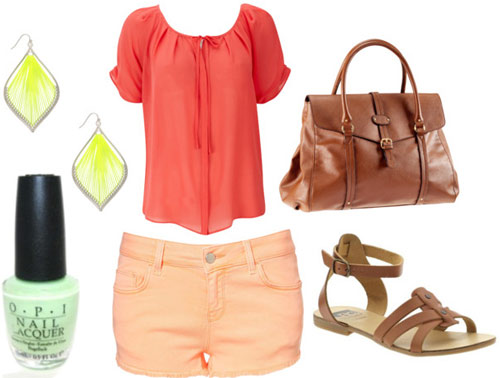 Shorts, Blouse, Bag, Earrings, Sandals, Nail Polish
For class, pair your shorts with a more conservative blouse in a fun spring color to avoid looking like you're heading straight from class to an afternoon of sunbathing. Accessorize with a pair of super cute brown strappy sandals and a matching handbag that's big enough for a notebook or two. Lime drop earrings make the look a little more fun, and try rocking mint green nails for more springtime trendiness.
Pastel Shorts: Night Out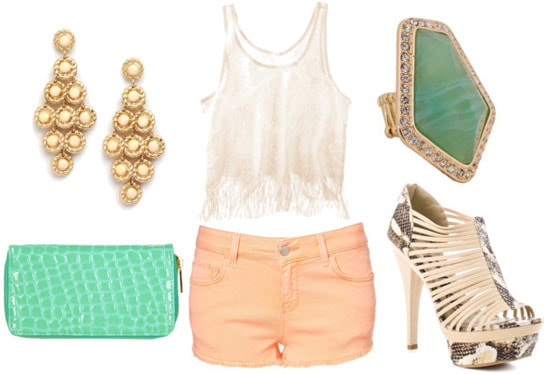 Shorts, Top, Earrings, Ring, Clutch, Heels
Let out your inner wild thing by pairing your shorts with a fringed crop top for night. I'm a fan of this off-white one because although it's definitely edgy, the color keeps it looking a little soft and girly. Obviously, the cropped look is not for everyone, so substitute with a DIY cut or fringed band tee for a more conservative look that's still very rocker chic.
Glam it up with a pair of platform snakeskin heels with cool cutouts – these ones are awesome because even though they're a little crazy, the beige accents still make them more of a neutral. Create contrast with your accessories by choosing a cool sea green clutch and matching oversized ring. Finish off the look with a pair of gold drop earrings.
Your thoughts?
Do you own a pair of pastel shorts? Will you be switching out your favorite denim pair for some? Let me know what you think of the outfits in the comments, I'd love to hear what you think!