L-R: Lulus, Neiman Marcus Last Call, Forever 21
Denim is our favorite fabric for good reason: It's versatile, comfortable, and looks good on everyone! But jeans aren't the only way to go. Switch up your denim look this season by investing in a denim dress.
Don't forget your favorite summer accessories; denim dresses look amazing with most prints, patterns, and colors. A denim dress is also the perfect canvas for that funky scarf or unique necklace that you've been struggling to style.
Denim Dress: Class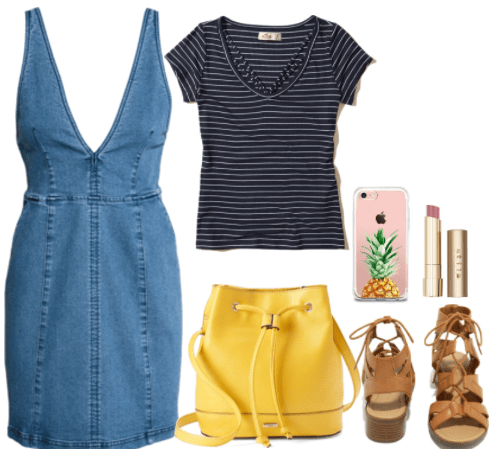 Products: Dress – H&M, Top – Hollister, Bag – Kohls, Sandals – Lulus, Phone Case – Azalea, Lipstick – Nordstrom
When you are wearing your favorite denim dress to class, throw a navy striped tee on under it for a more casual, scholarly look. A brightly colored backpack adds some flair to your simple denim, and a cute printed phone case is a fun touch!
Perfect your look with some camel lace-up sandals, which are the perfect warm weather footwear choice.
Denim Dress: Night Out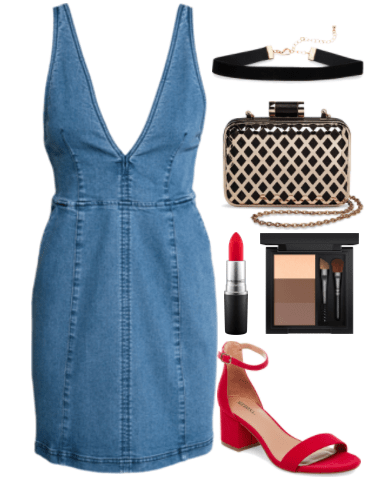 Products: Dress – H&M, Clutch – Target, Shoes – Target, Choker – Simons, Lipstick – Selfridges, Eyebrow Kit – Selfridges
Don't let your love for denim styles be limited to daywear! You can just as easily style a denim dress for a night out. It's all about choosing some glam accessories to dress up your outfit.
First, choose some slinky heels to add allure to your outfit. Next swipe on a bold lipstick for a confidence boost. An eye-catching gold clutch and a statement choker wrap up this amazing night out look.
What do you think?
Would you wear a denim dress? How so? Do you like the above outfit sets? Let me know in the comments below!