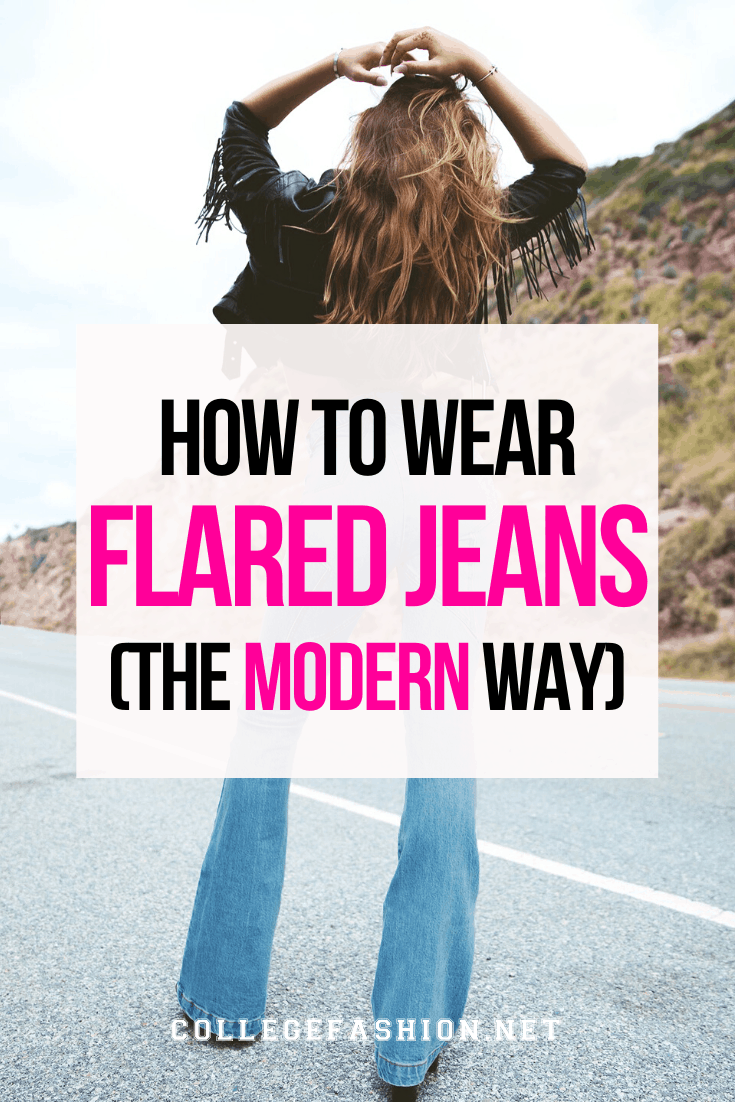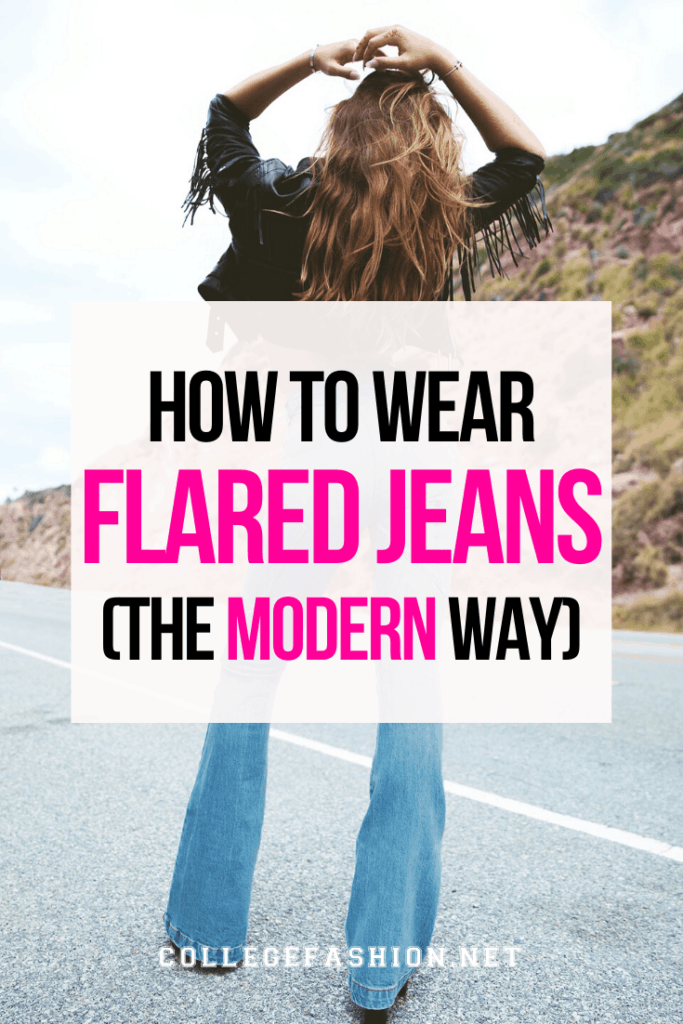 Flared jeans occupy a rather unique spot in our closet hierarchies – they're a basic closet staple, yet they're also less expected and somewhat riskier than the classic skinny jeans we all wear every day.
Flared jeans have been coming in and out of fashion for a few years now, and as such, they can be a little tricky to style. The key to keeping the flared jeans in your closet looking fresh and trendy is to wear them the right way and pair them with great accessories!
Need ideas? Check out the flared jeans outfit guide below to learn how I style these wonderful jeans with clothes that are the perfect combo of comfy and stylish.
Flowy & Structured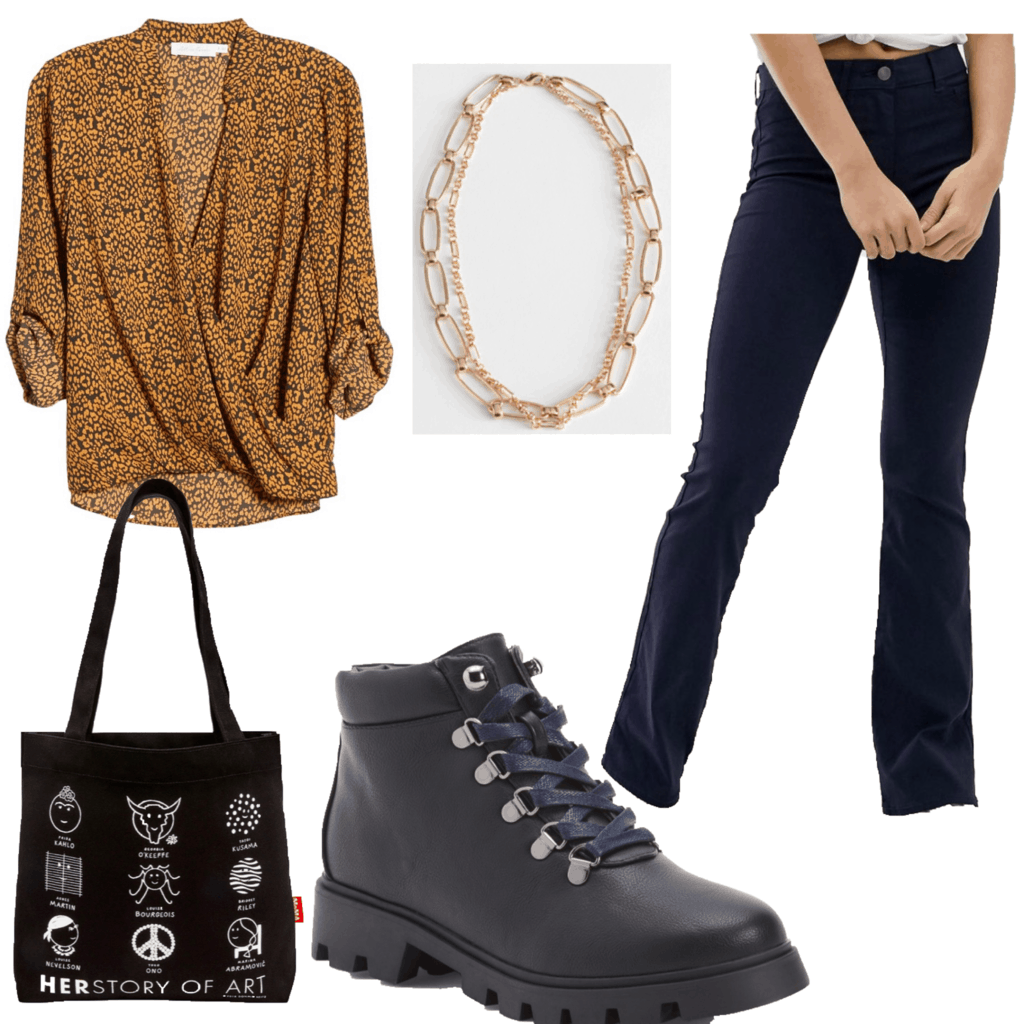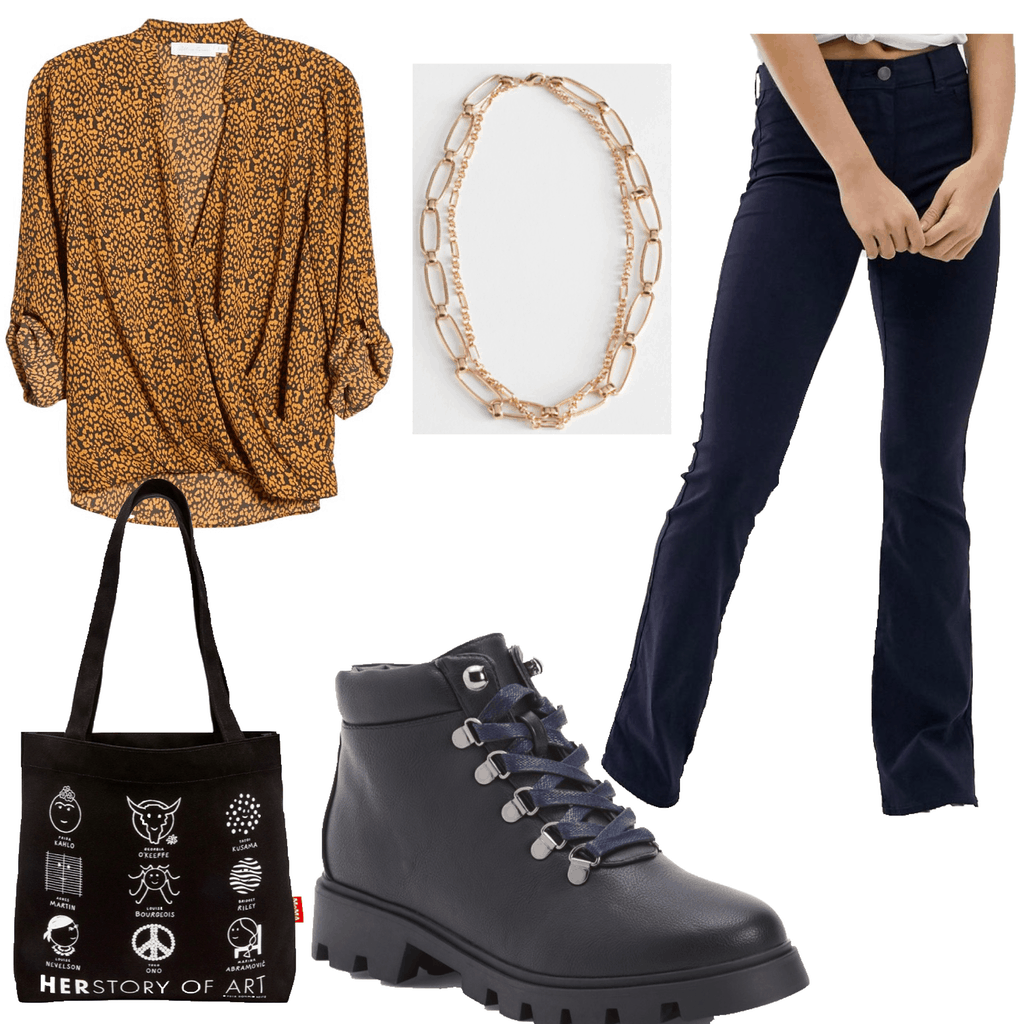 Products: Jeans – ASOS, Top – Nordstrom, Boots – TJMaxx, Necklace – & Other Stories, Bag – Neiman Marcus
One simple way to create a flared jeans outfit is to contrast the tight, structured look of the jeans with a gorgeous printed top that's loose and flowy. That works here with these sleek black flare jeans and an orange and black animal print top.
Another neat contrast in this outfit comes from the combat style booties, which give a tomboy-ish flair to the look. A gold chainlink necklace and an artsy tote are the perfect accessories to finish off this unique outfit.
Cool Winter Blues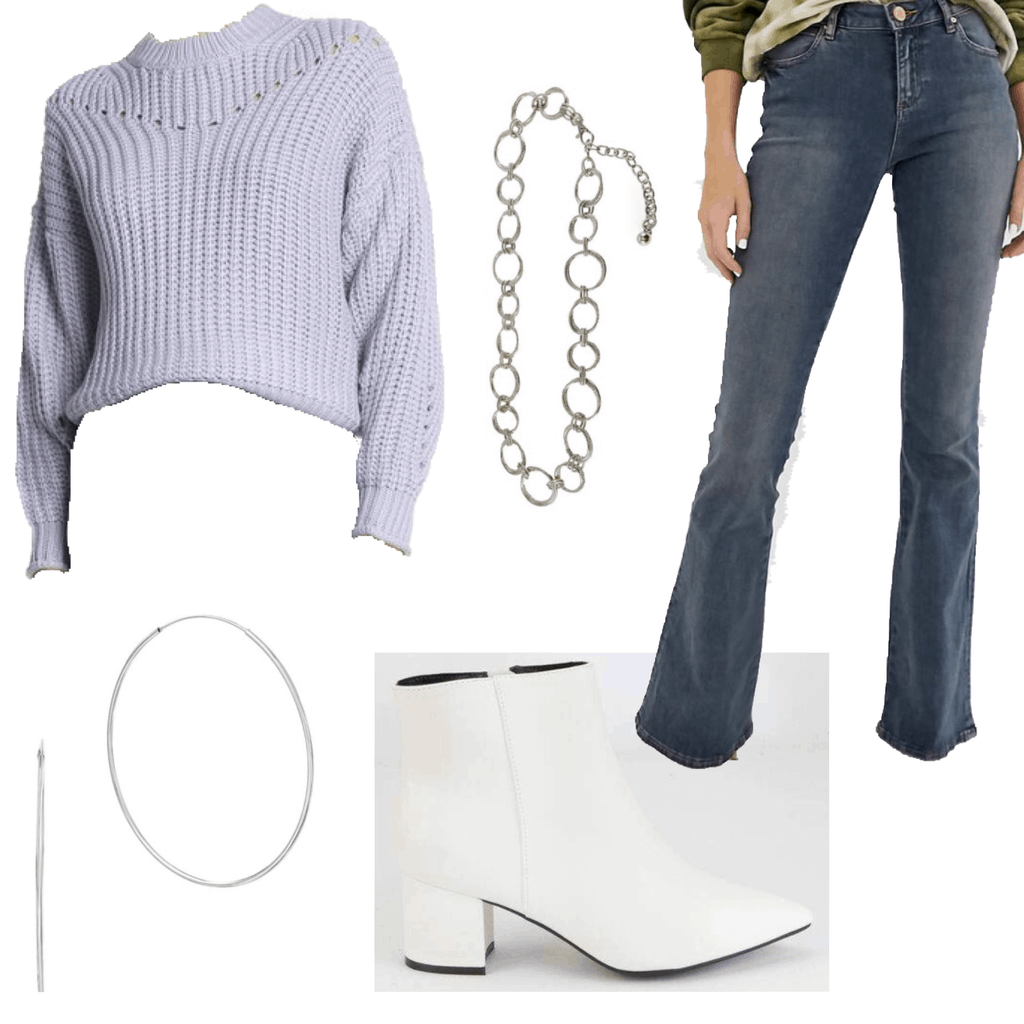 Products: Jeans – ASOS, Sweater – Nordstrom Rack, Boots – Tilly's, Belt – Lord & Taylor, Earrings – Lord & Taylor
A cool way to incorporate winter whites into your wardrobe is through accessories. Here, I paired some dark wash flare jeans with a light blue chunky sweater. The bold silhouette of the sweater complements the flare of the jeans perfectly!
To continue the cool color palette in this flared jeans outfit, grab these white heeled booties — perfect for a bootcut-style pant! Silver accessories like these silver hoop earrings and a looped circular chain belt add excitement to the look.
Somewhere Warm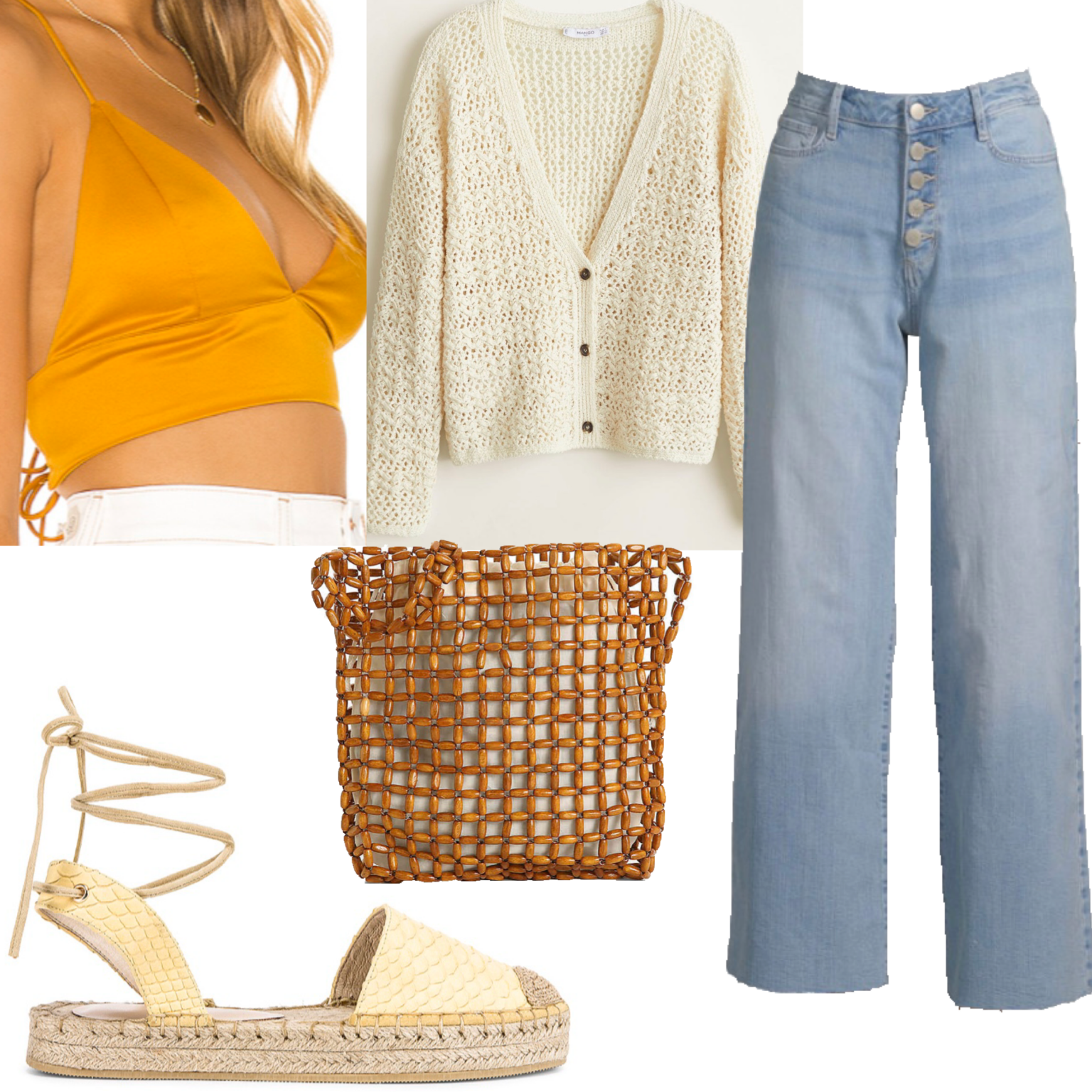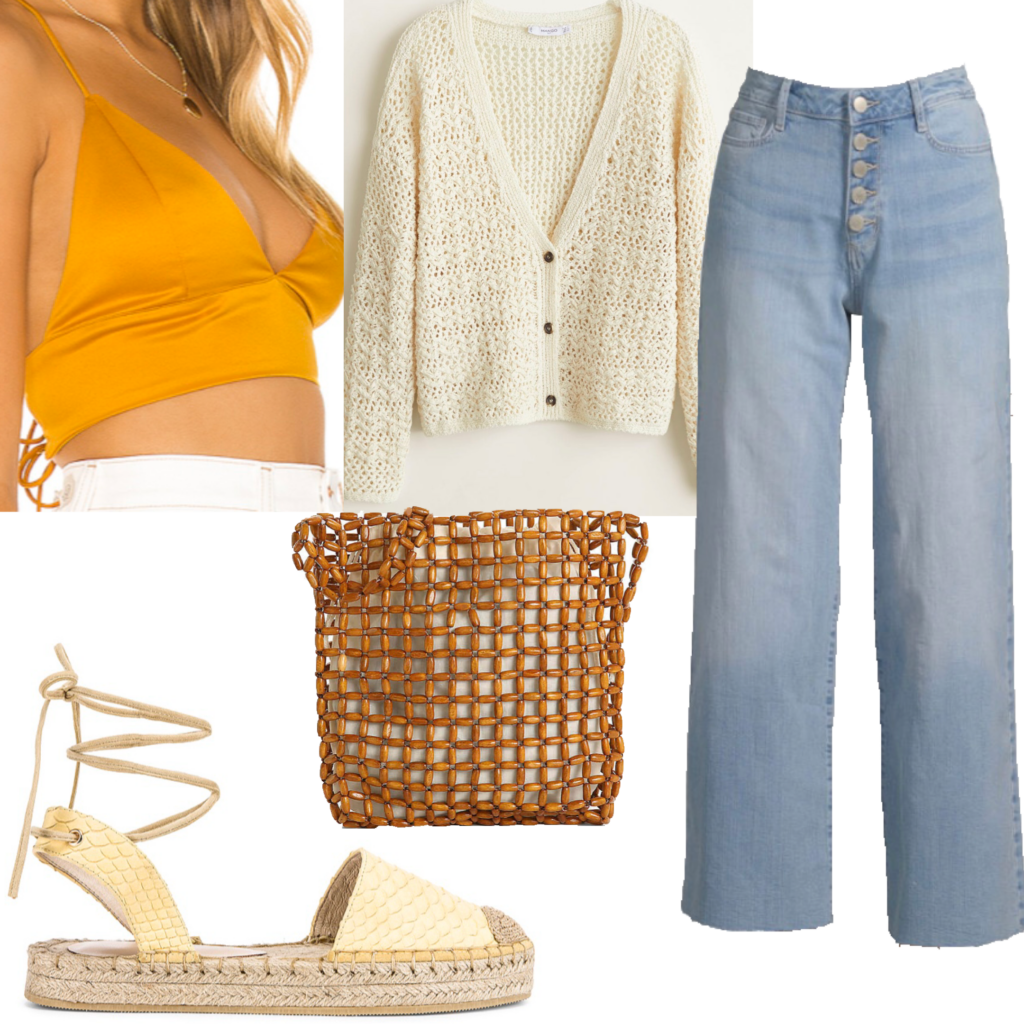 Products: Jeans – JCPenney, Top – Revolve, Sweater – Mango, Shoes – Revolve, Bag – DSW
One of the classic "rules" of fashion is to put together opposite styles of clothing. For instance, if you're wearing loose pants, wear a tight shirt (and vice-versa).
I paid tribute to this rule with these light blue wide-legged flare jeans. A super cute mustard yellow tie-back shirt gets that minimalist look on top.
To give this flared jeans outfit some boho vibes, an off-white crochet sweater brings warmth but still feels like you're just coming off the beach. This outfit is all about the accessories, too! A brown beaded bag is a super unique addition to the look, and light yellow espadrilles play in the yellow of the top while still giving the look a laid-back feel.
Gorgeous Girl Next Door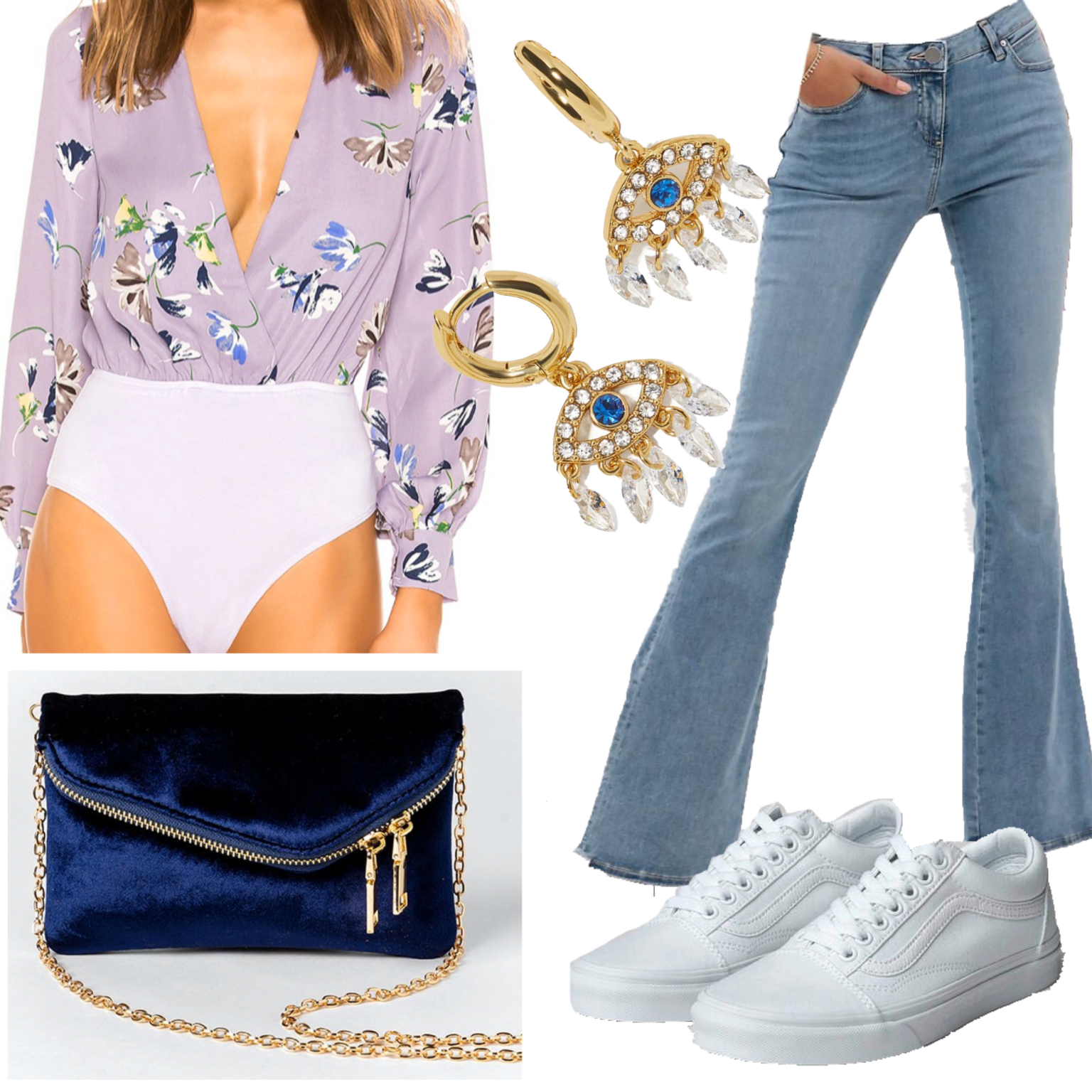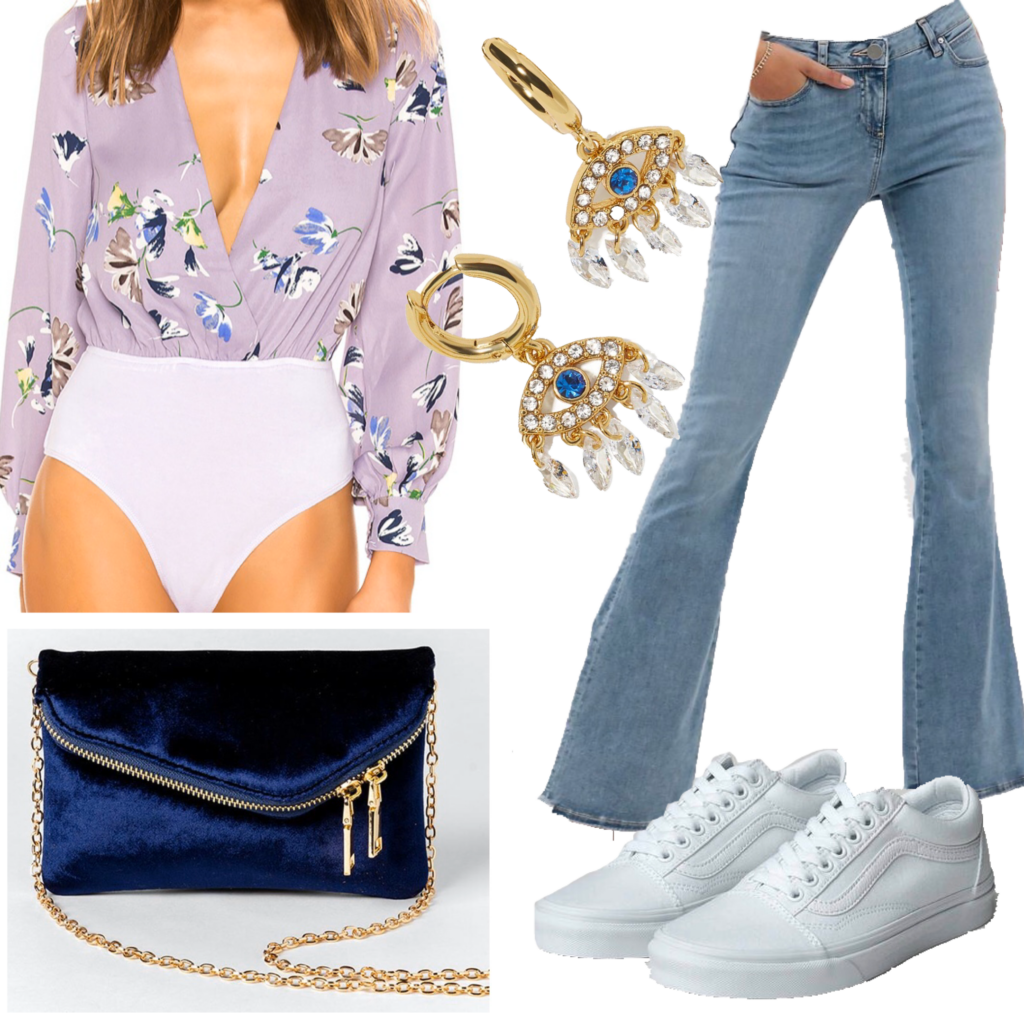 Products: Jeans – ASOS, Bodysuit – Revolve, Shoes – Totokaelo, Bag – Francesca's, Earrings – Nordstrom
Here's a more casual take on the flowy top look — this outfit looks so put together, but in reality is a bunch of super comfortable accessories that are easy to wear and look super sophisticated!
These light wash flare jeans pick up the light blue flowers in this pretty lavender floral bodysuit. Some classic white sneakers will give you the comfort you need when you're on-the-go, and this beautiful blue velvet bag (which I will 100% be buying…) gives you a good amount of storage for the day.
Finally, artsy earrings are a statement piece that don't detract from the beauty of the rest of the outfit, but they pick up the gorgeous shades of blue throughout.
What do you think of our flared jeans outfit guide?
What is your favorite way to wear flare jeans? Do you prefer to pair them with sweaters or crop tops? What color flared jeans are you going to buy next?