Over the past few weeks, we've been showing you how to wear every style of jeans out there this season. We've already talked about wide-leg jeans, flare jeans, girlfriend jeans, and white jeans, and today we're talking high-waisted jeans.
While everyone is saying that low-rise jeans are on the way back (we featured some in our flares post too), high-rise jeans are still as trendy as ever. It's all about how you style them.
If you're wondering how to style high-waisted jeans this year, look no further. I've put together 15 different types of high-waisted jeans outfit ideas. Read on for all the styling inspo you need!
Related reading: The Best Cute Outfits with Jeans to Wear This Year
15 High Waisted Jeans Outfits
High Waisted Mom Jeans
Mom jeans are my all-time favorite denim cut. I love how loose and baggy they are but that they're still fitted around the waist and butt.
These mom jeans from Princess Polly have the perfect light wash with just the right amount of distressing. I styled them with a cropped graphic tee and an oversized nude boyfriend blazer. I finished it off with some super chunky platform white sneakers.
High Waisted Boyfriend Jeans
Boyfriend jeans have the same loose fit as mom jeans but are a little more tapered around the leg. This pair has rips in the knee and a light wash.
I styled this high waisted jeans outfit for going out to the bars or for dinner. This black corset-inspired bodysuit is from Princess Polly. I paired it with some mini black heels that have a braided, texture detail. I finished off this look with some gold heels and this adorable designer-inspired green mini bag from Amazon.
High Waisted Bell-Bottom Jeans
I love the chill vibe of this next look, styled around these high-waisted bell-bottom jeans from Zara. Zara is one of my favorite stores to get jeans from, as they are affordable and trendy.
I styled these jeans with this bright green satin button-down and some green Reebok sneakers. For accessories, I added this super cute tote bag and a black matte claw clip to pull your hair back.
High Waisted Ripped Jeans
I love the look of ripped jeans. They are so fun for a night out, or to make a look more casual during the day. These jeans from Garage are high-waisted and have a vintage wash to them.
To create this high waisted jeans outfit idea, I paired the jeans with this adorable brown underwire bra top and a matching brown leather jacket in case it gets cold at night. I finished off the look with some platform Nike sneakers and these white textured hoop earrings.
High Waisted Straight Leg Jeans
A straight-leg jean is a perfect choice for a business casual or more put-together outfit. The tapered style is nice and the absence of rips makes these jeans more formal.
These are my favorite pair of straight-leg jeans that I have in my closet. They are the cheeky high-rise straight jeans from the Gap. I have them in 3 colors because I just love how great they look on, and how comfortable the denim is.
I styled this medium wash pair with an oversized white button-down from Zara. I added some chunky gold hoops, wrap-up gold sandals, and some oversized white sunglasses. Lastly, for a bag, this one from Pretty Little Thing is so adorable with the checkered neutral pattern and chain shoulder strap.
High Waisted Flare Jeans
These super '70s flare jeans are coming back into style, and they are perfect for daytime or going out at night.
Here, I styled some high-waisted flares from Free People. They are made of super-soft, stretchy denim so they're extremely comfortable. I paired them with this blouse that has a similar '70s vibe to it. I finished off the look with some brown accessories, like these brown platform sandals and this croc mini shoulder bag.
High Waisted Skinny Jeans
Although skinny jeans may be fading out as a trendy style, there is still one instance where they are still super on-trend and that's when worn with cowgirl boots. Cowgirl boots are a huge trend right now, and they are being worn as normal boots with dresses, jean shorts, and tapered jeans.
These light wash skinny jeans have a frayed end and some rips in the knees. I paired them with these adorable tall white cowgirl boots from Princess Polly. For a shirt, I added this rainbow crochet-knit cropped sweater to bring some summer colors to the look. For accessories, I added a mini white shoulder bag and some classic gold hoops.
High Waisted Light Wash Jeans
These light wash jeans from Abercrombie are ultra high rise and '90s inspired. They have a trendy criss-cross waistband detail and a frayed hem.
I styled this outfit for a perfect summer day, with this bright-colored tank top and some platform high-top Converse sneakers. I added some oversized sunglasses and this black mini shoulder bag to finish the look.
High Waisted Acid Wash Jeans
Acid wash jeans are super trendy and can add a little flair to any simple outfit. These jeans really became popular in the 80s and have recently re-emerged as a fashion girl trend. They are definitely retro and edgy, not for the timid.
I paired these jeans with some warm brown neutral tones in the form of this cut-out bodysuit and these chunky boots. I finished off this look with this bright pink crossbody bag from Zara. It is super fun for summer and even changes colors!
High Waisted Wide Leg Jeans
Wide-leg jeans are another one of my favorite styles of jeans to wear right now. I think they're really flattering. This dark wash pair from H&M is high-waisted and super comfortable.
Here, I styled the jeans with this white flowy cropped tank top and some white chunky heeled sandals. I finished off the look with some fun orange earrings and this cute orange bag with a braided handle detail.
Vintage High Waisted Jeans
Vintage jeans that you thrift or buy secondhand have become so popular. Everyone is finding their boyfriend jeans from the actual men's section at their thrift store. You can then cut them or distress them to make them your own personal style.
If you are not the best at finding things at thrift stores, this pair from Levi's still has a cool vintage look and feel. I paired them with this one-shoulder black crop top and some heeled platform booties. I finished off the look with some classic gold hoops and this adorable y2k-inspired fuzzy floral bag.
White High Waisted Jeans
White isn't just for before labor day anymore! We are seeing white and white jeans specifically being worn all season long.
I love the clean look of these wide-leg jeans from Urban Outfitters. To create this cute high waisted jeans outfit, I paired them with this beige halter tank top and these hot pink chunky heels. For accessories, I added this orange and pink floral hair scarf and some double hoop gold earrings.
Black High Waisted Jeans
Black denim is another one of my favorite washes. Black is super flattering on everyone and can take a look from day to night in an instant.
This pair from Fashion Nova has that trendy crossover waist and a high-waisted fit. I paired the jeans with this bright purple and blue tank top and some chunky white combat boots. Lastly, I added some silver hoops and this designer-inspired white bag.
Navy High Waisted Jeans
Navy jeans are a recent trendy style with an edgy, athletic feel. Here, I've created a high waisted jeans outfit idea with navy jeans.
These jeans are super cute because they are a cargo, jogger style. I paired them with these platform high-top white sneakers and these gold chain earrings. For a top, this nude corset balances out the edginess of the pants, with a more girly and feminine style.
Plus Size High Waisted Jeans
Pretty Little Thing makes great jeans in larger sizes that are still super trendy and affordable. This high-waisted pair has some distressing and a baggy fit. I paired them with this cropped white shirt and some nude chunky boots that go higher up on the ankle. Lastly, I added this cobalt blue statement bag.
What to Wear with High Waisted Jeans?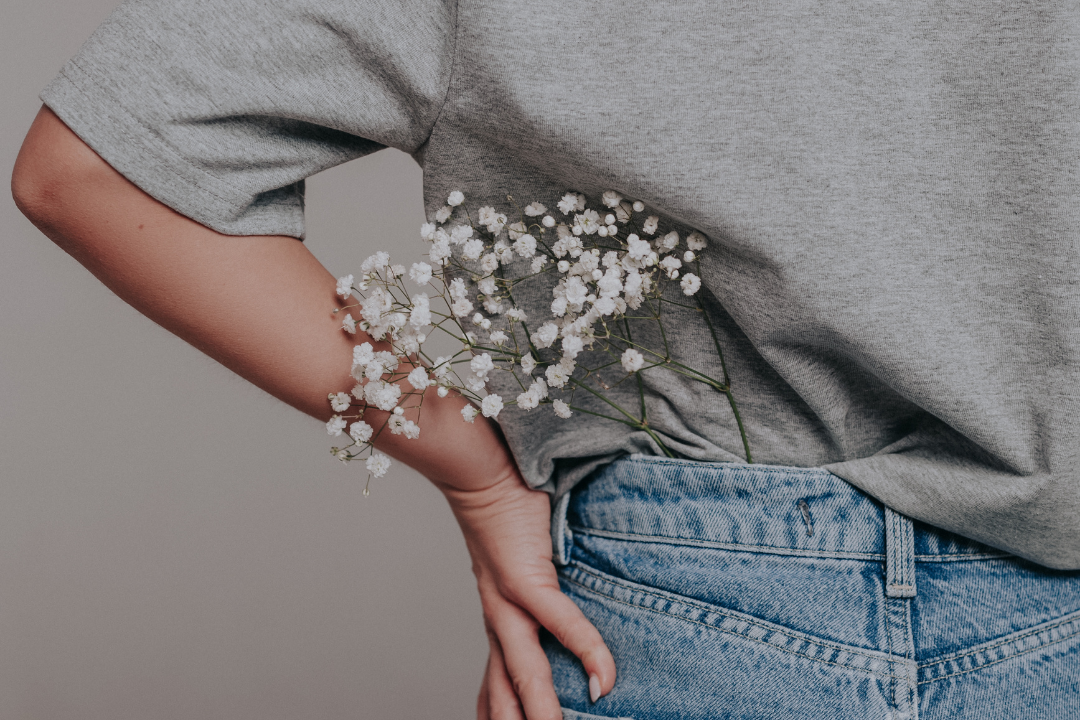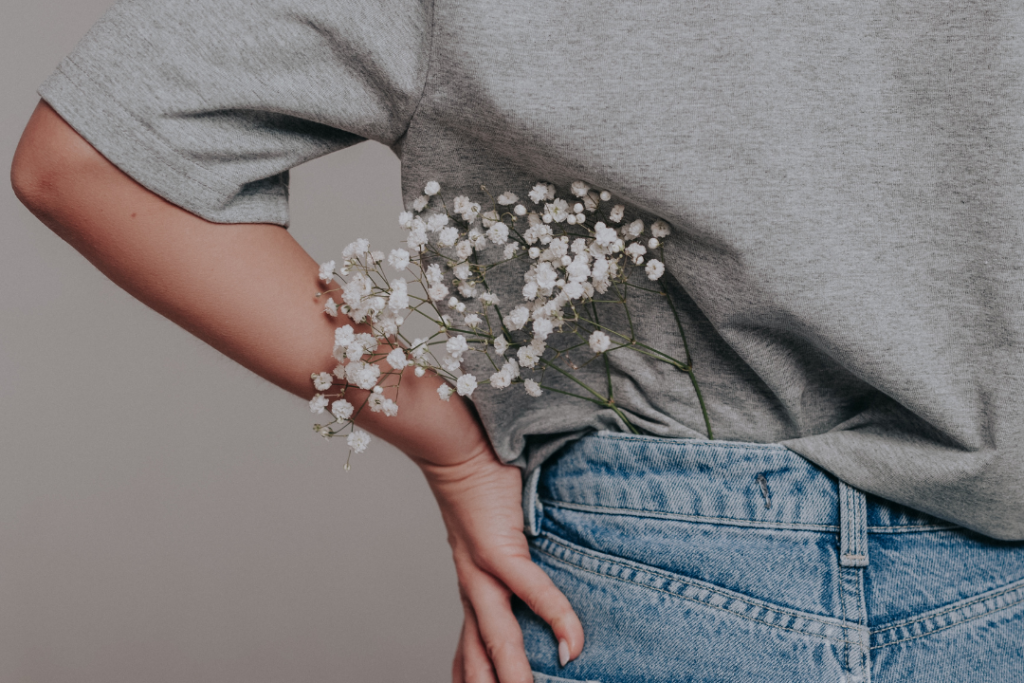 Jeans are the most versatile piece you can own in your closet. They always look good if you pick out the correct size and get a pair that truly fits you and makes you feel confident. They can easily be dressed up, but also look super cute worn casually and dressed down.
Here are my basic tips for styling high waisted jeans into any outfit:
My looser, more baggy jeans I like to pair with a tighter-fitting crop top or bodysuit.
My skinny or more tapered, slim jeans I like to pair with a looser graphic tee tucked in, or a cropped boxy sweater.
The best way to wear high-waisted jeans is to wear something short enough to highlight the high-waisted fit. Other shirts that pair well are blouses, cropped tank tops, halter tops, button-down shirts, and other t-shirts and sweaters.
Ways to Accessorize High-Wasted Jeans?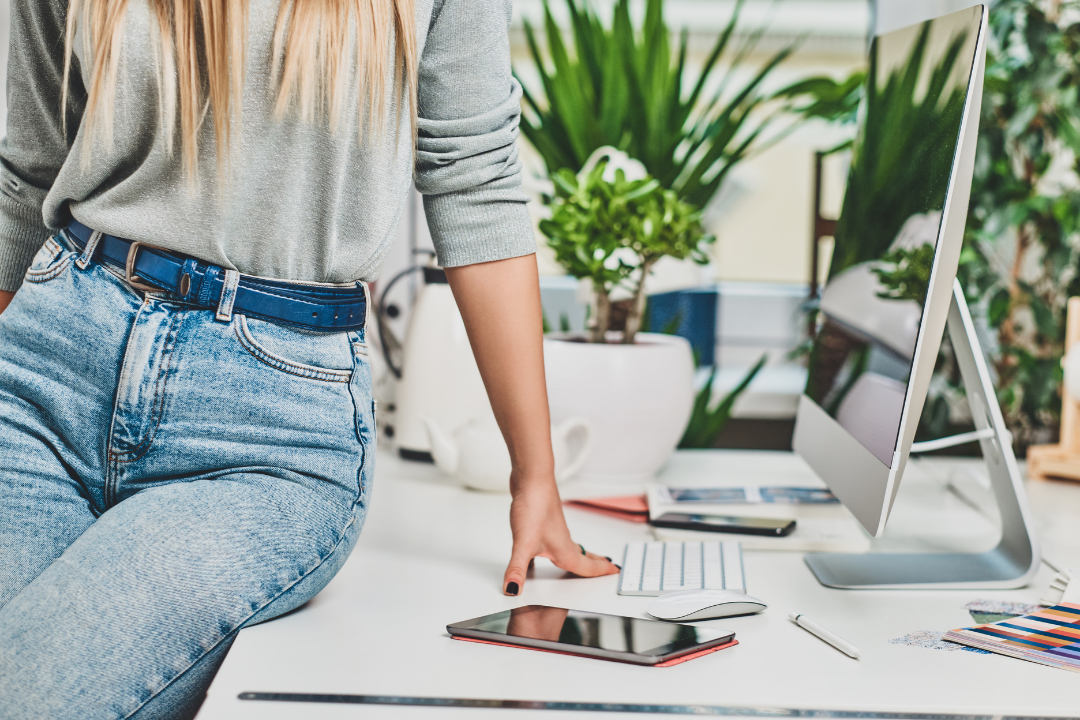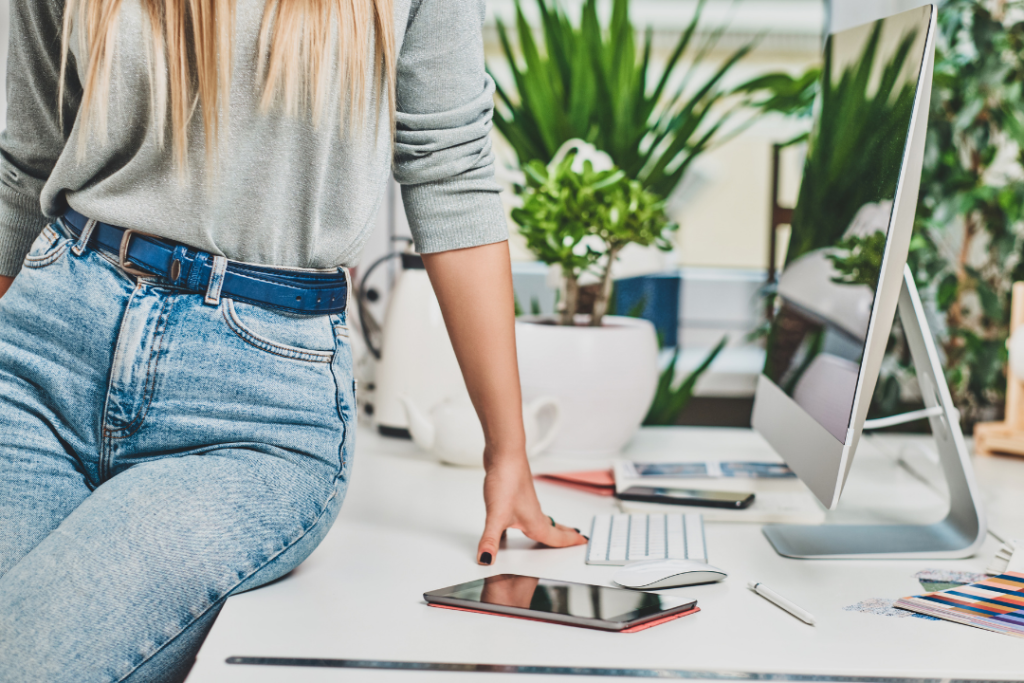 For shoes, heeled booties and sandals are great for dressing up jeans, whereas a trendy pair of sneakers can keep it casual.
Adding a belt is a great way to further accentuate your waist and the high waist silhouette.
Adding a cute baseball cap or some hoops can finish off any look. Whenever I feel like my outfit isn't dressy enough or doesn't look too put together, I add some gold jewelry like hoops, bracelets, and layered necklaces.
What do you think of our high-waisted jeans outfit ideas?
I hope these tips helped you style your jeans this season!
What is your favorite style of jeans? How do you like to style your denim? Let me know in the comments below!