Courtni is looking to thrive in her second semester at West Virginia University. I ran into this up-and-coming fashionista on her way home from class. Courtni's casual outfit exudes confidence and features several trends at once. You'll want to take notes from this WVU student, as she easily could have walked straight off the runway.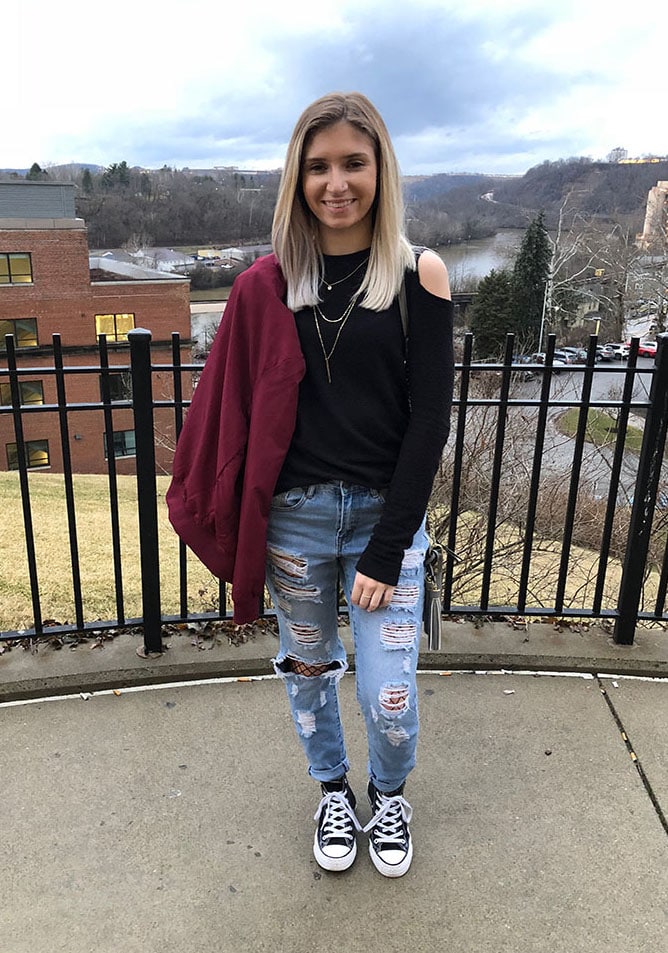 Courtni 101
Name: Cournti
School: West Virginia University
Major: Forensics and Investigative Sciences
Year: Freshman
Let's Talk Fashion
Who or what inspires your style? "Pinterest and Instagram [are] what really inspires my style. I can scroll through the fashion pages on Pinterest all day long!"
Where do you like to shop? "I love to shop at Marshalls and T.J. Maxx. Other places would include Forever 21, Hollister [Co.], American Eagle, and Francesca's. I love anywhere I can get a good deal."
How would you describe your sense of style? "I tend to have different style preferences depending on the occasion. For everyday wear, going to class, or hanging out with friends, I fit the hipster [and] athleisure style[s] best."
Why did you choose this particular outfit? "I chose this particular outfit mainly because I had just bought the fishnet tights and I have been looking forward to wearing them. The boyfriend jeans show off the fishnets perfectly, plus they are super comfortable. To finish the outfit, I went with the bomber jacket for a pop of color."
What fashion advice would you give to students wanting to improve their style? "Just be true to yourself. I try to wear what speaks to me as well as include a little comfort into my outfit."
What are your favorite trends right now? "I really love boyfriend jeans. I've always heard that fashion trends come back. Mom and boyfriend styles are my favorite kind of jeans. I also like jean jackets right now. They're so easy to wear and can be paired with most everything."
Do you have any favorite fashion designers? If so, who? "I am still getting acquainted with parts of the fashion world. However, I have always been a huge fan of Ralph Lauren."
What do you do for fun – do you have any unique hobbies or interests? "I like to draw, swim, and be outdoors. I try to find outfits that fit my activities for the day, whether it is going for a walk outdoors or hanging at home working on a drawing."
If you could raid anyone's closet, who would it be and why? "If I could raid someone's closet it would probably be Gracie Parker. Her Instagram is @gracie_parker. I was scrolling through the search page on Instagram and one of her pictures caught my eye. I love her fun and somewhat quirky style. It's very unique; not something you would see every girl wearing. That's another thing for advice, I guess, [would be to] be different. You shouldn't care so much if it's not what every other girl is wearing. Stand out."
Elements of Courtni's Outfit
1. Cold Shoulder Sweater + Layered Necklace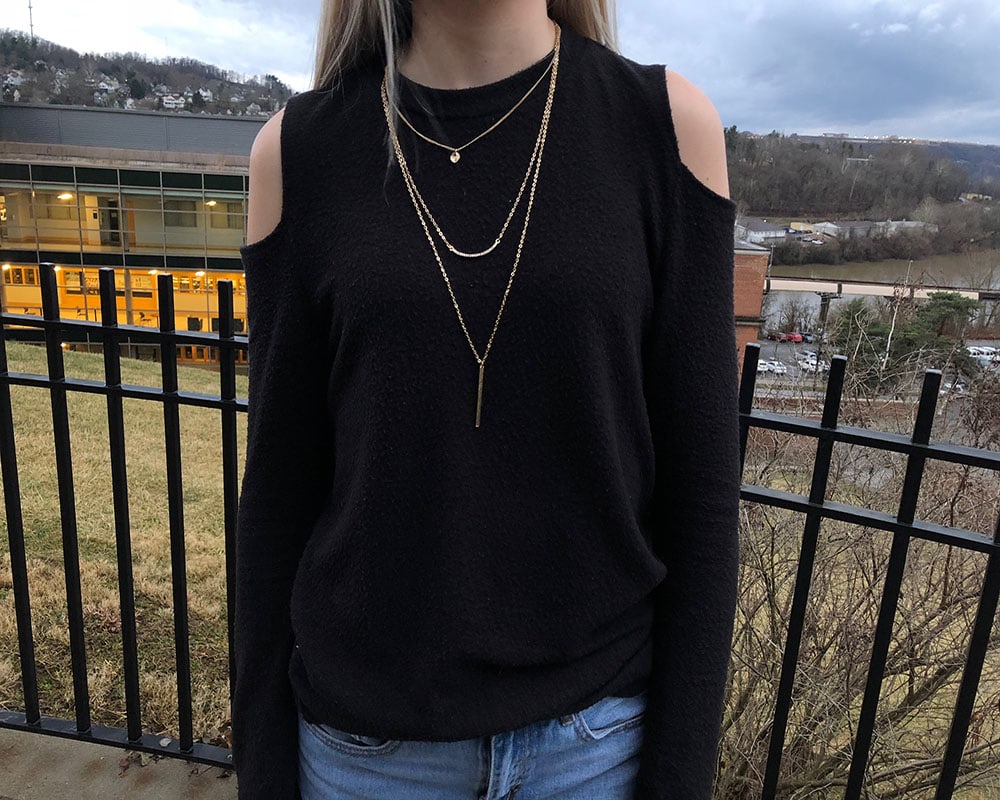 Courtni's black cold shoulder sweater is the perfect garment for almost any occasion. It is a simple closet staple that can be dressed up or can complete the ultimate casual look when paired with boyfriend jeans and a layered necklace, as Courtni does here.
2. Boyfriend Jeans + Fishnet Tights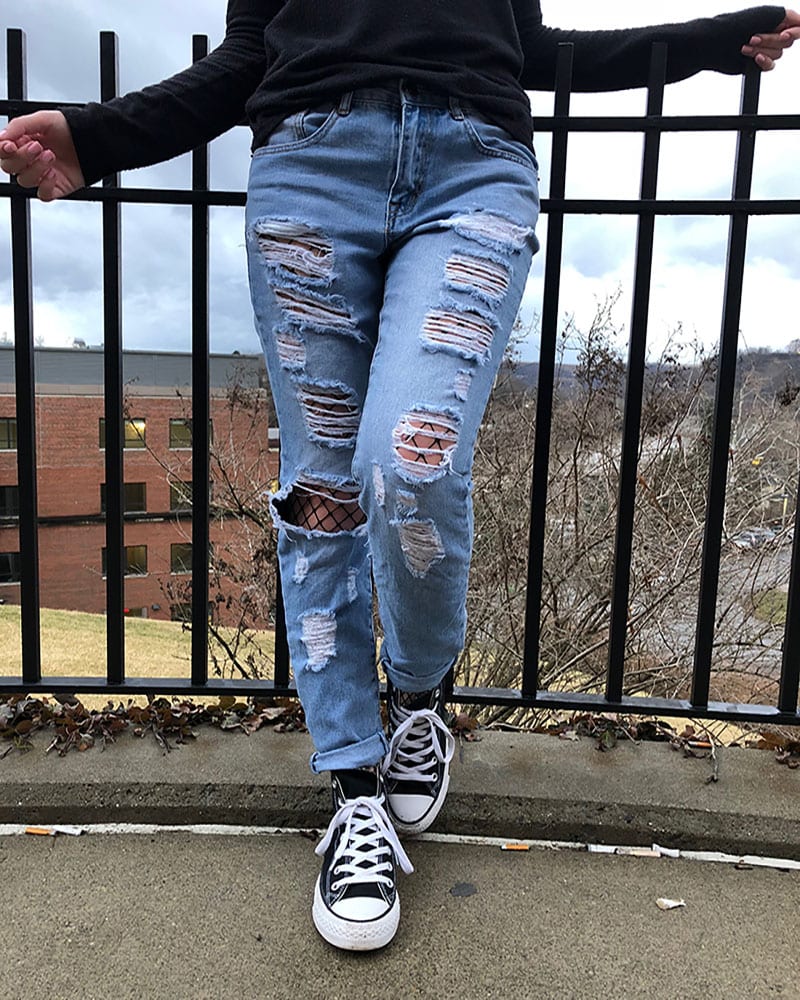 Courtni's fishnet tights, a steal straight from Amazon, add the right amount of edginess to her casual look. The boyfriend jeans are adorable on their own, however her fishnet tights add dimension under her ripped jeans.
3. Classic High-Top Sneakers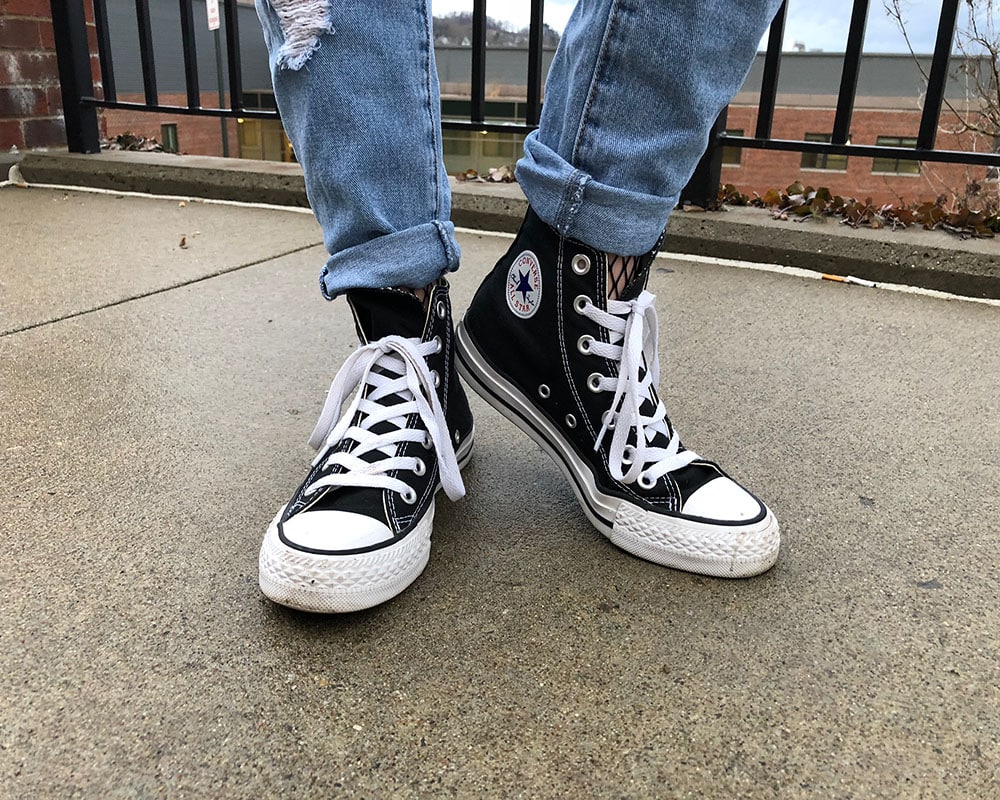 High-top sneakers from Converse are staple for any wardrobe. These classic kicks complete her outfit's hipster aesthetic. While she easily could have dolled up her look with some chunky booties, this was the right footwear choice for a day on campus.
4. Bomber Jacket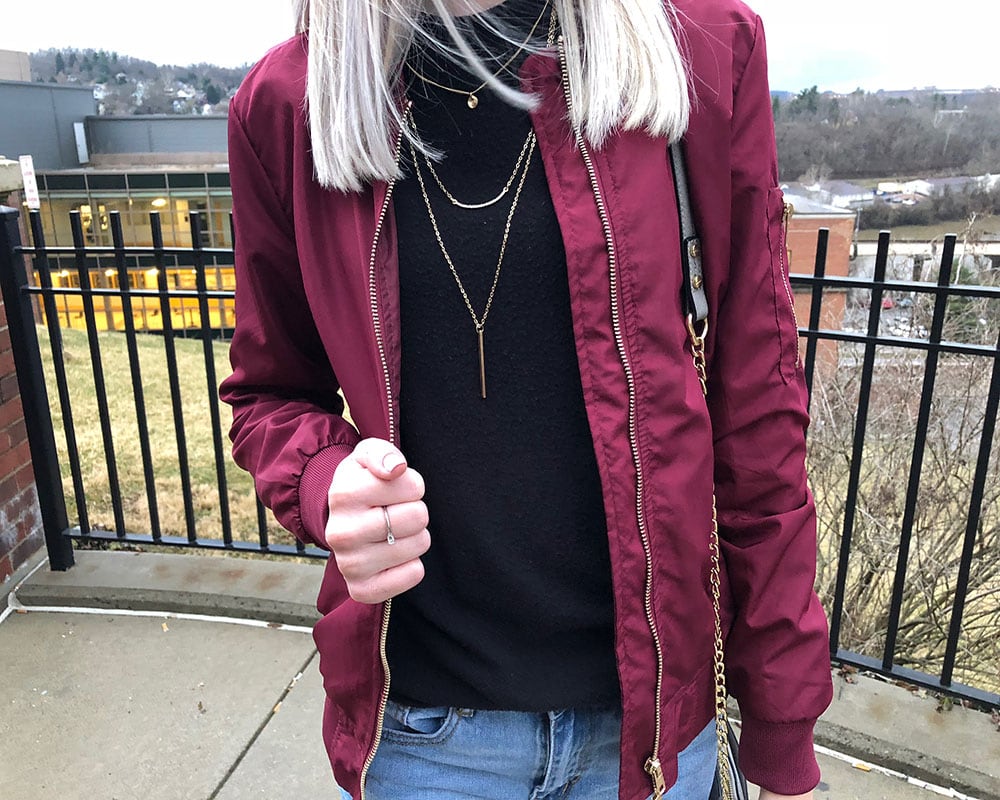 The bomber jacket is another great addition to Courtni's outfit. It adds, as Courtni intended, "a pop of color," to work alongside her look's neutral color scheme. Bomber jackets are great for spring, as they provide extra warmth on cloudy days!
Tip: Are you getting into a mid-semester wardrobe slump? Try adding brightly colored outerwear to your ensemble. It's a great way to dress up your basics!
5. Crossbody Purse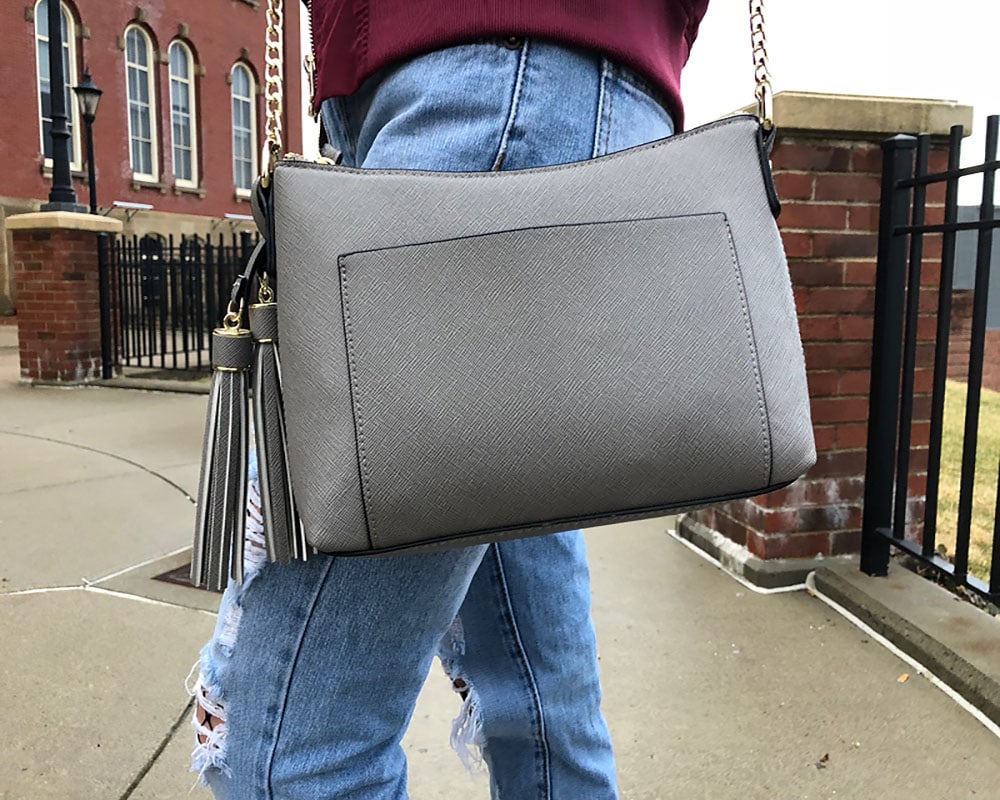 Courtni's light charcoal purse is a key piece. The leather tassels are an ultra-trendy accent, and the light charcoal color is incredibly versatile.
Interested in finding something similar? Look no further than Target, where Courtni got hers! (Courtni's exact style is no longer available but there are similar bags in stock.)
6. Accent Rings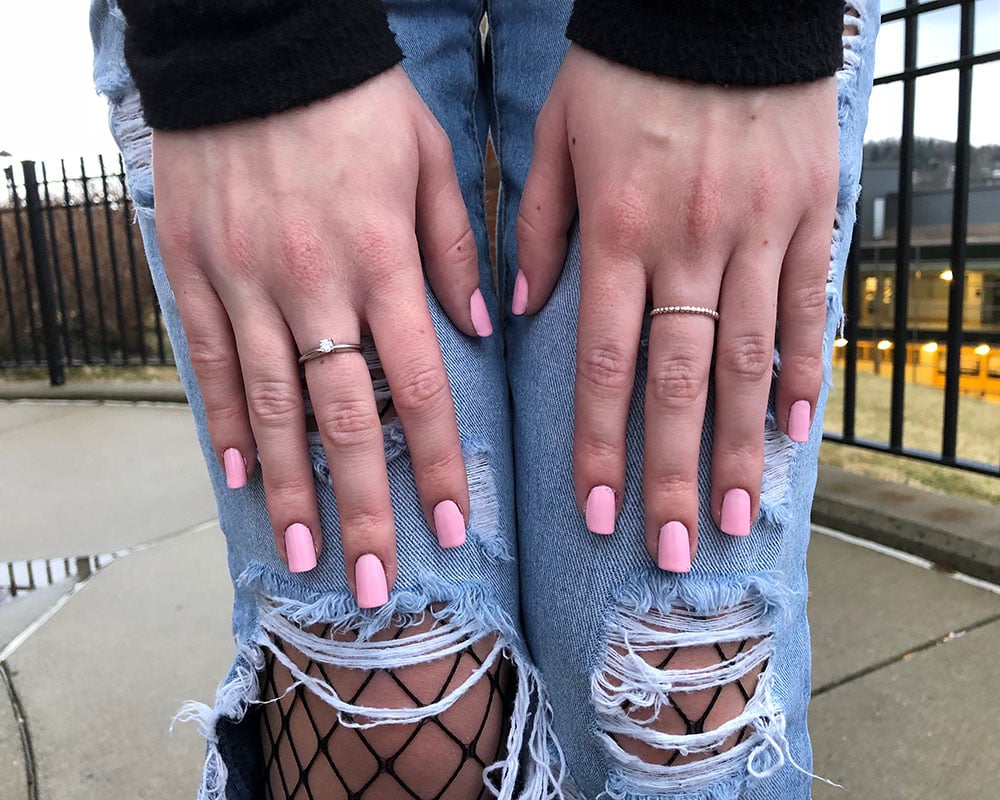 I couldn't help but compliment Courtni on her rings. As it turns out, they are her biggest fashion obsession! She considers them to be an OOTD necessity.
Tip: Try cultivating your own go-to ring sets to throw on every day! It's an easy way to add a little bling to any outfit and create a cohesive look.
Which detail of Courtni's look is your favorite?
Are you obsessed with her dainty rings or bold fishnets? What about her magenta jacket? Comment below and share your thoughts with us!