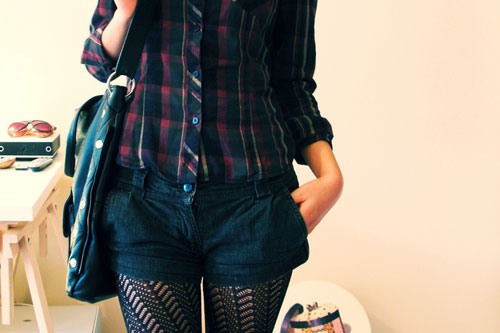 Welcome to the latest edition of Ask CF! Every two weeks, we select a reader fashion question and answer it here on the site. Do you have a specific fashion question for us? Scroll to the bottom of this post to learn how to send it our way!
Ask CF Question
Dear CF,

I've always loved incorporating summer and spring clothes into winter-ready ensembles and I'd love to try adding shorts into the mix, but I'm worried they'll look awkward. Do you have any tips for how to pull the look off? Thanks!

Sincerely,

Short-y
Our Response
Dear Short-y,
Thank you for your question! Wearing shorts and tights in the winter is a great way to expand your winter wardrobe as well as stand out from the crowd. However, like any new style, this look can be a little intimidating at first.
There are many different ways you can wear tights and shorts together. A popular way to wear this look is to try a denim pair. I especially like the ones with a cuff at the bottom (see example below). 
Black tights are a common and classic pick, but don't be afraid to get more creative with a print or unexpected color. I also recommend trying shorts that are made of more durable fabrics, like tweed or leather, since they already have that wintery feel to them.
Another thing that may sway some from trying out this trend is the cold. A way to combat this issue is to layer up with two pairs of tights or even wear a pair of leggings (or 2!) underneath. Another option is to add on a longer coat that gives your legs a little more coverage.
But overall I think the main challenge of wearing shorts and tights is having the confidence to try out this trend. So if you're hesitant, my advice is to take the plunge, rock with confidence, and see how it goes — they're only clothes, right? If you don't love something you don't have to wear it again — that's what's so great about fashion!
To help get you started, I have created a few outfits featuring shorts and tights that you can check out below. I hope you find them helpful and I hope you enjoy trying out the look for yourself!
Sincerely,
Jessica
Shorts with Tights Winter Outfit Ideas
Outfit #1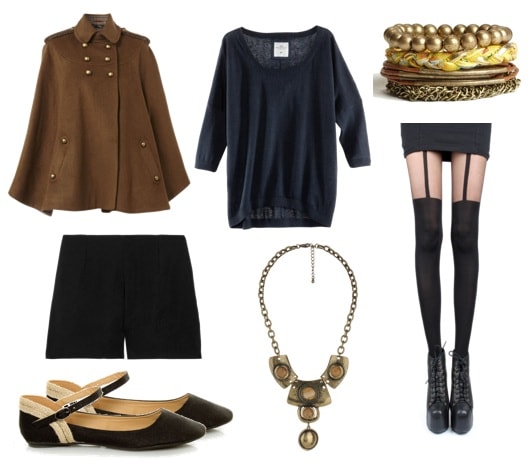 Product Information:
For this outfit I chose a pair of simple black shorts that act as a backdrop to the more standout pieces like this dramatic cape and suspender tights. If you aren't a fan of these tights, any other black pair (either opaque, sheer, or patterned) would work just as well. 
As the saying goes, fashion rules are made to be broken, so forget the outdated "rule" that navy can't be worn with black and try out a navy sweater. Accessorize with some bracelets and a statement necklace. Finally, ankle strap ballet flats complete the look.
Outfit #2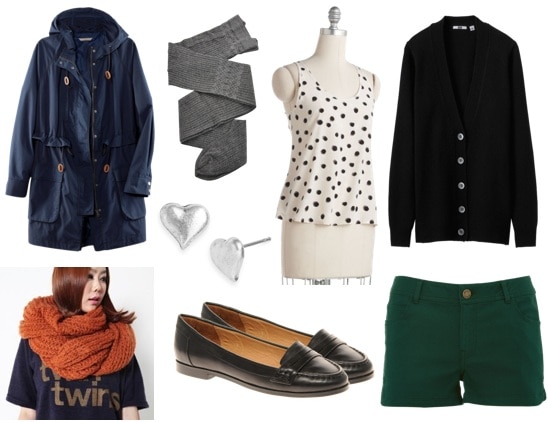 Product Information:
Colored pants are so hot right now — so carrying this trend over to shorts makes sense. Here I've paired these green shorts with a polka-dotted tank and black cardigan. Again, this look can be worn with black tights, but it would look even cooler with a pair of grey cable-knit tights like the ones above.
One of the best ways to keep warm is to layer, layer, layer. To do this, add on a parka jacket and chunky knit scarf. Finish the look off with simple heart studs and black penny-loafers.
Outfit #3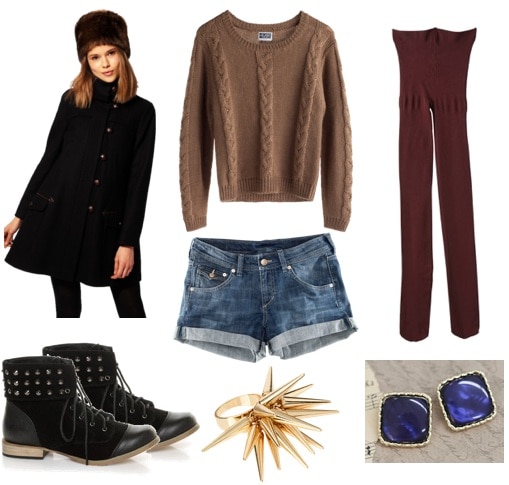 Product Information:
For this last look, I knew I had to use cuffed denim shorts, since they're something most girls already have in their closets. To make them winter appropriate, pair them with a knit sweater and a long black coat. (I'd probably wear it open so you could see the shorts beneath, but it works buttoned-up, too.) 
For a unique look, try a pair of maroon tights underneath. Simple blue studs add a touch of glam to the look while this spike ring and these studded boots channel a more edgy look.
Do you have a fashion question? Send it our way!
Is there something in your closet that you can't seem to figure out how to wear? Do you have an event coming up and need an outfit idea? Do you have a specific fashion conundrum you need help with?
If you have a question you want to see answered in this column, just send it over via email to ask cf @ collegefashion.net and one day you might see your question answered right here on the site!
Please note: We get A LOT of email and unfortunately cannot respond to every single question. However, we will read through every question and then decide which ones will be most helpful to the most readers. Thank you for your understanding.
What do you think?
Have you ever worn tights with shorts before? Do you think you'll try this look? How would you like to style this trend? What's your favorite outfit? Please let us know what you think by leaving a comment below!
If these ideas and tips inspire you to try a shorts with tights outfit this winter, you might want to consider the related posts below –