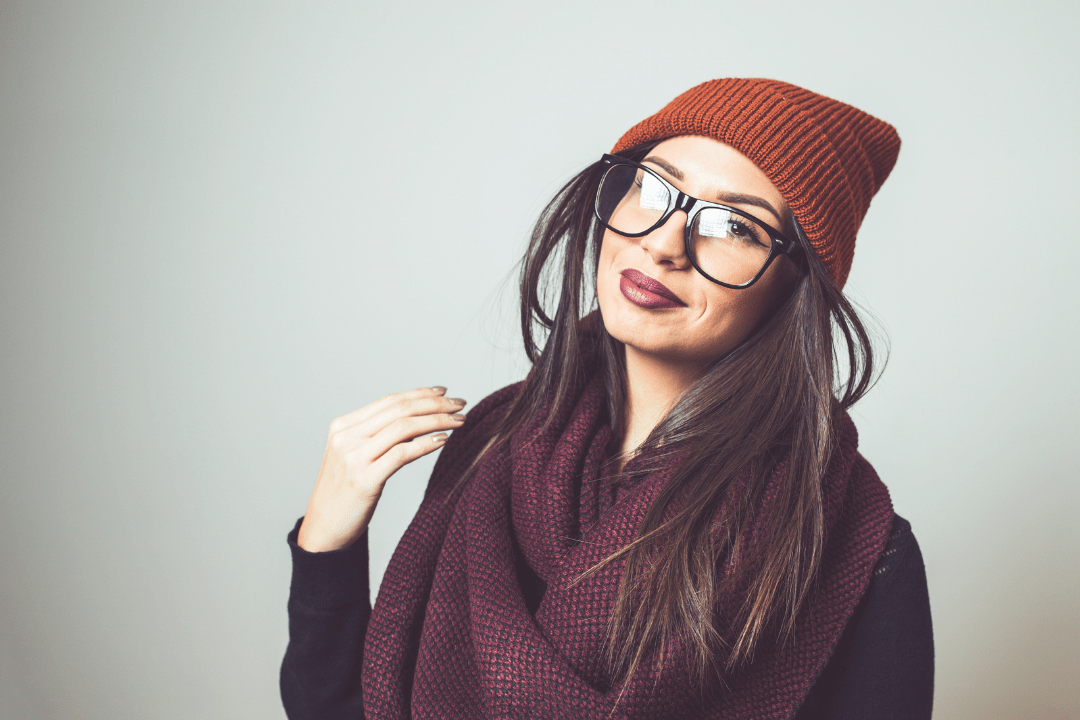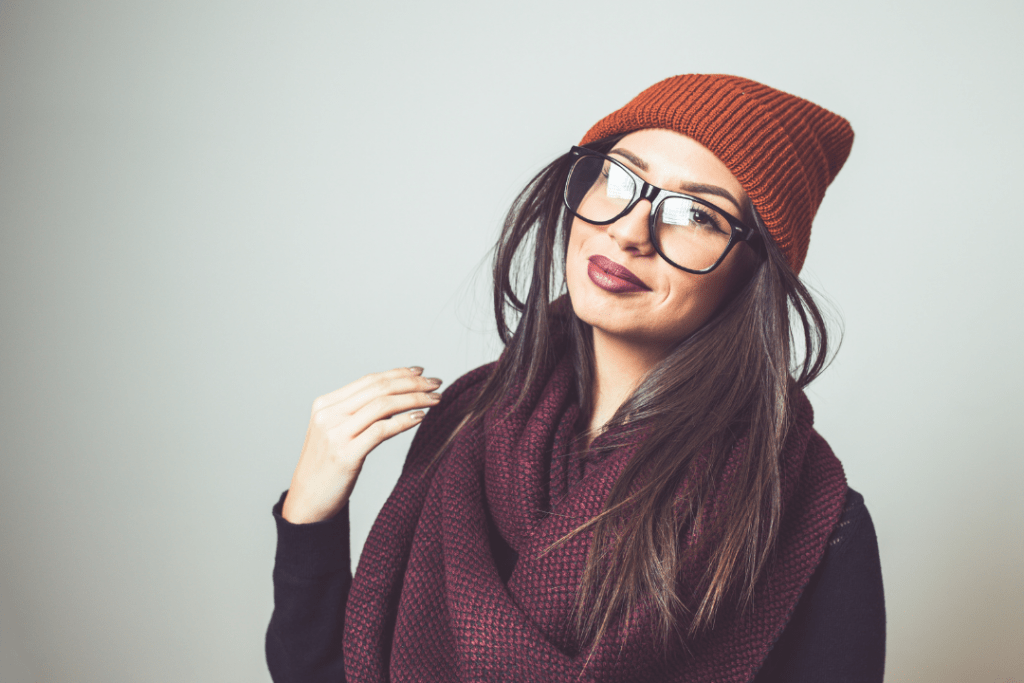 Even though it's now mid-January, for many of us, winter is still in full swing. Whether you're dealing with icy wind, slushy streets, or ceaseless snowfall, every CF girl knows that winter weather means adjusting our wardrobes.
Bundling up in style, however, can present a variety of challenges – from finding cute and cozy layers, to worst of all, looking lumpy and frumpy. If you're in need of some guidance on how to layer without looking lumpy or just some extra winter inspiration, consider this your handbook! We'll show you how to get a cute (and most importantly, warm) layering look for winter!
1. Wear your socks!
I'll be the first to admit that I hate wearing socks. Hate it! Icy feet, unfortunately, instantly make the rest of you colder, making socks an absolute winter necessity.
Outside of warm boots, warm, insulating socks are the easiest way to lock in extra heat. For extra cold weather, look for tall socks – the more leg coverage, the better. Thigh-high styles were popular this fall and look adorable scrunched under boots, as do knee-high pairs. Finally, if you're using your socks as an accessory, look for fun details or patterns for warmth AND style.
Hot Picks: Socks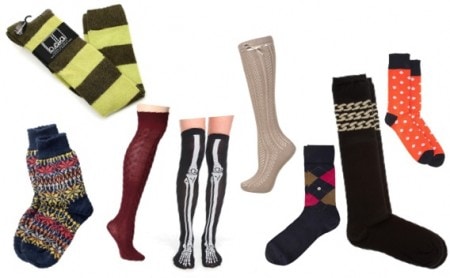 Product Information: Short Fair Isle Wool Socks, Toast. B.ella Vivenne Socks, Lori's Shoes. Cable Knit Knee High Socks, Ruche. X-Ray Thigh High Socks, Nasty Gal. Ribbon Perlerine Knee Socks, Topshop. Argyle Socks, Asos. House of Holland For Pretty Polly Triple Chain Socks, Asos. Corgi Polka Dot Sock, Barneys New York.
2. Pile on the thin fabrics!
Cold-weather girls have long been known to layer tights and leggings under the skinniest of pants. (This can be an amazing strategy for surviving below-freezing wind chills!) Opt for dark footless tights or get even warmer with workout tights. Leggings or footless tights are the college girl version of long underwear!
Even though this extra layer is thin, it provides some extra cozy insulation. The same goes for your top: go for spandex tanks to wear under the rest of your wardrobe, the tighter the better. In order to create a streamlined, chic look, these base layers should fit like a second skin.
3. Make use of cute (and warm!) add-ons.
The ultimate winter staples are scarves, gloves, and hats. These pieces don't add much bulk, but can keep you seriously warm while improving your winter style. Trapper hats have been especially trendy this season, as have slouchy beanies. Also, gloves that allow you to text without taking them off guarantee toasty fingers. Finally, cute scarves are a no-brainer – they're warm AND super stylish! Like above-mentioned socks, these simple additions add warmth without any extra bulk. Again, look for color and pattern to add interest to your layers.
Hot Picks: Winter Accessories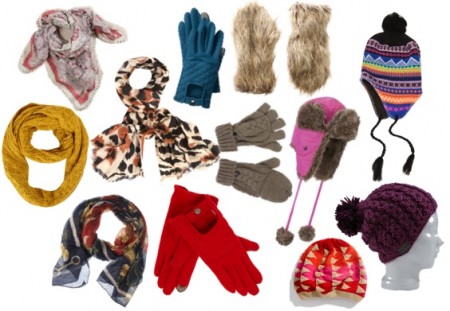 Product Information: Floral Bauble Scarf, American Eagle. Ochre Crochet Sparkle Snood, Dorothy Perkins. Floral Nautical Scarf, Miss Selfridge. Neutral Animal Print Scarf, Dorothy Perkins. Echo 'Driver Touch' Wool Blend Gloves, Nordstrom. Annika Glove, Alloy. KIT Gloves, ModCloth. Fantasy Fur Mittens, Asos. Pink Fur Trim Trapper Hat, e4Hats.com. Echo Color Play Beret, Nordstrom. Bright Nordic Beanie, Tilly's. Guess Again Beanie, Burton.
4. Look for higher necklines and longer lengths.
While tank tops and tunics are great for warmer weather, they're not exactly ideal for winter climates. Even the addition of a wrap or hoodie leaves delicate neck and chest skin exposed.
If you're really trying to save space (under a fitted jacket, for example) and can't afford the tank top-sweater-scarf combination, go for a top with a higher neckline. Trade the deep v-necks for crew necks and opt for a cute turtleneck or two. Those extra few inches will save you a layer! The same goes for investing in a collection of well-fitting long sleeved shirts.
Also, long jackets (think parkas and long pea coats) are ideal toppers for any outfit – just pay attention to fit. Well-fitting outerwear gives you shape and provides a polished finish to even the most casual of looks.
5. Belt it!
Belts of any size are the simplest way to instantly define your waist and give an outfit some shape. Try an oversized belt right under your bust to create a corseted look or a skinnier wrap style over a tank and long cardigan. If you're wearing lots of layers, belts make a super cute silhouette and allow you to keep a feminine shape.
Hot Picks: Belts
Product Information: Super Skinny Leather Belt, Banana Republic. Kimichi Blue Braided O-Ring Stretch Belt, Urban Outfitters. Vintage Embossed Belt, Gap. Leather Double Buckle Waist Belt, Asos. Blue Bow Skinny Belt, Dorothy Perkins. J.Crew Teenie Glitter Belt, Net-a-Porter. Casselini Ribbon Buckle Belt, I Don't Like Mondays. Premium Tan Leather Five Buckle Corset Belt, Topshop.
Outfit Inspiration: Layering Without Looking Lumpy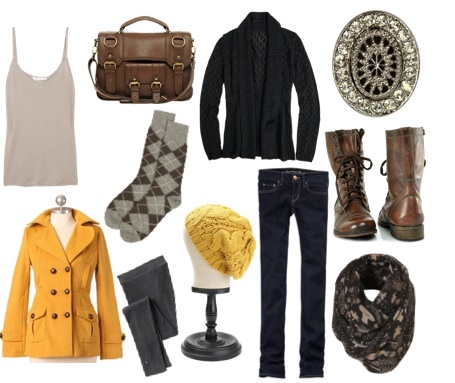 Product Information: Vannessa Bruno Sheer Cotton Top, The Outnet. Day By Day Double Breasted Coat, Ruche. Wearhouse Buckle Satchel, Asos. Argyle Socks, All Saints. Jersey Lounge Leggings, Old Navy. Dora Mixed Stich Cardigan, Delia's. Knit Beret, Lori's Shoes. Straight Jeans, American Eagle. Gotham City Starburst Cameo Crystal-Framed Ring, Tarina Tarantino. Black Magical Print Fill Scarf, Topshop. Steve Madden Troopa Boots, Piperlime.
Build your winter layering look from the inside out, one item at a time! Leggings worn under jeans (you might need to size up!), tall socks, and a tight tank are easy undercover ways to stay warm. A fun scarf layered over a sweater does double duty by protecting your chest and locking in heat. Top off the look with a cute beret and ultra-chic coat and you're good to go!
What are you thinking?
How do you stay warm in cold climates? What is your favorite warm winter trend? Do you have any tips of your own to share? Leave a comment and let us know!