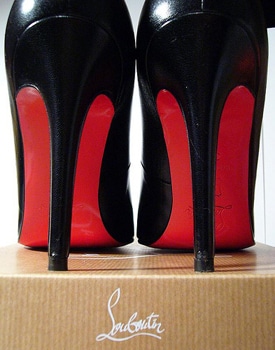 This week's investment piece is a fairly obvious one in my opinion. Black shoes, specifically black heels, are a wardrobe necessity worth investing in. They go with everything, from your little black dress to your favorite dark-wash jeans, and instantly add sexiness and glamour to every outfit.
Sure, you can get black heels at Charlotte Russe or Forever21, but trust me, as the girl who always buys cheap shoes because I assume my experiences in college will destroy them, the only things that get destroyed are my feet!
More expensive shoes are higher quality and therefore more comfortable and long lasting than cheap shoes. So even if you're going to buy trendy shoes from a cheaper retailer, I suggest investing in at least one or two pairs of more expensive, classic, "wear with anything" shoes that will last you forever. That's why black peep toe heels are my investment piece this week.
(For tips on buying a quality pair of heels and what to look for, see How to Buy High Heels.)
If you've missed the other installments of my investment piece series, check them out: Fashion Investment Pieces: Black Bandage Skirt, Fashion Investment Pieces: Statement Scarf, Fashion Investment Pieces: Black Jeans.
The Investment Piece: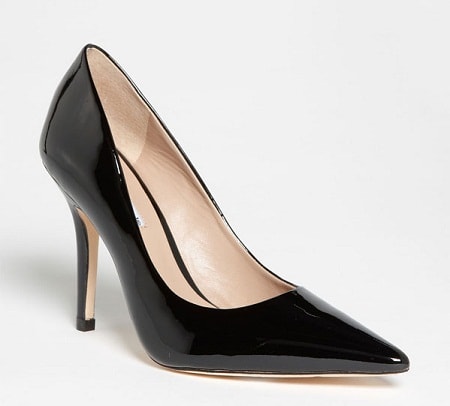 Carvela Ambrosia Mega Platform Court Shoe – Asos – $205
Outfit #1: Streetwear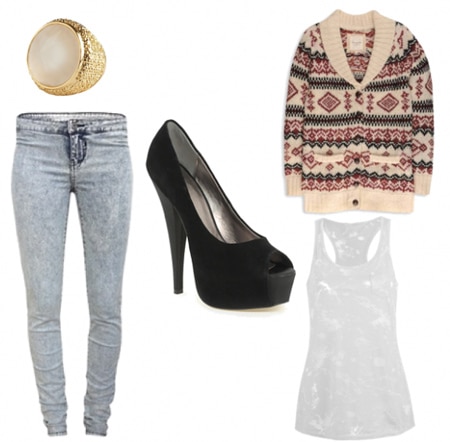 Ring – Arden B., Jeans – Coggles, Cardigan – Forever21, Burn-out Tank – Tillys
I love reading blogs dedicated solely to streetwear and models off-duty. They're so inspiring and give me a reason to dress great, even for class, because who knows? Maybe one day I'll be photographed and interviewed about my personal style!
This look definitely channels the idea of streetwear. The pattern of the chunky cardigan is cool, yet you can tell it's definitely comfortable enough to throw on even on a groggy morning before your 8am. Paired with the mineral washed jeans and burn-out tank, you have a few different textures at once, yet they seem to fit together without looking like "too much." The heels polish off this look by giving it a dose of edge.
Outfit #2: Out on the Town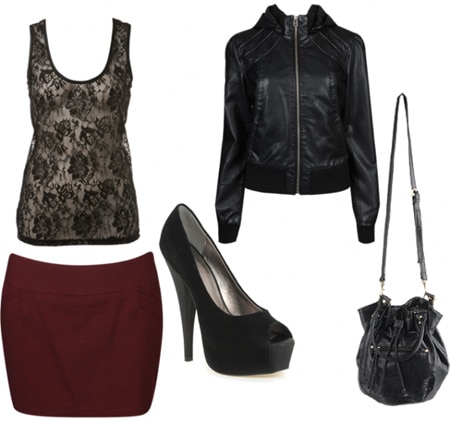 Lace Tank – Miss Selfridge, Skirt – Forever21, Faux Leather Jacket – Forever21, Bag – Forever21
Lace is such a hot trend right now. I personally love how a lace shirt looks underneath any type of jacket, especially (faux) leather. This is because a lace tank can be very revealing, but when worn with something over it, it gives that tiny hint of skin and sexiness without showing too much.
The color of this skirt is so perfect for this bad girl-esque outfit and adds a pop of color. I also love the bag because it looks like the perfect size to fit all your going out items and won't get in your way since it can be slung across your body. The heels are the final touch to make your legs look miles long, which will be followed by boys drooling as you walk by.
Outfit #3: The Office Bombshell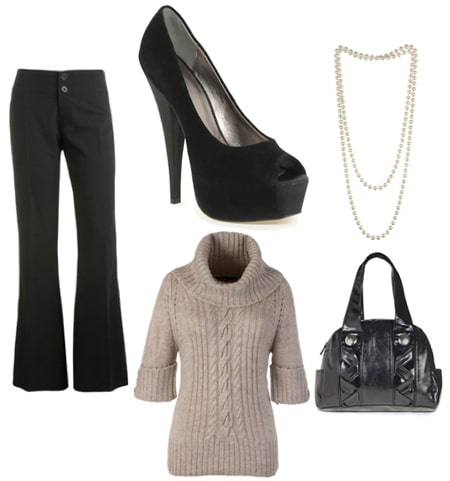 Trousers – Arden B., Sweater – Oli, Pearls – Dorothy Perkins, Bag – Newport News
This outfit is a more conservative business casual, but also stylish. The cowl neck sweater and trousers are so classic together, and the structured faux-leather bag shows that you mean business, but still are style-savvy enough to turn heads at the office. The pearls (as you know, one of my favorite accessories) will look great hanging just over the droopy neck of the sweater.
You may think that this outfit allows for no fun and games, but when you put on these peep toe heels, you instantly become the chic, stylish c0-worker that everyone's talking about.
Outfit #4: Formal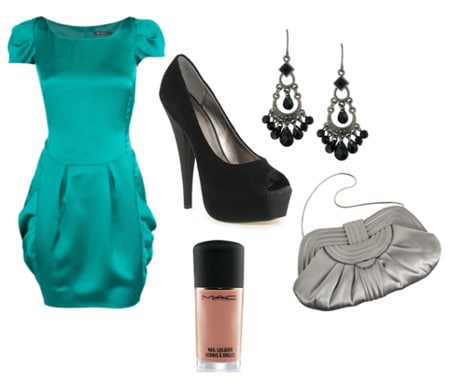 Dress – Dorothy Perkins, Earrings – 1928, Clutch – Debenhams, MAC Nailpolish in Warm & Cozy – Nordstrom
The thing about black peep toe heels is their versatility. First, you're wearing them to class and feeling like a model, next, you're wearing them to a formal event and feeling demure and classy yet sexy.
I love the dress above because of its bright color. Jewel tones have always been a favorite of mine, especially in the winter months. Every part of this outfit is dressy: the metallic bag, the shiny dress, and the gorgeous chandelier earrings. Even the nail polish is classy yet trendy (since as I've stated, nude tones are very "in" right now). You can even pair this outfit with tights if it's extra cold in your area.
Outfit #5: Date Night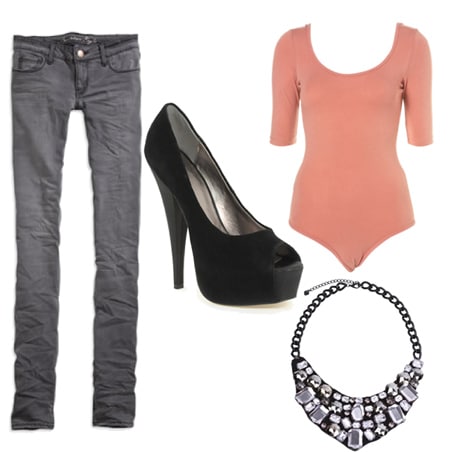 Jeans – American Eagle, Body Suit – Topshop, Bib Necklace – Asos
This outfit is very simple without the addition of the bib necklace and heels. But once these two important pieces are added, a plain colored body suit and gray jeans become instantly glamorous and trendy.
Bib necklaces are a great way to spice up any plain piece, whether it's a basic body suit or a white t-shirt. They're edgy yet feminine, and paired with the peachy tone of this body suit, you have instant girly glamour. The gray, black and peach combo is enough to make any guy ask you for another date, so wear this when you really want him not to be able to get enough of you.
What do you think?
Do you agree that a fabulous black heel is a great investment piece? Would you wear any of the outfits or pieces shown? Let us know in a comment!