The "Fabulous Find of the Week" column gives you the heads up on all the hottest, most affordable items at your favorite stores!
Hello lovely ladies, and welcome to September! Can you believe that classes have begun and the fall semester is already upon us?
With the new school year also comes lots of new parties and social events to attend. That's why this week's Fabulous Find will ensure that you have the perfect pair of shoes for those many events!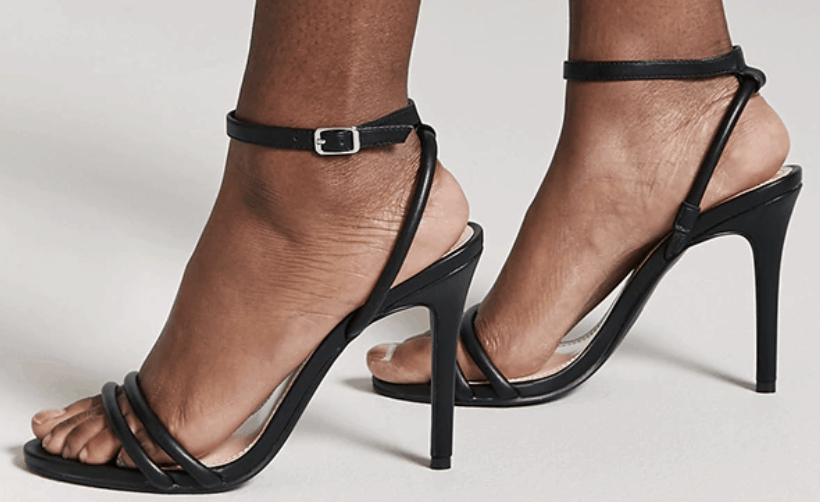 These strappy black heels are timeless. Whether you're going to an elegant dinner with family or an on-campus party with friends, these heels will come to the rescue. Their design is sleek, modern, and very elegant.
Not to mention, the price is amazing! You can get them on sale at Forever 21 for only $19.53. They also come in red, but for the purpose of this Fabulous Find (and the most versatility) I'll be focusing on the black option.
These stunning heels are a must-have because you'll wear them all year-round and they'll never go out of style.
Let's get right to the outfit ideas. Here are three ways to style these fabulous heels:
Add a Cherry on Top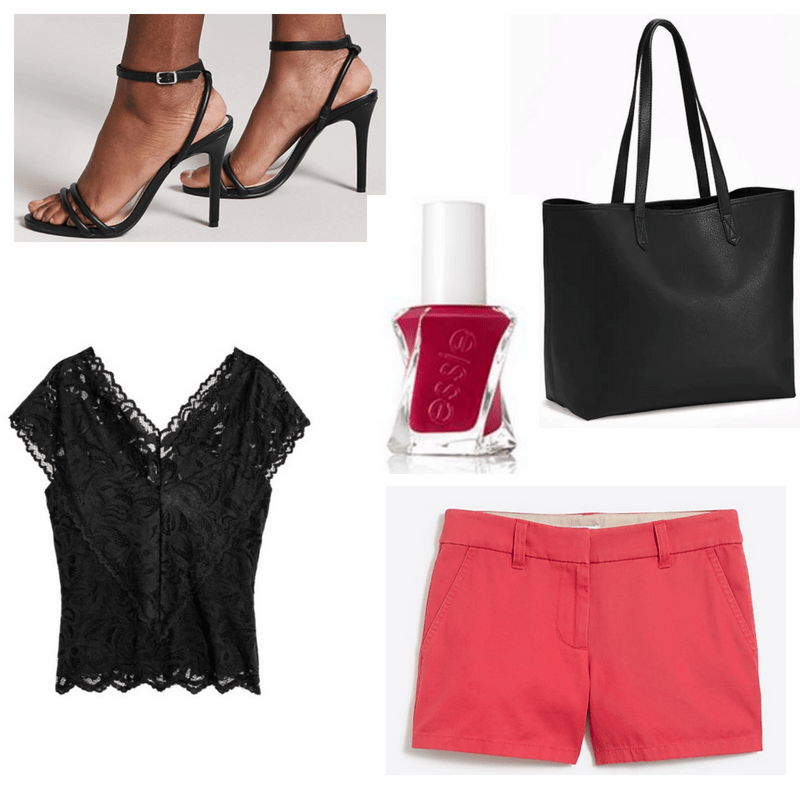 Products: Top – H&M, Nail Polish – Essie, Tote Bag – Old Navy, Shorts – J.Crew Factory, Heels – Forever 21
This is the perfect casual outfit that can be dressed up with heels. I've included J.Crew Factory shorts in several of my articles, and I honestly can't get enough of them. I own a few pairs of these chinos and can personally say they are of excellent quality. They last for so long and are super-easy to care for. Not to mention, the price is unbelievable; you can get this amazing pair for just $14.95.
This lace top from H&M is also such a fantastic find. It's only $14.99 and is so elegant. You can wear it to class during the day with some casual shorts, but also pair it with dressy pants and make it an evening look. It's a must-have piece that you should add to your closet ASAP.
Off-Shoulder Afternoon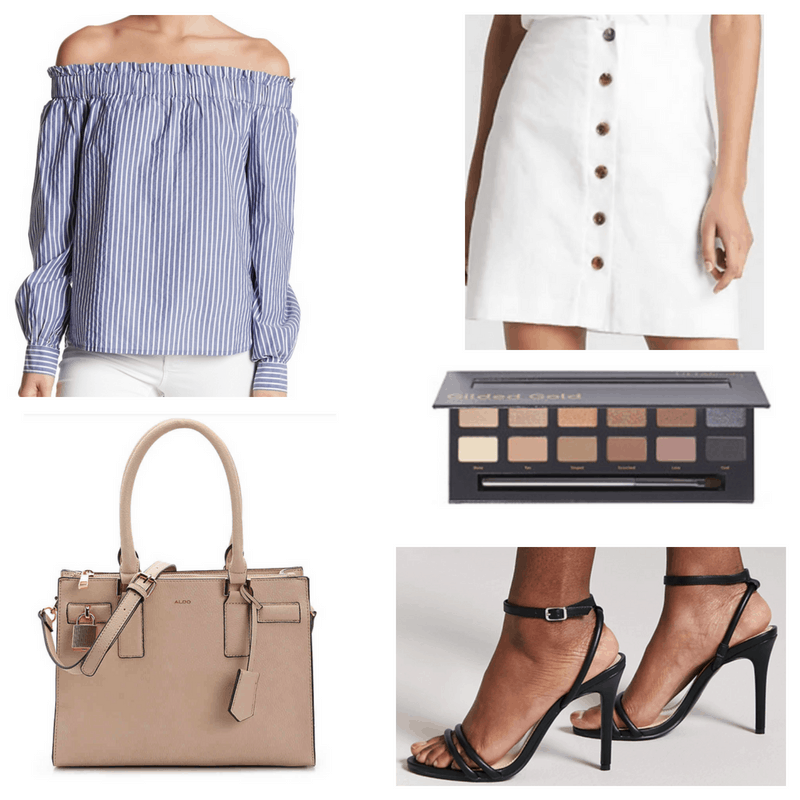 Products: Skirt – Gap, Heels – Forever 21, Eyeshadow Palette – Ulta, Handbag – Aldo (DSW), Top – Karen Kane (Nordstrom Rack)
This top is the perfect combination of casual and elegant. The off-shoulder top is a summer classic that can easily pass over into the the early days of autumn. The look is very flattering and it's incredibly comfortable. The blouse and shoes pair perfectly with this Gap skirt; it has a great button-down design which is so easy to match with other articles of clothing and accessories.
I'm also a huge fan of the eyeshadow palette. It has a ton of nude-based colors that are great for everyday and evening wear. Ulta is one of my favorite places to shop for makeup at stellar prices.
City Girl Chic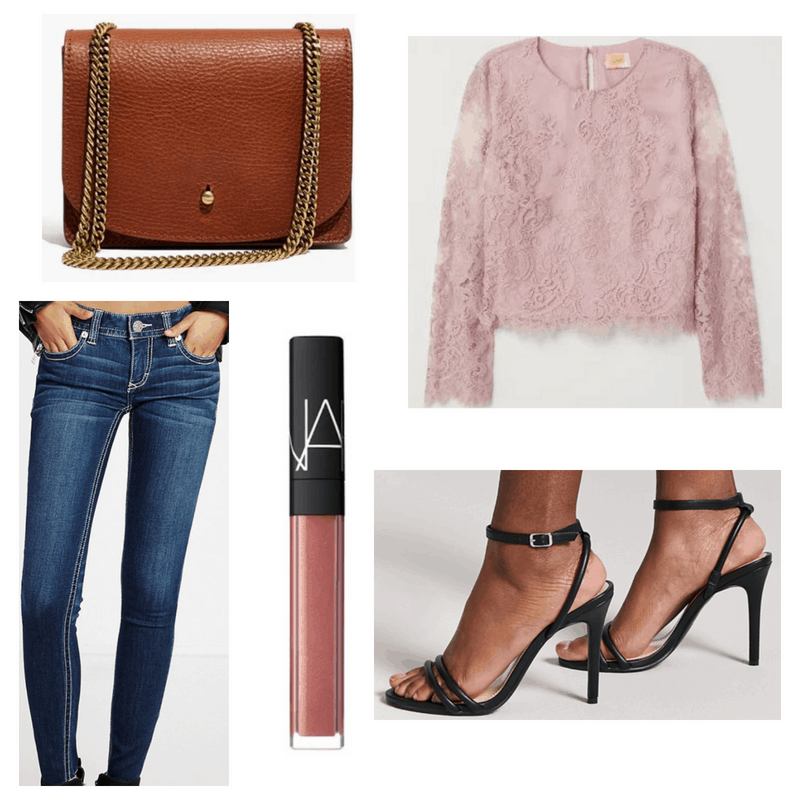 Products: Jeans – Express, Crossbody Bag – Madewell, Heels – Forever 21, Lip Gloss – NARS, Blouse – H&M
This is the perfect city girl look. I just adore everything about this outfit. The skinny jeans have a great cut that definitely highlight the heels. I'm also in love with this shade of lip gloss from NARS. It has a long-lasting shine that will keep you glowing the whole night long.
The lace blouse, though, has to be my favorite. It is so ladylike and pretty. The detailing is so well done and I love how the long sleeves are see-through in-between the lace design. This top can be worn in the summer with shorts or in the winter with pants and a jacket, so you'll be able to wear it all year round.
What did you think about this week's Fabulous Find?
Do you like these heels? Are you a fan of Forever 21? What are your favorite styles of heels? What have been your favorite fall trends so far? Start the convo below!