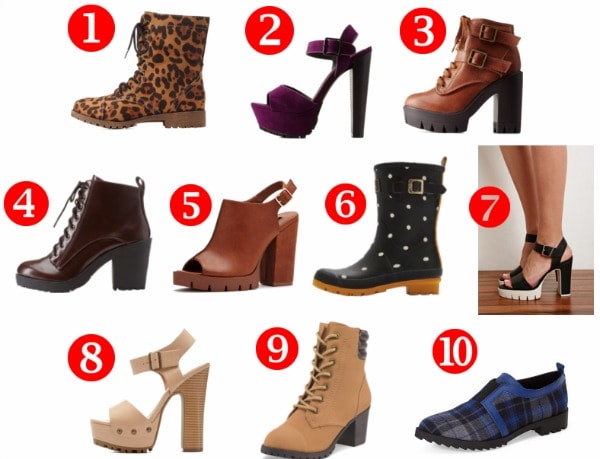 Products: 1, 2, 3, 4, 5, 6, 7, 8, 9, 10.
The lug sole (a thick sole with a prominent tread) is one of my favorite shoe trends of recent years, and it's undoubtedly the most comfortable and practical.
The thick sole absorbs a lot of the shock to your foot, making it a welcome addition to higher heels. And it adds a utilitarian edge to trendier styles. Trust me — while a lug sole is bold, it won't make you look like you just came from a hiking trip. Instead, it will add interest (and in the case of thicker soles, height) to both dressy and casual outfits.
I've rounded up 10 favorite lug sole shoes to help you try this trend. Pick your fave, then hit the trail (or a party, or class)!
1. These babies are a combo of two of my favorite things — combat boots and leopard print. And with the textured tread, they're much more practical than most stylish boots. I'd love to see a mixed-print outfit featuring these and a fit-and-flare dress.
2. Basically, if you're in the market for a cute and cheap pair of shoes with a lug sole, hit up Charlotte Russe — they've got tons of styles, from booties to sandals, featuring this trend, and most of the pairs in this post are from there. I love how unexpected the lug sole is on these otherwise super-girly purple sandals.
3. I'm absolutely nuts about these buckle-detail ankle boots. I love a thick heel that is sturdy enough to wear all day. This pair will take any top-and-skirt combo to the next level, pair well with boyfriend jeans, and add edge to a floral dress.
4. These patent booties are super-versatile — with the shine, they're just as party-ready as they are good for everyday. They're also a little more subtle than the pair above if you're just looking to dip your toe in the trend.
5. These peep-toe slingbacks from Forever 21 are so unique. As much as they'd be great paired with a romantic summer midi, I love them with tights for fall, too. Plus, they also come in black and a cool grey shade.
6. The contrasting sole of these wellies keeps them fresh. They're sure to earn you lots of compliments (and keep you from slipping!) on rainy days.
7. Don't these sandals look like the kind of thing you'd see on all your favorite street style bloggers? Once again, don't be afraid to pair these open-toed babies with tights as it gets chilly — the thick soles prevent them from looking like you got your seasons mixed up. I'd love to see these with a jumpsuit or a black and white ensemble.
8. Ok, these nude platforms are more decidedly summery because of their light hue. But who says you can't start your spring break shopping early?! Or rock them with a floral maxi belted under a long cardigan for the last warm days of fall.
9. Can you believe these booties are only $25? In the neutral hue, you'll get so much wear out of them. I love how they look like classic work boots but get a feminine twist with a little heel.
10. These gx by Gwen Stefani oxfords are badass! They come in several different patterns, but this blue plaid is my favorite. And they're slip-ons, so no worries about your laces never staying tied. I'd love to see these adding a little edge to a preppy outfit, or styled with black and studs and taken full-on punk.
What do you think?
Are you digging the lug sole trend? Do you have any lug-sole shoes in your closet? Lusting after any of these? Let me know in the comments!