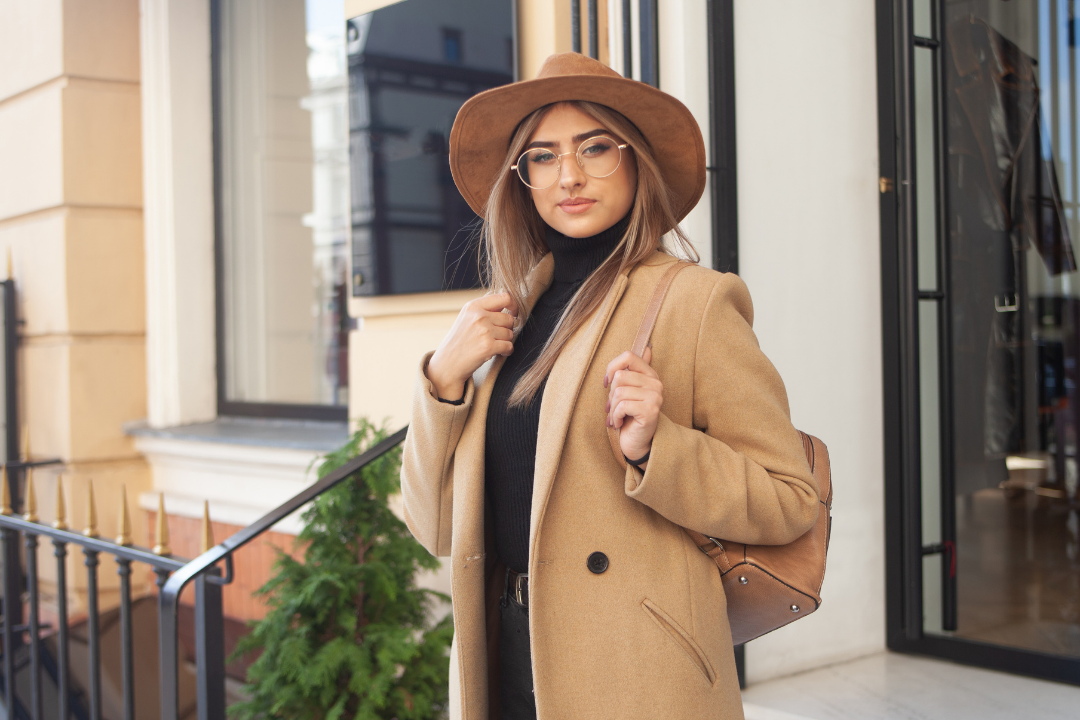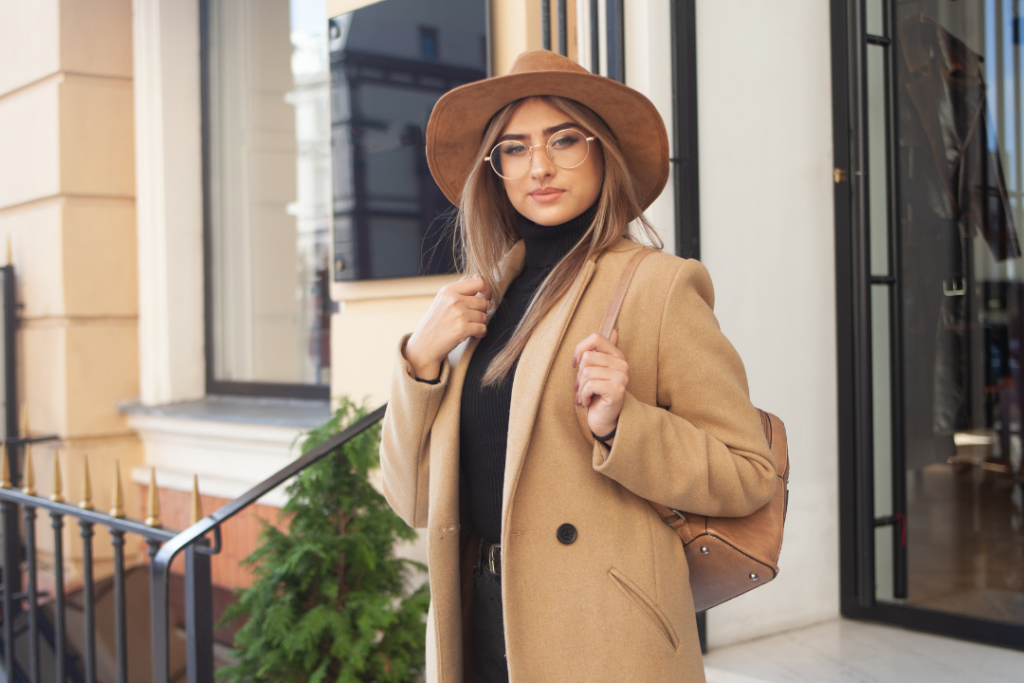 Here at CF, we love to break the rules, especially when it comes to fashion. And we're sure you've probably heard your mom, aunt, or stuffy friend repeat one of the most pervasive old rules, "never mix black and brown in an outfit." So, in the spirit of fashion risk taking, this week's challenge is to squash that dated fashion rule, and create a fabulous outfit containing both of these colors!
Breaking this "rule" is not new to celebrities, as seen in the photos above. So if you're feeling on-edge about trying this look, let these examples calm your nerves. After all, if celebs like Rihanna, Anne Hathaway, and Kate Moss all break the "rules" and win fashion points, you certainly can, too!
Ready to rock this week's challenge? Read on for ideas!
Tips and Tricks for Mixing Brown and Black
Remember that neutrals go with everything! I don't know who decided that certain neutrals shouldn't be mixed and matched. Neutrals, after all, go with every color, including each other.
Try a lighter shade of brown. It's easiest to pull of a black and brown outfit when you utilize shades of camel, taupe, or nude. These create a nice contrast with the black.
Try it with leopard print. This classic print contains both black and brown, so building an outfit around it will be a cinch.
Wear black tights with brown boots. It's an easy and practical way to tackle the challenge.
Chocolate brown and black is the combination that's probably hardest to pull off, but you'll look great as long as you wear it with confidence!
Outfit Inspiration
Outfit 1: Leather Jacket and Dress Combo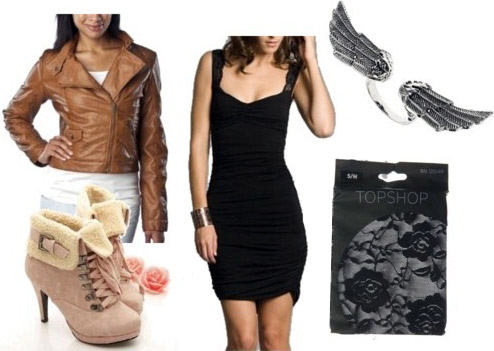 Jacket, Dress, Boots, Tights, Ring
A black fitted dress will look awesome with a camel-colored motorcycle jacket. Add interest with lace tights and Sherpa-lined boots. Finish with a foxy ring.
Outfit 2: Sweater and Boots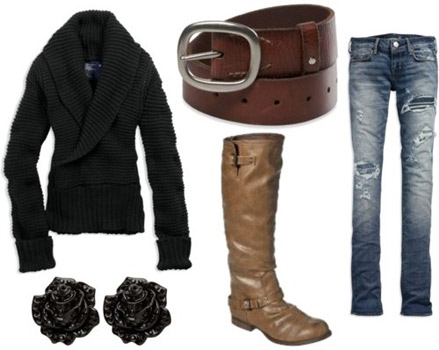 Sweater, Earrings, Boots, Belt, Jeans
A black sweater with brown accessories is an easy way to try this week's challenge using items you probably already own. Don't worry, the shades of brown don't have to match each other — that's another silly old fashion rule! Finish with some simple earrings.
Outfit 3: Aviator Jacket and Jeans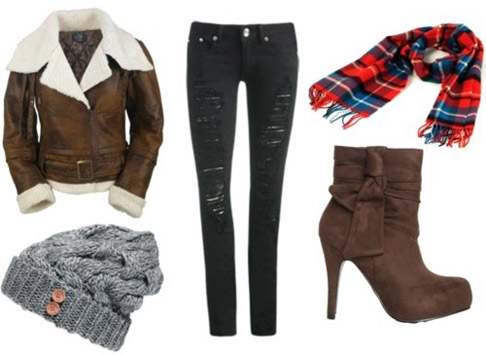 Jacket, Jeans, Scarf, Boots, Beanie
This season, shearling aviator jackets are so hot! Don't be afraid to pair a brown one with a pair of black jeans, especially a funky pair like these! Finish the look with boots, a beanie, and a warm scarf.
CF Reader Looks
Here are challenge outfits sent in by CF readers like you. If you want to see your look featured here, too, read the instructions below for sending in your outfit photos!
Caitlin – San Francisco, CA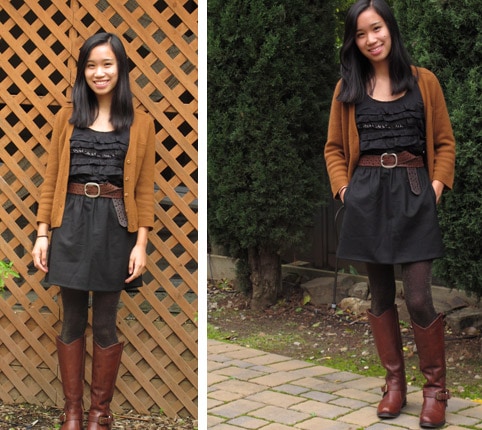 "I'm wearing a camel colored cardigan here, paired with a simple black skirt and a black ruffled tank. To break up the black, I am wearing a brown belt and brown boots, too. It's hard to see in the picture, but I'm also wearing gold glitter tights to bring out some brown-ish tones. Definitely will be wearing this color combo in the future!"
To see more of Caitlin's fabulous style, check out her blog, A Case of Cait.
Also Read: 3 Ways to Wear Multiple Neutrals Together – Mixing Grey and Brown Outfits
Took the Challenge? Send Us Your Photos!
Did you wear an outfit with brown and black pieces this week? Send your photos in at fashionchallenge AT collegefashion.net along with your name, school, a description of what you're wearing, and the URL of your blog if you have one. We'll feature these pictures here to inspire other CF readers!!
Thoughts?
Are you going to take the challenge, or do you already mix brown and black on a regular basis? Do you think this is a fashion rule we should follow? What other fashion rules do you follow, or you think can be broken? What challenges would you like to see in the future? Let us know with a comment!