From chokers to platform sandals, the '90s are back in a big way; however, no '90s look would be complete without the iconic slip dress.
Whether worn baggy and layered with a worn-in t-shirt and sneakers for class or long and slinky with strappy sandals for a night out, the slip dress is one of the most versatile pieces a college girl can own.
While styling something that could pass for a nightgown can seem difficult, there are a few things to remember when choosing your slip dress:
Pick a style that is occasion-appropriate: A matte fabric is usually more appropriate for daytime, while a shiny and/or embellished style is usually better suited for evening.
If it's too tight, skimpy, or see-through, you run the risk of your slip dress being mistaken for underwear, sleepwear, or shape-wear; so, when in doubt, size up and/or layer up!
Layering is your friend! As I just mentioned, layering is a great way to wear a slip dress–especially if it's your first time wearing one. If you wear something under or over your slip dress, you're much less likely to feel over-exposed. What's more, by layering a slip dress made of a more evening-appropriate fabric with something more daytime-casual (like a t-shirt or a denim jacket), you can get more mileage out of it.
Now that we've covered the basics, let's explore some chic slip dress styling options:
Outfit #1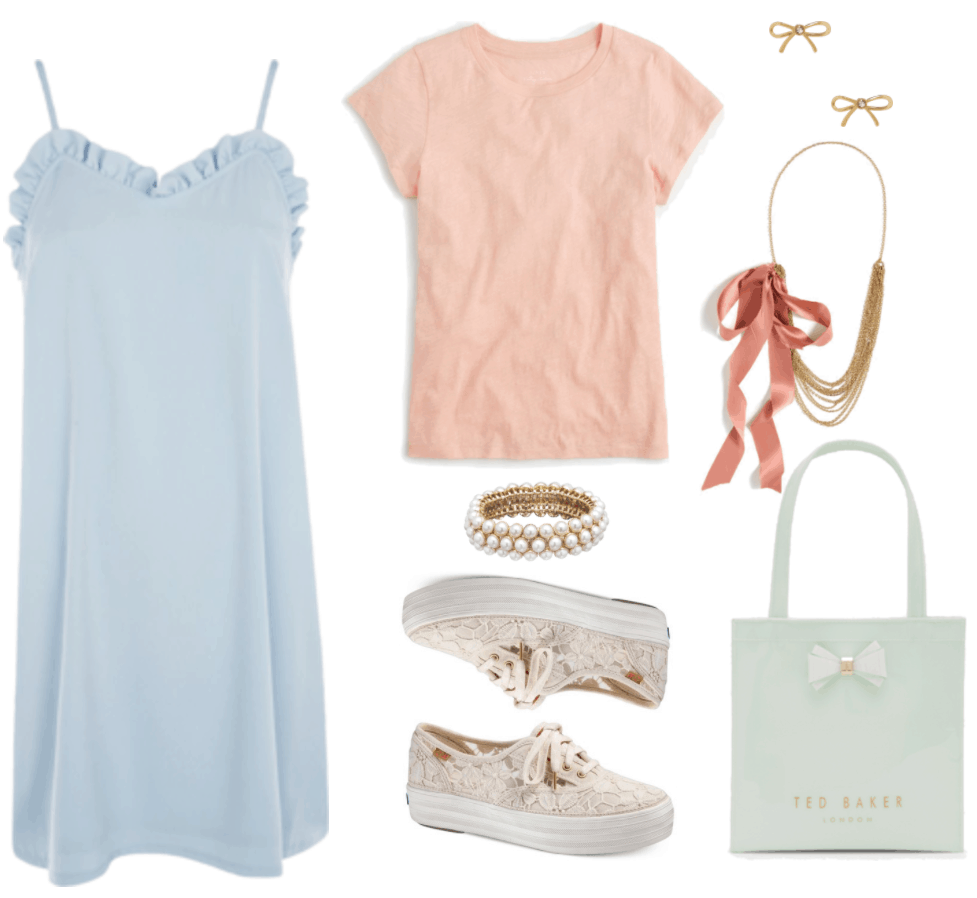 Products: Slip Dress – Topshop, T-Shirt – J.Crew, Bracelet – Lord & Taylor, Sneakers – Macy's, Earrings – Kate Spade, Necklace – J.Crew, Tote – Ted Baker
Fun and feminine, this pale blue slip dress would look nice either on its own (due to its sturdier construction) or layered with a pastel-colored t-shirt, like this lovely pale pink one from J.Crew.
I decided to pair this outfit with a sweet pair of lace sneakers and a cute mint green tote.
Feel free to stop there if you want, but, if you crave an even more girly look, add some pretty jewelry, such as this pearl bracelet, bow earrings, and gold multi-strand necklace with a pink silk bow wrapped around it.
Outfit #2
Products: Slip Dress – Urban Outfitters, Bathing Suit – Old Navy, Hat – Old Navy, Tote – Target, Sandals – Forever 21
For a classic and chic beach look, try layering a gauzy slip dress over a vintage-inspired black one-piece balconette bathing suit.
A wide-brim straw hat is the perfect way to not only protect your eyes and face from the sun, but also to add some old-school glamour to your look.
A black straw beach tote with fun pom-pom accents is a great way to carry your beach gear, while some stylish metallic espadrille sandals complete the look.
If you're not headed for the beach this summer, this outfit could totally be worn without the bathing suit on a balmy day.
Outfit #3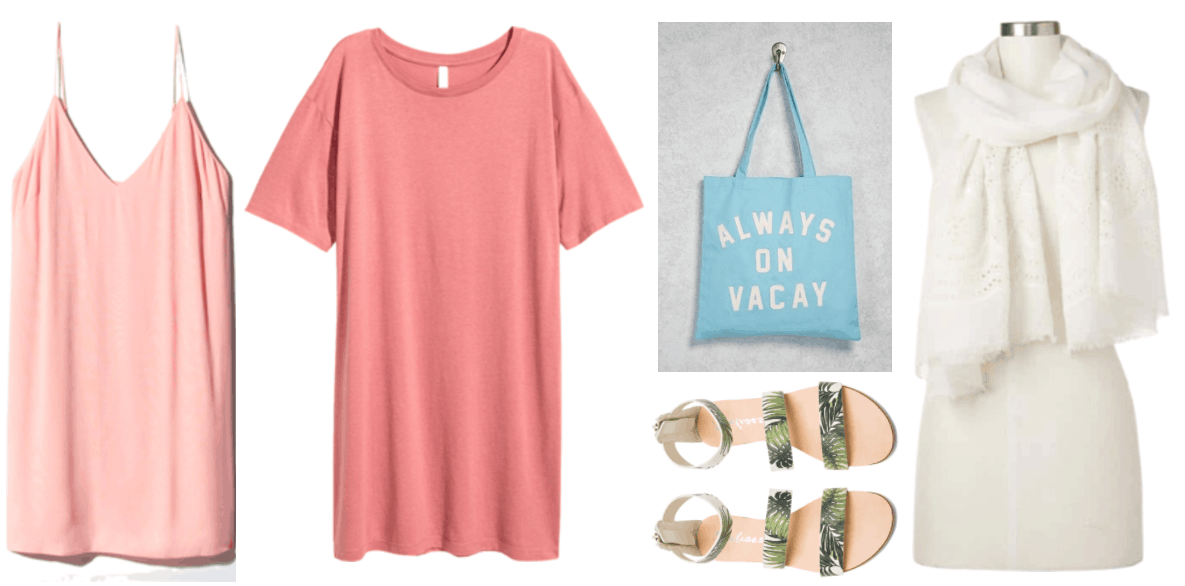 Products: Slip Dress – Aritzia, T-Shirt Dress – H&M, Tote – Forever 21, Sandals – Revolve, Scarf – Gap
As I mentioned above, layering a slip dress that's on the skimpier side with something else is a great way to make the look more modest.
I love the idea of layering a slip dress with a t-shirt dress that's a little bit longer. That way, you not only have the top and sleeves of the tee shirt dress showing, but also a couple of inches of the hem. I chose two shades of pink for a monochromatic look, but two different colors could work, too.
Since this look is laid-back, I decided to pair it with a fun tote and some trendy palm-printed sandals.
Finish off the outfit with a beautiful lightweight eyelet-trimmed scarf.
Outfit #4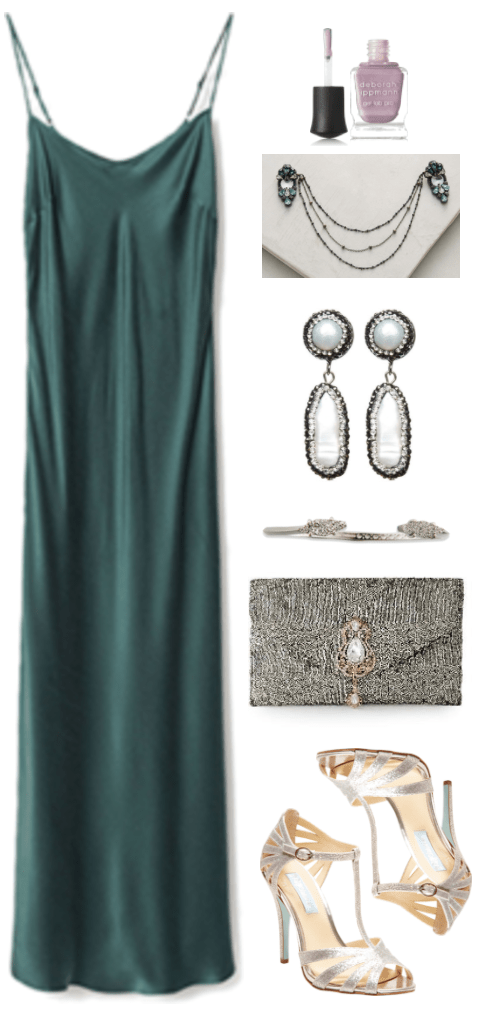 Products: Slip Dress – Genuine People, Nail Polish – Net-a-Porter, Hair Clip – Anthropologie, Earrings – Nordstrom Rack, Bracelet – Neiman Marcus, Clutch – Novica, Heeled Sandals – Betsey Johnson
I've saved the most formal — and the most dramatic –look for last. The deep green color of this splurge-worthy slip dress reminded me of the ocean, so I decided to create a mermaid-inspired look.
This beautiful jewel-encrusted hair clip from Anthropologie reminds me of something that a mermaid might wear, while the glittery silver t-strap sandals are reminiscent of fish scales, or glints of sunlight reflecting off the ocean.
To add even more glamour to your look, put on a unique silver druzy cuff bracelet and a striking pair of pearl and hematite earrings.
A sequined clutch with a jeweled accent is the perfect way to add some more mermaid-inspired magic to the outfit, while a shimmery mauve nail polish (appropriately named "Message in a Bottle") adds some contrast to finish off the ensemble.
What do you think?
Have you ever worn a slip dress? If so, how do you like to style it, and if not, is it a trend that you would like to try? Which of these looks is your favorite? Let me know in the comments!