The "Fabulous Find of the Week" column gives you the heads up on all the hottest, most affordable items at your favorite stores!
Hey girls! How are you all doing? I hope your midterm season is going well. Remember you're all amazing, smart, and fabulous! Keep on working hard and don't worry, I promise you will make it through.
So now that we are actually feeling the cold weather settling upon us, it's officially time for us to put aside our espadrilles and bring out our boots. I'm a huge fan of boots. They are one of my favorite preppy shoes and there is a different style for every woman out there.
Ankle boots are currently very in style, so for this Fabulous Find post we will be teaching you how to style a pair of budget-friendly classic black ankle boots for a variety of occasions. Whether you're going to class or out for a girls night with friends, these boots will keep you warm and fashionable all day long.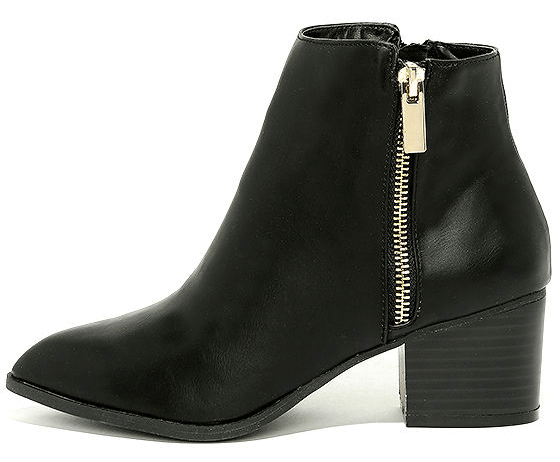 These black ankle boots are beyond stunning. They're made of vegan leather, which means they are both durable and eco-friendly. They also provide all the benefits of heels without the pain associated with them. Plus, this pair has a gorgeous gold side zipper for an extra dose of style.
You can get these booties at Lulu's for the amazing price of only $39. Such a great deal for something that will last you years!
Now that you've seen the booties, let's get the outfits. Here are three fabulous ways to style black ankle boots:
Leggings and Red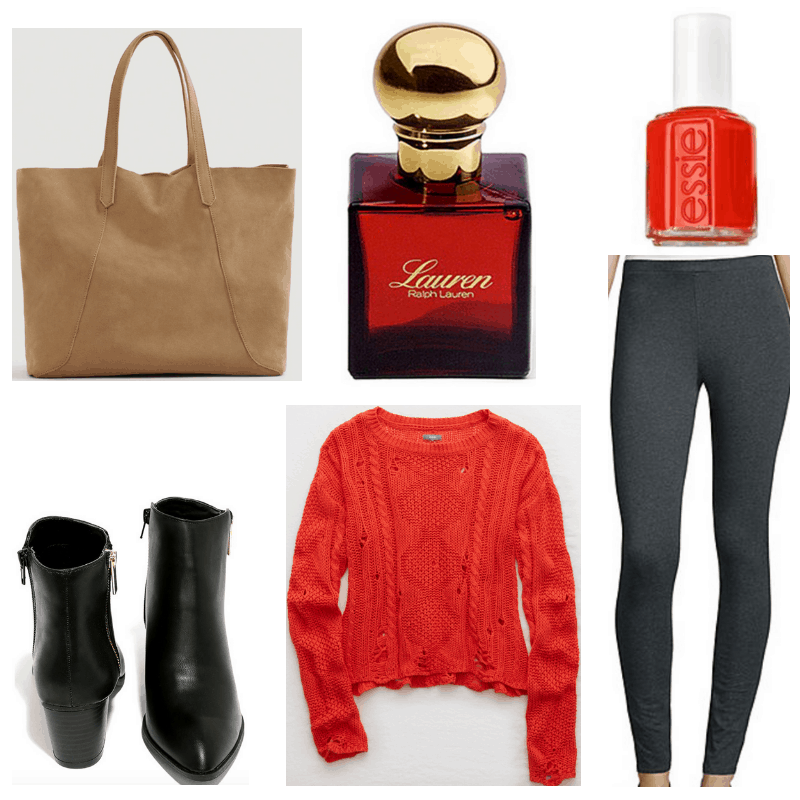 Products: Perfume – Ralph Lauren (Macy's), Leggings – JCPenney, Nail Polish – Essie, Boots – Lulu's, Tote Bag – Mango, Sweater- American Eagle
This is the ideal fall outfit for class. I'm obsessed with the leggings. Not only are they comfortable and durable, but they're such an amazing price. You can get them at JCPenney for only $9! It's an incredible value and they come in a wide variety of colors and prints. It's perfect for college girls like us who love style on a budget.
I'm also a major fan of the sweater. We are currently in the perfect time period for sweater weather. This classic American Eagle piece is warm, knitted, and has a great cherry red color that is "in" this season.
Fall Me Not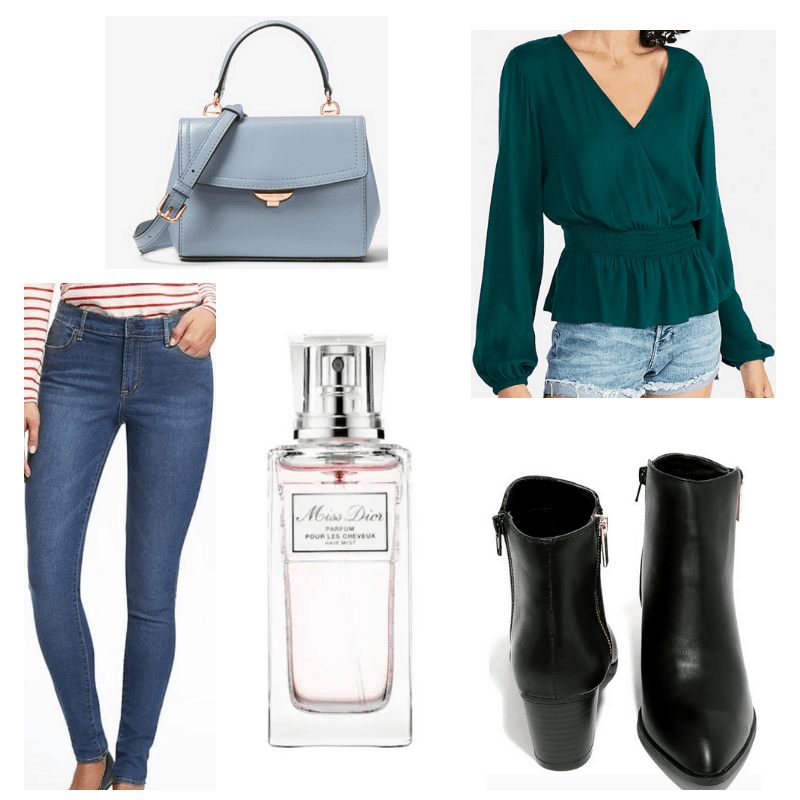 Products: Blouse – Express, Perfume – Dior (Sephora), Boots – Lulu's, Jeans – Old Navy, Handbag – Michael Kors
This is the perfect universal fall outfit. You could wear it to class or just as easily wear it to lunch or dinner with friends. My favorite part of this outfit is the blouse. I'm obsessed with that shade of dark green. It screams "fall" and is so elegant and classy. Be sure to check out more pieces in this color–it's very on-trend for autumn.
I'm also a big fan of the Old Navy jeans. I really like their mid-rise jeans. They are very flattering on all body types and are super comfy. Not to mention, you can get this amazing pair for only $18; it's very worth it!
Miss Pleated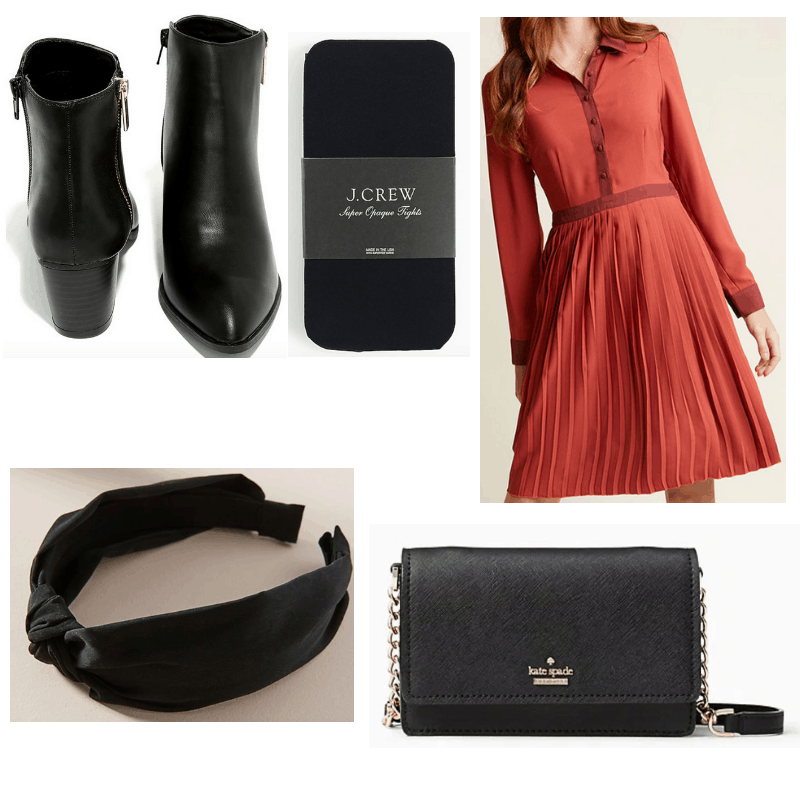 Products: Crossbody Bag – Kate Spade, Boots – Lulu's, Dress – Modcloth, Headband – Anthropologie, Tights – J. Crew
This outfit was made for a job interview or perhaps even an afternoon date! I'm in love with the Modcloth pleated dress. Shirt dresses are a classic piece and this shade of reddish orange is so beautiful. It's the definition of timeless elegance.
Like I've said in the past, headbands are my favorite accessory. I am a firm believer that there is a headband for every single occasion. I adore this knot headband with the gorgeous silk fabric. You will for sure be wearing it all fall and winter long. It never goes out of style!
What did you think about this week's Fabulous Find?
Do you like these boots? Are you a fan of Lulu's? What are your favorite fall colors? What have been your favorite fall trends so far? Start the convo below!