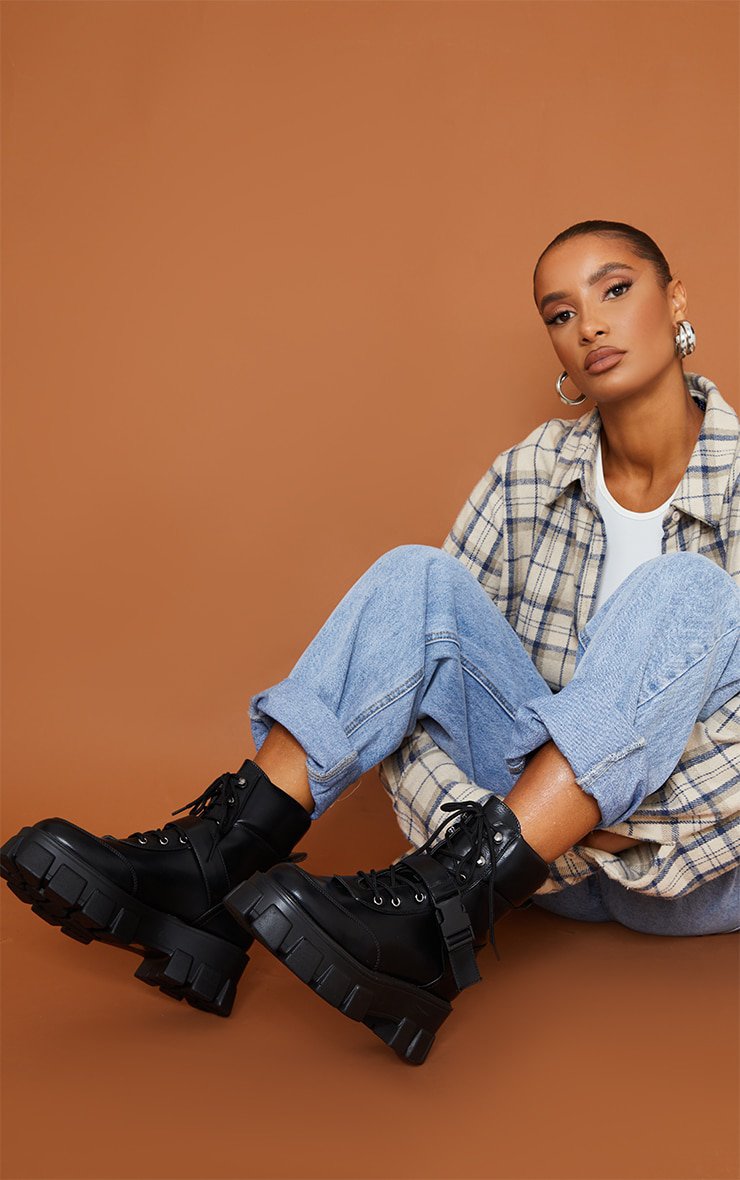 If you've looked up the shoes every woman needs in her wardrobe, you've undoubtedly seen ankle boots mentioned multiple times.
It's understandable. Ankle boots are a timeless wardrobe piece that most of us already own. I know I'm a fan: I pair mine with just about every outfit in the fall and winter.
In particular, I like to wear my ankle boots with jeans. From straight leg to wide leg to skinny, all denim cuts can work with ankle boots. But getting it right can sometimes be tricky.
There's a lot to think about when wearing ankle boots with jeans. Some common questions include: What height should the boots be? Since you are also considering the outfit, the shoes must also fit it. Plus, which jeans are you wearing with your ankle boots? Straight, skinny, or wide leg? I wear different boots with different jeans and style the jeans differently depending on the boot. I can either tuck them in or wear them cuffed.
So, to help you style these classics, I'll teach you everything you need to know about how to style ankle boots, plus some outfit ideas too!
How to Wear Ankle Boots with Jeans: The Do's & Don'ts
Try cropped jeans. If you wear a cropped pair of jeans, they will hit right about where the ankle boots begin, so you do not need to worry about tucking in your jeans. So let the denim hit an inch or two above your boots. Note: Unless you're going for a specific look, it's best not to show a ton of calf between the bottom of the jeans and the boots' top. For most occasions, your boots should hit above your ankle bone.
Tuck your boots into your jeans only if they don't bunch. I recommend tucking only with skinny jeans if your jeans are long enough to reach your ankle boots. Additionally, only do this if the opening of the boots is wide enough to fit the bottom of the jeans. Don't try to tuck your jeans in if your boots are shorter or if your jeans don't reach far enough down.
Consider cuffing if your jeans are too long and not super skinny at the ankle. This is another option to keep your jeans from bunching up, so you don't have to tuck them. The space between the boot and the cuff should show no more than a sliver of skin. Cuff them right above where the boot starts. Remember, cuffing is the best for short or medium-height ankle boots.
Ideally, choose jeans to match your boots' height. When your jeans are at a reasonable length and your boots are ankle height, you should be okay and have adequate space between them. So do nothing if your jeans hit above your ankle and your ankle boots hit at your ankle.
Know the different styles. There are different shaft heights for ankle boots which can lead to confusion on how to dress ankle boots in jeans. As a rule of thumb, there are short ankle boots (hit right at or under the ankle bone), medium ankle boots (hit about an inch or so above the ankle bone), and tall ankle boots (hit a few inches above the ankle bone).
How to Wear Ankle Boots with Skinny Jeans
I love ankle boots for the fall, and this outfit is one of my go-to's in the fall season. I also just got a brown moto jacket similar to this one, so I would pretty much wear this exact look.
To get the look, start with a white top. Then, grab your favorite moto jacket to wear over top. (Or any fall jacket will do.) Next, get a pair of skinny jeans and for your ankle boots; remember you can tuck them in! You can also leave them alone or cuff them.
Finally, grab a black shoulder bag, and you'll be ready to head out the door, maybe for a coffee run or off to a lunch date, wherever the day takes you!
How to Wear Ankle Boots with Straight Leg Jeans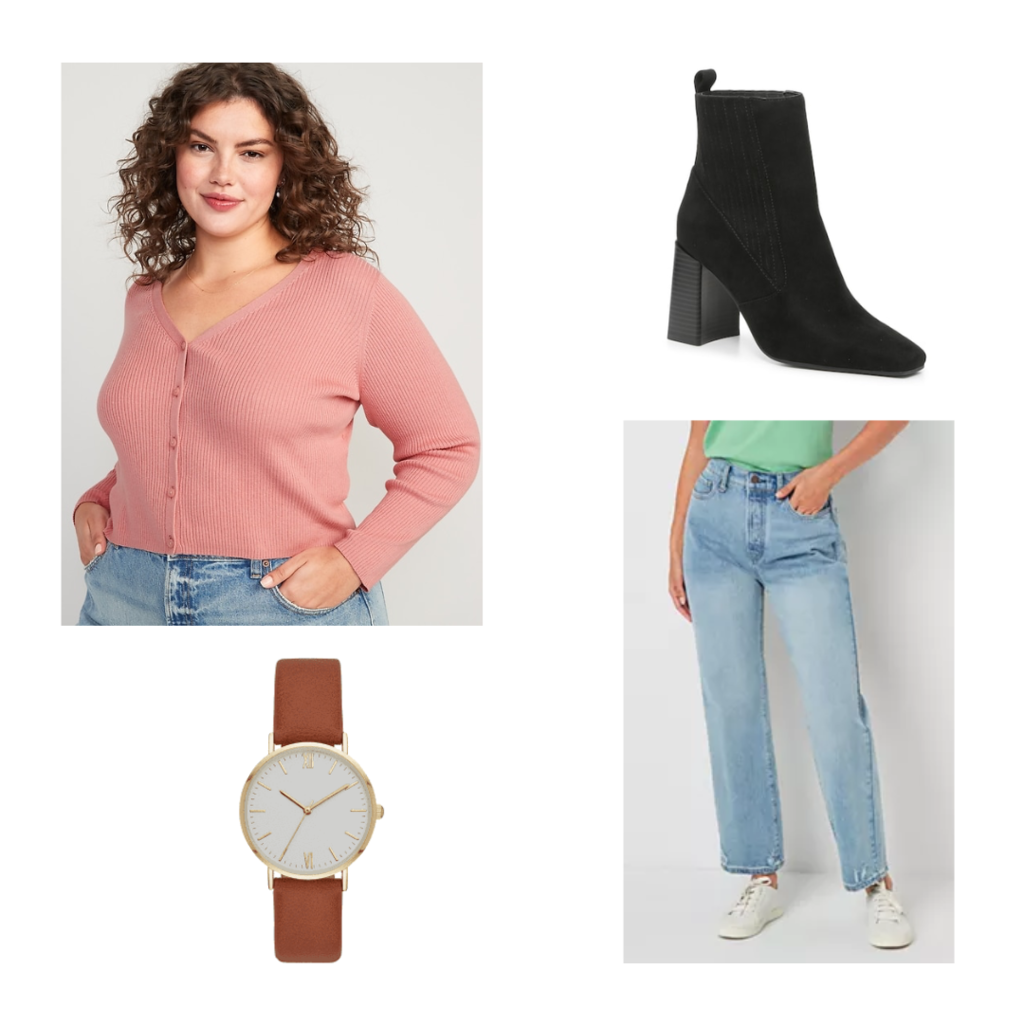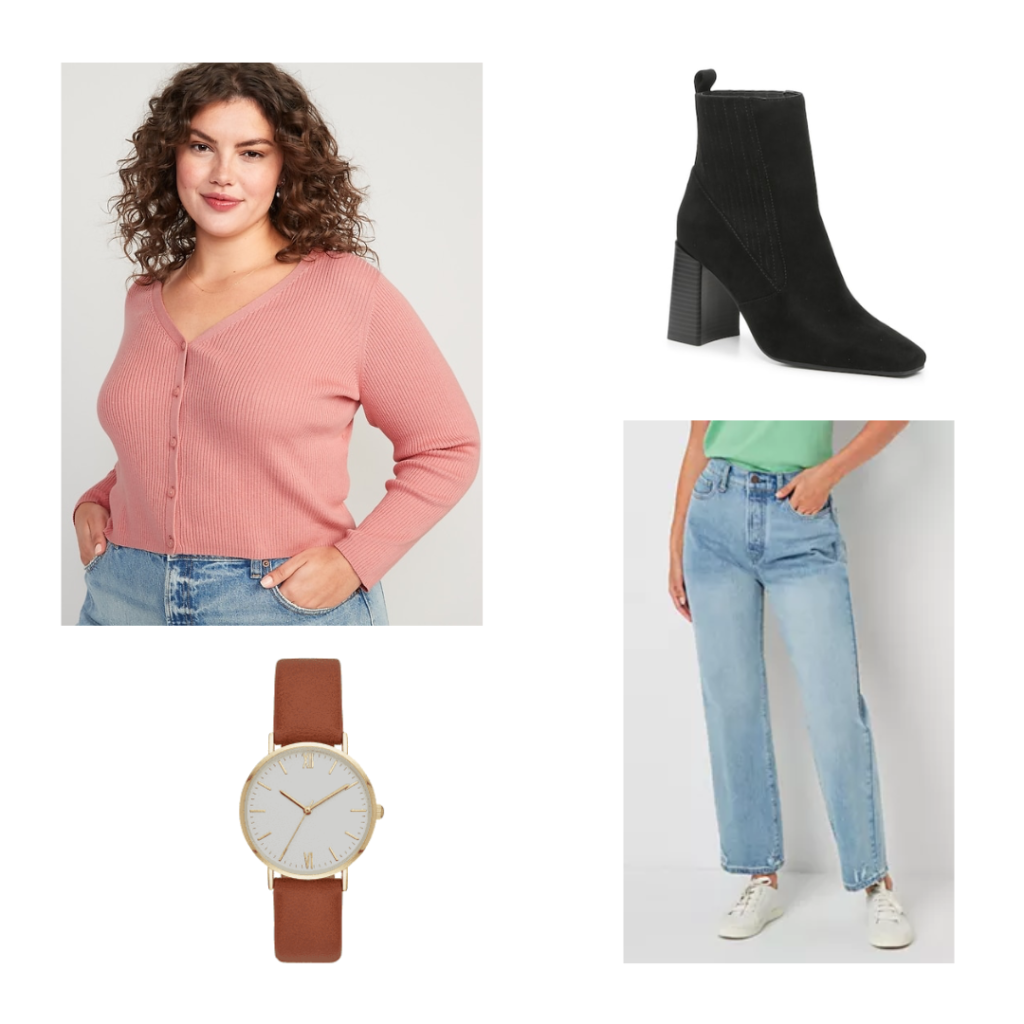 Products: Cardigan Sweater, Jeans, Boots, Watch
This outfit would be suitable for a summer-to-fall look as it gets cooler outside. This outfit could not be easier to put together. First, get a cardigan or crew-neck sweater. Then, pair it with some straight-leg jeans. Remember, you don't have to tuck straight-leg jeans into the boots, so let the jeans brush over them.
In this instance, you can get boots with a taller shaft so that the hole opening of your boots is above your ankle bone. This makes it easy for your jeans to go over the top.
Finally, wear a watch as an accessory, and you'll be ready to go to a fall brunch. Or turn it into a night-out look by wearing statement earrings and swiping on red lipstick as you head to dinner or a play.
How to Wear Ankle Boots with Wide Leg Jeans
The next outfit shows how to wear wide-leg jeans with ankle boots. Because of the width of the pant opening, these would be better left alone without cuffing and just falling over the ankle boots. For bonus points, try to wear them with pointed-toe boots to elongate your legs.
This look would be great for a flea market trip or a lunch date. Try swapping the tote bag out for a purse if you go out for drinks or even to a comedy show.
To create the look, get a white blouse with a detail like this eyelet sleeve top, or even ruffled sleeves would work. Then put on your wide-leg jeans. Instead of black boots, wear another neutral color like brown, grab your tote bag or any bag of your choice, and you'll be ready to go.
Top Ankle Boot Outfit Ideas
There are so many ways to pair ankle boots with jeans. You can style just about anything with this combination, so get creative!
Need some more outfit inspo? Here are some more ideas for how to style ankle boots with jeans.
Cardigan with Ankle Boots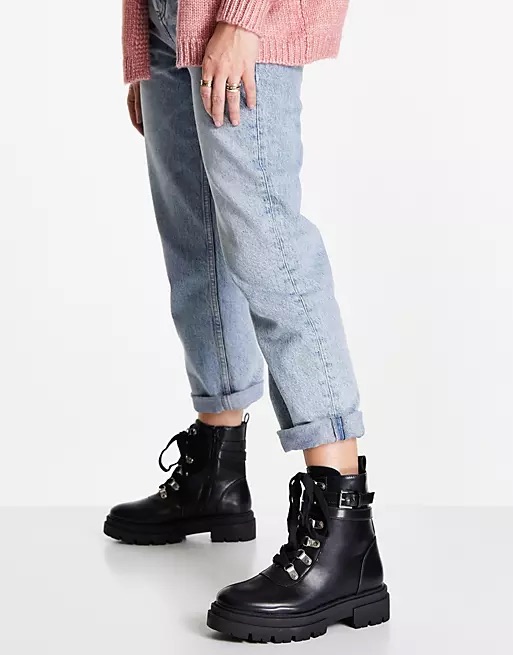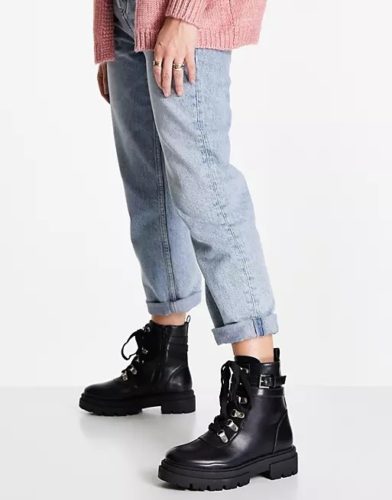 For a chic and cute outfit, and also to add a girly touch to your ankle boots, pair them with mom jeans and a cardigan in a bright color like pink. Pretty much any boot works here, but I love that these have buckle detailing to make them stand out.
Throw on some jeans, and since the shaft of these boots is high, you can cuff the jeans too. This gives the outfit an edgy vibe, a perfect balance for the girly cardigan.
Wear a black top under the cardigan and try this look out for heading to class, going to the library, or studying in a coffee shop. Also, remember that you don't have to wear heeled ankle boots with a feminine piece like a pink cardigan. You can also go for flat ankle boots like these, and they'll still look great!
Flannel Shirt with Ankle Boots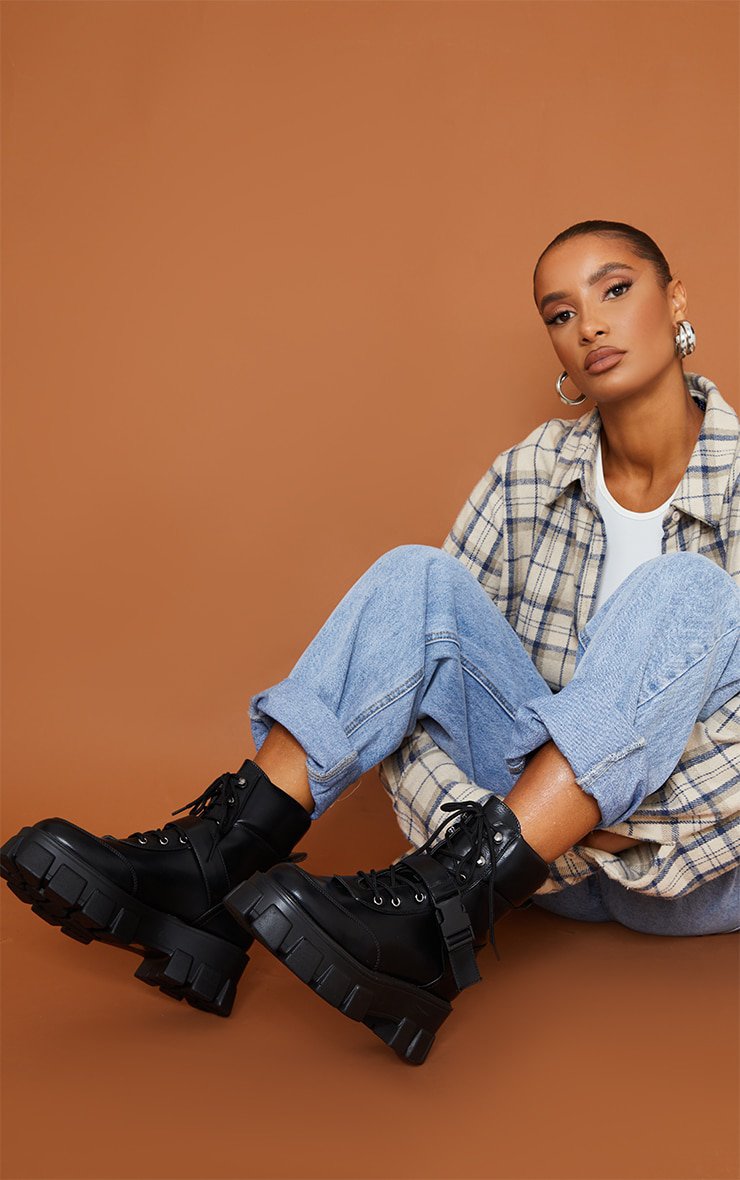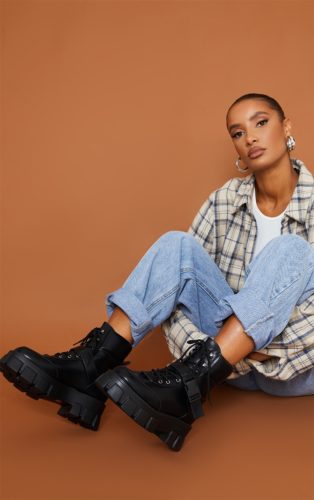 Chunky platform boots are on trend, and a pair like these with a flannel shirt will give an edgy vibe to your outfit.
Since fall is around the corner, most of us will be stocking up on flannels in the months ahead. In fact, there's nothing that says "fall" quite like a flannel, jeans, and ankle boots. So that's what this look is based around.
Layer a white tank top underneath a plaid flannel shirt to create the outfit. Wear a pair of jeans and slip on some chunky boots. Finally, add some statement earrings to liven up the look even more.
This would be a perfect outfit for apple picking once the fall season arrives or even out to a movie night with friends.
Graphic T-Shirt with Ankle Boots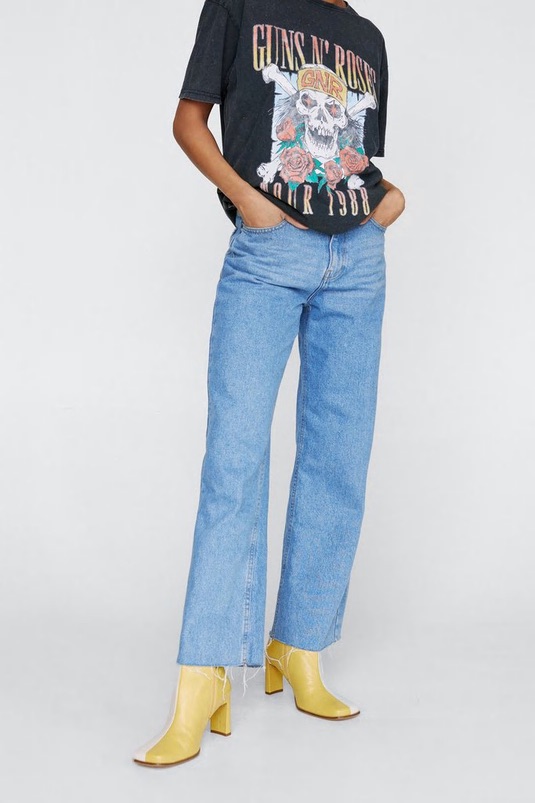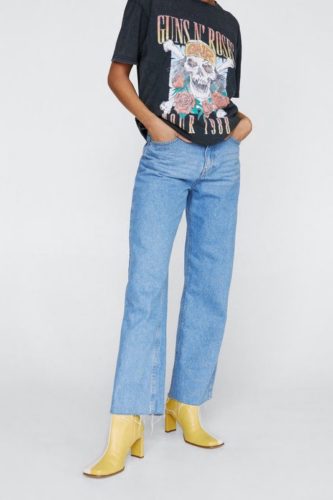 While browsing online, I saw these two-toned boots from Nasty Gal and fell in love. They're such a bold statement piece to have in your wardrobe! Colorful ankle boots can help even the most basic outfit stand out.
Try a graphic t-shirt and a pair of jeans. These jeans are straight legs, so they can be left alone, lightly brushing over the ankle boots.
Even if you are into more neutral colored ankle boots, a t-shirt and boots combo is a look that'd be great for going thrift shopping or catching dinner with friends. Throw on a moto jacket if it's chilly, or even a cropped cardigan can work too, adding a chic touch to the outfit.
White Tank with Ankle Boots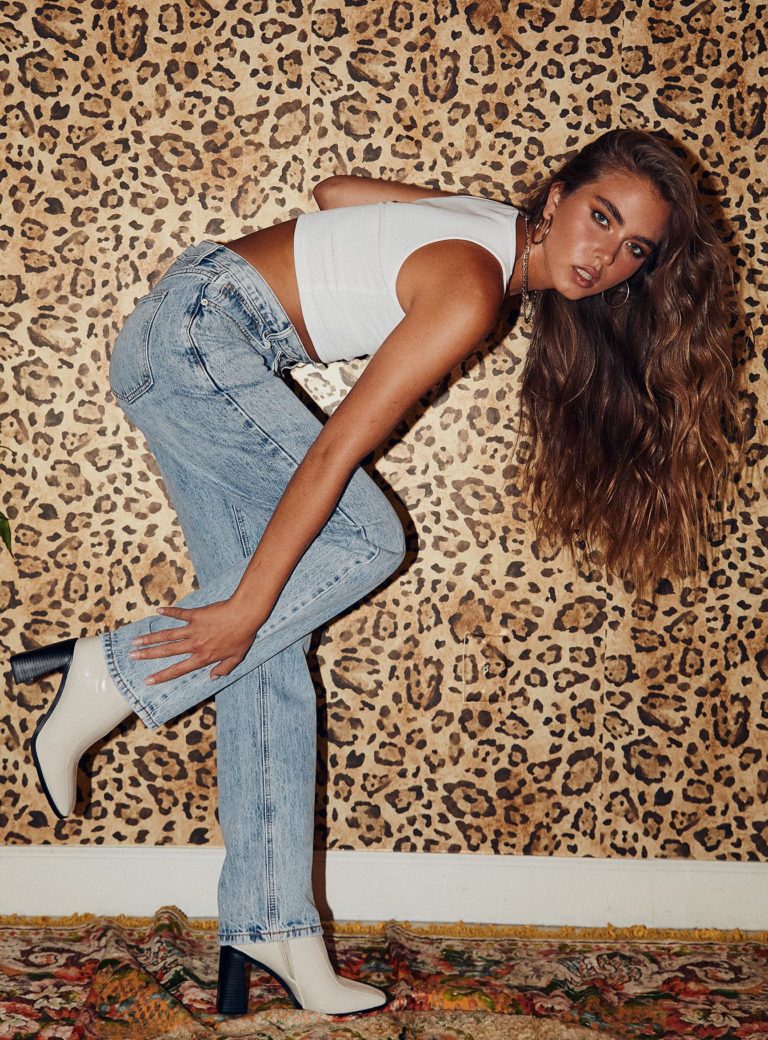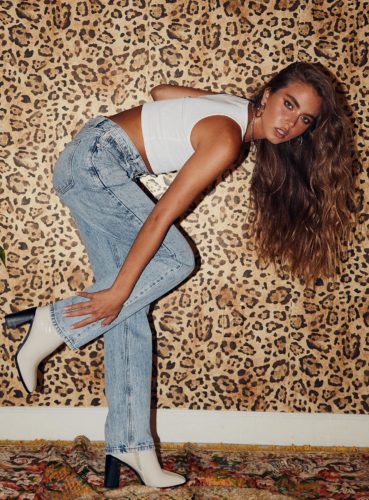 Ankle boots can dress up casual looks. Take this outfit, for example, which features a tank top and jeans. Of course, it would look more casual with sneakers, but pair it with ankle boots, and this is a trendy outfit to wear as you head out for the day.
This ensemble will look great for a night out or getting brunch with friends. If the heels are too high for you, you can get low-heeled or flat boots instead — it will still work. Also, you can wear a short or long sleeve top or even throw a black moto jacket over this look to make it edgy.
Bomber Jacket with Ankle Boots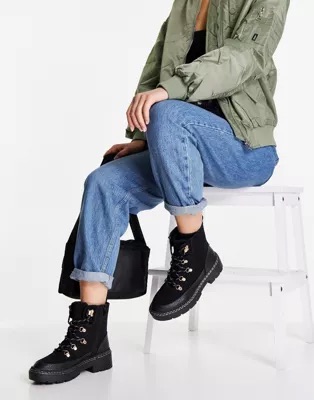 Want to keep the casual look going with ankle boots and jeans? Try a bomber jacket up top. Throwing on a jacket like a denim or bomber jacket can instantly make a look more casual. But, even flat ankle boots like these hiker boots, with the jeans cuffed above them, still makes for a laid-back look.
So wear a black top and pair this look with a black shoulder bag to tie back to the colors in the top and boots. You'll have a good look for running errands, thrift shopping, or heading to classes if you swap the shoulder bag for a tote bag or backpack.
Trench Coat with Ankle Boots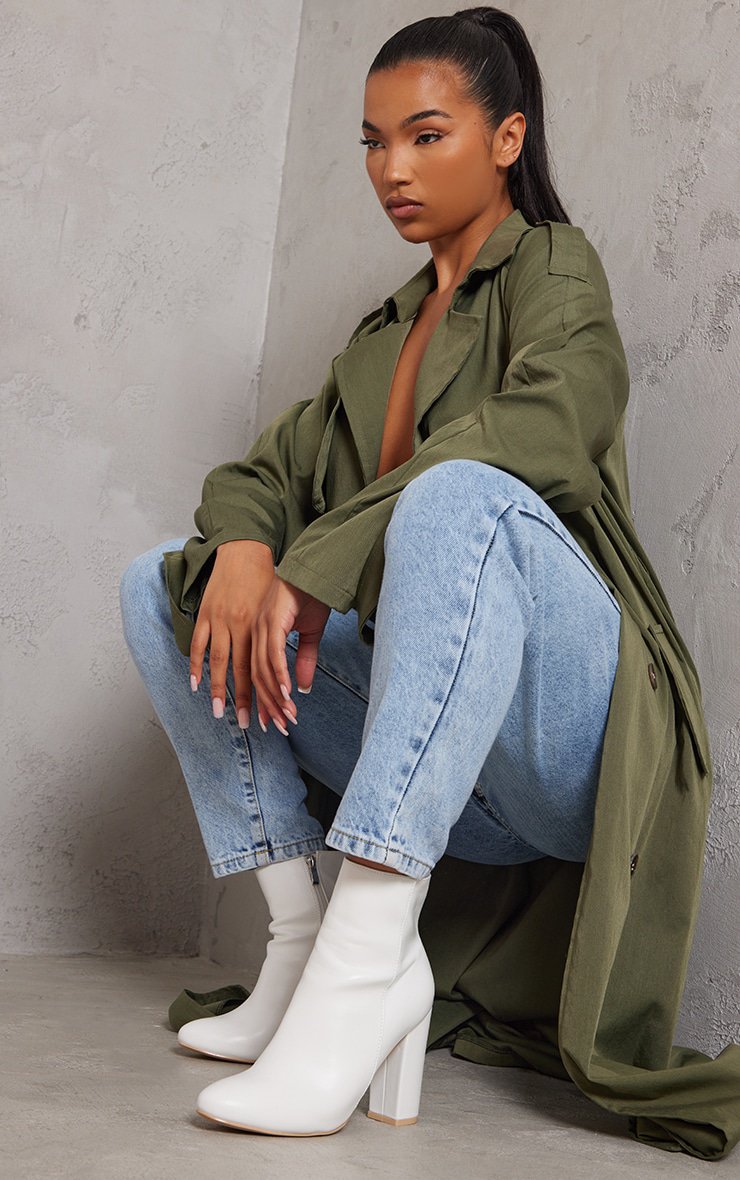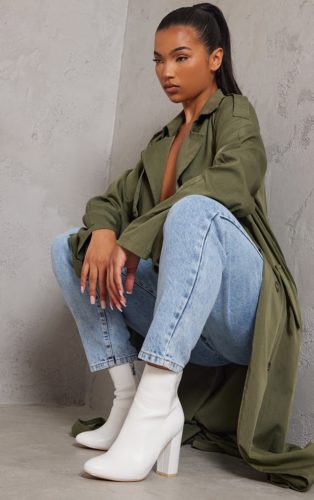 A trench coat is a versatile and timeless fashion piece that is an investment. As a bonus, it looks amazing when paired with ankle boots. I love this outfit combo: The white ankle boots make a statement when paired with a colorful trench coat like this green one and these chic, classic light-wash jeans.
Trench coats are excellent for fall and even during spring when it's raining. You can wear whatever top you want under the coat, but try a white tee to finish off the look and match the ankle boots. With this look, you can head out for a date night or to a lounge.
Puffer Jacket with Ankle Boots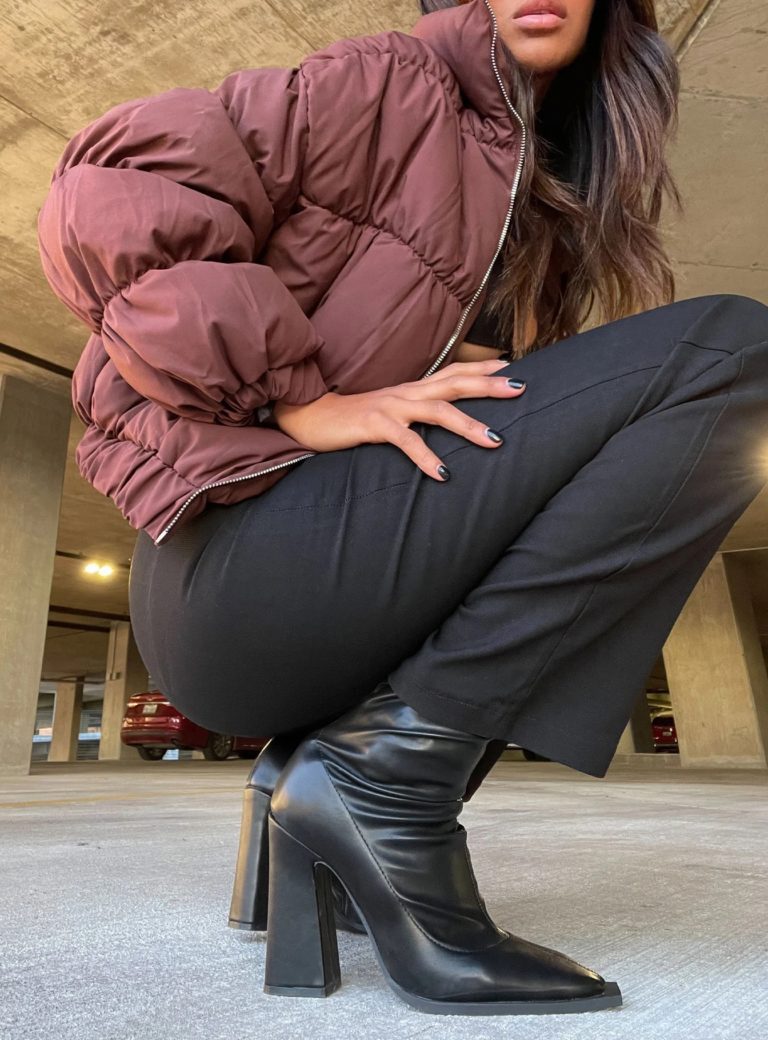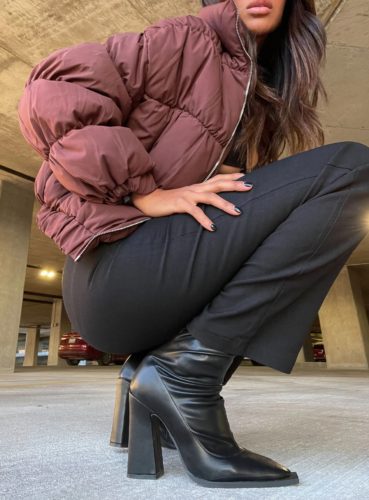 Another coat option to wear with ankle boots is a puffer jacket. A cropped puffer jacket is the trendiest choice this year, but even a mid-length one that stops at the hip is fine. It's all down to your style preference!
Put on a black top or black mock neck sweater underneath. Then wear a pair of straight-leg or wide-leg black jeans and some black ankle boots for a look that'd be perfect for a night out.
What Do You Think of Our Ankle Boots with Jeans Outfits?
What do you think of the outfits we picked? Would you wear any of these outfits? Which look is your favorite? Leave a comment and let us know!