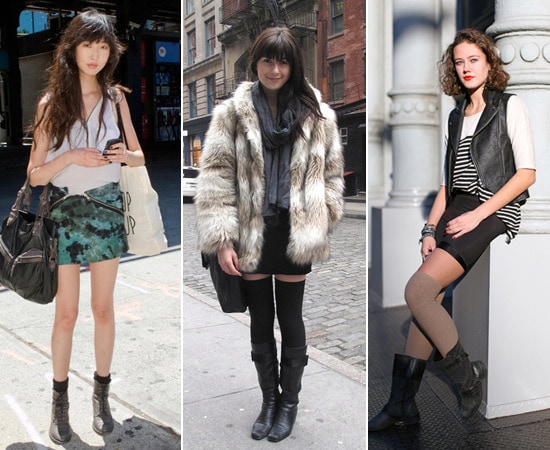 Photos courtesy of Elle.com.
Every college girl I know has at least one pair of fabulous, go-to leather boots in her closet. A seemingly all-weather favorite for the twenty-something set, these boots, often heavily broken in, appear on stylish feet season after season. While the majority of us wouldn't take a second thought to wearing socks with our boots, the socks + boots trend has taken the common-sense practice and turned it into a bona-fide fashion phenomenon.
Letting your hosiery peek over the tops of your boots has become a go-to way to create styles that are free-spirited, slouchy, and bohemian. Ideal for cool climates, the trend does two of our favorite things at once: it keeps you warm and dry and looks super cute. You just can't go wrong when fashion and function are combined!
Top 3 Tips to Consider When Pairing Socks & Boots
1. Boot height vs. sock height.
As always, mind the proportions of your outfit and aim to flatter your shape. In general: the higher the boot, the better. Structured ankle boots tend to shorten the leg on their own, and the addition of a bunchy sock can add unwanted volume to the lower leg. Loose, slouchy styles, however, may be just right for a relaxed look. Mid-calf to knee-high boots tend to be the most universally flattering rises for pairing boots and socks, but over-the-knee and thigh high styles can look equally chic – especially on taller girls.
As you've probably imagined, if you want your socks to show, you'll need to invest in a few new pairs that are designed to hit slightly higher than the rise of your boots: Knee-high socks for mid-calf boots, over-the-knee socks for knee-high boots, and extra high thigh-high socks for OTK boots. Once you've got the pieces down, you can focus on styling logistics. Scrunchy sock styles imply an effortless, cool look while peek-a-boo socks that barely graze the top of boots can offer a sweet, flirtatious vibe.
2. Styles of footwear.
Determining the perfect sock and boot combination involves more than simply selecting the right heights for both pieces. Stylish students must also mind the styles of both the socks and boots they plan to combine.
For a look that is low-maintenance and campus-friendly, boots that are less chunky, flat (or close to flat), and with classic lines are best for wearing with showy socks. This is the ideal time to pull out the riding boots hiding in the back of your closet! On the other hand, chunky, buckle-embelished, or grungy styles look great when paired with neutral black, gray, or taupe socks. This would be a great way to wear your combat boots or motorcycle boots. Overall, it's all about creating balance.
As you can see, the key to pulling off this trend is to consider your socks as an accessory when picking your footwear. You should also take into consideration the thickness of your socks: thinner varieties may be better for boot-grazing styles, while thicker pairs offer more substance to scrunch. Put a little thought into it and you'll have a Sartorialist-worthy look in no time.
3. Layering up!
Socks have been huge both on and off the runway in the past year.One of the best parts about this trend is that the look gets better when you add even more layers.
Perfect for awkward, in-between climates, the tights + socks + boots combination is a fun way to add warmth and style to an outfit. The same goes for leggings! Though the look is adorable with bare legs, take full advantage of cool weather to pile on the layers. This being said, take it from Jessica Stroup – on warm rainy days, not much is cuter than a pair of socks worn with your favorite wellies.
Socks & Boots – Outfit Inspiration
Cool & Casual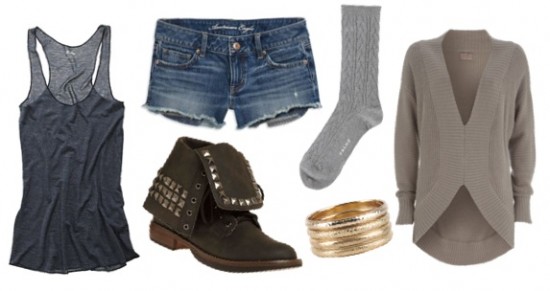 Product Information: Tank, Madewell. Shorts, American Eagle. Boots, ModCloth. Socks, Matches. Bangles, Forever 21. Cardigan, Warehouse.
Rainy Day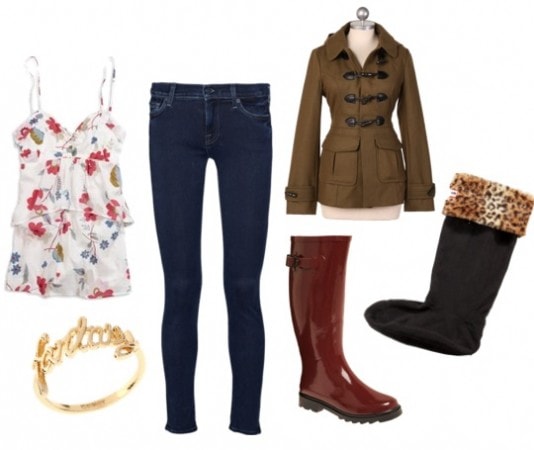 Product Information: Floral Tank, American Eagle. Ring, Asos. Skinny Jeans, Net-a-Porter. Coat, Ruche. Rain Boots, ModCloth. Wellington Socks, Bergdorf Goodman.
Boho Babe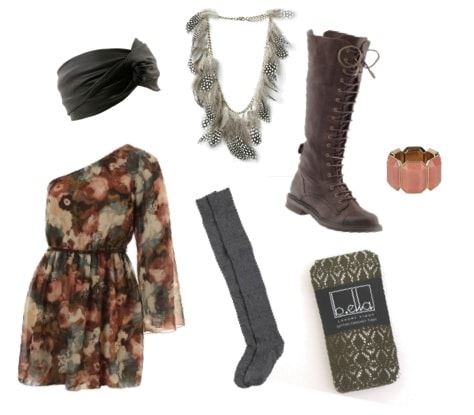 Product Information: Dress, Love. Headwrap, Rock n Rose. Necklace, Urban Outfitters. Socks, Delias. Boots, Zappos. Tights, Lori's Shoes. Bracelet, Forever 21.
Real Girl Style Inspiration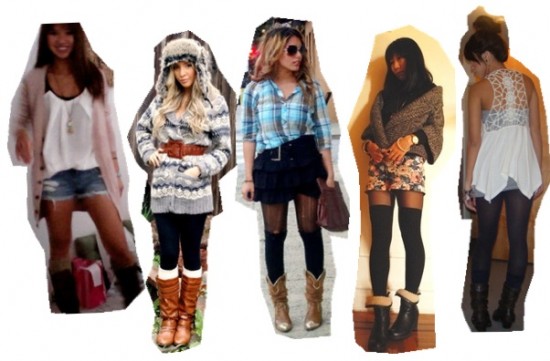 From left to right: Chictopia Style Council member belovely, VIP Style Icon DeLaCruz, Style Council member Nubiasnonsense, Style Council member izzybug, and Style Council Member bomchicawawa
It's always easier to emulate a look when you have great models for real-life inspiration! Above, ever-stylish Chictopia users put their unique spins on the socks + boots trend. Find a look you love then click through the links to see more photos of how these ladies style the trend.
Want more? From casual to quirky to luxurious and with boots of all rises, someone on the Chictopia site will have you covered! A well-done socks+boots combo can tone down the sexiness of an out-of-control OTK boot, freshen up a well-known pair, or create boots that appear to be thigh-high with a few strategically-placed layers. Let stylish bloggers, models, and fashion enthusiasts be your guides!
Thoughts?
Would you wear the boots and socks combo? Is this look popular on your campus? What kinds of boots will you be wearing this semester? Share your feelings with a comment!