Presented by CF x Bombas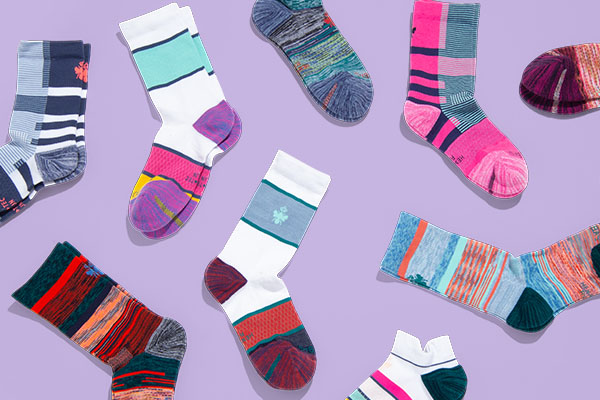 This year, I've been inspired to revamp all of my basics, investing in quality pieces that will last me forever. From my jeans to my tops to my underwear drawer, I've been swapping things out one at a time. Which leads me to my quest for the best socks.
I'm picky about socks. They can't be too thick or thin, they need to work with the majority of my outfits, and they need to not fall apart after a few wears. Oh, and they need to be cute as well.
Looking for cute socks to upgrade your own sock drawer? Here are the best socks of 2023, with adorable picks to fit every style.
Colorful Workout Socks
If you exercise often, you know the importance of good socks for the gym. They need to be comfortable, they need to be breathable, and it helps a lot if they're colorful to match your outfits. (Anything for some extra workout motivation!)
My favorite brand of workout socks is Bombas. Their socks have a cult following for their comfort and actually give back to people in need. For every item you purchase, Bombas donates one to homeless shelters. (Socks, underwear, and t-shirts are the #1, #2, and #3 most requested clothing items in homeless shelters, respectively.)
If you haven't tried Bombas socks yet, use coupon code BOMBAS20 for 20% off sitewide (new customers only, no expiration date). You're going to be as addicted as we are.
No-Show Socks
I love the look of sneakers worn without socks, but I do actually need socks if I want to stay comfortable all day. Enter the no-show sock.
Again, I love Bombas because they have the cutest no-show socks out there. They come in a variety of luxe, neutral colors (or brights, if you want something more fun) and they're extremely high quality. These socks don't slip or bunch up, and they're nice and cushioned, to keep you comfortable all day.
It sounds weird to say, but these are investment-quality socks — you won't need to re-buy constantly like you would with a cheaper brand.
White Crew Socks
I love wearing white mid-calf socks with leggings and sneakers, so I always have a bunch of simple white crew socks on hand for those athleisure vibes.
I switch these out fairly often since they can get dingy with time, so I don't like to spend a ton on them. My favorite brand is Fruit of the Loom because all the socks are identical, so you don't have to worry about pairing them up or losing one in the wash. Plus, they're super affordable and easy to find. (I buy mine on Amazon.)
Slouch Socks
Slouchy socks are having a huge moment in fashion right now, again worn with leggings and athleisure looks.
Since these socks are so trendy, I also like to look to Amazon to find the best slouch socks. You can get a three pack of highly rated slouchy socks for just around $20, and you'll have a pair to match every outfit.
Everyday Cute Socks
When you think of cute socks, you probably think of mid-calf socks in colorful, fun patterns. And these pretty printed socks from Bombas definitely fit the bill!
How adorable are the prints on these socks? You can get a four pack of tropical fruit-printed socks that are grown up but still whimsical. Plus, when you buy a four pack, that means Bombas will donate four items to homeless shelters.
Reflective Socks
If you run, walk, or do sports outside a lot, a good pair of reflective socks is important to have for mornings and evenings. And if you want reflective socks that are also super cute, I've found the best ones out there.
Lululemon makes the best reflective socks for athletes who want a little style with their function. Their Power Stride tab socks come in a three pack of neon colors and are known for their cushioning and light weight.
Winter Wool Socks
When temperatures drop, there's nothing like a pair of cozy wool socks to wear with boots or just lounging around the house.
If you want a winter sock that's cozy but not overly thick and chunky, a merino wool sock is the perfect option. Merino wool is insanely soft and warm, but it doesn't trap moisture so it keeps your feet comfortable, even in thick boots.
This four pack of merino wool socks is a perfect choice for the cooler months. I love the contrasting colors and subtle patterning!
Chenille Socks
Speaking of lounging around the house, if you don't have a pair of chenille socks yet, invest now and thank me later!
Ugg makes the absolute best chenille socks out there. While yes, they are pricey, they're so worth it to have on hand for cozy self care days in the winter. It's like wearing a cloud on your feet.
Grip Socks
If you do pilates or yoga, grip socks are a must. And they aren't all created equal — some grip socks are cheap and thin, and tend to slide around on your foot.
Bombas' Performance Gripper socks come with non-skid grips, Hex Tec construction for breathability and dryness, and comfort innovations like strategic zone cushioning and airflow ventilation. Oh, and they come in the cutest colors ever. If you take your workouts seriously, these are the ones to get.
Disney Socks
For all my fellow Disney lovers, how cute are these adult Disney socks? They're Little Mermaid-themed but don't look juvenile at all. Just the perfect subtle hint of Ariel's colors for IRL Disney princess vibes.
And don't worry — if you can't possibly choose a favorite princess, you can get a big box of socks featuring six of the princesses (Cinderella, Ariel, Belle, Mulan, Tiana, and Moana). This would also make such a cool gift for a Disney lover!
Compression Socks
For those of you who are medical students or working in jobs where you're on your feet all day, compression socks are a game-changer! (More on them in our guide to gifts for medical school graduation.)
These compression socks from Amazon are highly rated, super affordable, and they come in a big pack with a bunch of cute options. My favorites are the leopard print — so adorable.
Hiking Socks
If you're outdoorsy, a good pair of hiking socks can make a huge difference in your comfort out on the trail. That said, it can be tough to find hiking socks that are actually cute.
These cute neon hiking socks fit the bill. They're super cute, generously cushioned, and are well worth the investment for how long they'll last. The color is my favorite part: I'm seriously obsessed with this shade of green this year!
What are your favorite cute socks?
Don't forget, if you've been wanting to treat yourself to some Bombas socks, be sure to use our discount code BOMBAS20 for 20% off sitewide (new customers only, no expiration date).
Do you buy any old socks or have you been upgrading your sock game lately? Where do you like to shop for cute socks? Tell me your thoughts in the comments section down below.
Disclosure: This post was sponsored by Bombas. The opinions, as always, are our own. For more information, please see our Disclosure page.