Welcome to the latest edition of Looks from Books, which aims to prove that you can look smart, while still being book-smart, too. Fashion inspiration can be found between the pages of your favorite stories, on well-designed book covers, and in your favorite characters… if you read closely enough.
This week, we're taking a break from the summer heat to get lost in our bookshelves with a very vintage "Looks from Books" inspired by Carolyn Keene's Nancy Drew mystery series!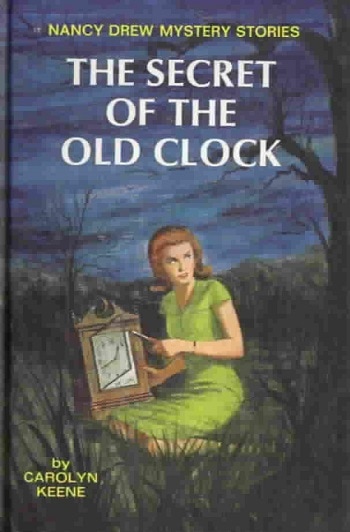 The 1966 Cover of Nancy Drew Mystery Stories: The Secret of the Old Clock || via Wikipedia
Inside Cover
The Nancy Drew Mystery Series are an iconic series of children's novels published under the pseudonym of Carolyn Keene, beginning in 1930.
The series was actually constructed via an outline-method, with the Stratemeyer Syndicate publishing head Harriet Stratemeyer Adams creating outlines for the novels, while ghostwriters from around the country, including prominent Nancy writer Mildred Wirt Benson, fleshed out the novels themselves, and were paid a blanket sum for the work.
This unusual construction method, coupled with the extensive editing the Nancy Drew series underwent beginning in 1959, as well as the original genesis of Nancy having been in a proposal created by Harriet's father – and Syndicate founder – Edward Stratemeyer, there is much debate over who actually carries the credit for "creating" Nancy.
The series follows intrepid teenage sleuth Nancy Drew as she solves mysteries, usually in her hometown of River Heights, with the help of her friends Bess and George, not to mention the always-understanding Ned Nickerson. Created to compete with Adams' other high-selling mystery series, The Hardy Boys, Nancy Drew novels soon outsold their competition. To this date, over 80 million copies have been sold worldwide, and the books have been translated into over 45 languages.
A Fashionable Literacy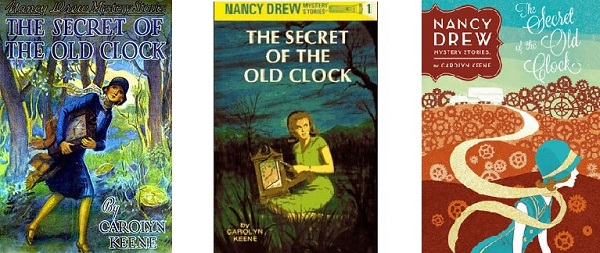 A set of cover redesigns for the series' first installment, The Secret of the Old Clock, from the 1930s, 1950s, and 2014!
Nancy was most recently adapted for screen in the 2007 movie adaptation, which starred Emma Roberts as the titular teen heroine. The film received a generally positive audience response, but received criticism from hardcore fans, who argued that their teen heroine had been toned-down. (For instance, at one pivotal point of the movie, Nancy comments on how she must obey the speed limit, while fans of the novels know that kind of an issue hasn't stopped the sleuth in the past.) Even the very first Nancy adaptations, four films starring Bonita Granville in the late 1930s, were panned by fans for their significant changes to their heroine and her world.
However, this never lost Nancy any followers. Besides being a great series for developing readers, Nancy Drew books have been lauded by many as an early icon of the feminist movement in the '60s. In fact, some of her fans include women in high positions of political power, including famous first ladies Hillary Rodham Clinton and Laura Bush, as well as Supreme Court Justices Sandra Day O'Connor, Ruth Bader Ginsburg, and Sonia Sotomayor.
How to Add Nancy to Your Wardrobe
By integrating key elements from the series, you, too, can have a classic look that pays homage to the iconic heroine without looking like you're stuck in the past. College Fashion is here to solve the case!
Sleek Sleuth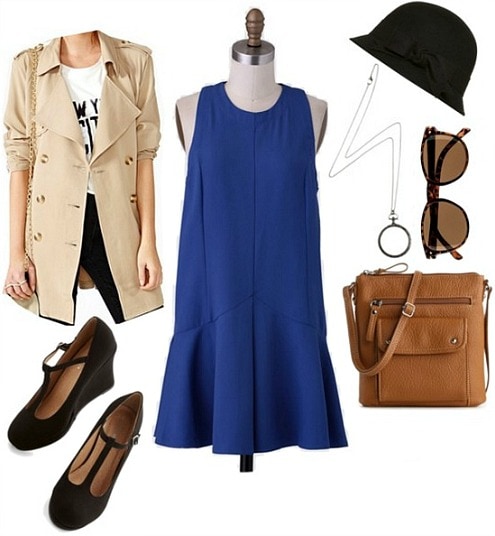 Product Information: Trench – NastyGal, Dress – ShopRuche, Necklace – ASOS, Hat – House of Fraser, Sunglasses – H&M, Bag – DSW, Shoes – Modcloth.
Whether it's the original Nancy, written into the fifty-cent novels of the 1930s, the refined and rewritten Nancy of the yellow-covered 1960s, the fashion-centric "new" Nancy of the 1980s, or even the Emma Roberts retro-supergirl Nancy of the 2007 remake, Nancy's legacy is always adapting to fit the styles of new generations of leaders. However, there are some aspects of the teenage sleuth that have lasted through the extensive rewrites, court battles, transitions to new media, spin-off series, and more. For what kind of girl would our fearless heroine be, without her magnifying glass and sturdy roadster?
Channel the iconic hallmarks that made up Nancy's world, like her favorite color (blue) and some super-sleuth classics, like a trench coat, for a look that hearkens back to the style of the original Nancy, yet is still perfect for today's fashions. A drop waist blue dress looks similar to the one on the original "Old Clock" cover, while t-strap wedges elevate an old style. A classic trench always looks good, while a leather crossbody holds all your clues on a good case. Sunglasses and a cloche hat help when you need to go incognito, while the whole look is pulled together with a magnifying glass necklace.
Girl on the Go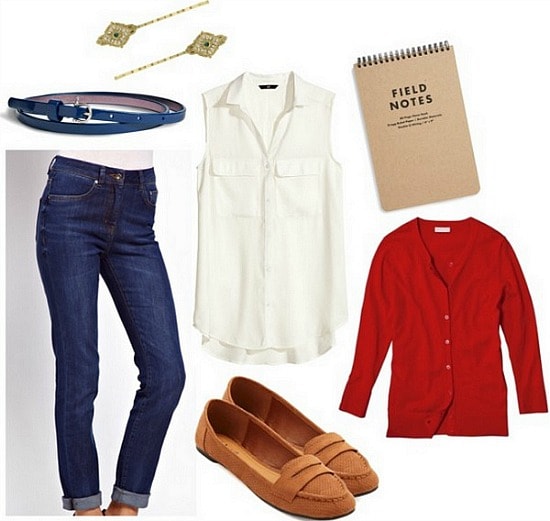 Product Information: Belt – Sperry, Hair Pins – 1928, Shirt – H&M, Notebook – Nordstrom, Cardigan – Target, Shoes – Charlotte Russe, Jeans – ASOS.
Nancy finds her origins in the groundbreaking format of fifty-cent novels, coping with the competition of the rough-and-tumble heroes of the boys books listed alongside her titles, so she is no stranger to action. From climbing in trees to thrilling car chases, facing down fearsome foes in crumbling castles and haunted halls alike, Nancy has always been a girl on the go, originally written with a spunk and flair far from the shy and rule-following girlishness she is sometimes known for today. Either way though, she has always demonstrated the same sense of adventure.
Inspired by Nancy's own harrowing adventures, pull together a put-together look that allows for some action of your own. Tailored jeans and a crewneck cardigan are a stylishly prim means of keeping it casual, while a silky blouse and patent belt look ultra-polished. Penny loafers are a perfectly retro way to crack the case, while embellished hair pins help you keep your hair tucked back while writing field notes.
Timelessly Trendy
Product Information – Necklace – Urban Outfitters, Studs – Miss Selfridge, Dress – Modcloth, Flats – H&M, Watch – Charming Charlie, Nail Polish – Butter London, Purse – Dorothy Perkins.
Though times have changed a lot over the years, Nancy continues to inspire young women. Despite the changing styles alongside those changing times and changing covers, her series also serves as a solid source of quintessential sartorial inspiration. From the carefully-painted cover illustrations to the iconic Nancy logo, her quintessential Drew style will always be a hallmark for the classic character.
Classic silhouettes and updated accessories prove Nancy still can keep up with these modern times while maintaining her nostalgic ties to the past. A bright yellow dress in a classic shape takes on the color the current generation of Nancy lovers know best, while lace loafers, stud earrings, a prim mint purse, bright nail polish, and a tortoiseshell cuff watch are all new versions of classic pieces. The look is finished with a necklace featuring a working flashlight pendant, which is definitely an accessory Nancy would love!
What Do You Think?
Did you read the Nancy Drew mystery series as a kid? Where did you get your first Nancy Drew book from? Did you see the most recent Nancy Drew movie? What do you think of the outfits and styling tips? Let me know, in the comments below!