**SPOILER ALERT**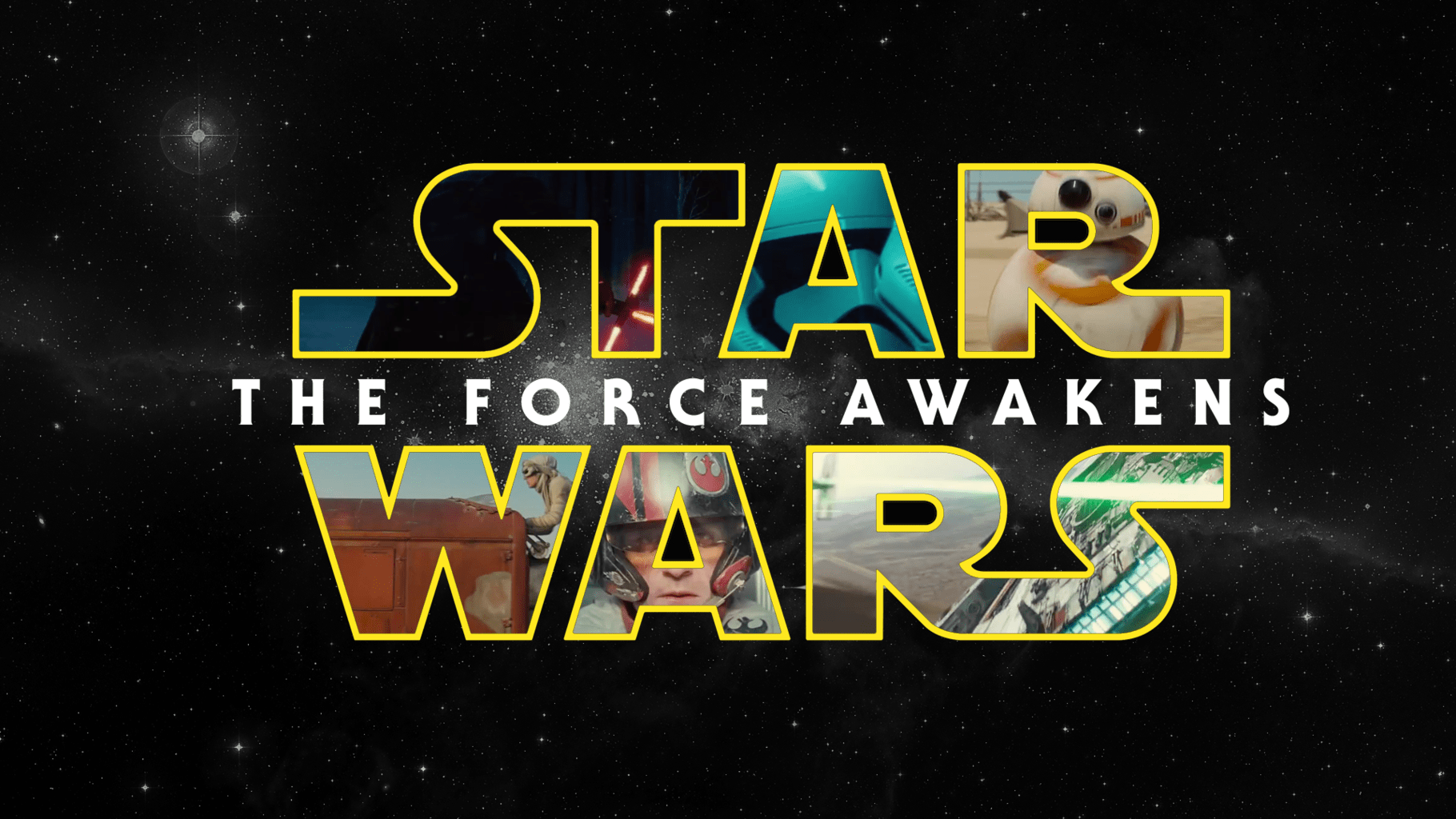 Just in case you've miraculously managed to avoid the ubiquitous marketing campaign for the newest installment of everyone's favorite space opera, this last Friday was essentially Geek Christmas come early, aka the premiere of Star Wars: The Force Awakens. This was also my most important source of motivation to get through a particularly brutal round of exams. Thankfully, the movie delivered and my little geek heart grew three sizes that day.
For those of you who haven't made it to the theater yet, please be warned that this article will contain some spoilers!!! But seriously, go see it already (and here's what to wear to the theater). I'm still in the arduous process of convincing my three roommates, none of whom have seen any of the films or have any interest in doing so, to renounce the Dark Side and embrace the magic of Star Wars.
For more Star Wars-inspired fashion, check out previous Geek Chic articles on fashion inspired by the Prequels and fashion inspired by the Original Trilogy.
Know Your Geek: About Star Wars Episode VII
Set 30 years after the events of The Return of the Jedi, The Force Awakens explores the stories of some familiar faces as well as some newcomers to the saga.
There are some new folks in charge this time around. The victory of the Rebel Alliance has paved the way for the new Republic, which is now the dominant power in the galaxy. However, the sinister First Order, led by General Hux and Kylo Ren under the command of Supreme Leader Snoke, has risen from the remnants of the defeated Galactic Empire.
Finally, we have a third group, the Resistance, which is fighting the First Order's attempts to gain greater power. This faction is led by General Leia Organa and seems to have support from the Republic.
The main plot centers around the race to find Luke Skywalker, who has vanished without a trace. Both the Resistance and the First Order want to find him: to the former, he's a Messiah-like legend who may just bring balance back to the universe, and to the latter, he's a major threat who needs to be eliminated.
Star Wars: The Force Awakens is directed by J.J. Abrams and written by Lawrence Kasdan, Abrams, and Michael Arndt.
Outfits Inspired by The Force Awakens
Fulfill your destiny: try out an outfit inspired by Star Wars: The Force Awakens!
The Scavenger
Rey, played by Daisy Ridley, makes a meager living by scavenging wrecked ships on the desert planet Jakku. Like another young desert-dweller before her, she comes across a strange droid that's desperate to return to its owner. Although she's initially reluctant to leave her home, Rey discovers an inner strength during her journey that may just help illuminate her mysterious background.
For a full guide to Rey's style, see our post on Rey's outfits from Star Wars, which covers her look in depth!
The Stormtrooper
FN-2187 aka Finn, played by John Boyega, is a First Order Stormtrooper who is horrified by the bloodshed of his first battle. Although his life as a drone of the First Order is all he's ever known, he decides to escape and inadvertently ends up joining the Resistance. Like Rey, Finn doesn't set out to be a hero.
When all you've ever worn is stormtrooper armor, there's nowhere to go in the fashion scene but up! Channel Finn's post-armor look with a burgundy moto jacket and a comfy raglan tee. Ripped jeans and buckled boots complete an outfit that'll have you ready to spring into action.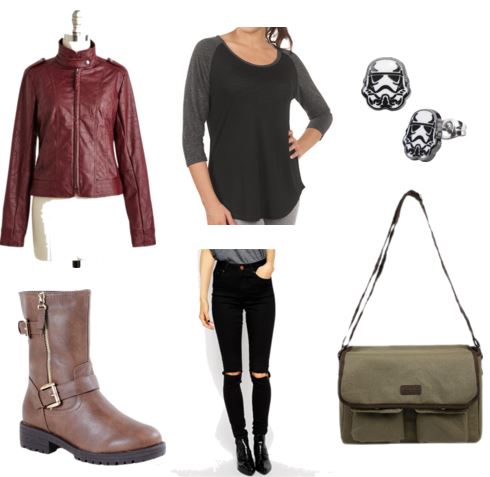 Products: Jacket, Tee, Jeans, Boots, Earrings, Bag
The Pilot
Poe Dameron, played by Oscar Isaac, is the best pilot in the Resistance. Tasked with finding an essential clue to Luke Skywalker's location, he crosses paths with Finn. Their encounter sets into motion most of the movie's action, as well as an epic bromance.
Itching to join the Resistance? Instead of jumpsuit-ing up, slip on a cozy thermal sweater and charcoal jeans. Next, add a quilted puffer vest and some sturdy boots. Accessorize with a pair of X-Wing earrings and a necklace that pays homage to the cutest little astromech droid around, BB-8! (Don't worry, R-2, we still love you, too!)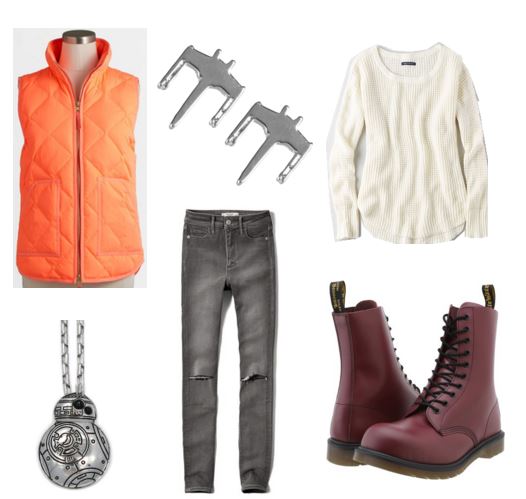 Products: Sweater, Vest, Jeans, Boots, Earrings, Necklace
The Villain
Kylo Ren, played by Adam Driver, is determined to follow in the footsteps of his Dark Side idol, Darth Vader. However, he's not quite a fully-fledged supervillain yet and is prone to bouts of insecurity and rage.
Giving in to the Dark Side, are you? For a more wearable take on Kylo Ren's look, pair a structured crop top with a sleek leather skirt. Keep warm with a textured wool overcoat, then slip on a pair of strappy black pumps. A reflective silver clutch evokes his metallic mask while also hinting at the possibility that there may yet be some light within him. Lastly, ruby heart earrings allude to both Kylo Ren's lightsaber and one of the most devastating movie scenes I've ever seen. (Brb, still sobbing.)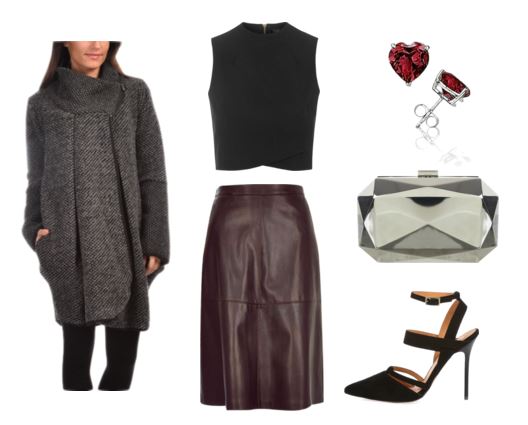 Products: Coat, Top, Skirt, Heels, Earrings, Clutch
What did you think?
Would you wear these outfits? Have you seen Star Wars: The Force Awakens yet? Or should I ask: how many times have you seen it? Would you be interested in a second article featuring more characters (e.g. Maz Kanata, Captain Phasma, etc.)? Let us know in the comments!