This post may contain affiliate links, which means we may receive a commission if you purchase through our links. Please
read our full disclosure here
.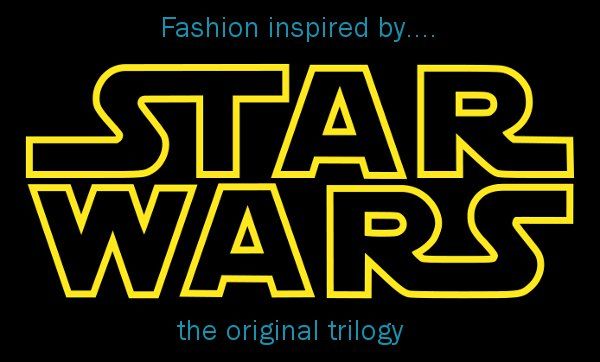 Pretend that the following introduction is doing the classic Star Wars crawl up your computer screen….
Originally, the Geek Chic post about Star Wars wasn't going to be posted until early May (to commemorate Star Wars Day…May the 4th be with you!).  From your comments, though, it seems that lots of CF readers are also big fans of the series, so why wait?
Most of us grew up with the theatrical releases of the flashier prequel films, but it's the original Star Wars trilogy, which starred Mark Hamill, Carrie Fisher, and Harrison Ford, that will always be the cult classic.   The saga has thoroughly pervaded modern popular culture: even if you've never seen the films, you've likely heard or used the phrases "May the Force be with you," "I have a bad feeling about this," or "It's a trap!"
Dying for The Hunger Games premiere next week? Check out the last Geek Chic post about Hunger Games-inspired fashion! See also: Doctor Who-inspired fashion parts 1 and 2,The Big Bang Theory-inspired fashion, The Lord of the Rings-inspired fashion, and Star Trek-inspired fashion.
Know Your Geek: About Star Wars
Created by George Lucas, Star Wars is an epic space opera that places mythological tropes such as knights and princesses in the context of a fictional galaxy. 
The protagonist, Luke Skywalker, joins the Rebel Alliance in the fight against the tyrannic Empire, which is ruled by Emperor Palpatine.   Aided by his mentors Ben Kenobi and Yoda, he learns about the ancient Jedi Order, which was long thought extinct, and discovers more about both his past and his destiny.
The original trilogy (Episodes IV-VI) consists of A New Hope, The Empire Strikes Back, and The Return of the Jedi; the prequel trilogy (Episodes I-III) consists of The Phantom Menace, The Attack of the Clones, and The Revenge of the Sith.
A major focus of the series is the balance between the light and dark sides of the Force, which is an omnipresent energy field that binds the galaxy together. The Jedi Knights use this power for good, while the Sith Lords bend this power towards evil and hatred.
Outfits Inspired by Star Wars
It might seem that Star Wars is more about lightsabers and blasters than about fashion, but you'll never find a more epic hive of inspiration and costuming.  The Force will be strong in you with these five looks inspired by Star Wars characters!
Luke Skywalker
Luke is a farmer boy who lives on the desert planet Tatooine with his aunt and uncle; he yearns for more than this provincial life and dreams of adventure as a daring fighter pilot. After a run-in with vicious Tusken Raiders, he learns from Old Ben Kenobi that his father was a Jedi Knight.
Over the course of the saga, Luke battles both external forces of evil and internal demons and ultimately evolves from a foolhardy, hotheaded boy into a powerful Jedi.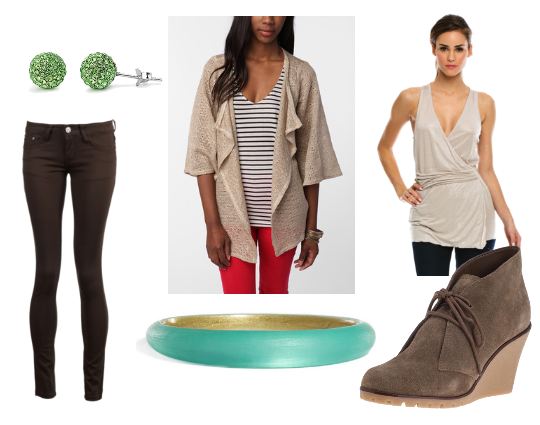 Product information: Jacket, Top, Jeans, Shoes, Bracelet,Earrings
You might not have Luke's midichlorian count, but you can certainly snag his functional, comfy style. A feminine wrap top and skinny brown jeans are a flattering combination; should a sandstorm arise, cover up with a soft cardigan. The desert boot trend, still going strong, works both on campus and on Tatooine.
Accessorize with luminous jewelry that recalls Luke's two lightsabers: a teal Lucite bangle for his father's old lightsaber, and green studded earrings for the one that he makes himself after he loses his hand and weapon in a duel with Darth Vader.
Leia Organa
Raised as a princess on the pacifist planet Alderaan, Leia is one tough cookie bent on taking down the corrupt Empire. She refuses to betray the Alliance, even after hours of torture at the hands of Imperial forces.
Besides being the sassiest princess/senator ever, Leia has the greatest movie hair of all time. Though her double-side-bun hairstyle is particularly iconic, her hair is almost always arranged in gorgeous, ornate braids.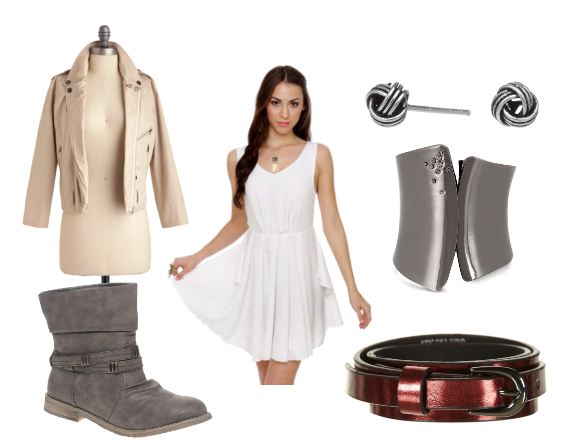 Product information: Jacket, Dress, Boots, Belt, Earrings, Cuff
Even when wearing floor-length gowns, this gutsy princess is ready to rock and roll. Capture her feminine but functional style with a flowy white dress and a tough motorcycle jacket. Flat ankle boots are perfect for fighting the Empire while making a fashion statement.
Tiny knot earrings are a subtle reference to Leia's iconic "cinnamon bun" hairstyle, while a chrome cuff is reminescent of the sculptural pieces that she wears. A burgundy belt adds a pop of color; even better, it's the same shade as the fabric portion of Leia's infamous slave bikini.
Han Solo
Corellian smuggler Han Solo is the ultimate bad boy turned accidental hero. Along with his hirsute best friend and co-pilot, Chewbacca the Wookiee, he's recruited to pilot a rescue mission to save Princess Leia from the evil grasps of the Empire. Though he might claim that the only loves in his life are his ship, the Millenium Falcon, and money, he proves several times that he's not really as selfish as he seems.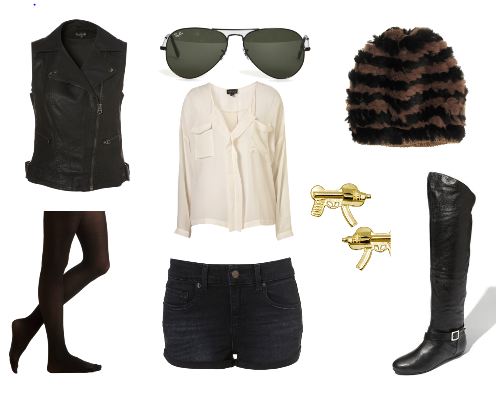 Product information: Top, Vest, Shorts, Tights, Boots, Earrings, Beanie, Sunglasses
For a stylish take on Han's outfit, pair a sheer chiffon blouse with denim shorts and opaque tights. Add too-cool-for-school extras like a tough motorcycle vest and over-the-knee leather boots. Aviator shades seem quite appropriate for this rebellious pilot.
A slouchy, furry beanie is a stylish nod to Chewie. Han's always got a blaster at his side (and yes, he shot first!) so add a pair of blaster earrings. No one can accuse you of being a scruffy-looking nerf-herder in this put-together but trendy outfit!
Darth Vader
I'm assuming that Vader's true identity is common knowledge, but just in case, let's just say that there's more to this villain than meets the eye. The sinister Darth Vader is a Sith Lord consumed by the Dark Side of the Force. As Emperor Palpatine's righthand man, he seeks to quash the Rebel Alliance's plans to destroy the Death Star. Vader strikes fear into the hearts of both the Rebel and Imperial forces, since he can be utterly ruthless, regardless of one's allegiance.
His skull-like helmet and towering presence also contribute to this terror.  Darth Vader definitely appreciates the power of a monochromatic outfit!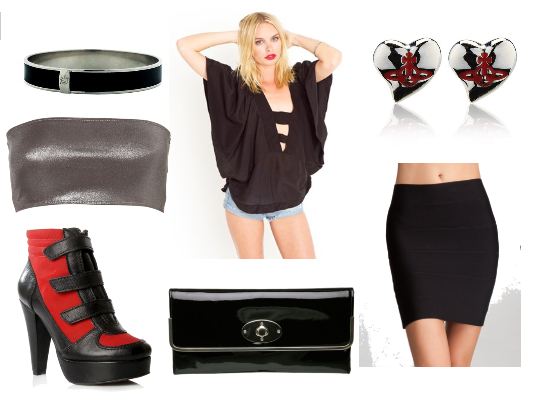 Product information: Top, Bandeau, Skirt, Shoes, Clutch, Earrings, Bracelet
Turning to the Dark Side calls for an edgy, badass outfit. Layer a metallic bandeau under a cape-like top for a daring look. Choose a bandage skirt in a slightly longer length; the longer hemline balances out the effect of the skintight fabric and revealing top.
Amp up your confidence with a towering pair of red-hot ankle boots; the crimson accents recall Vader's red lightsaber. Accesorize with a patent clutch and leather bangles. Heart-shaped stud earrings are a reminder of Darth Vader's tragic past.
C-3Po and R2-D2
C-3P0, a protocol droid, and R2-D2, an astromech droid, somehow manage to get embroiled in every ongoing conflict. Though they often serve as comic relief, these two robotic pals play a pivotal role in the Rebellion — whether they like it or not!
True to his function, C-3P0 believes in order and decorum above all things. He speaks over six million languages, but tends to do all of his complaining in English. R2-D2 can only communicate in a series of beeps and whistles, but he's a spunky little droid.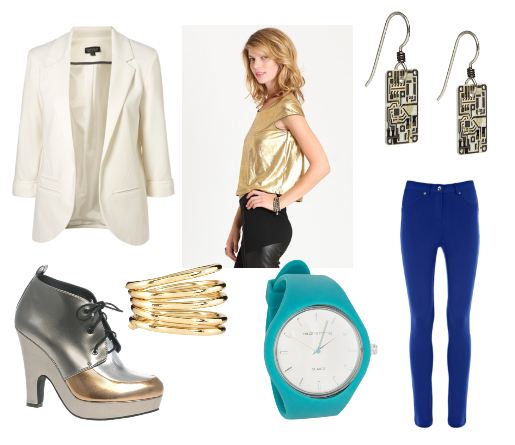 Product information: Jacket, Top, Pants, Shoes, Ring, Watch, Earrings
C-3P0 and R2-D2 are definitely the world's two most beloved robots (sorry, Wall-E and EVE), so why not take a fashion hint from the dynamic duo? A metallic top and fabulous space boots pay tribute to the golden protocol droid, while a sharp white blazer and cobalt jeans reference his diminutive counterpart.
A properly assembled droid should run like clockwork, so keep track of the time with a cute teal watch. As a final touch, add a coiled wire ring and circuit earrings for an ensemble even fussy C-3P0 would approve of!
What did you think?
Would you wear these looks? Which one is your favorite? Which trilogy do you prefer — original or prequel? Would you rather be a Jedi or a Sith? What other geeky inspirations would you like to see? (We'll next be stopping by 221 Baker Street to visit a certain doctor and the world's only consulting detective.) Let me know in the comments!